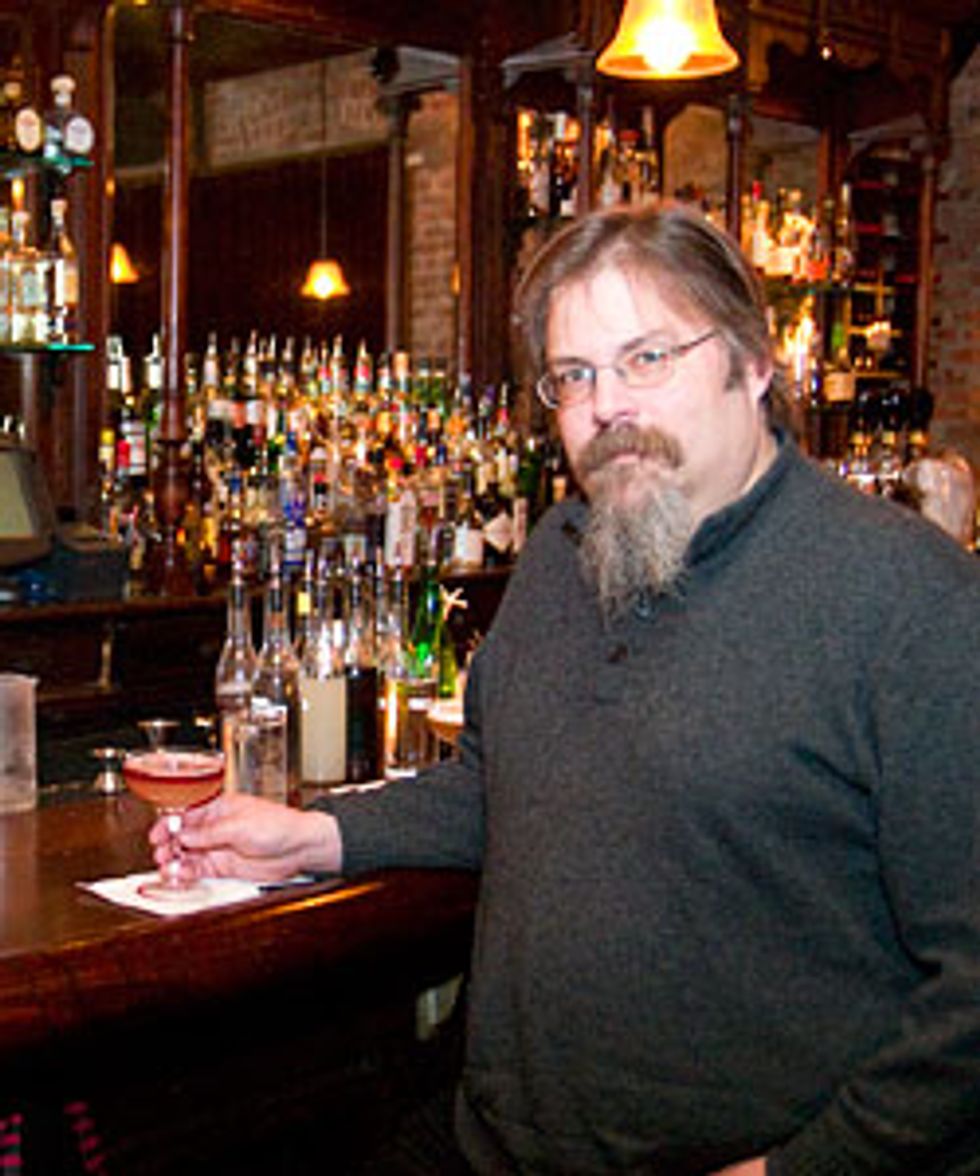 David Wondrich
, writer, historian and dive bar buff, is the rare New Yorker who has lived, breathed and drunk the city since he was a kid. As the spirits editor for
Esquire
and the author of the James Beard Award-winning book,
Imbibe
, Wondrich is the country's --  if not the world's -- foremost booze historian. There isn't a saloon he doesn't know, a cocktail he hasn't studied, and quite possibly an esteemed publication for which he hasn't written. I was fortunate enough to work and travel with him over the course of a year, crawling bars in San Francisco, Los Angeles and Seattle, but we had yet to do our home town, New York. So one recent Tuesday evening, we slunk around for a crawl in NYC's dive mecca, West Brooklyn.
6:18 PM, Fort Defiance
After discovering that Sunny's, a wonderful Red Hook dive, is shuttered on Tuesdays, Dave greeted me at Southernish neighborhood joint Fort Defiance with an always quaint "Hello, Dear!" and a quick dram of cognac punch (he has a weakness for Martell Cordon Bleu). He was in attendance as surprise guest for the bar staff's book club that recently reviewed his newest book,
Punch: The Delights (and Dangers) of the Flowing Bowl
. A celebrated figure in the bar industry, Dave received a round of applause as we departed down Van Brunt Street toward Brooklyn Ice House.
6:30, Brooklyn Ice House
Always down for adventurous eating, Dave agreed to barbecue sandwiches in the back yard of the Ice House. We grabbed a picnic table and devoured our slow-cooked pork sammies alongside a Paulaner (Dave) and a Porkslap (me). A wonderful source of advice, Dave offered his two cents on building a credible writing career in spirits ("Always do your own research. Find all your own recipes, and make some of your own too.") We discussed rum as he is soon off to Martinique and Cuba for some research swilling, and I was writing
a rum round up
for Esquire.com. Dave was adamant that Angostura 1919 is highly underrated, and proclaimed the beauty of newish white rum blend, Banks Five Island.
7:28, Montero's
After catching the B61 bus on Van Brunt Street, we arrived at Atlantic Avenue dive, Montero's. One of the oldest family owned bars in Brooklyn, Montero's migrated across the street from its original location in 1946 to continue serving the Brooklyn waterfront's sailors, dockworkers and characters of questionable nature (like us). While I drank a Coors Light and Dave ordered Powers on the rocks, the very old school Brooklyn bartender bantered with us about the naval paraphernalia adorning the bar, Saturday night karaoke where he sings country western and the shady characters who once frequented the place. Dave talked about his idea for pulp mystery novels starring a sleuth bartender. We both admired the pug sitting on a bar stool down the way who lorded like a regular alongside his owner, the only other customer present. I think they were sad to see us go.
8:40, Brooklyn Inn
A leisurely walk down Atlantic Avenue and into Boerum Hill brought us to the Brooklyn Inn, a gorgeous old neighborhood bar filled with polished wood and mirrors. It just so happened that Tom Vaught, one of Dave's friends and regular bartenders over the course of 20 years in New York, was working that evening. Karen, Dave's wife and a wonderful cook and recipe tester, joined us. A burly chivalrous character, Tom fetched Karen a gin martini and me an Oriental cocktail (an old Savoy classic) while Dave had a beer and a whiskey. Tom entertained us with his stories about trains (he's going to steam engine school in Utah), doing voice over spots for Captain Morgan and flying out to California for Derby weekend to make mint juleps and see the Magic Castle ("I've been trying to get to the Pacific Ocean for years, but California keeps getting in my way"). Before we left, he grabbed my hand for a kiss, and requested to sweep me away with him for a weekend of magic tricks and bourbon. Though tempted, Dave, Karen and I departed giggling over Tom's booming voice.
10:03, Bedouin Ten
t
Karen took leave and Simon Ford, another legendary bar industry character, joined us for Middle Eastern pizzas at Bedouin Tent on Atlantic Avenue. We sat in the backyard and ever-prepared Simon pulled out mini-bottles of booze to accompany.
11:00, Hanks Saloon
Smelling like coriander and cumin, we ambled down Atlantic Avenue and were joined by a friend, at which point I tripped over a curb and was deposited back on my feet by Dave and Simon, whisked into Hank's Saloon and handed a shot and a beer. Hank's is dark, a little dank and full of neighborhood regulars playing pool and flirting with the bartender. Simon put Rod Stewart on the juke box, I played Hank Williams and Dave happily bantered with us both until he realized it was nearly midnight. Aiming not to feel like mush in the morning, we all hopped in cabs, but not before making tipsy promises to meet again in Red Hook soon.
Photo of David Wondrich via Shecky's Nightlife.