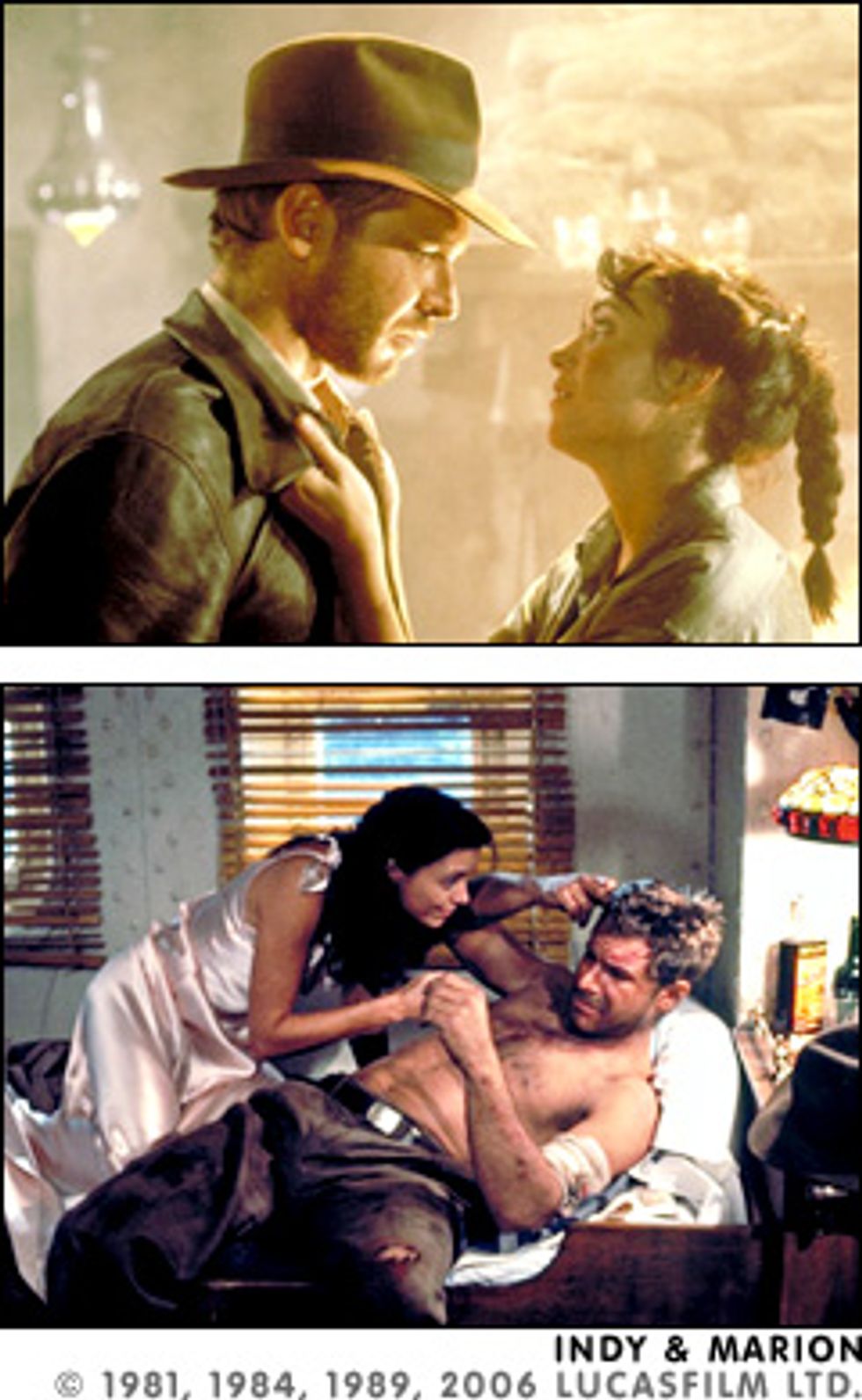 If Indiana Jones ever had a lady friend who was more than just a damsel in distress, it was Marion Ravenwood, the strong-willed archaeologist's daughter in Raiders of the Lost Ark. When stranded in Nepal, Marion out-drank men to raise money. When kidnapped by Indy's nemesis Belloq, she found a knife and plotted escape. But when she asked Indiana for a drink at the end of the movie, what happened next? No one knows for sure -- not even Karen Allen, the actress who portrayed the feisty beauty. Allen, who got her film break playing Katy in Animal House (1978), went on after Raiders to pursue an astonishing array of careers. She continued acting on stage and screen, from her sci-fi role in Starman (1984) to her turn as the handicapped Laura in Paul Newman's version of The Glass Menagerie. In the 1990s, Allen took on fewer roles, and moved to the Berkshires where, in her words, she could find a "supportive environment" to raise her son Nicholas. As if becoming a mom weren't enough, she founded and ran a yoga studio. She started a line of cashmere knitwear. Recently, she came back to New York, where she appeared for a Q&A at Paris Theatre's weekend run of Raiders of the Lost Ark. Now Allen talks to PAPERMAG about how she loves Marion -- but how she's moved on.
Tess Dawn Chan: The Indiana Jones trilogy never makes clear what happens between Indy and Marion after the end of Raiders. Can you tell us what happens?
Karen Allen: We leave them on a pretty upbeat note -- they seem to have resolved all their stuff. In my own little fantasy, I sort of imagine them walking off - in that '40s sort of way -- into the sunset together.
TDC: Will the upcoming Indiana Jones movie tell us what else happens to Indiana and Marion?
KA: I'm hearing rumors that Natalie Portman is being signed to play [the] daughter of Indy and Marion. This is total speculation on my part.
TDC: What about you? Will you come back in the next Indiana Jones?
KA: It's not something that anyone has spoken to me about yet. There've certainly been rumors. But I live up in the countryside and I'm always the last to find out!
TDC: If Raiders of the Lost Ark were re-made now, would you want it produced with any of the newer special effects?
KA: Well, you know, there were certainly a lot of things we had to do without all the CGI stuff. We spent two weeks with snakes and then my character had one week in the catacombs; I had skeletons bopping on top of me, and all kinds of dust and dirt and cobwebs dropping down onto me. Whether or not as an actor it's more fun to have to do that stuff, I don't know, because I haven't done many CGI films. Gosh, actors have practically frozen to death, and now they'll just CGI the background in.
TDC: After so many years, is it strange to do a Q&A for Raiders of the Lost Ark? I mean, do you still identify with your work in this movie? Or is it frustrating to still be associated with Marion?
KA: I love that character; it feels like she's very much a part of me and my history as an actress. As you get older, as an actress, you're really glad that a few films in your career seem to endure -- it's certainly better than starting down another path and people are asking, "Oh, you were in what?"
TDC: So why do you think everyone has such a soft spot for Marion Ravenwood?
She's just a fantastic character. When I read the scenes they gave me to audition with and I saw they were introducing this girl who was living alone in a tavern in Nepal, making extra money by drinking off a table, I thought, wow. I mean, that's one of the all-time great introductions to a character. A lot of women have come up to me over the years and say, "I'd like to be just like her."
TDC: Now that you've become a mother, do you have any advice for the young Marion Ravenwood? Stay away from Harrison Ford, for example?
KA: I don't think so, honestly, those two characters were sort of made for each other in a wonderful way. I remember sitting down and writing their history before working on the film, about how he broke her heart.
TDC: And how did he break her heart, in your version?
KA: Gosh, it was 25 years ago and would have to go back and pull it out. I had a five-page thing that I wrote: where she was born and how they ended up in Nepal. Someday I'll go take a look.
TDC: If Marion were to meet the other women in the other Indiana Jones movies, what would she think of them?
KA: Oh that's interesting. I've met both the actresses and really like them both -- we had a terrific day together. Kate I'd known through mutual friends, and then I met Allison. I'm gonna assume yes, since I liked them
TDC: You've played such a variety of characters. What's your favorite role been?
KA: I have a fondness for Starman with Jeff Bridges. And in terms of spectacular filmmaking: [I was in] Glass Menagerie, with Paul Newman and Joanne Woodward. That was pure joy -- great director, great actors, everybody from the costume designer down, great material to work on. And because we had all done the play before, we all arrived knowing all of our lines.
TDC: What was it like to do such a classic role? Were you very conscious of everyone else's portrayals of Laura?
KA: Not really. I had played Laura on stage three times by the time we came to do the film, and very early on in my acting career as a student, it was a role I had worked on. It felt like a role that I had been waiting my whole life to play.
TDC: At some point, you took on less consuming roles, to have more time to raise your son. Now that he's in his teens, do you plan to take on huge parts again?
KA: It's almost even more difficult when they're teenagers because you can't really even pull them out of school. When he was six, he could travel with me a little. But if you miss three months of 10th grade it's a big deal.
TDC: So how did you go from acting to founding a yoga studio?
KA: I was still working a lot in film at the time but I wanted to make a contribution to the Berkshires community in some way. And I had practiced yoga for many years. In the Berkshires, I just found myself thinking, "What's needed here?" I found that people were always teaching in places that weren't ideal, like a cold damp church basement. So I found a beautiful old barn and created a yoga studio. I did run it for about five years. I still go there to practice every now and then.
TDC: What about your clothing line?
KA: I've started a design company and a studio in Massachusetts with about eight knitting machines, for our beautiful line of cashmere clothing. We're in showrooms, and starting to be in stores across the country. I've been having the time of my life; I enjoy designing and make a lot of the pieces myself.
TDC: So, having had all these careers, do you think of yourself mainly as an "actress"?
I always wanted to be a designer. That was the first thing I studied, at the Fashion Institute of Technology. I got a little intimidated because I thought everyone was more sophisticated than me. So I went away from [fashion], but always kind of knew I'd come back to it. Acting just kind of grabbed me by the scruff of my neck. I was taken to a play and was just so moved. But then, as I was watching my acting career waning a little bit, as it does as you get older, I thought, "Now I can go back to do what I always wanted to do."
That's not to say I'll never do another film. But there's not that much to do, to be honest. I'm 54 now, and I'm from a huge generation of incredibly talented actresses and there's not many of us working much anymore.
TDC: Do you see this as a problem in Hollywood?
KA: I think it's just the way it is. I wish that when I sat down and thought about it, I couldn't immediately name 40 actresses who I adore who I never see in film anymore. You wish it were different and yet it seems to be how it is. But I'm at a time in my life when I want every day to be fascinating. I don't want to compete with 40 women for the role of -- you know -- the annoying mom.