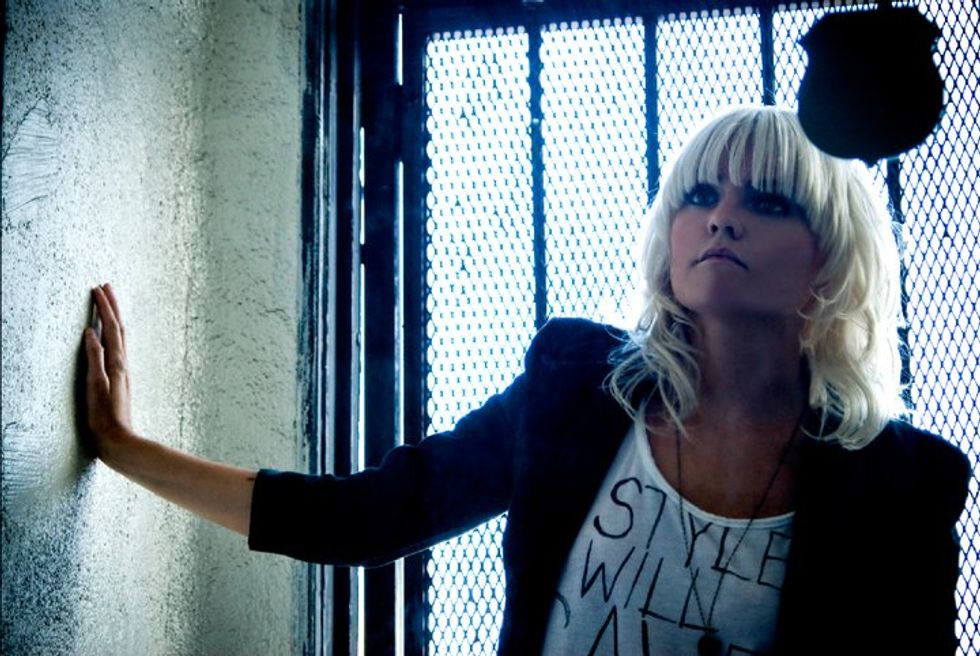 If you're a
Jersey Shore
watcher (closeted or otherwise), then you most likely haven't forgotten Snooki's famous/creepy striptease for The Situation. Which means you might recall the song that played in the background, the appropriately-titled track, "Subtlety is Underrated," by dreamy L.A. quartet
Robotanists
. Before reality TV fame, they released a covers collection,
Shapes and Variations
, which featured everything from Jay Z's "Empire State of Mind," to INXS' "Never Tear Us Apart." This year, they're back with
Plans in Progress
, highlighting the handiwork of producer Danny Kalb, the mastermind behind leading ladies Karen O and Feist. The result is a collection of ghostly melodies courtesy of platinum haired front-woman
Sarah Ellquist DeBlanke
. Since the album's release this past February, they've stayed busy; recording Radiohead's
The King of Limbs
in 24 hours, playing multiple gigs at SXSW and  performing as part of L.A. fashion week. After hearing
Plans in Progress
and getting all hot and bothered, we spoke with DeBlanke about the Robotanists' love for covers, causing a commotion at Seaside Heights, and her fashion role model (hint: she's a plastic blonde).
Describe the moment when the band realized that it was time to work on a new album.
We were moving in a lot of different directions musically and trying to find out where we wanted to go next. To buy ourselves time we decided to do a covers project and cleanse our palate. As soon as we put
Shapes and Variations
out, we began writing again. We wrote all of our songs in a few months before recording
Plans in Progress
in September. We knocked it out pretty quickly.  
I read in a previous interview that you described your sound as 'makeup sex.'
Well, there are a lot of impassioned moments in our music and there's also a bit of spite at times. I think that combination fits the description. 
What were some of the important things that you learned along the way while working with Danny Kalb?
We had never worked with a producer in any capacity at all. We always did things ourselves in our home studio. I don't think we knew what the role of a producer was until we started working with Danny, who made a lot of decisions that we were used to making. That was the most challenging thing about it, to relinquish that control.  He helped us shape a sound that we wouldn't have even imagined before. We were trying to capture the energy we create when performing live. He did that for us.  
For
Shapes and Variations
, which was the most difficult song to cover?
Deciding how we were going to do the Jay-Z cover was probably the most difficult thing about making this album. We didn't want it to be cliché because doing a song about your city can be cheesy. Sure, we tested the harmonic structure and kept the melodic content in the choruses, but we had to start from scratch. 
Was there a song that you were thinking about covering for
Shapes and Variations
, but didn't get a chance to?
We actually did a cover of Gnarls Barkley's 'Crazy,' which has been done a million times, but we turned it into a really big, symphonic song. When it got down to the final straw, we realized that it was just too past its prime for us. Even though we really loved it, the song just wouldn't have made sense in the collection. We also did a Tears for Fears cover of 'Ideas as Opiates.' I wish we could have put that one on the record! We gave it to iTunes for a Tears for Fears charity album that they're putting out. I don't know if it's ever going to see the light of day, though. I'm hoping that people will get to hear it. 
How do you feel about being played on
The Jersey Shore
?
I think the exposure is great. We certainly didn't write any of our songs with the thought of drunken stripteases going on in the background. They really did a good job of picking the son, 'Subtlety is Underrated' and playing it right when the striptease was happening. I think people got a kick out of that.  
Who are some of your fashion role models?
Miss Piggy, Barbie, and Marianne Faithfull. I don't know if that comes across as forward-thinking, but Barbie looks good in everything. 
As a West Coast-based band, what is it about L.A. that keeps inspiring you as artists?
I'm from a military family and traveled a lot. When you're in L.A., you're surrounded by people who all came here for the same reason. They all have big dreams. Not everybody sticks it out, but those that do find great pockets of community. It's really a great place when people give it a chance. It's not as silicone as people tend to portray it. 
What's one thing that you hope listeners will get from
Plans in Progress
?
Our album is called
Plans in Progress
and it's us doing just that. We're getting out of our comfort zone and pushing ourselves to try new sounds and do something that's really sincere, not so much categorical. That's just where we are right now.
Photo by Jessy Plume