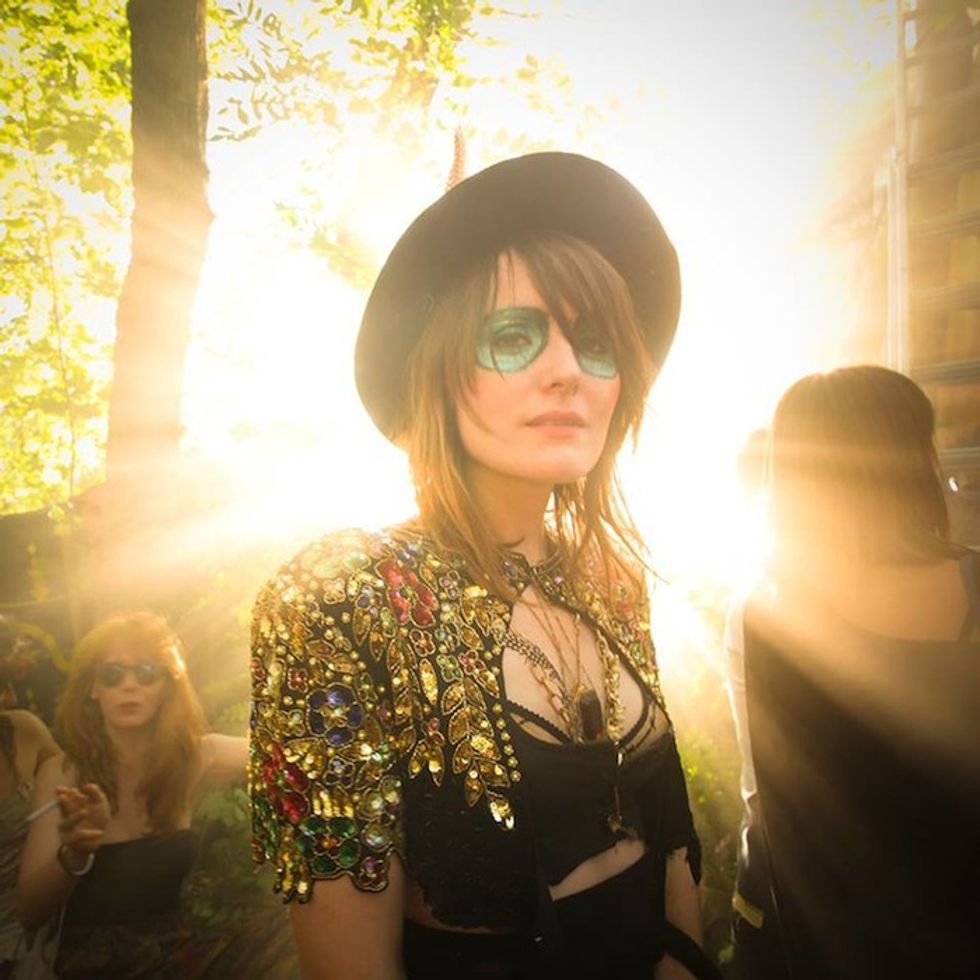 Each week in our new column, "No Sleep Til...," we'll be talking to cool kids around the globe, asking them to fill us in about the bands, DJs, music venues and night spots they and their friends are obsessing over. Next time you visit their home city, leave your Fodor's and Lonely Planet guides behind and go party like a local instead.


Name?
Kieran Behan
Age?
29
Where do you live?
Berlin
What do you do there?
By education, I'm a photographer. More then ten years ago I founded a creative agency / performance art / installation creation collective called
crystalmafia
. I'm lucky that with my project I get to travel the world and be surrounded by a stunning cast of lovely artists. Sometimes I play music and I'm quite passionate about
making little strange mixe
s during my rest and relaxation moments. Helps keep me calm.
What German bands or DJs are you obsessed with right now?
My obsessions ebb and flow depending on my feelings on a particular day. Yesterday I was listening non stop to Moondog and feeling a bit sentimental. Tomorrow's soundtrack will depend on how moody I am when I wake up...
My list of musicians based in Berlin at the moment:
Lotti from the Sorry Entertainers is a quite amazing DJ. He weaves stories into his sets and has a clever sense of music.
Acid Pauli was one artist in Berlin that took me on a beautiful adventure...the first time I heard him play it was as if he was inside my head and plucking out the music my mind wanted to hear. His edit of a Johnny Cash classic, "I See a Darkness," became an anthem during a sensational moment of time in Berlin.
Maayan Nidam is one of my favorite lady loves. I met her through friends and fell in love with her clever personality and sharp with and soon after fell in love with the way she plays records. She only plays vinyl and has exquisite taste. I am always listening to her mixes when I'm working late nights at my studio. My favorite track from her last album is "Harmonious Funk." And I'm listening to this mix over and over at the moment.

Where are the cool places to see live music in Berlin?
Berlin is not necessarily the place for live music in terms of bands playing a show -- though nice bands do come through here on their European tours. There are a handful of good venues for this sort of situation but not on a regular basis.
Instead, this city is drenched in DJ culture and weaves in and out of particular electronic genres dependent on the time and place and influence. Berlin has gotten quite hyped over the past few years and most "locals" tend to complain the city is changing. But this happens everywhere.
Describe your perfect night out in Berlin.
BOTH the weekdays and weekends are full of action. It is non-stop and crawling with a million different parties. Most weekends I am traveling outside of Germany for gigs but if I have a rare weekend off then I like to sneak a nice bottle of red wine to the canal by my house and watch the moon reflect on the water.
For a long time my absolute favorite time to go out was Sunday afternoon and into the evening and the next morning. Mondays are not taken too seriously in this town and there's something mischievous about running wild into the new week.
For summer weekend fun times in Berlin, the
Wilden Renate
bar did an amazing job opening up a new open-air space called "
ELSE
" -- I would seriously recommend a Sunday afternoon there.
What's your favorite bar/nightclub in Berlin?
For drinking something tasty I like
TiER bar
in Neuköln as they have serious options and skilled bartenders. My favorite thing to do at the moment is take a [pickleback] shot of Jameson and then a shot of pickle juice. Totally hits the spot and when I'm too drunk from the pickles, I'm close to my house so I can easily walk home.
What's a bar or nightclub you would NEVER go to in Berlin?
In general the Hackescher Markt area in Mitte freaks me out on weekend nights because they have a million "bar crawl tours" with drunken idiot tourists of all ages screaming and puking on the side walk from too much Jägermeister. That is no fun.
However the sophisticated prostitutes in that area wear matching corsets and platform heels and silently laugh at the tourists with sly smiles on their faces. That's fun to watch.
Check out Kieran's music recs:
Lotti -- "Lotti's Coming Home Mix"


</div> <br/><font style="font-size: 1.25em;">Maayan Nidam -- "Harmonious Funk"</font><br/><br/> <div style="text-align: center;"><iframe src="https://w.soundcloud.com/player/?url=http%3A%2F%2Fapi.soundcloud.com%2Ftracks%2F47751789" frameborder="no" height="166" scrolling="no" width="100%"/></div> <br/></b><i>Check out Kieran's nightlife listings:</i><br/><br/><a href="https://www.facebook.com/elseklub">ELSE</a>, An den Treptowers 1, 12435 Berlin<br/><br/><a href="https://www.facebook.com/TiERBAR">TiER Bar</a>, Weserstraße 42, 12045 Berlin<br/><br/><a href="http://www.papermag.com/2013/05/more_from_our_no_sleep_til_ser.php"><font style="font-size: 1.25em;"><b>More from our 'No Sleep Til...' series including nightlife and music in Paris, Mumbai, Seoul, Bogotá and more!</b></font></a><br/><div><br/></div>