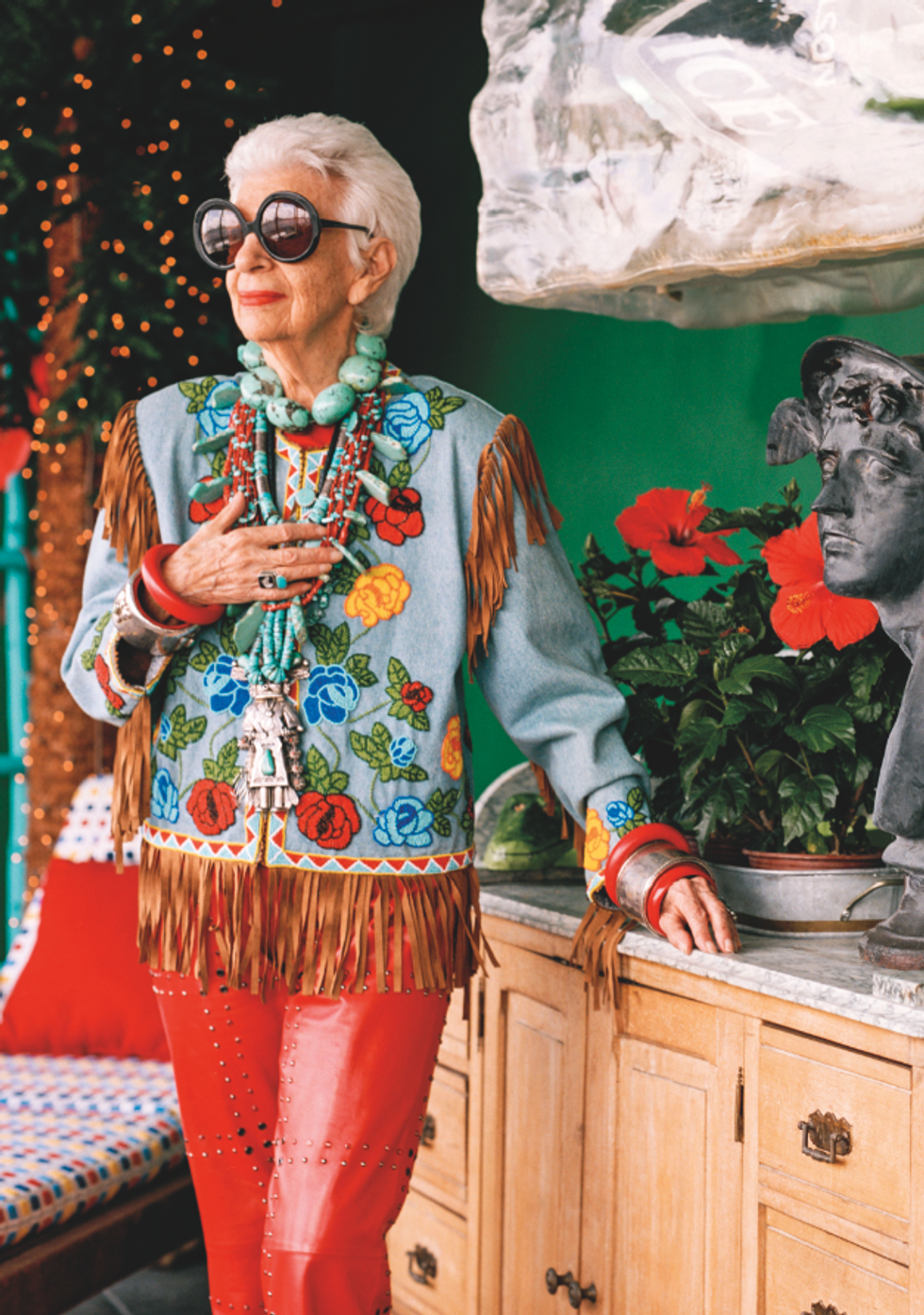 In the new documentary
Iris,
fashion icon and jewelry magnate Iris Apfel notes that "if you hang out long enough, everything comes back." A glance at the fashion landscape over the past year proves her point:
Joan Didion is in a campaign for Céline
, Jessica Lange is in a Marc Jacobs Beauty spot, Joni Mitchell is working with Saint Laurent and the ever-busy Apfel, 93, is the new face of Kate Spade. (Not to be left out,
Neil Young popped up on a line of Supreme T-shirts in February
; less high-fashion than the rest, but Young and Supreme's James Jebbia do things their own way.) Isn't this the industry that worships youth at all costs? The Apfel documentary, directed by
the late Albert Maysles
and now showing in New York, reminds us that women can be stylish at any age, regardless of the fashion industry's rigid ideas about planned obsolescence.
Below, we chat with Apfel about the film, working with Albert Maysles and meeying Kanye. 

Hi Iris, how are you doing today?
I
 have a new phone and it's... I'm not hearing so well. Let me see if I can do something. Just a second.
Alright, sure. No problem.
I have a new iPhone. I'm a technological idiot. Technologically, I live in the seventeenth century. I've had one of those little bitty phones, which I was very happy with, but it fell in a bucket of water.
Oh no. I'm sorry.
And now I have one of these newfangled things and I really need some lessons on it. I just got it and I don't know what to do or what's correct. Anyway, that's not your problem. So what can I help you with?
Let's talk about your new movie. You've 
been in the fashion industry for quite a long time, but now as the star of your new documentary, you're really kind of stepping into the spotlight in a new way. How does that feel?
Oh, it feels wonderful. I mean, a 93-year-old broad with all this attention -- how bad can it be?
Are you used to this level of attention, or does it feel strange for you?
Well no, I've been getting used to it because in the last 10 years I've done 
advertising campaigns. I just did one for Kate Spade and a line for Home Shopping Network. I've been getting enormous attention. So I'm pretty well used to it. I mean, it's interesting... I liked it better when I was a private person. But I thank God for being so kind and generous and everybody being so wonderful to me. I'm very, very appreciative. And I try to be nice to everybody.
Do you get recognized on the street these days?
Oh, yes. Almost every place I go, people stop me on the street -- at restaurants, at airports. But I was shocked -- last year I went to Brazil, and I had a whole bunch of kids jumping all over me.
Really?
I've got fans all over the world
. This is not new. This has been gradually going on for the last 10 years, but it's kind of reached a crescendo.
It's very interesting because you're the new face of Kate Spade, Joni Mitchell's the new face for Saint Laurent, Jessica Lange is going to be doing Marc Jacobs and Joan Didion's doing Céline. It does seem like the fashion industry's been looking toward women of a different generation than it normally does. 
Well they're very stupid not to. They dug their own grave. It's the 65-year to 80-year-olds that have all the money [and who can buy the clothes]. They've got all the expendable income. And I think the fashion business was just ignoring them.
Young people don't have the money for all these -- I mean, they have money for inexpensive things, but they don't have money for high-end brands. It's pretty ridiculous to show dresses that cost thousands of dollars on 15-year-old models. It makes older women feel very inadequate and very unattractive and very out of it and it's just been a disaster. I've been working very hard to try to pull it back.
It's l
ike you say in the documentary -- if you hang out long enough, everything comes back. Do you feel that way about yourself and fashion, appreciating women that are older now? That it's coming back into style finally?
I've always been appreciated fashion-wise. Not to this extent, but I mean, nobody ever threw rocks at me for the way I dress. If you do hang around long enough, everything comes back. No question about it. But I'm not a trendy dresser -- I wear clothes that I like, that suit me. I'm still wearing a dress I wore on the first date with my husband, which was 68 years ago.
Wow.
We just celebrated our 67th wedding anniversary. Good clothes are good clothes, and if you know who you are and what you want yourself to look like, you can wear your clothes for a long time.
I
t's interesting, watching the documentary, how much of your style is based on smart accessories that anyone could afford if they were willing to go out and find them. They seem very practical.
Well I'm a very practical person. I think accessories are the most transformative thing in the world. You can take the same little black dress and wear it from morning till night -- you can go to the office in it and you go to lunch, you can go to cocktails, you can go to a black tie by just changing your accessories.
That's a lesson I learned at my mother's knee. She worshiped at the altar of the accessory. And it's a very, very good lesson that I learned. That's why I'm so happy doing this HSN thing, because I can try to give certain women who don't want to look like everybody else some accessories that can help them out at a very, very affordable price that they wouldn't be able to find even in flea markets today. And I had a head start on collecting -- I've been a collecting junkie since eleven years old. So, do the arithmetic...
Your jewelry's not prohibitively fancy, either, but it's also not junk jewelry. It's really lovely stuff.
They call it "fashion jewelry" now -- you know, not precious stones. Not real stuff. Which I have always preferred, because I think the artists can be much more creative when they're not working with materials that cost a fortune.
Yeah. It's better to work with limitations.
You can take more chances and you can be more daring. 
Watching the film, there's a scene where you meet Kanye West at the CFDA Awards. What was that like?
Well, I just met him and that was it. I certainly don't hang out with the Kardashians.
Were you familiar with his music at all?
Not really. I mean, I'd seen him, you know, jump on the stage and carry on about somebody's award at, you know, whatever shows they are, but I don't listen to that kind of music.
But he seemed to know your work. Was that surprising at all?
Well, a lot of people know my work. I've been in a number of museums. I've had some very spectacular museum shows. And I've had enormous PR. So lots of people who don't know me personally know who I am. Sometimes they get a little confused. Somebody at the doctor's office the other day said, "Aren't you an artist?" And I said, "I hope so." People say, "Oh my god, you look just like that -- you look just like Iris Apfel." And I say, "Well, there's a good reason for that."
Do you have any favorite memories of working with Albert Maysles?
Albert was a lovely, kind, gentle man. Enormously talented, and a seminal figure in the documentary world. He's credited with being the granddaddy of the great documentary. I enjoyed working with him very much. I had no idea what he was going to do, because he never told me me. He doesn't know himself when he starts out -- he just takes footage. There were some things that I thought were rather important in my life that are not in the film. And there are some things in it that I didn't think are very important. Well, I do know everyone sees life a different way and it was in the hands of the editors. Did you like it, by the way?
Yeah, I thought it was great.
Thank you. People have reacted extremely favorably. It got great reviews and it sold immediately. Everybody is happy, so who am I to say I'm unhappy? You don't argue with success.
His films are incredible. It's very sad that he passed away.
It was very, very sad and a great shock. He was ailing in the last year or two. I knew something was wrong, and he was in the hospital a few times, but they never really got to what it was. But thank goodness they had hospice at home. And he was in the bosom of his family when he died. And he died very peacefully, so
 I'm very happy about that. And I'm also very happy that he loved the film. With Iris as his last major project, that made me feel good. We got on very, very well. I didn't want to do it originally because I thought, 'Who the hell wants to see a documentary about me?" And I don't have anything to sell, and I have no ego problems, thank you very much. But I was talked into it, and I'm glad I was, because it was a lovely experience.
How did you two first meet?
A mutual friend, who turned out to be a producer on the film. I hadn't seen this lady in a while, and she asked what I was doing lately. And I told her I was doing a very interesting program for the University of Texas Austin's fashion school. She told Albert, and Albert's ears perked up. He said he wanted to meet me and was very interested in doing a documentary. But I said I really wasn't interested. But then I talked to Linda Fargo about it and she said I was crazy. Who the hell did I think I was, you know, to turn down Albert when most people would drop dead if he just took a still photo of them? So I went up to see him and we fell in love.
Well, I'm glad you decided to make the film, because it was really, really a lovely thing.


Everybody so far has been, you know... I don't know... I wonder if they 
just wanted to be nice to me. But 
I did read the Hollywood Reporter and Indiewire, and their reviews were glowing. And I guess they know what they're talking about. 
You May Also Like