When artist Alex Katz confides to me that he's in good shape he's not kidding. The 89 year-old painter is as sharp as ever, and still paints seven days a week. Although he insists he never goes out anymore, the work he is turning out from his studio is speaking louder than ever these days to a new millenial generation of style kids who relate to and are inspired by his signature icy cool and stylish aesthetic. The Swedish brand H&M was so inspired by Katz's work that they recently invited him to collaborate on a special collection out this month and I must say I want every single piece. I caught up with Alex recently to hear from him what it feels like to be a hero to the fashion kids these days.
Kim Hastreiter: So, how is life as a legendary painter these days?
Alex Katz: Pretty good. I'm doing more and consistently good work than I've ever done before.
When did lightening strike you that you wanted to be a painter for your life's work?
I'd been studying art since I was thirteen and a half, formally. But I originally thought I'd be a commercial artist and lead a normal life or something.
And look at you now! So you're a New Yorker born and bred?
I was born in Brooklyn, then we moved out to Queens. I went to vocational school there because they had art half the day. The teacher was very good. Then I went to Cooper Union.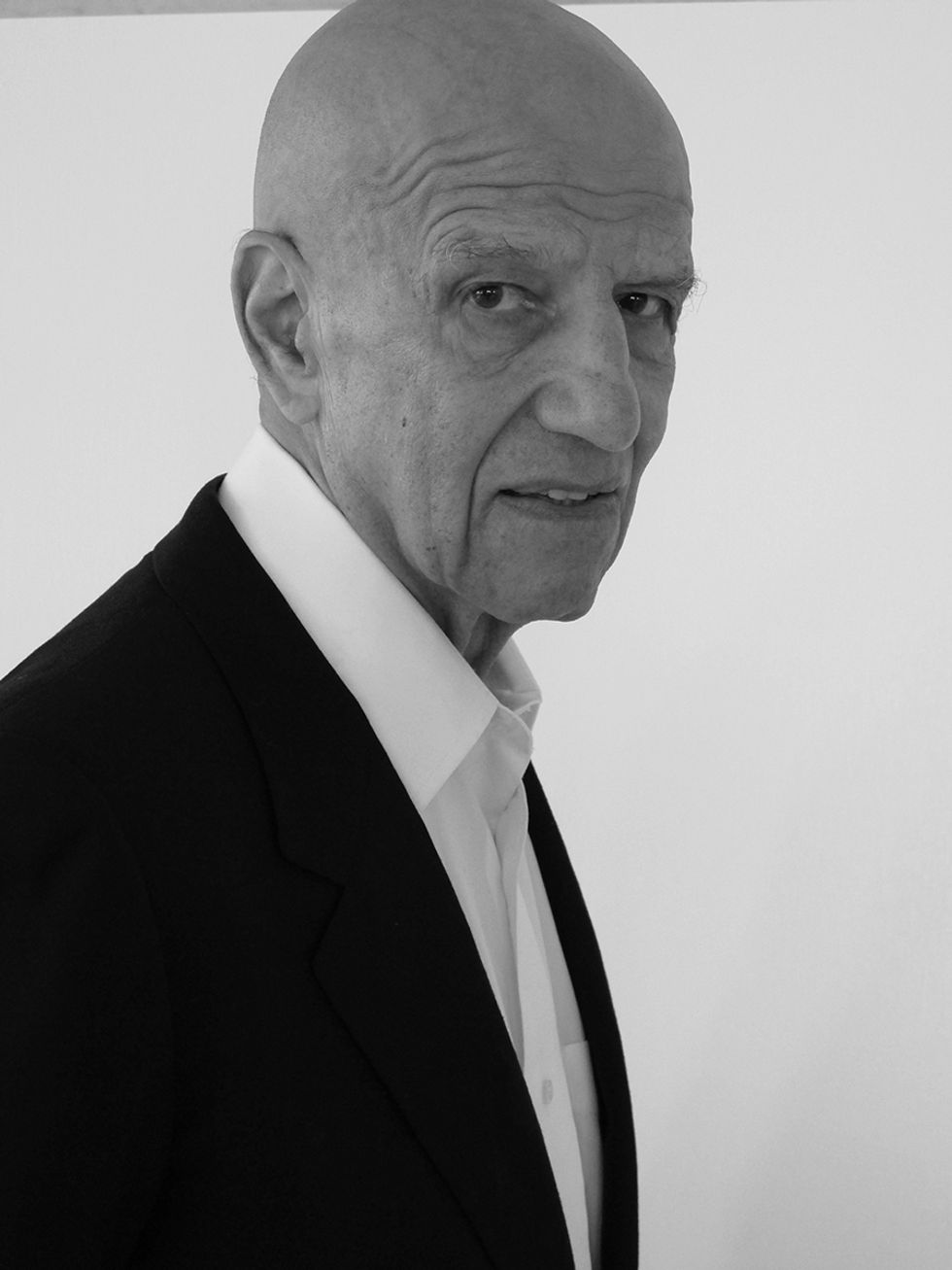 Photo © Vivien Bittencourt/Licensed by VAGA, New York, NY
Tell me about your very first show.
My very first show was at a gallery in a frame shop called Roko Gallery on Greenwich Avenue. The paintings I did looked unfinished to most people, although I managed to sell four, all to artists.
When was your first big break as an artist.
I had a show in 1959 at the Tanager Gallery. It was a cooperative, but it was very highly focused so everyone in the art world would go to see it, and my show got a sensational response. It took me from obscurity to being well-known below 14th street.
Did you ever make art in other mediums than painting?
I've done stage sets and costumes. I did about 30 years of work with the dancer Paul Taylor.
Why Paul Taylor? Did you know him?
Yeah. [Robert] Rauschenberg was doing Paul's sets and they had a quarrel over a costume Rauschenberg made. It had a still life that was supposed to be tied to Paul's back, and Paul said "No. I'm not dancing with a still life on my back." And everyone said, "Paul, I think Alex could make costumes so you should ask him." So Paul asked and I said, "Okay." and it was successful. So we started working together.
Have you ever done editions of your work that are more mass and accessible to those who can't afford your paintings? Did you ever make sneakers or anything like that?
Well, Barney's a few years back made a line of high end home stuff with me, and now I am doing a big line of affordable clothes with H&M. It's fabulous and looks really good.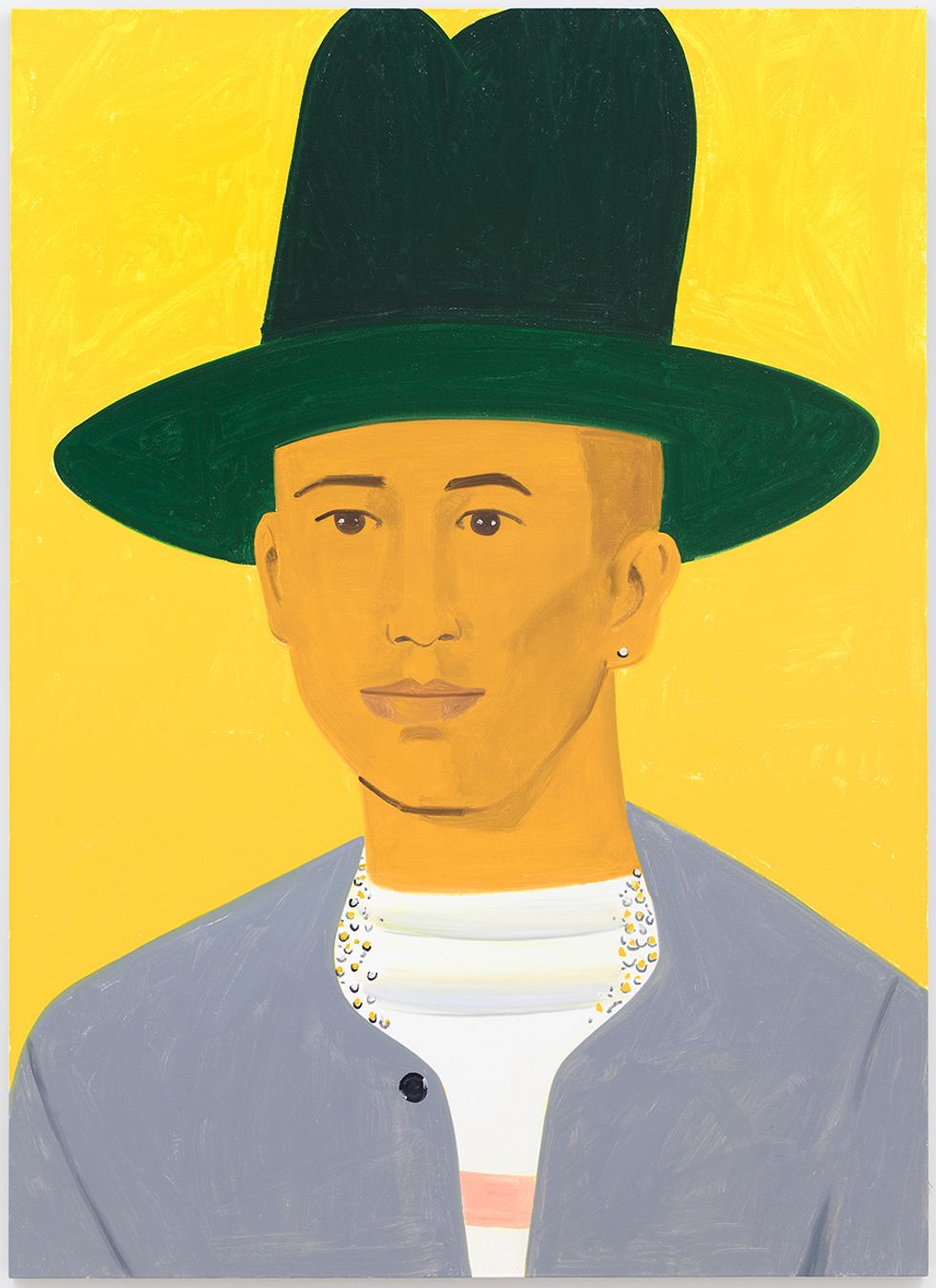 Pharrell Williams. Art © Alex Katz/Licensed by VAGA, New York, NY
Do you feel the fine art world looks down on artists who do commerce?
I would think so, but I couldn't care less.
I always felt like Keith Haring or Andy Warhol, because of their fascination with pop culture and commerce, weren't accepted or respected as fine artists.
I think my art is for all people. It's not particularly pretentious. I like to think of Giotto, where everyone could get it on that kind of level.
After all Malevich did costumes for Ballet Russe and Salvador Dali did a perfume bottle for [Elsa] Schiaparelli, and Andy Warhol did fashion with Stephen Sprouse.Tell me how this H&M collaboration came about?
It was brokered through my Paris art dealer Thaddaeus Ropac. When the H&M people brought the stuff around, I loved it! It was just fabulous and it looked really good.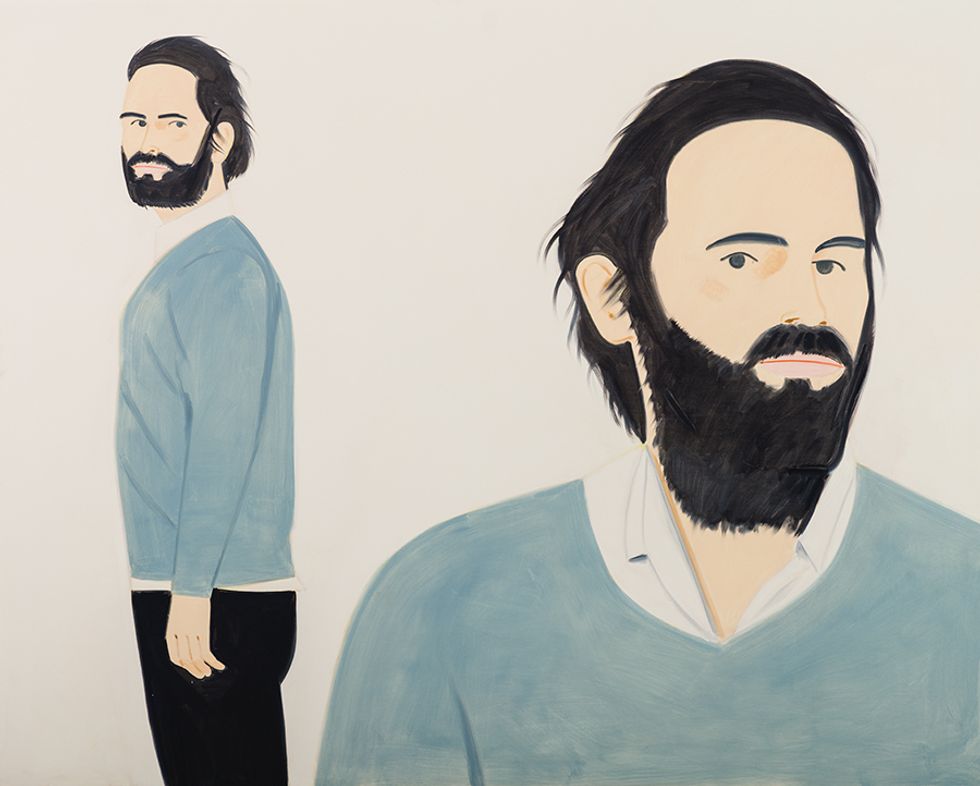 Gavin. Art © Alex Katz/Licensed by VAGA, New York, NY
Well, you know, they're from Sweden, and the Swedish have good taste. When I think about it, it seems like Sweden would be a country that is very compatible with your work's aesthetic.
Yes! They seem to be on the same wavelength. Also they did a lot of research, and a lot of thinking went into the designs and the products. I give them a lot of credit.
Your work just resonates with something that's in the zeitgeist right now. Especially in the fashion world. Your work is beautiful, and it's also kind of icy. It has a certain aloofness and modernity that you can sometimes find on fashion catwalks these days.
A lot of the art world is controlled by art historians. And many of them think art is frozen, but actually, art is very connected with fashion. I think it goes in three-year cycles, just as fashion does. Fashion is a great big thing that goes through the whole European-American world, and art tries to hook onto it just like everything else. Many think that people control the art world and what's in fashion, but they don't. It's something that runs amok. We artists don't make this stuff up by ourselves…it's just our response to the culture.
You're not fickle in your work, changing your art with what's in style or not in style. Your work has always been consistent. As an artist, how do you keep from feeling like you're repeating yourself?
You just try new things all the time. Different ideas come to you and you use different tools. Lately, I've been using the iPhone to get many images and multiple splits.
Do you always paint people?
It's people in these big environmental landscapes.
So right this minute, are you painting people? Portraits?
More or less. Most of them are going to be people walking away from you.
Do you look at a lot of young artists' work?
Yeah, because at the foundation we buy stuff and give it to museums that will sell it. So, I'm forced to see a lot of young artists.

A piece from the Alex Katz x H&M collection
And do you ever still teach?
No. I stopped. I used to teach at Yale and later on when I was teaching at Pratt, a girl came up and said, "Alex, what are you doing wasting your time here with us?" But it was fun teaching. That is how I learned to talk. Painting is internal talking in a way. Teaching art forces you to articulate ideas, and so I got as much out of it as the students did.
What kind of advice would you give a young aspiring painter just out of art school?
Well you've got to work hard. Painting is a craft and it takes a long time to master the craft. I work seven days a week.
Does it shock you to find out that you've become this major cult hero for the coolest young kids these days? I mean, you probably know, because your kids probably clue you in.
It's kind of funny. People stop me in the street now. Basically I'm still in the studio, and I'm still that same person who had non-negotiable work for 20 years.
That's what happens. You just keep doing what you do, and people come around.
I was always trying to make something new. But now I feel the world caught up with me.
Header image: Art © Alex Katz/Licensed by VAGA, New York, NY

You May Also Like