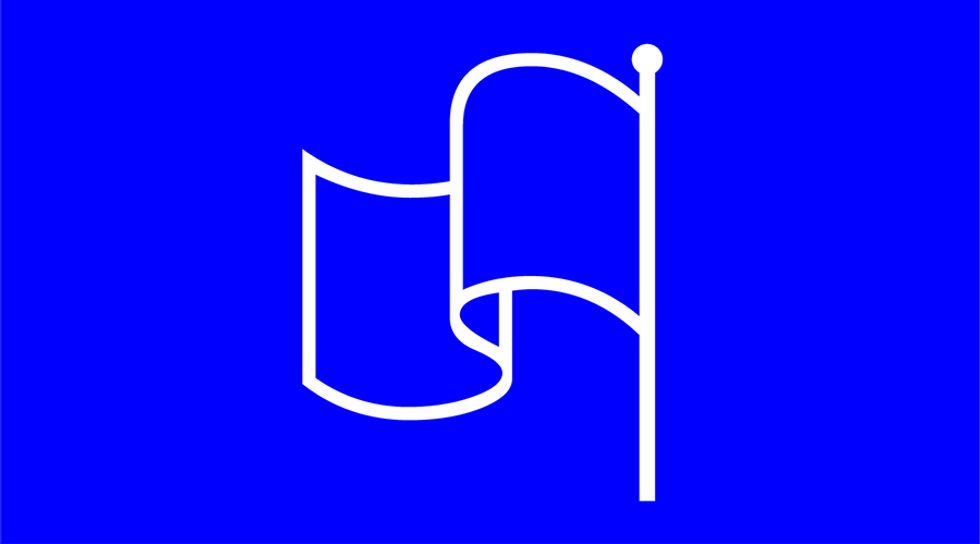 It's college admissions season and students are scrambling to apply. Fortunately, there are unconventional solutions that can be explored at the "Alternative Art School Fair" at Pioneer Works (159 Pioneer Street, Red Hook, Brooklyn) on November 19 and 20. Over 50 international schools are participating including: The Ventriloquist Summerschool in Oslo, Norway; The Cheapest University in Paris; The Free School of Architecture in Los Angeles; and The School of the Damned in London. The fair was organized by Catherine Despont, Alexandre Gurita and Dylan Gauthier; and it includes panel discussions, workshops, talks etc. with tickets $15 for one day or $20 for both.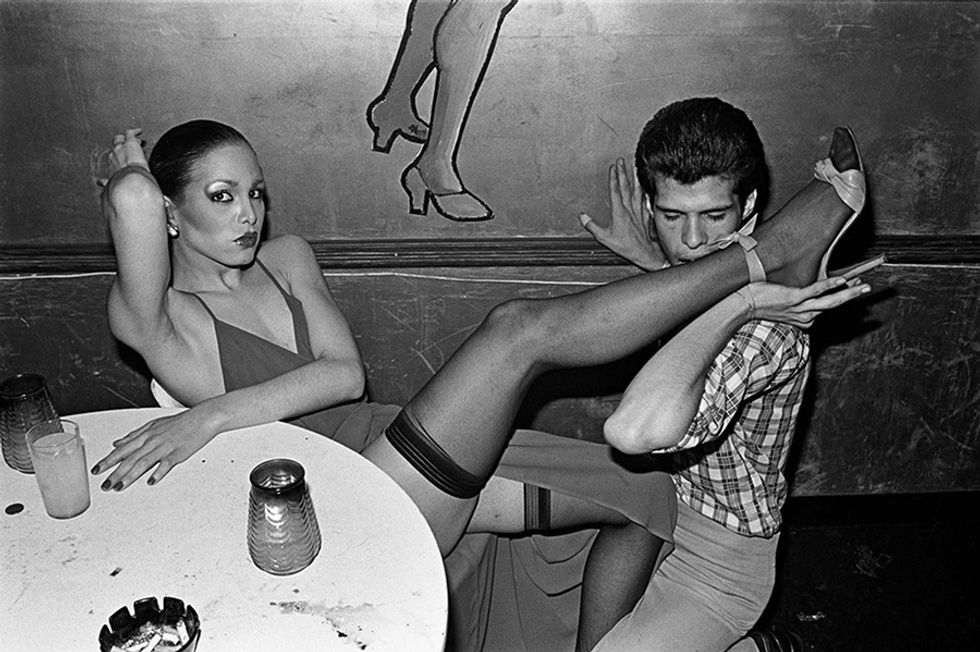 Bill Bernstein
The Museum of Sex (233 Fifth Avenue) opens a show of photos by Bill Bernstein called "Night Fever: New York Disco 1977-1979" on November 18 and on view until February 19, 2017. Bernstein started documenting the club scene in 1977 when the Village Voice assigned him to cover an event at Studio 54. For this exhibition, over 40 of his candid shots will be shown in an "immersive" environment that includes a pop-up disco with guest DJs from back in the day and a full operating bar. HERE's a sneak preview.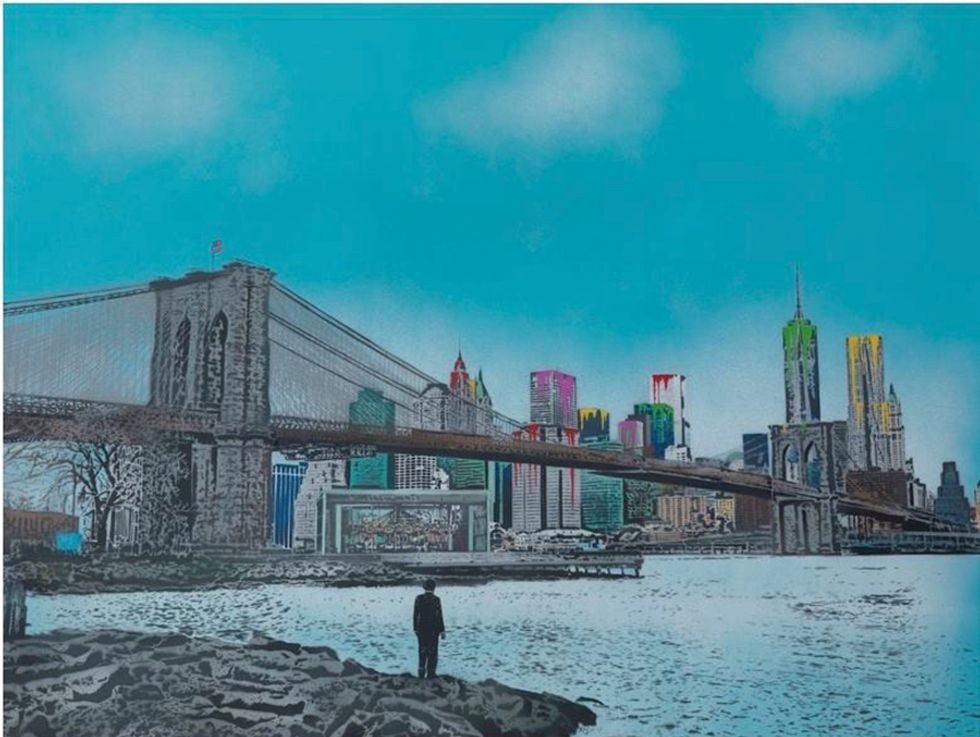 "The Bridges" by Nick Walker
Rose Bar Gallery (31 Perry Street) has a series of works by Nick Walker called "The Bridges" on view from November 16 to 21. Proceeds of the sale of a limited edition print from the series will benefit Coalition for the Homeless. Walker, who lives and works in the UK, is perhaps best known for his stenciled image of a man in a bowler hat known as Vandal. The Gramercy Park Hotel, Illegal Mezcal and Billboard4.org provided support.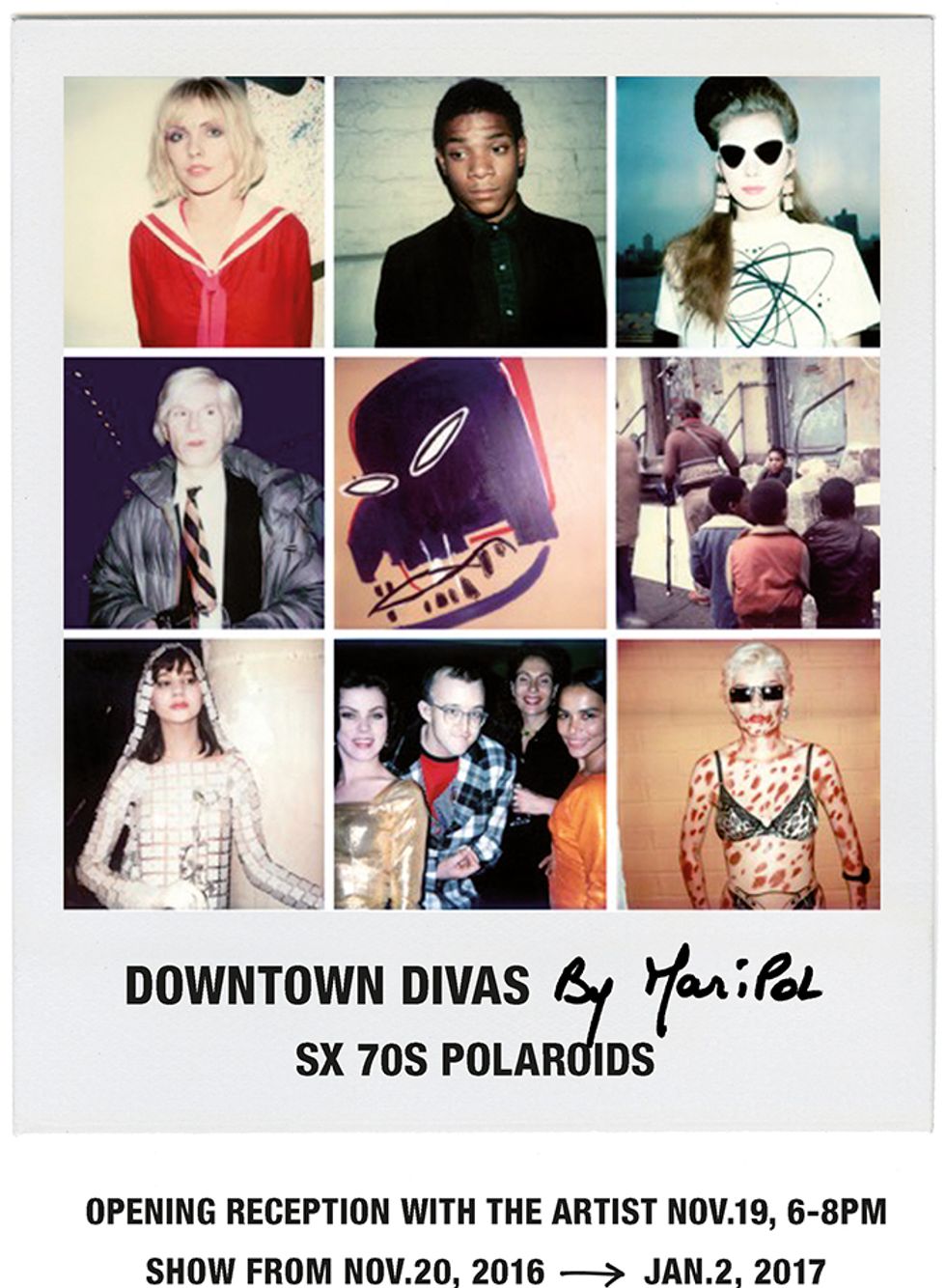 Check out Maripol's Polaroids from the late 70s thru the 90s in an exhibition called "Downtown Divas" at agnes b. Galerie Boutique (50 Howard Street) opening on Saturday, November 19, 6 to 8 p.m., and on view until January 2, 2017.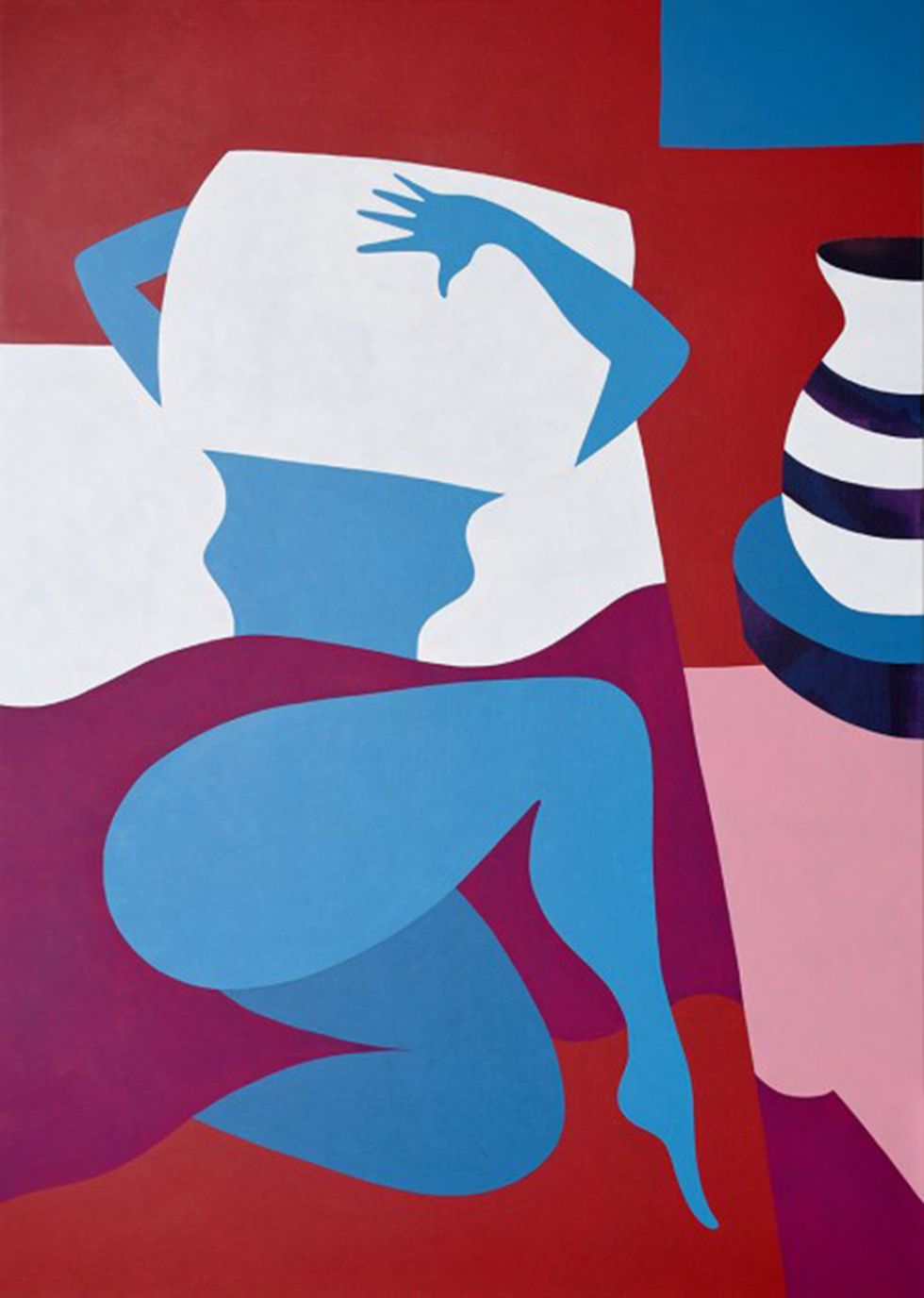 Parra, Acrylic on canvas,55 x 39 inchesJoshua Liner
Joshua Liner Gallery (540 West 28th Street) has their first solo show, "No Work Today," with Dutch artist and designer Parra opening Thursday, November 17, 6 to 8 p.m., and on view until December 17. The show features 12 new works that demonstrate "a shift in style," eliminating the faces of the figures while exploring the curved forms.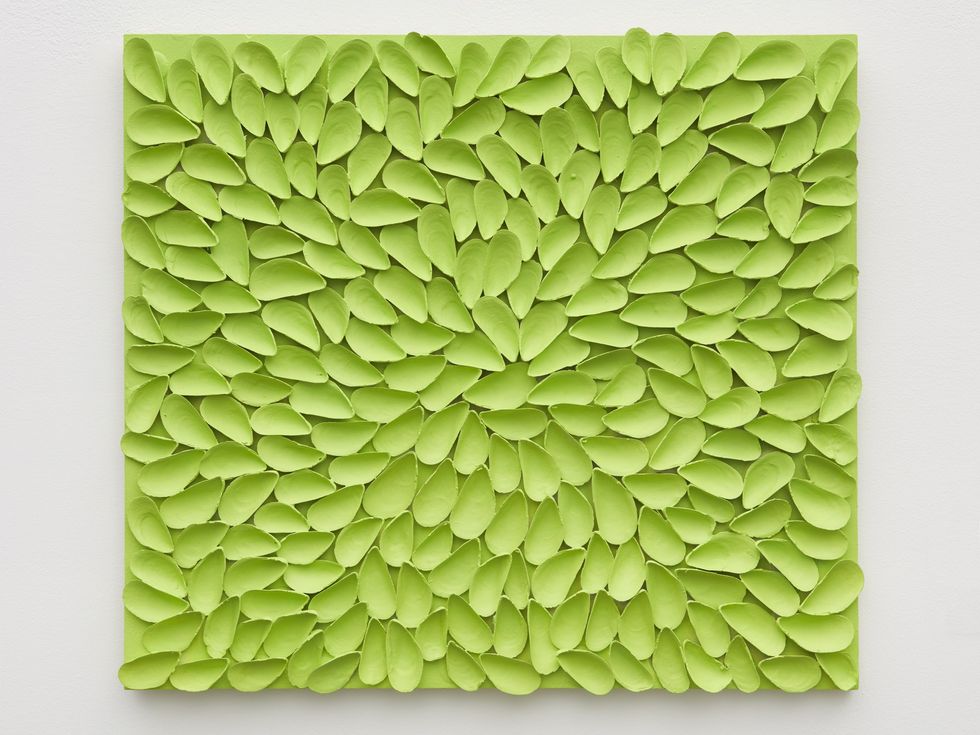 It didn't turn out the way I expected (Brilliant Yellow Green), 2016., Tony Feher
Sikkema Jenkins & Co. (530 West 22nd Street) opens a memorial exhibition of work by Tony Feher called "It Didn't Turn Out the Way I Expected" on Thursday, November 17, 6 to 8 p.m. This is the debut of the NYC artist's last paintings and drawings and it runs concurrently with another show in San Francisco at Anthony Meier Fine Arts. On view at SJ & Co. until December 23.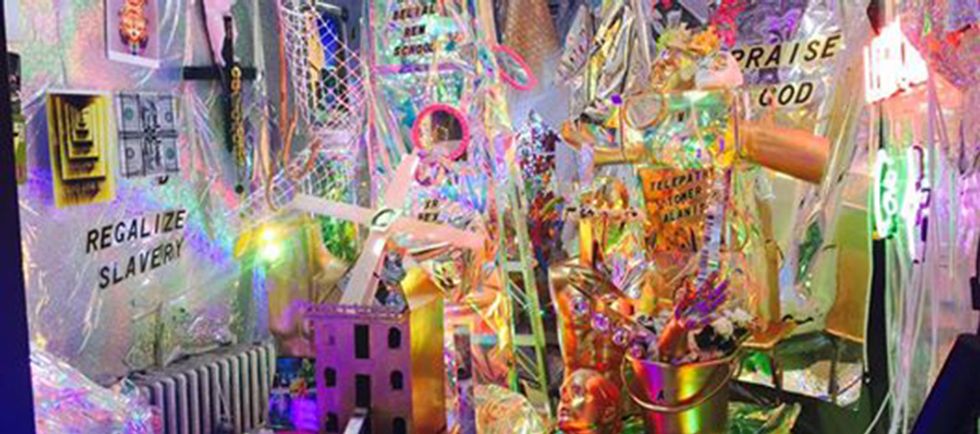 Vector Gallery (199 East 3rd Street) has an exhibition (aka "shrine") by JJ Brine (aka "The Crown Prince of Hell") called "Ultra Media Kontrol" opening on Friday, November 18, at 9 p.m. The show features "the press coverage of (Brine's) art as the art itself."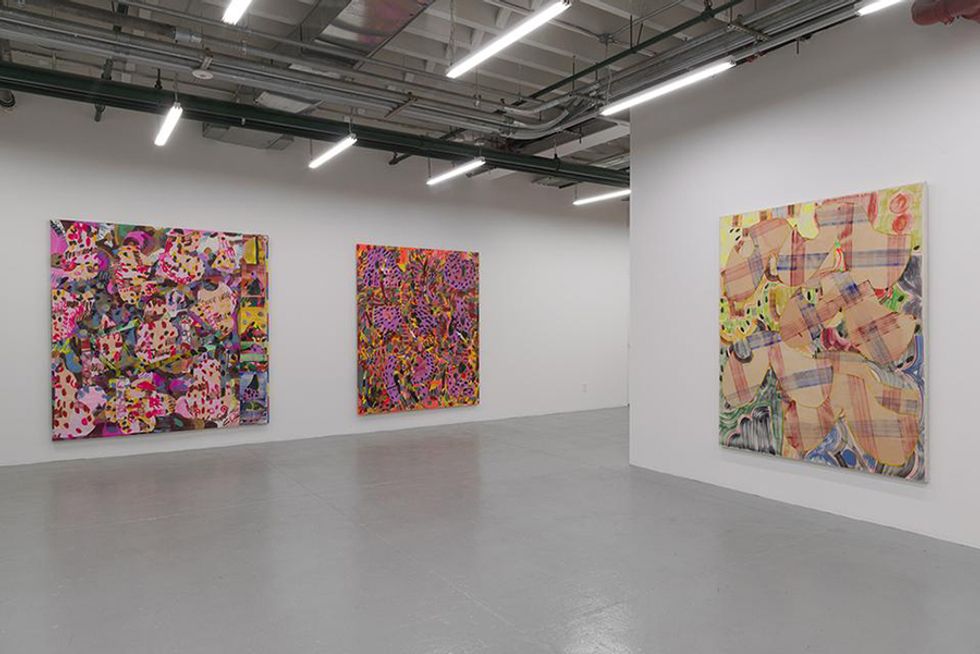 Albertz Benda Gallery hosts a talk in their project space at 515 West 26th Street with artist Ali Silverstein and dominatrix Kasia Urbaniak on Wednesday, November 16, 7 p.m. The talk will explore the connections between the artist's "action paintings" and BDSM culture. The gallery's current Silverstein exhibition is on view now through December 17.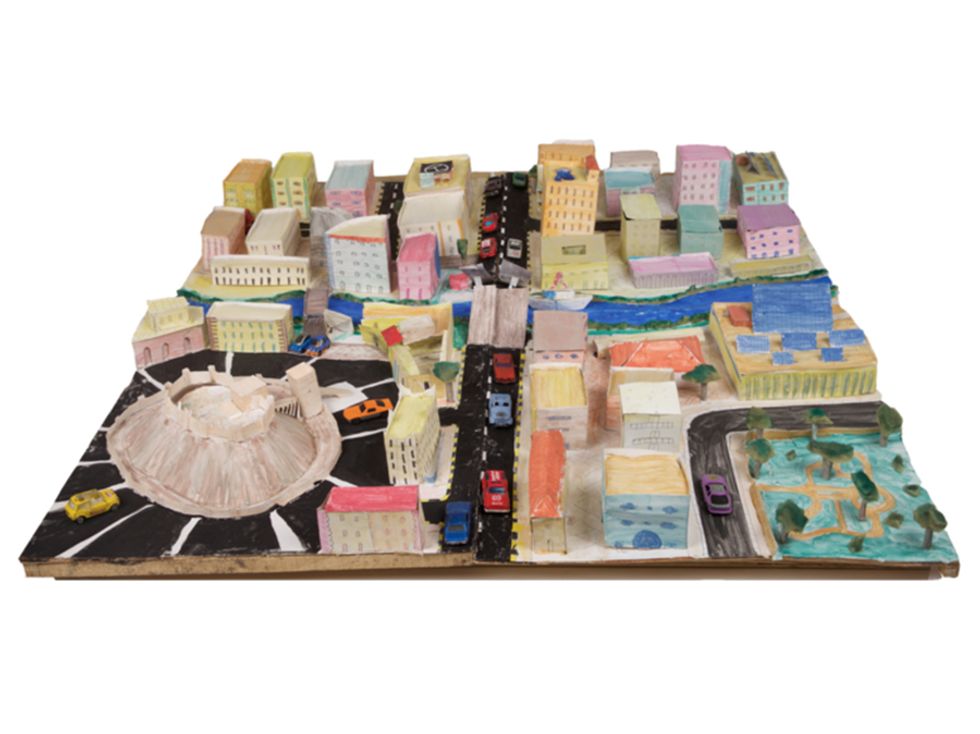 Future Aleppo by Mohammed Qutaish
The second edition of Tribeca Art Night is Thursday, November 17, 6 to 9 p.m. Twenty-three galleries, non-profits and arts orgs are participating, including Cheryl Hazan Gallery (35 North Moore) with a solo show, "Uneven Edges," by Deb Lawrence, who will be in the gallery for a talk at 7:30 p.m. on the 17th. And check out 14-year-old Mohammed Qutaish's "Future Aleppo," a paper model of his vision of "the Syria of tomorrow" at Mmuseumm2 (4 Cortlandt Alley).
Splash photo: Bill Bernstein, via papermag.com