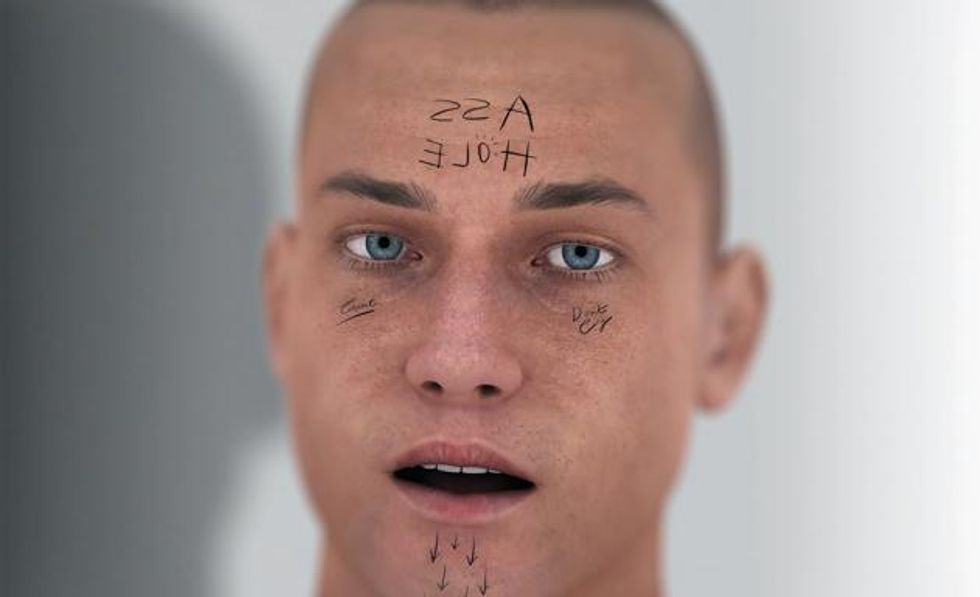 Still from Ed Atkins' film "Ribbons," 2014. Atkins is known for large-scale film installations.
Gavin Brown's Enterprise opens a group show this weekend in their Hancock, New York, space. The gallery/restaurant, Unclebrother (250 East Front Street), launched last summer with chef/artist Rikrit Tiravanija, and will be open this summer on weekends from May 27 to September 5. The show, "All Summer in a Day," includes works by Etal Adnan, Ida Barbarigo, Brian Belott, Kim Beom, Daniel Boyd, Poul Gernes, Udomsak Krisanamis, Ben Morea and Blinky Palermo (ne' Peter Schwarze). GBE also just opened a new space up at 439 West 127th Street with a show by British artist Ed Atkins. For his first project with GBE, Atkins filled three floors of the old brewery building with installations incorporating video, sound and text.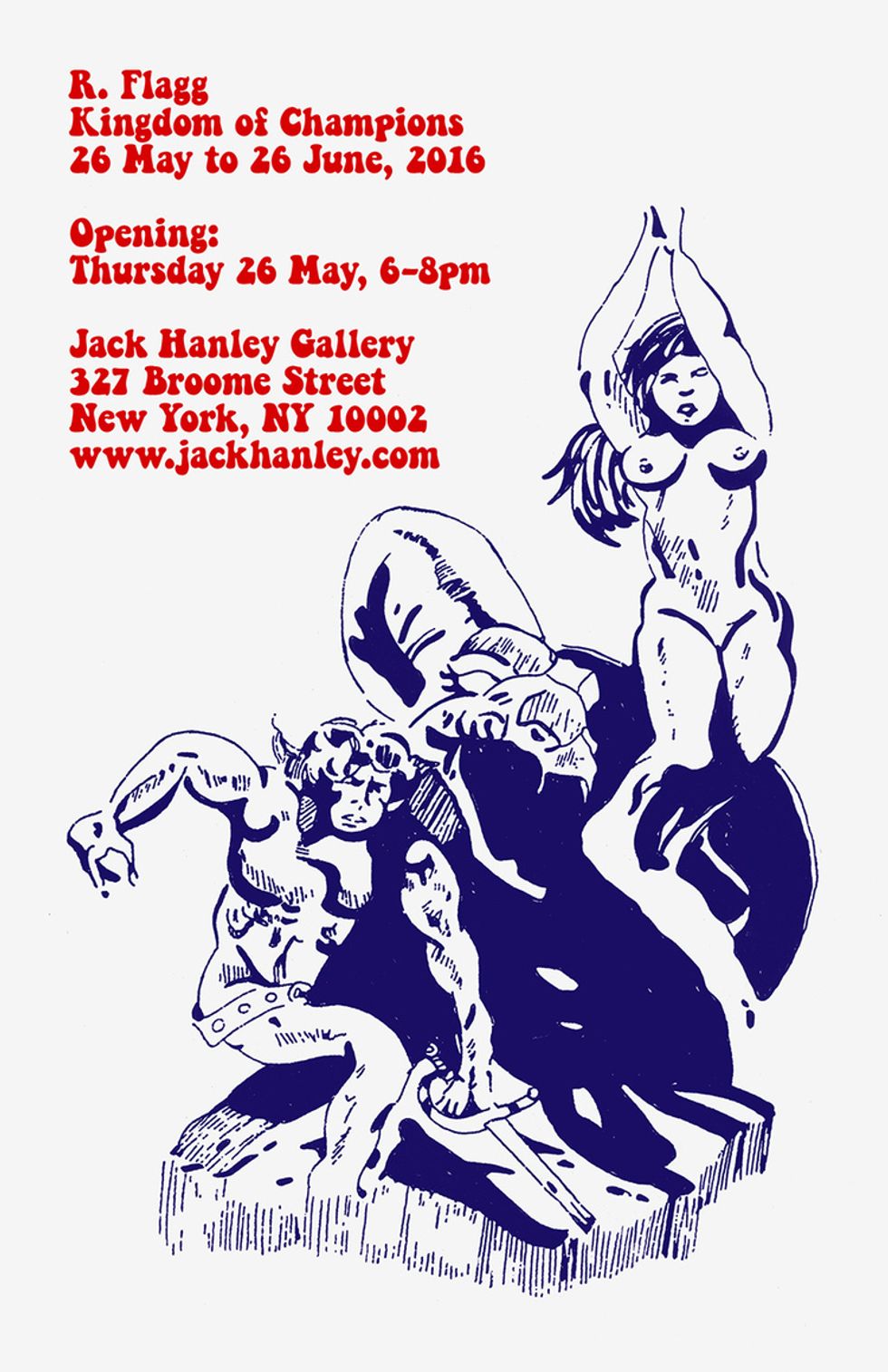 Jack Hanley Gallery (327 Broome Street) opens "Kingdom of Champions," featuring works by New York artist R. Flagg, on May 26, 6 to 8 p.m. and on view until June 26. Flagg's work deals with fandom and the groups that "interact around certain genres of popular culture," as well as the artworks these groups make. He sees fan culture as a "precursor of blogs and social networks."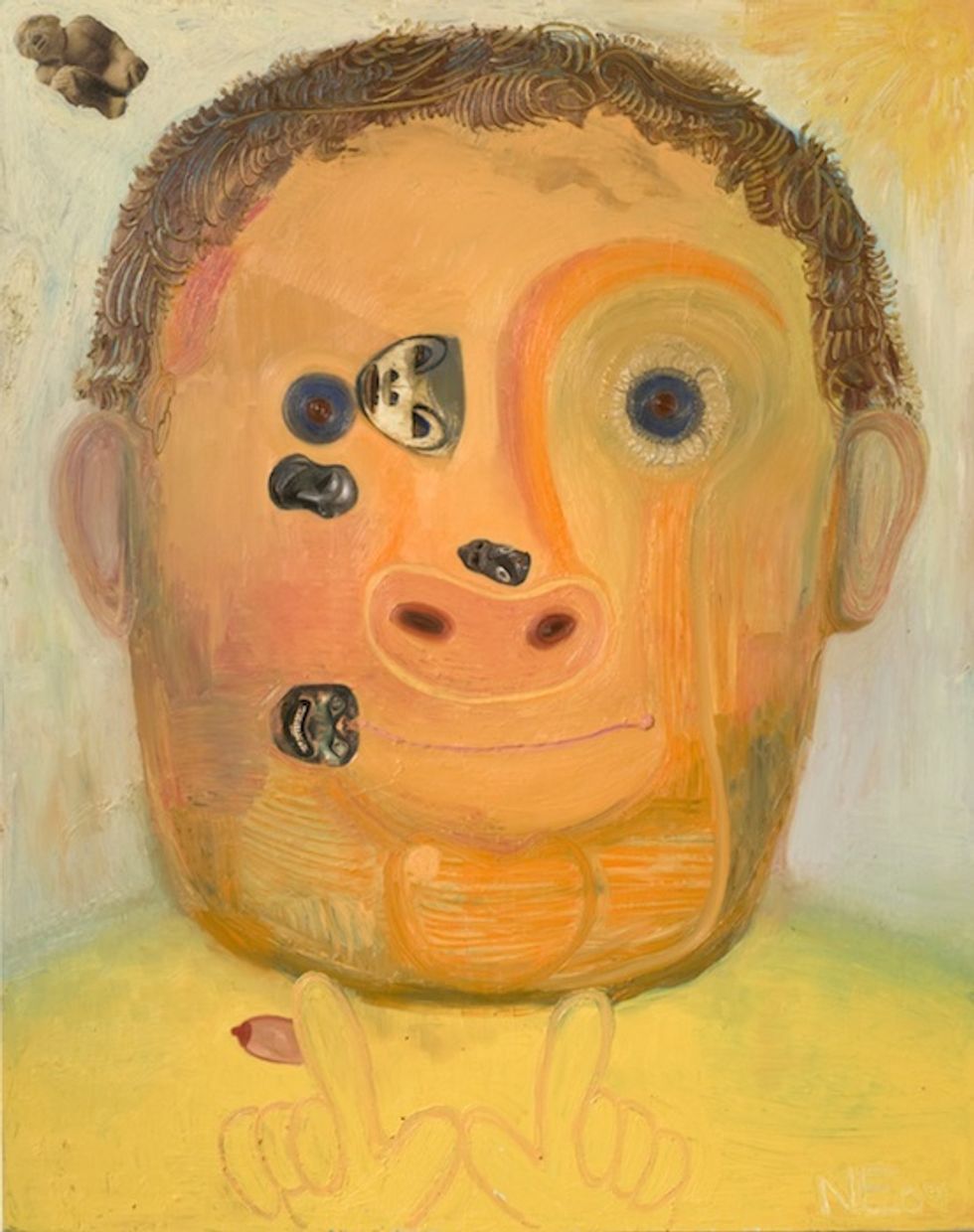 "whatever guy" by Nicole Eisenman, part of the "If Only Bella Abzug Were Here" exhibition
Marc Straus Gallery (299 Grand Street, LES) has a new group exhibition called "If Only Bella Abzug Were Here" opening on May 25, 6 p.m., and up until July 29. The show, curated by Tim Hawkinson and Ken Tan, honors the late activist and member of the House of Representatives -- and wearer of large hats -- with a selection of works by established and upcoming female artists.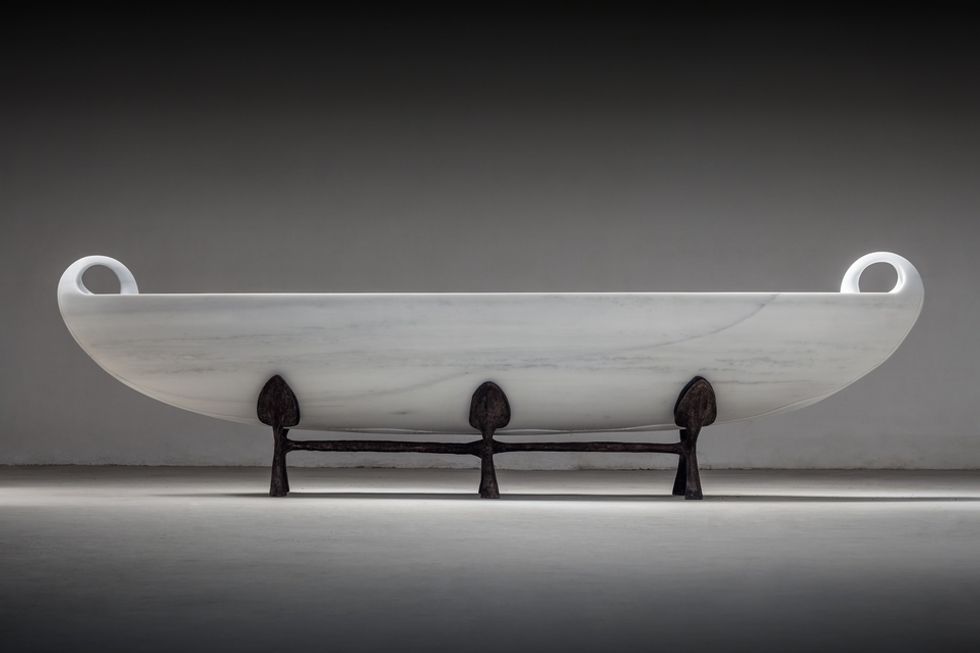 "Psyche" by Saint Clair Cemin, part of the Paul Kasmin Gallery inaugural exhibition
Paul Kasmin Gallery (297 Tenth Avenue) has the inaugural exhibition of a new sculpture, "Psyche," by Saint Clair Cemin opening on Thursday, May 26, 6 to 8 p.m. This work by the Brazilian-born, New York-based artist is a large-scale marble boat over 15 feet long and weighing 30,000 pounds -- yet can still float. It was inspired by the Greek myth of Psyche and Eros. On view until August 19.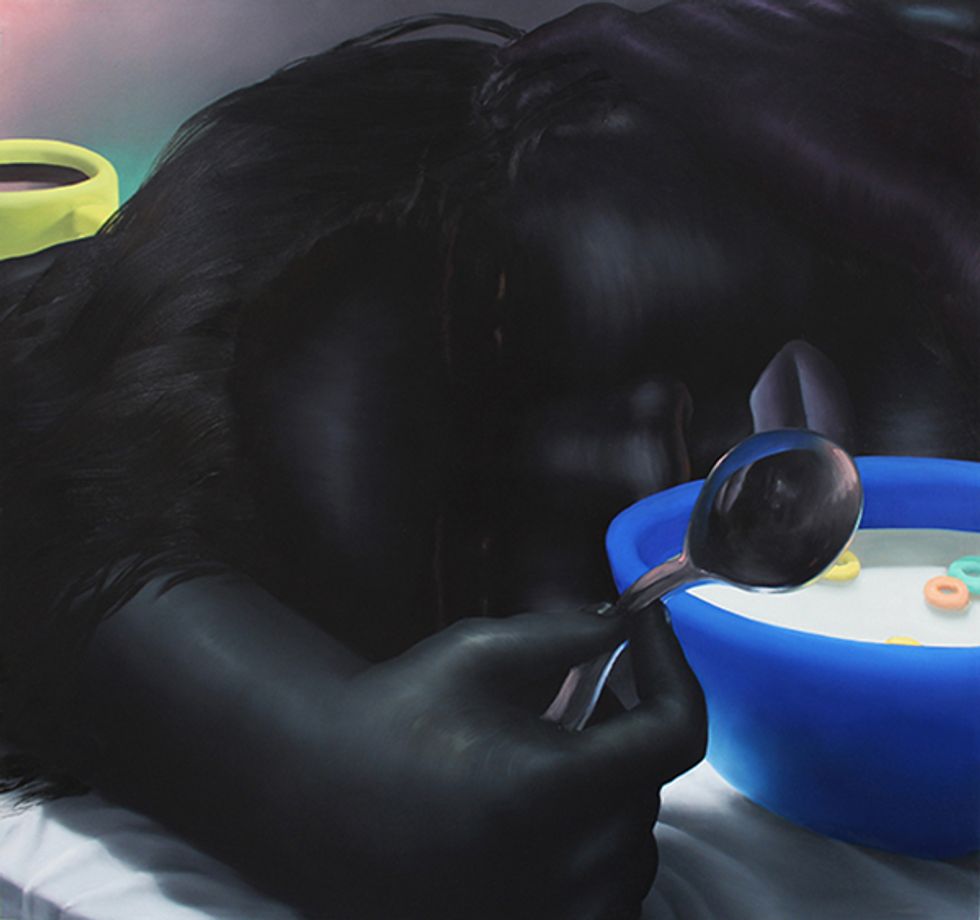 "Free Time" by Jordan Kasey, part of the Signal Gallery summer sculpture garden opening
Signal Gallery (260 Johnson Avenue, Brooklyn) opens their summer sculpture garden on Friday, May 27, 7 to 10 p.m., with a group show put together by Sean Keenan with works by Jeff Eaton, Anne Libby and Eric Veit. The same night, they've got the opening of the debut solo show,"Free Time," by Baltimore-based artist Jordan Kasey.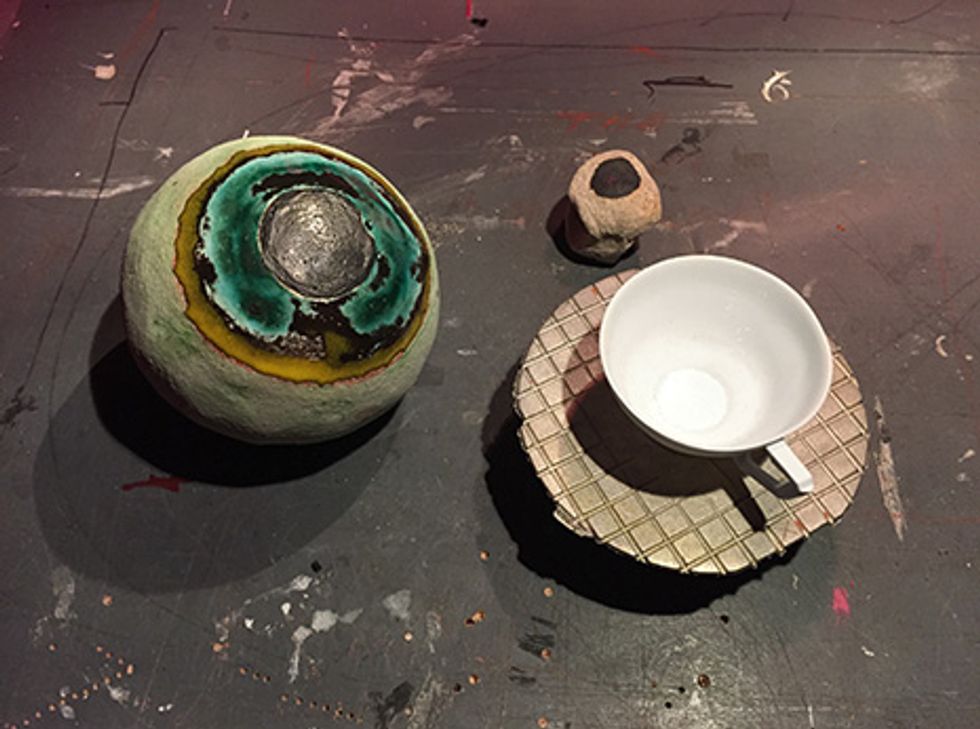 JJ PEET, studio view with stoneware Eyeball Viewer and bone china cup
To inaugurate their new space at 213 Bowery, On Stellar Rays presents a series of shows beginning May 26, 6 to 8 p.m., with the opening of "HOTSPOTS," featuring works by Rochelle Feinstein, Tommy Hartung and JJ PEET. Up until July 1. The second exhibition in the series will include works by Julia Bland, Zipora Fried, Ryan Mrozowski and Maria Petschnig. The gallery is expanding from their adjacent space at 1 Rivington to now include the basement and storefront on the Bowery.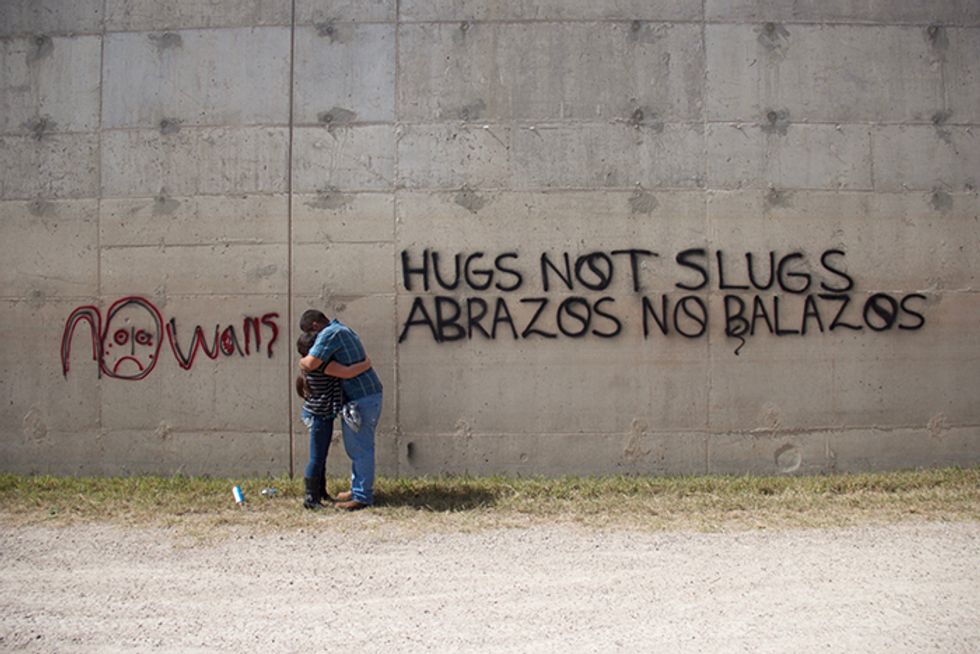 Lupe Flores, "Abrazos no balazos/Hugs not Slugs", part of the "Fencing In Democracy" group show
Apexart (291 Church Street) has a big group show, "Fencing In Democracy," that includes artists, architects, activists and other people who are interested in finding alternatives to the U.S. - Mexico border wall. Opening on Wednesday, June 1, 6 to 8 p.m., and up until the end of July, the exhibition was organized by Miguel Diaz-Barriga and Margaret Dorsey.
Miami artist Carlos Betancourt is celebrating the release of his new book, "Imperfect Utopia" (Skira/Rizzoli), with a talk and book signing hosted by Cultured and Maria Brito at the Rizzoli Bookstore (1133 Broadway) on Wednesday, June 1, 5:30 to 7:30. Art writer Paul Laster leads the conversation. There's also an afterparty/installation at The Gilded Lily, rsvp required.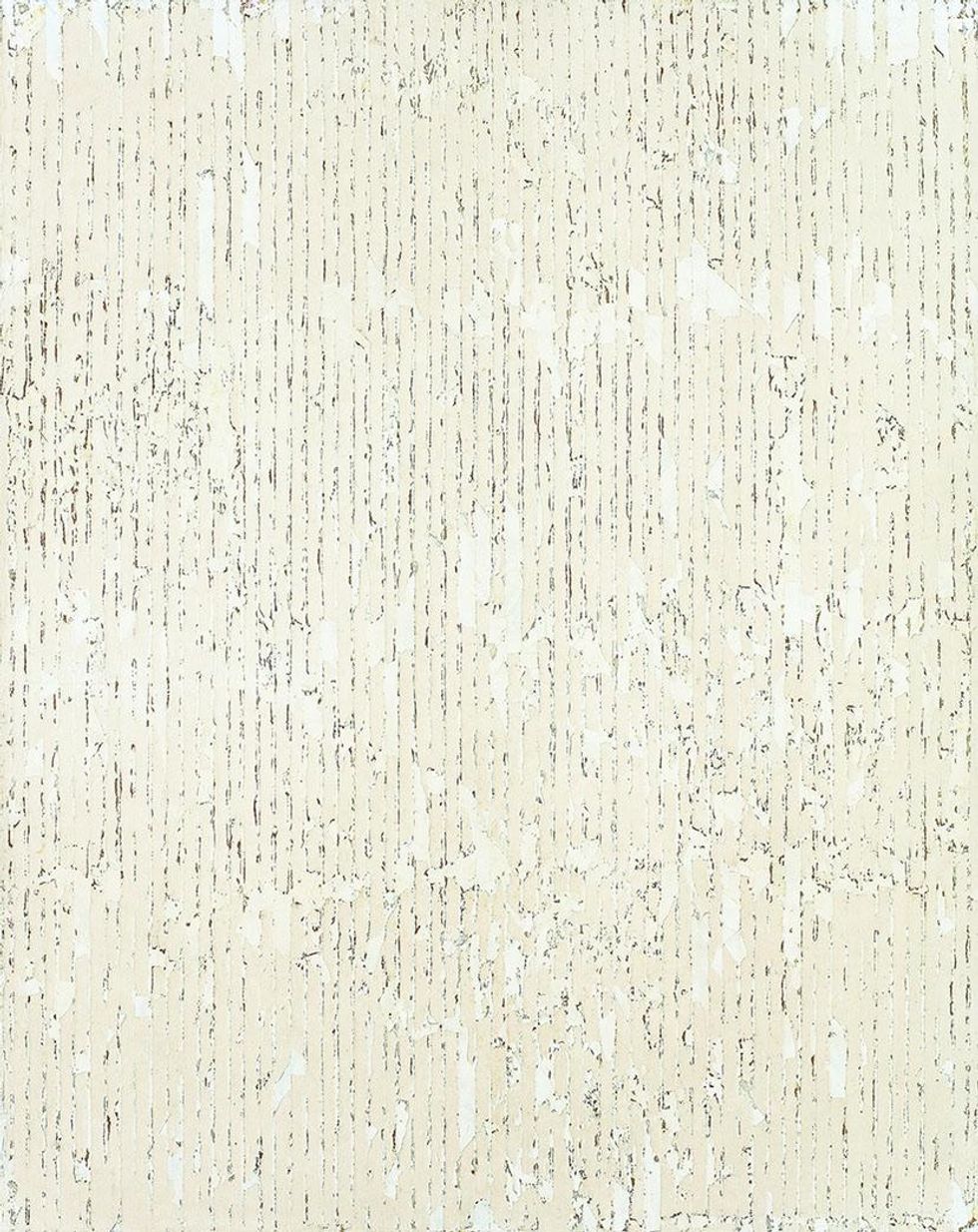 Chung Sang-Hwa, "untitled,"part of his first U.S. solo exhibitions at the Dominique Levy Gallery and Greene Naftali Gallery
Dominique Levy Gallery (909 Madison Avenue) on Greene Naftali Gallery open the first U.S. solo exhibition by Korean artist Chung Sang-Hwa on June 1, 6 to 8 p.m., and on view until July 30. Greene Naftali Gallery (508 West 26th Street) will be showing recent paintings by the artist, while DL's survey will feature 15 large-scale canvases from 1969 to 2014. Sang-Hwa is part of a loosely-associated group of Korean artists called "Tansaekhwa," or "monochrome painting."
ONGOING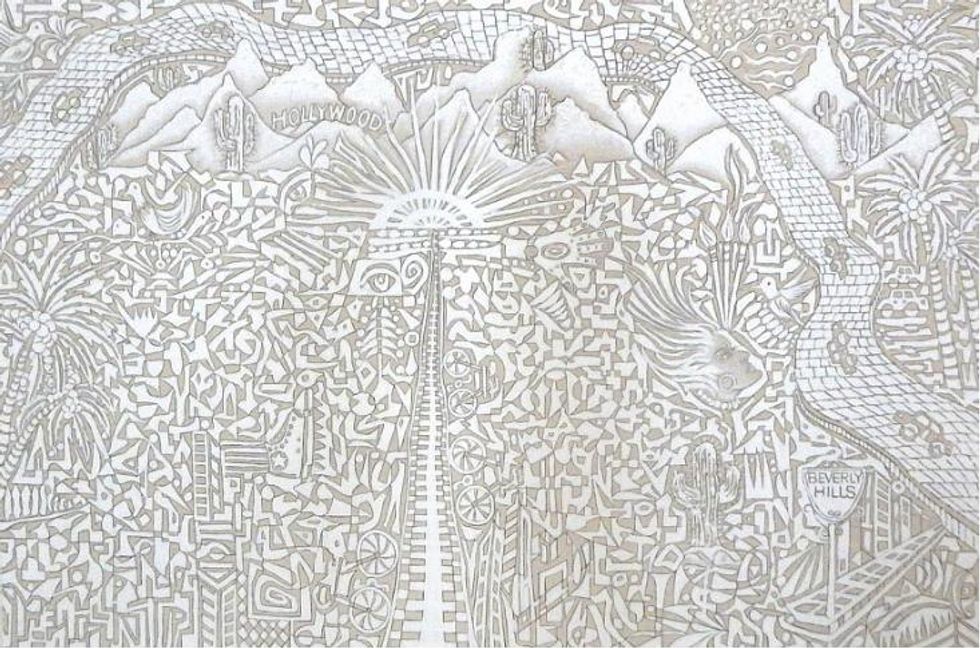 One of the drawings from Victor Matthews' "The Longest Road," part of the show at KM Fine Arts
If you're out in L.A., be sure to check out the Victor Matthews show, "The Longest Road," at KM Fine Arts (814 North La Cienega Blvd., West Hollywood) on view until July 9. Matthews is a New York native who had his first studio in the East Village in 1984, and currently works in New York and L.A. In this show, the individual paintings "signify a different chapter of his (experiences) over the last year."He also recently completed a large, collab mural with Kenny Scharf for the KRINOS Building on Bathgate Avenue in the Bronx.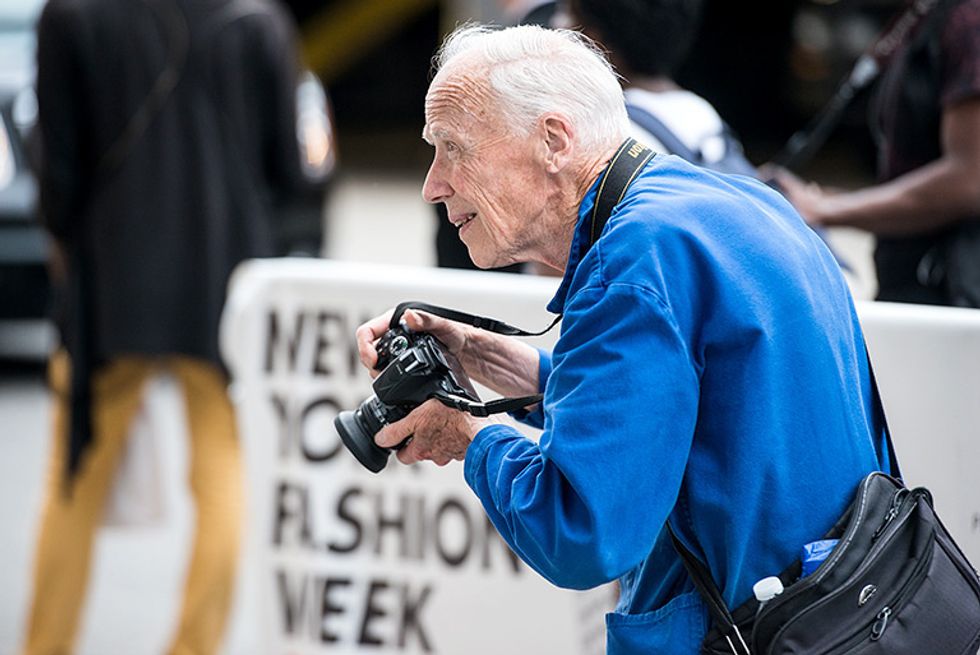 Photograph of Bill Cunningham at New York Fashion Week by Noam Galai, July 15, 2015. Image courtesy of Getty Images Entertainment.
SCAD FASH (1600 Peachtree Street NW, Atlanta, GA) has an exhibition of 66 photos by Bill Cunningham shot in 1973 at a legendary Versailles fashion show that combined top French and American designers including Dior, Cardin, YSL, Bill Blass, Halston, etc. The event was held to raise money for the restoration of Louis XIV's palace. On view until August 21.