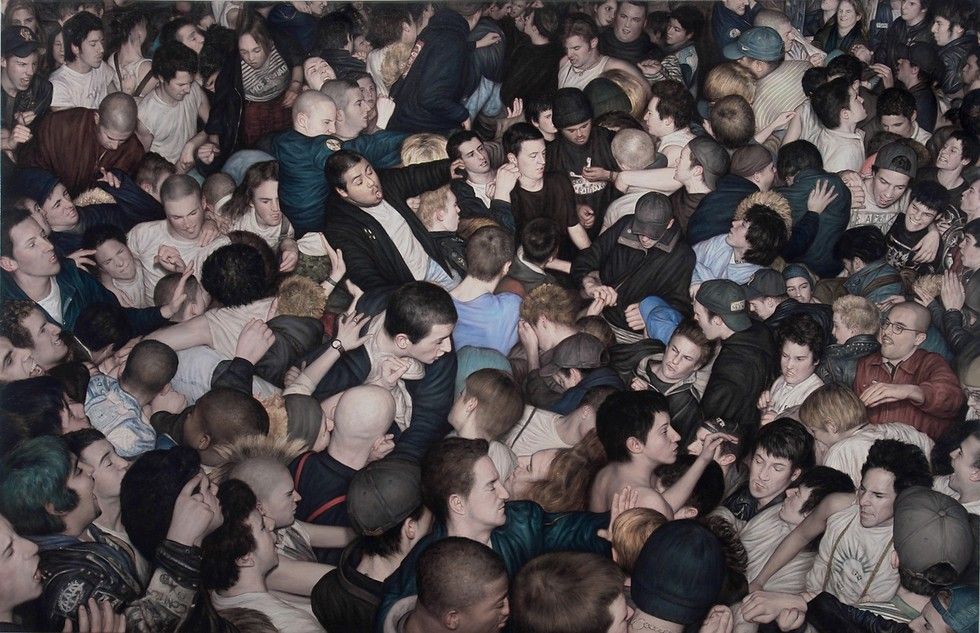 Big Moshpit by Dan Witz

Jonathan LeVine
kicks off a big week with the opening of his new space on the ground floor of 557 West 23rd Street on Thursday, April 3rd, 6 to 8 p.m.  The inaugural show, "
Old Game New,
" features new works from the London/Berlin collective Artists Anonymous.  Also on Saturday, April 5th, 6 to 8 p.m., the gallery opens two shows back at 529 West 20th Street including "NY Hardcore" by
Dan Witz
with large-scale, mosh pit paintings and "American Holy Relics" by the Jersey City-based artist
Dylan Egon
.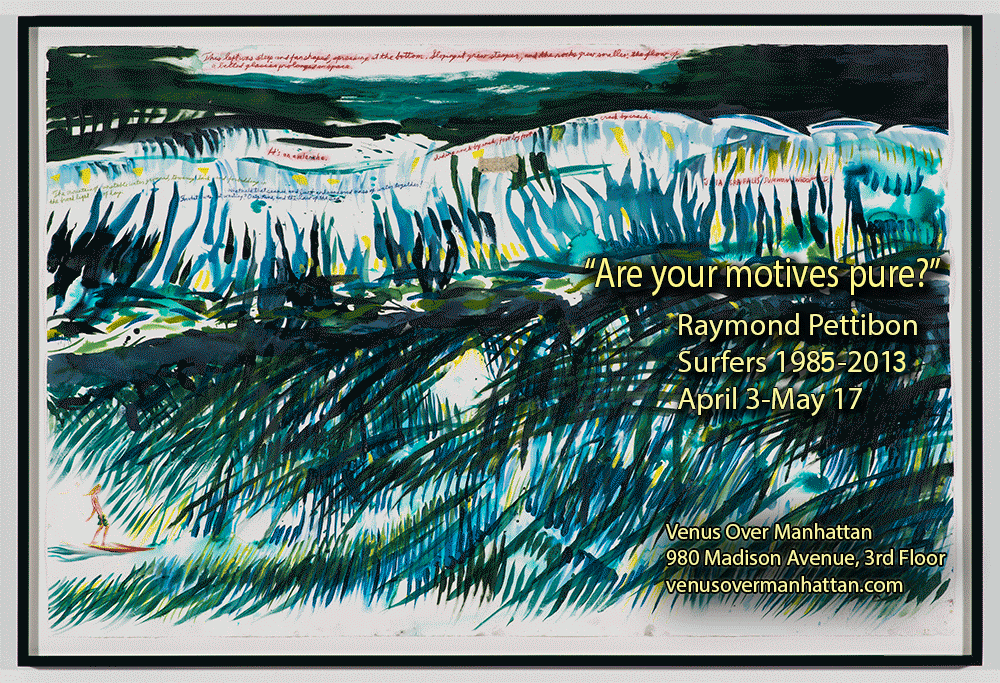 Venus Over Manhattan
(980 Madison Avenue) opens a major show of
Raymond Pettibon
's surfer paintings called "
Are Your Motives Pure?
" on Thursday, April 3rd, 6 to 8 p.m.  Over 50 works will be on view until May 17th, including several large-scale works by the Venice, California, artist and numerous paintings from the 90s.  Expect a big crowd for this opening.
What better to attend after an opening than a closing. Last chance to check out the Wallplay/IFAC Arts (118 Orchard Street, LES)
"Separation Anxiety"
show is during their closing party on Thursday, April 3rd, 7 to 10 p.m.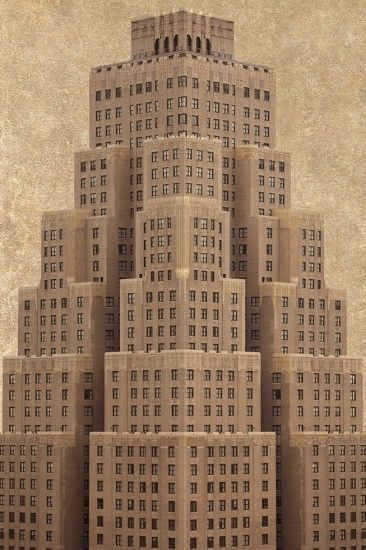 Somewhere in the West Thirties
by Marc Yankus.
Also on the 3rd, New York-based artist Michael Kagan opens "
Thunder in the Distance
" at Joshua Liner Gallery (540 West 28th Street) from 6 to 8 p.m. It's up until May 3rd. And,
ClampArt
(521 - 531 West 25th Street) has "The Space Between" with works by Marc Yankus.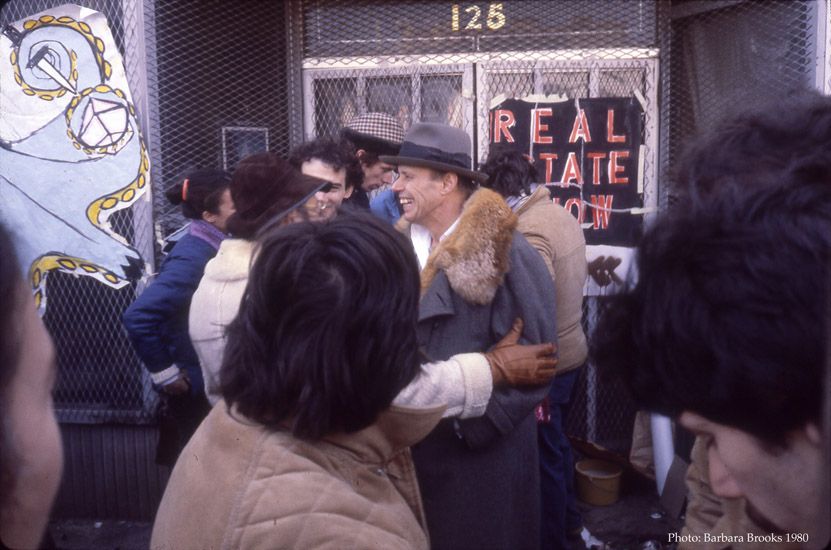 Above: A photo from the original Real Estate Show. That's the late German artist Joseph Beuys in the hat and fur collar.
James Fuentes
(55 Delancey Street) takes a look back at a short-lived exhibition from collective Colab that opened on New Years Eve 1979 and then was shut down and padlocked by the NYC Department of Housing on January 2nd. (You can read more about Colab in our oral history of Max Fish,
here
.) This version of "The Real Estate Show" opens on April 4th and runs until April 27th, with pieces by Tom Otterness, Jenny Holzer and Walter Robinson among more on display.  Many of the works from the original exhibition will be on view, along with additional documentation etc.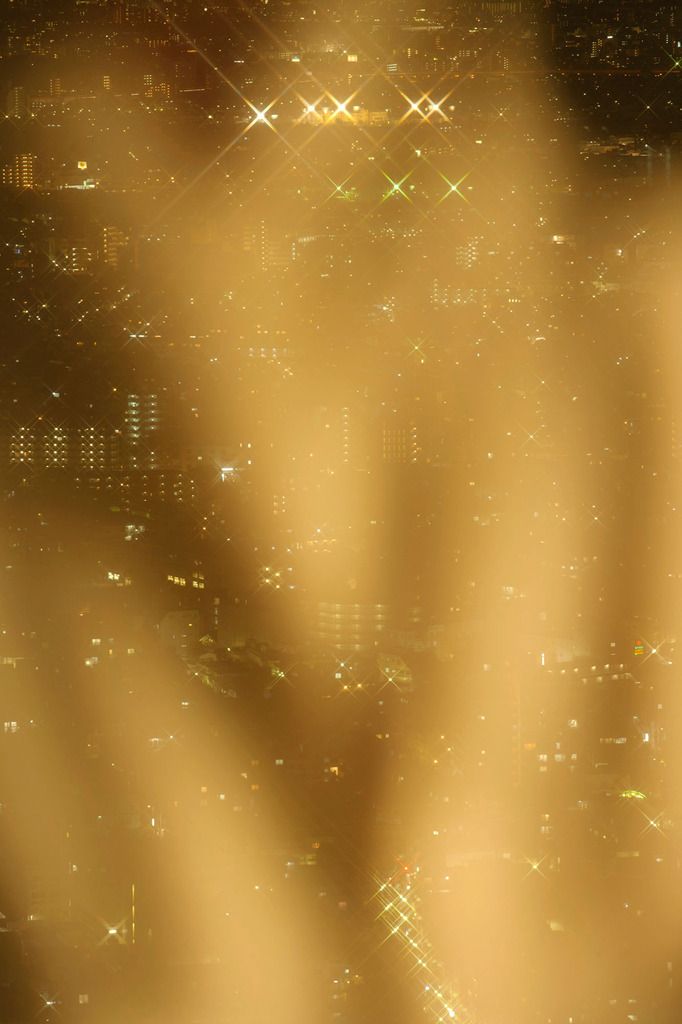 Tokyo, 2009
by Roe Ethridge.
Marlborough Chelsea (545 West 25th Street) opens a group show called
"Lone Tree
" on Friday, April 4th, 6 to 8 p.m.  The exhibition includes contemporary work inspired by" Romanticism and, in particular, the work of Caspar David Friedrich."  The artists include Dan Colen, Andreas Gursky, Ed Ruscha, Roe Ethridge, Robert Longo, Anselm Kiefer and many more.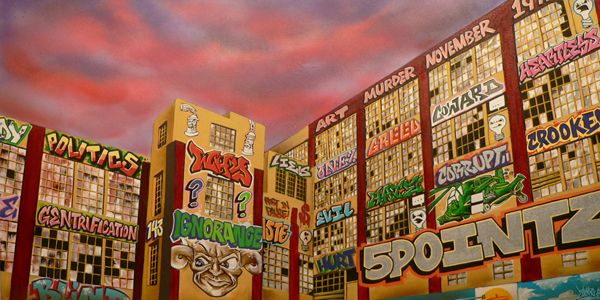 If you still haven't gotten over the destruction of "5 Pointz," the graffiti-covered Long Island City building that was painted over in November, head over to
Jeffrey Leder Gallery
(/) (2137 45th Road, Long Island City) on Saturday, April 5, for the opening of "Whitewash."  The group show "explores strong reactions" to the whitewashing of the building and includes works by nine artists and two photographers.  It's up until June 8th.
For more art shows opening this month and next go
here
.