Paterson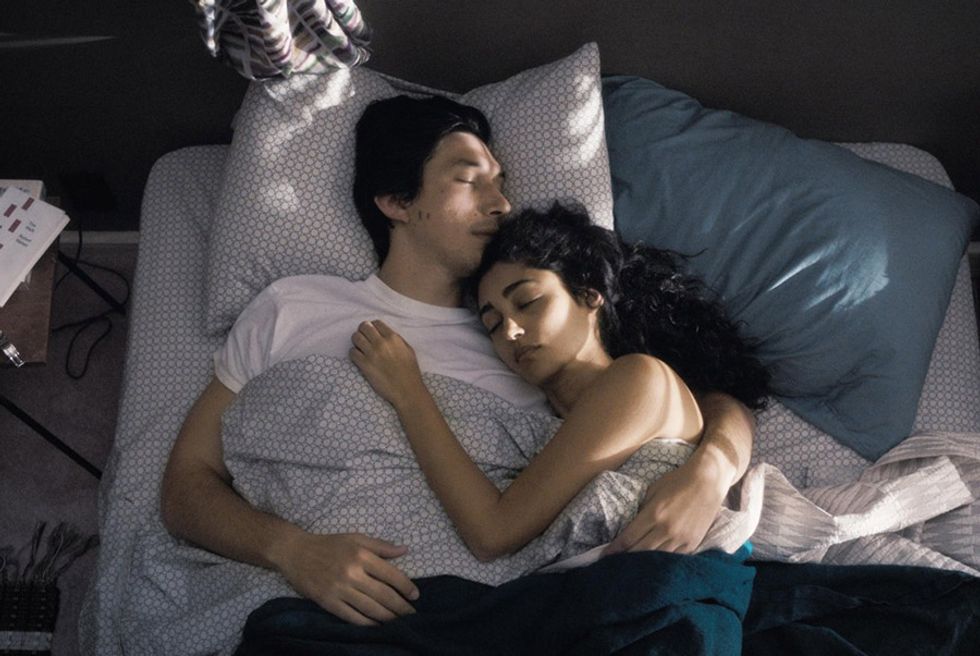 Jim Jarmusch's new film is about a New Jersey transit bus driver and poet named Paterson (Adam Driver), and what a wonderful, strangely beautiful, and odd movie it is. Paterson lives with his girlfriend (Golshifteh Farahani) and encourages her in her mercurial artistic endeavors- painting, cupcakes, even country western singing. Nightly he walks his English bulldog to the local pub and discuses Paterson local heroes like Dave of the soul duo Sam & Dave. Lou Costello and his favorite poet William Carlos Williams. All along he enters his poems in his secret little journal. The movie leisurely documents his day- flashes of passenger's conversations, an encounter with a little girl who also writes poems, and seeing twins (which mysteriously keep weaving in and out of his days). But like a great poem the deceptively simple premise builds to a surprisingly emotional and profoundly moving finish.
Julieta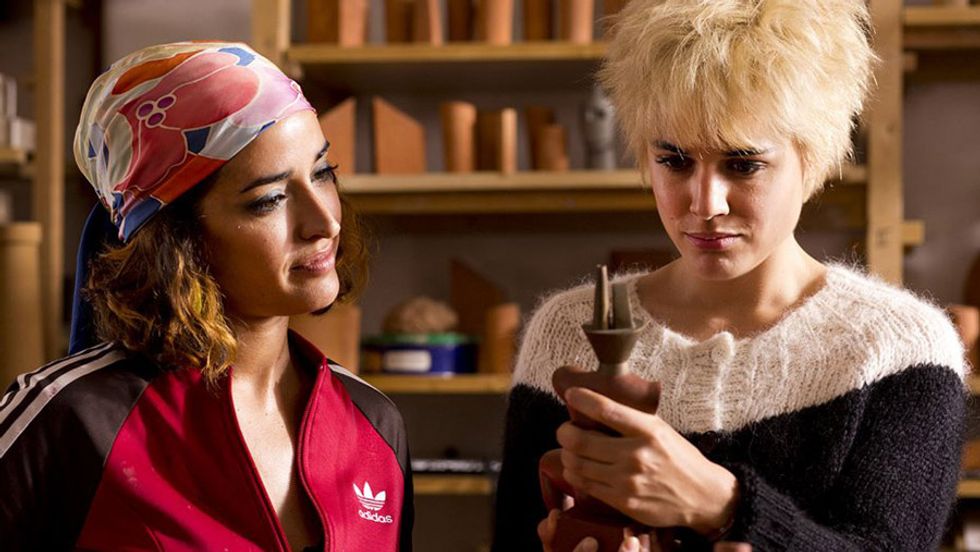 The latest wonder from Pedro Almodovar is based on several short stories by the luminous writer Alice Munro. All revolve around Julieta (Emma Suarez & Adriana Ugarte) from a young woman whose choice as to who to talk to on a train alters her life irrevocably. Or dealing with visiting her family with her ailing mother and her father and his new girlfriend. Or coping with tragedy and having her younger daughter help her pick up the pieces only to eventually mysteriously disappear from her life. The chronology of this woman's life unfolds with great tenderness in a more linear fashion for Almodovar but also with great artfulness and emotional power. Even the score by Alberto Iglesias imbues the film with a hushed, quietly lyrical, backdrop to this heart-rending tale. The two women who play Julieta are absolutely extraordinary. And the wonderful Rossy de Palma reappears as a Mrs. Danvers-like housekeeper.
The Eyes Of My Mother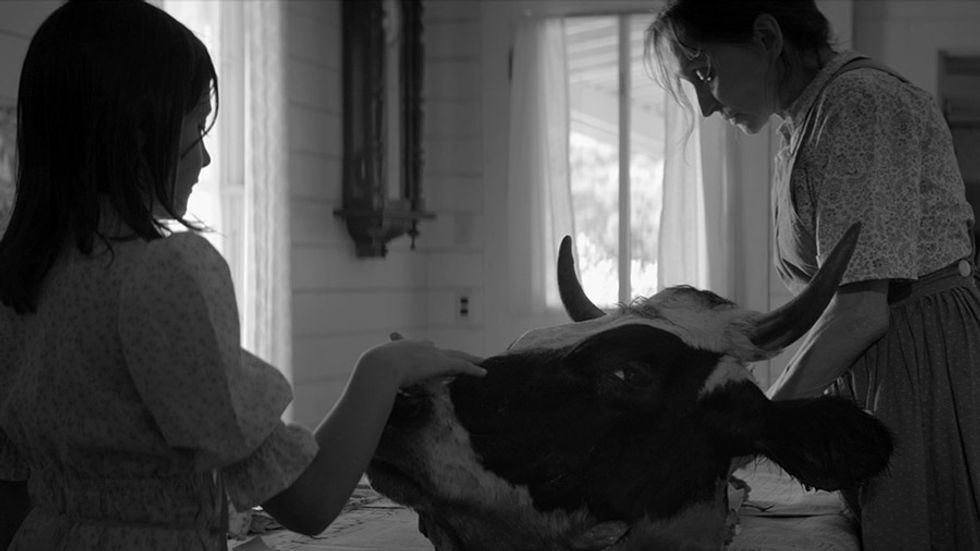 An unnervingly creepy 77-minute black & white gothic horror film by writer/director Nicolas Pesce. Young Francisca (Olivia Bond) grows up on a remote farm with her sullen father and mother who teaches her the skill of surgery by practicing on cow heads. This comes in handy in later life for Francisca (now played by Kika Magalhaes) when the loss of her parents sends her spinning homicidally out of control. Similar in mood to Frederick Friedel's bizarre 1974 film Axe, the sense of isolation, loneliness, and "otherness" makes seem normal any act of extreme violence. A grotesque, grisly, treat.
I, Daniel Blake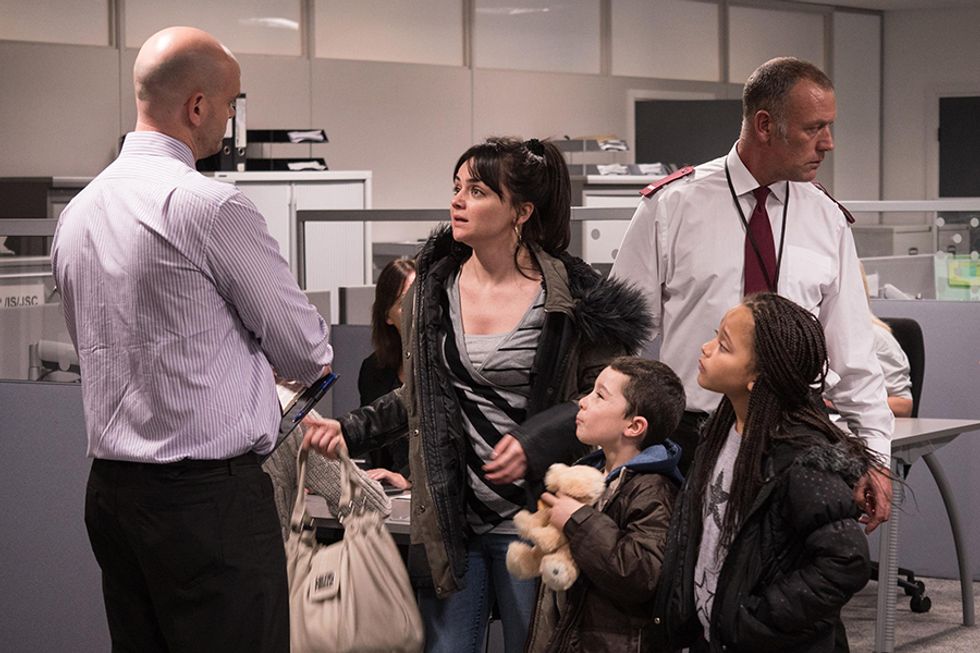 I'll admit, I'd kind of given up on director Ken Loach, but this film's simplicity, humanness and power just slayed me. Daniel (Dave Johns- amazing) is a decent, hard-working, 59 yr. old carpenter and widower who is sidelined by a heart attack and told by his doctors he is unable to work for a while. When his benefits are revoked he is thrust into a frustrating series of bureaucratic nightmares, just trying to get a hearing to overturn the decision. Like a Catch-22 he is forced to go out and seek jobs that he is unable to take because of his condition, for fear or being shut out by the system. He befriends a young single mother- Katie (Hayley Squires) and her two young children, who is also going through the same run around, and comes to take a fatherly interest in her. Ken Loach's extraordinarily powerful film rightly won the Palme D'or at Cannes and really illustrates the infuriating humiliation ordinary people have to be subjected to just in order to get by. Loach is a humanist at heart and gives his characters the dignity they deserve. A scene where Daniel accompanies Katie to a food bank is just devastating.
Neruda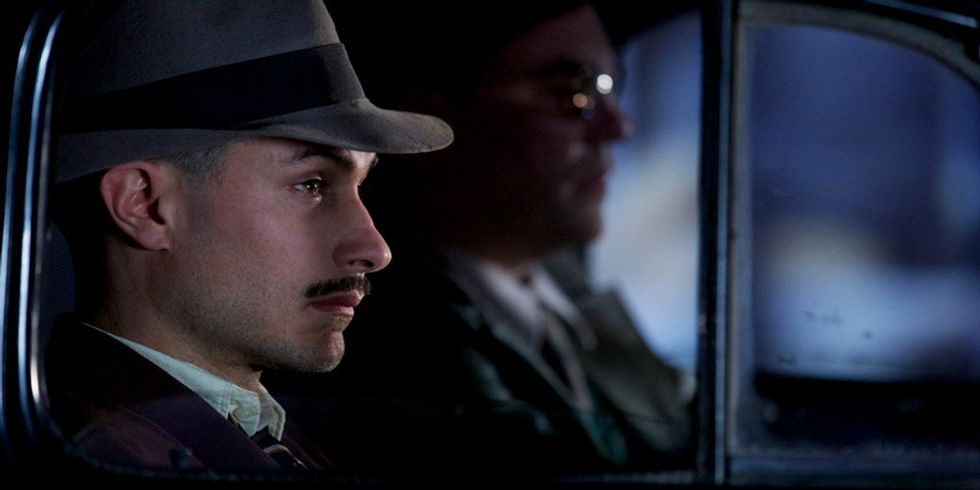 Strangely lyrical, strikingly unconventional, bio-pic by director Pablo Larrain on Nobel prize-winning poet Pablo Neruda. Set in the late 40s when the acclaimed Chilean poet was a Senator in the government and whose Communist views caused him to go into hiding when a warrant for his arrest was issued. Neruda (Luis Gnecco) and his artist wife Delia (Mercedes Moran) are moved around from place to place by other devoted party members. All the while he is being chased by a detective (Gael Garcia Bernal) (always two steps behind) who has love/hate feelings for the poet and dreams of being less a supporting player in the story but an inclusion in Neruda's ongoing epic poem. It's truly a peculiar film but quite affecting too.
A Monster Calls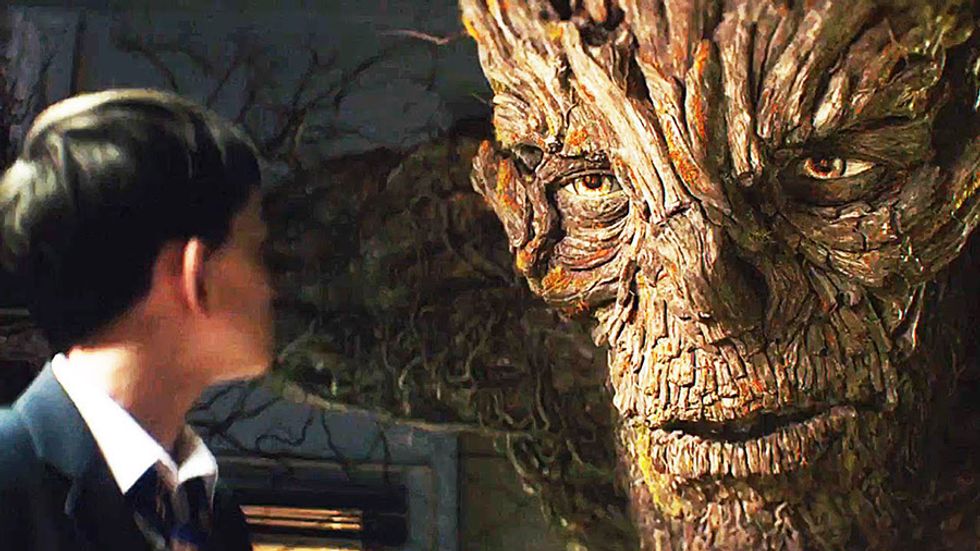 A boy named Conor (Lewis MacDougall), reeling over his mother's (Felicity Jones) impending death, processes his grief by creating a fearsome tree-like monster (voice care of Liam Neeson). Sensitively directed by J. A. Bayona from a novel by Patrick Ness, Conor's frustration and rage, from the bullies at school, his powerless to help his sick mother and the terror of having to move in with his rigid, cold, Grandmother (Sigourney Weaver) all help manifest this giant being to lash out at the world. There is a nice balance of fantasy and drama and when it all comes together it's hard not to be deeply moved at the end.
Miss Sloane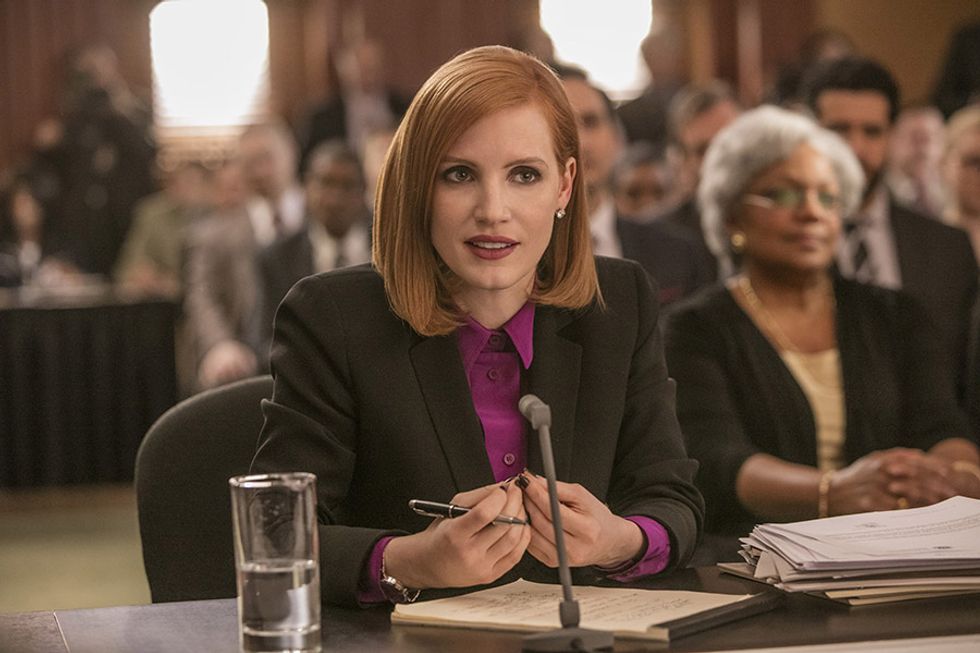 Jessica Chastain plays the fearsome Washington lobbyist Elizabeth Sloane, who leaves her high-powered film to work against the gun lobby at a boutique firm helmed by Rudolfo Schmidt (Mark Strong). Beautiful but cold and calculating, Miss Sloane's only intimacy is with a male escort and strict rules are heavily enforced. As the firm fights to pass this bill we see her ruthlessness, especially with co-workers becoming collateral damage just so she can achieve her agenda. It's winning at any cost. And being able to anticipate the player's next move. Director John Madden keeps this drama propelling furiously forward with plenty of twists. Most are not too hard to see coming, but enjoyable to watch as the pieces fall deviously into place. And Chastain gives this "real piece of work" a surprising emotional core.
La La Land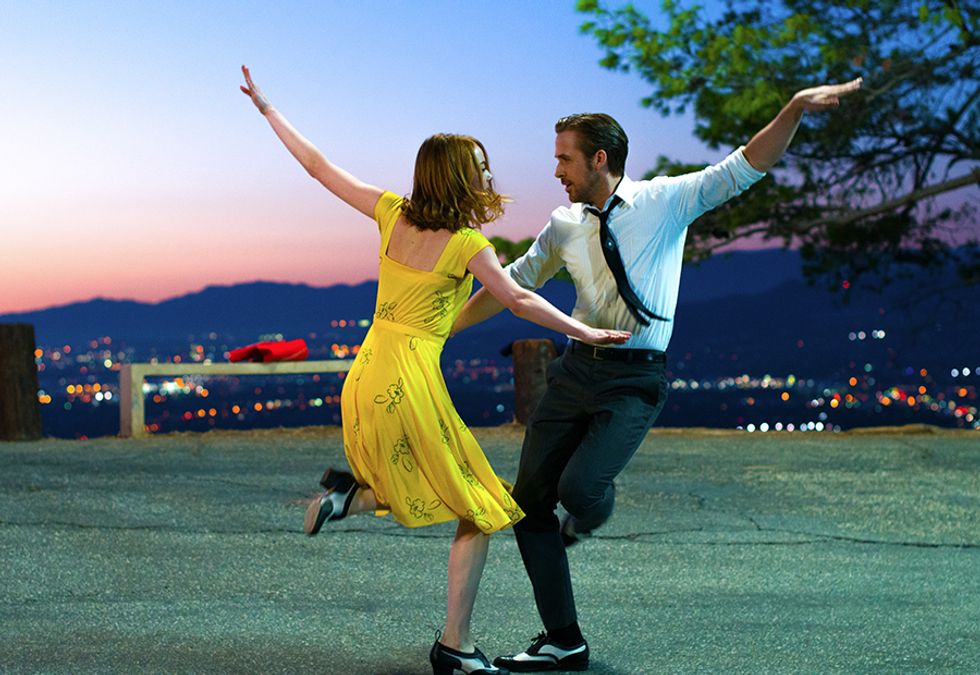 Director Damien Chazelle's (Whiplash) new film opens with an exhilarating scene set in a massive traffic jam on the L.A. Freeway. Frustrated drivers suddenly leap from their cars and break into a massive musical number that sets the swooning, lushly romantic, tone to Chazelle's loving homage to Jacques Demy (The Umbrellas Of Cherbourg). The heart of this film is the romantic affair between Sebastian (Ryan Gosling), a jazz pianist who dreams of opening up a club, and Mia (Emma Stone), an aspiring actress selling coffee on the Warner Brothers lot. They fatefully meet, fall in love, and then things happen. But like other oddball "musicals" like Francis Ford Coppola's heartbreaking One From The Heart, and Woody Allen's wonderful Everyone Says I Love You, the interjection of old Hollywood numbers into modern stories can often be a delirious delight. When the lovely Emma Stone and broodingly handsome Ryan Gosling dance off into the sunset, it's hard not to ache for them in this audacious, magical, dream of a movie.
The Autopsy Of Jane Doe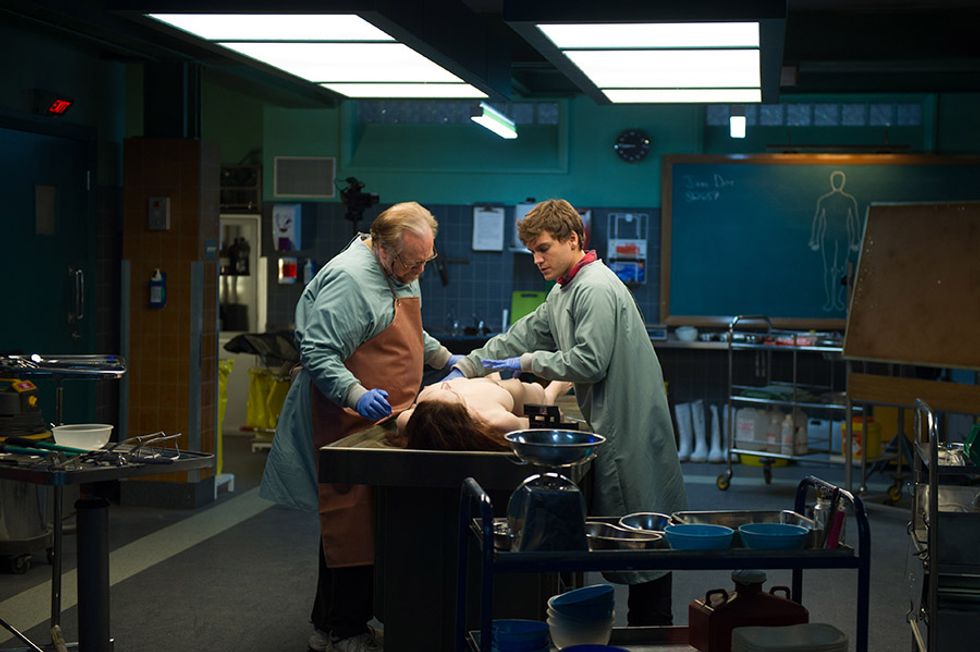 A spectacularly scary film by the Norwegian director Andre Ovredal (who made the fabulously insane Trollhunter). A mysterious nude body of a beautiful woman (Olwen Catherine Kelly) is discovered in the basement of a house glutted with multiple homicides and is brought to Tilden's Morgue & Crematorium where owner Tony (Brian Cox) and his apprentice son Austin (Emile Hirsch) set out to discover who she is and how she died. "Every body has a secret" the father says as he begins to dissect the corpse only to find a series of even more puzzling and frightening anomalies. There is a real palpable sense of dread created by the grisly autopsy scenes, the claustrophobic setting, the thunderous rain storm outside, and the slow realization that some secrets should never be revealed.

You May Also Like
Fashion
Story by Mario Abad / Photography by Oscar Ouk / Styling by Jimi Urquiaga
Paper People 2020
Creative direction by Agusta Yr / Styling by Erika Golcher