The 88th annual Oscar Awards befell our weary world last night.
There was a lot of good, a lot of bad... and some 'oh.'
We break down all the highlights and the low low low.
The Good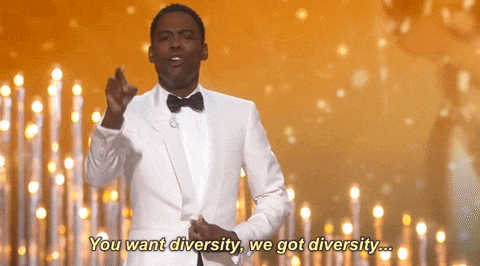 Chris Rock.
The comedian/host took the largely white audience by the jugular with his monologue on this year's unacceptable lack of diverse nominees and basically didn't let up for the next three hours. People were visibly uncomfortable and unsure to clap. And it was glorious.
While it's hard to even try to pick the best parts, a standout from the show's opening included a scathing and hilarious #OscarsSoWhite short featuring black actors inserted into this year's variously nominated movies, including Leslie Jones as the bear in The Revenant...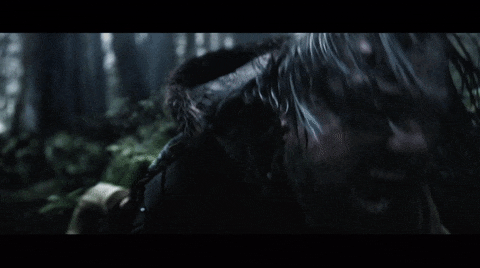 ...and a perfect Tracy Morgan as The Danish Girl.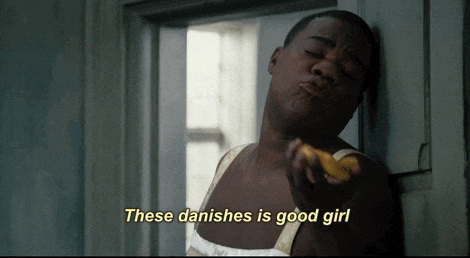 Later, Rock went to a movie theater in Compton to ask black moviegoers about this year's nominees.
He also found the one person in the country who saw the Brad and Angelina Jolie mess, By the Sea.

Mad Max
The movie, rightfully, took home a ton of awards, which meant we were treated to a lot of acceptance speeches from wonderfully real Australian movie makers who were all out of fucks to give about being Fancy Oscar People.This included Jenny Beaven, who won for costume design and accepted her award in a fucking leather jacket with a giant skull on the back of it.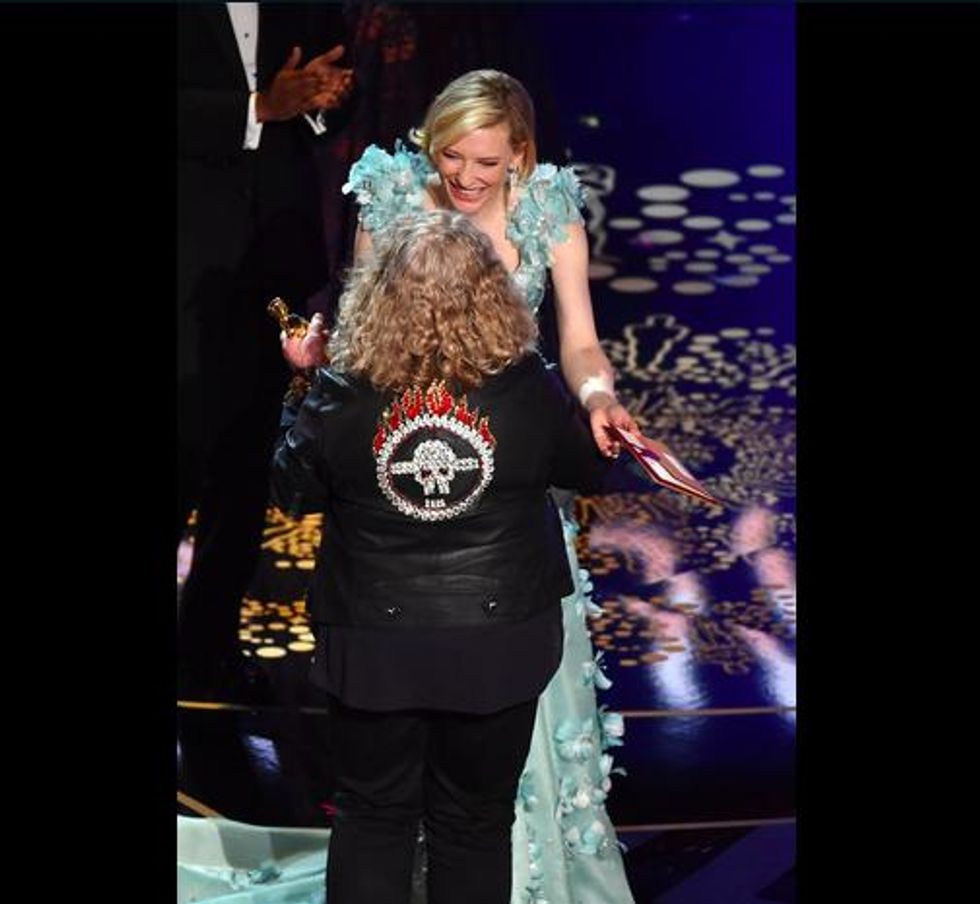 She told media backstage (via The Wrap), " I just like feeling comfortable. And I'm sorry — as far as I'm concerned, I'm really dressed up." QUEEN.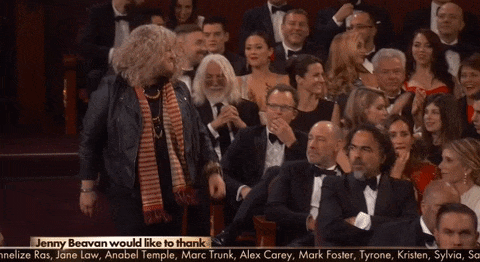 Uh huh.
Also, trigger warning for any arty teen who's had to walk by the jock table in the cafeteria:
when guys who call themselves "male feminists" see a woman get hired as their new boss https://t.co/BZdMhUdsb0
— maura quint (@behindyourback) February 29, 2016
Come though, Jenny.
Whoopi Goldberg's clavicle tat: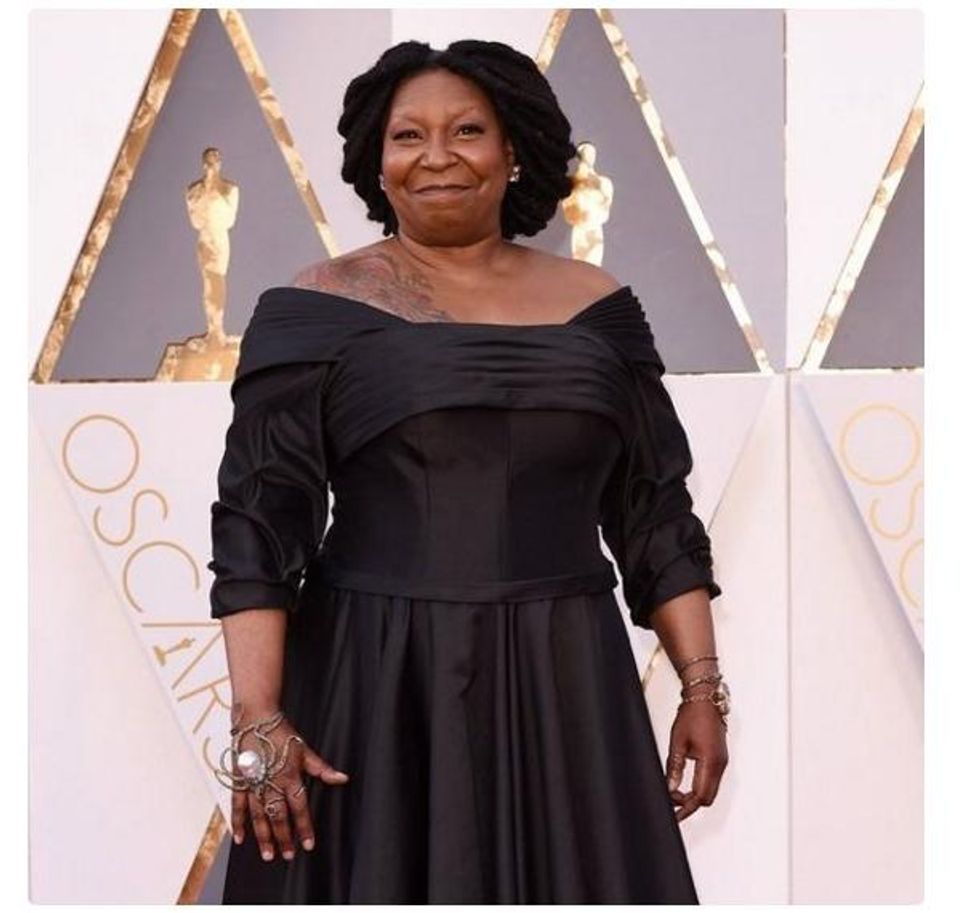 HRH Whoopi Goldberg revealed that she has a huge-ass tattoo across her right shoulder and chest. Bless.
Come on @LeoDiCaprio, buy some of @ChrisRock's daughter's Girl Scout cookies! 😂 #Oscars https://t.co/1HryskiE3C
— Channel 9 (@Channel9) February 29, 2016
Girl Scout Mania:

Also, in a sweet segment, Chris Rock brought out his daughters and their Girl Scouts troupe to sell cookies to the stars.
The plan was a success: Rock's girls raised over $65K.
Lady Gaga: everything.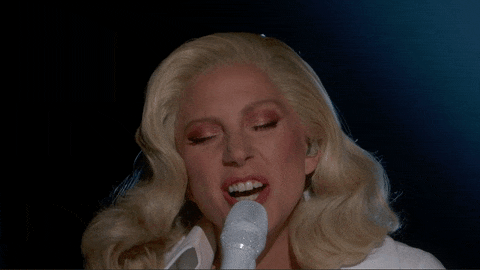 Introduced by Joe Motherfucking Biden, the superstar performed an earth-shattering rendition of her sexual assault solidarity anthem "Until It Happens to You" (which she was nominated for with Diane Warren, from the documentary The Hunting Grounds).
Joining her on stage were 50 survivors of rape (some featured in the documentary), with phrases like "it's not your fault" scrawled across their bodies.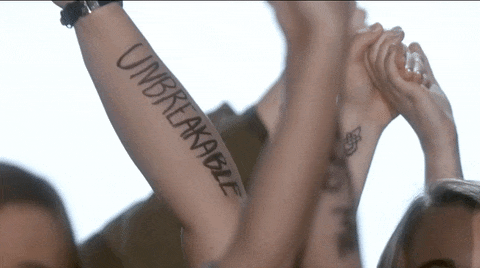 It brought the audience to their feet (and emotional knees), like Rachel McAdams....
...and Kate Winslet...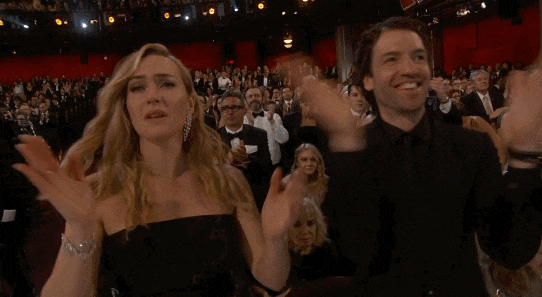 ...and all of us.
Mark Ruffalo winking at the camera.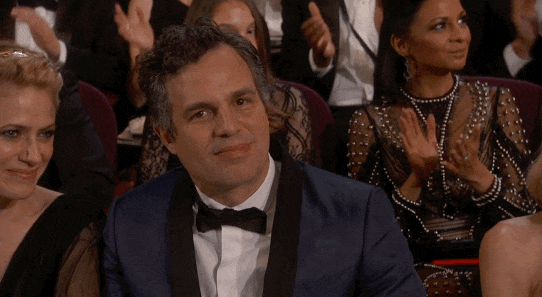 Kate Capshaw presents THE LEWK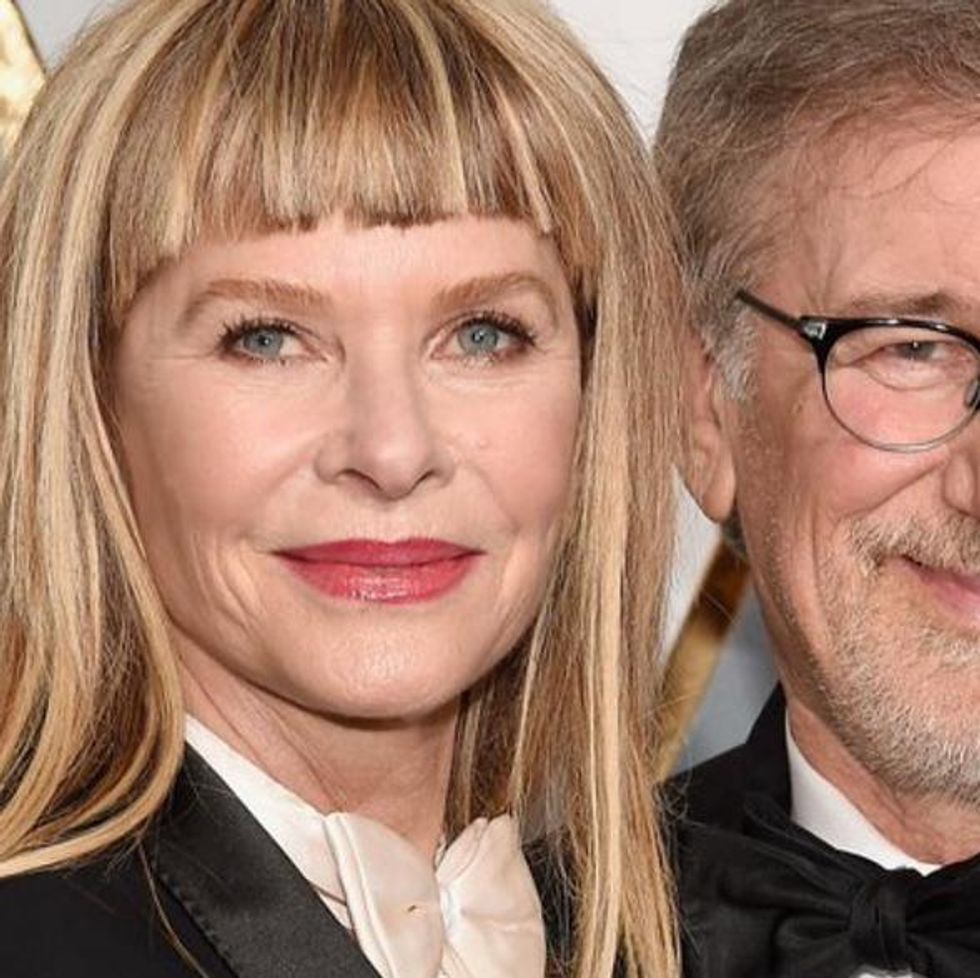 Her husband, Steven Spielberg, took the passenger seat last night.

Spotlight takes home Best Picture.
Aside from the brave content of the film, it was a relief that The Revenant didn't win.
Morgan Freeman shoving his way to Girl Scout cookies:
Freeman, who starred in Spotlight, showed no mercy in getting his fingers on the tasty prize. We don't blame him.
The Bad
Stacey. Dash.

Chris Rock introduced Racist Queen of Garbage Water, Stacey Dash, as the "New Director of the Academy's Minority Outreach Program."
Clearly, the joke was lost on all, but thankfully, Ms. Dash got her comeuppance.
Some great reactions included the Weeknd...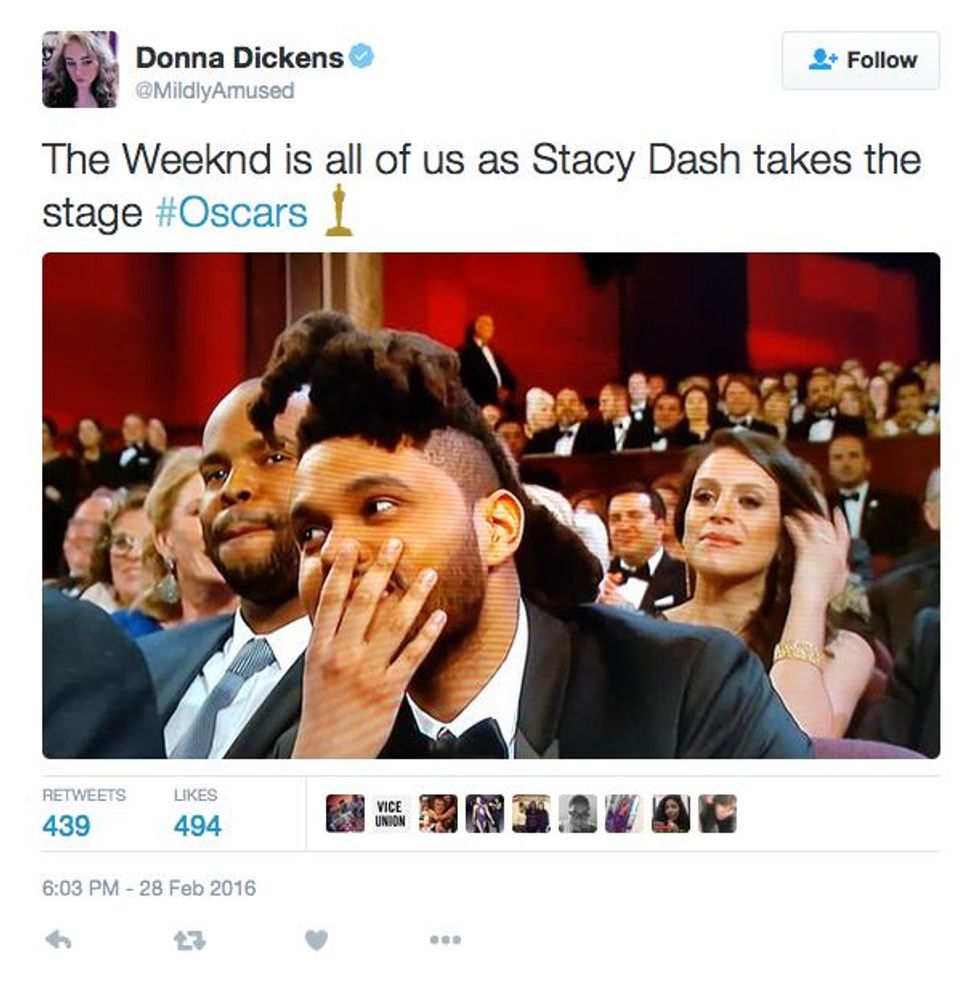 ...and Shonda Rimes...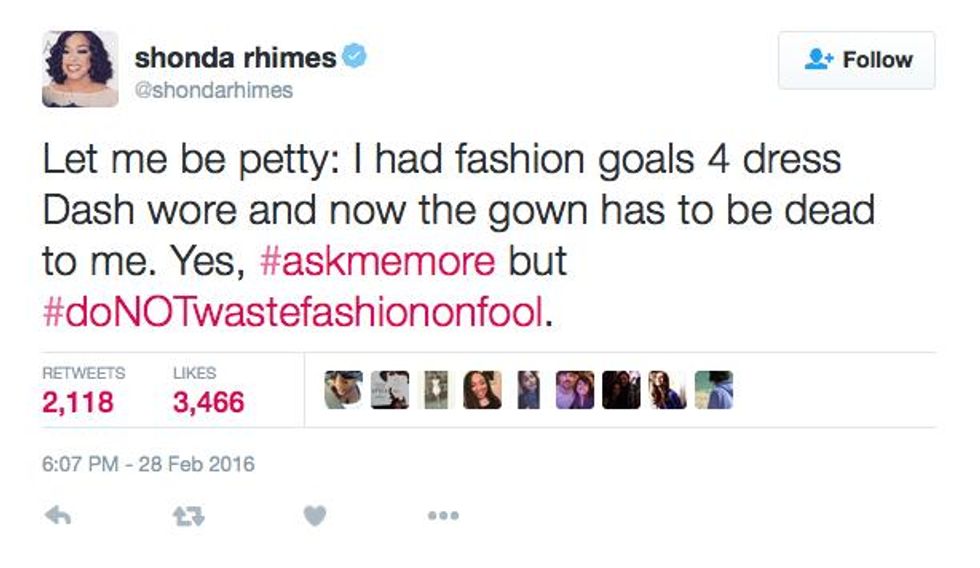 Sam Smith
...including performance of that boring 007 song (that Radiohead did better)...
He sounded like he was singing underwater.
Then, when Sam Smith won Best Original Song, over Lady GaGa...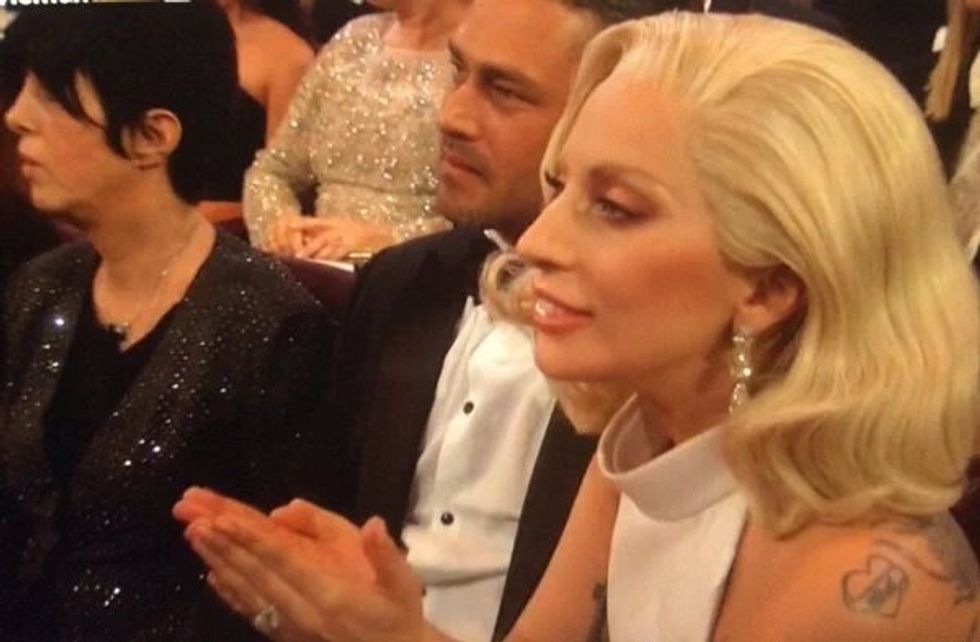 ...and made this searingly tone deaf speech, where he claimed (via Ian McKellan), that no openly gay man had ever won an Oscar, before him:
Hmmm, how about Elton John in 1995...
...or Dustin Lance Black in 2009.
Thankfully, Dustin Lance Black had a few words for the fuckery: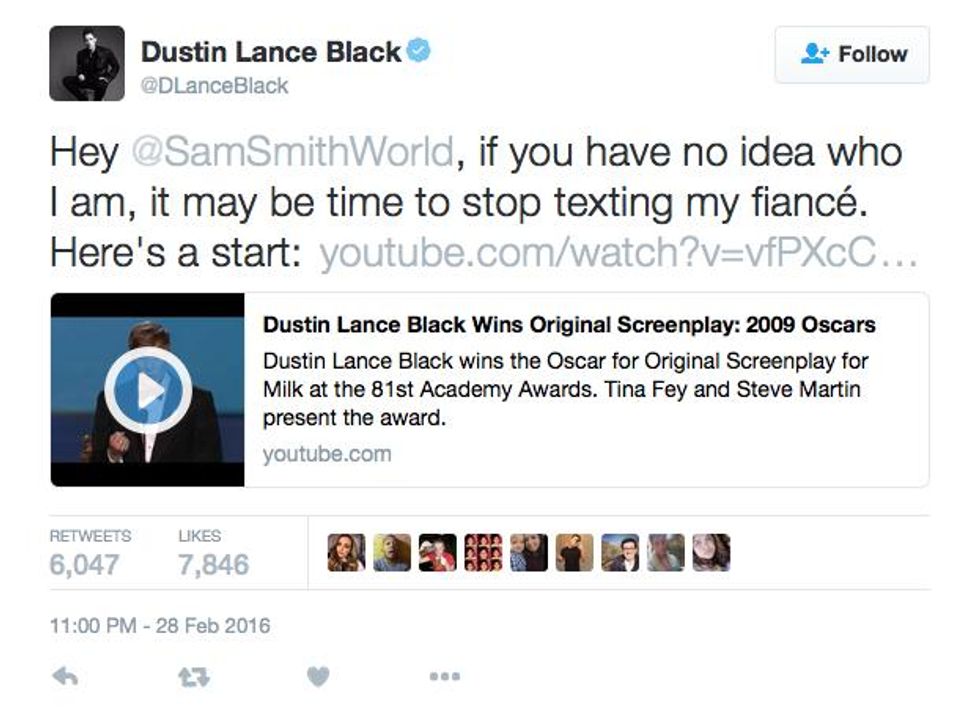 Here was Smith's reaction, post-win, after being informed of his incorrect assumption:
How did @samsmithworld react to finding out he wasn't the first openly gay winner? #Backstage #Oscarshttps://t.co/qzZ6hGpOFu
— Variety (@Variety) February 29, 2016
Google exists, Sam! Thanks.

Carol getting snubbed for...everything...
....especially Rooney Mara, for Best Supporting Actress: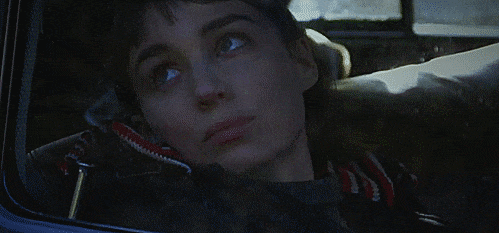 The Orchestra playing Simon and Garfunkel's "Mrs. Robinson" to introduce Julianne Moore to the stage.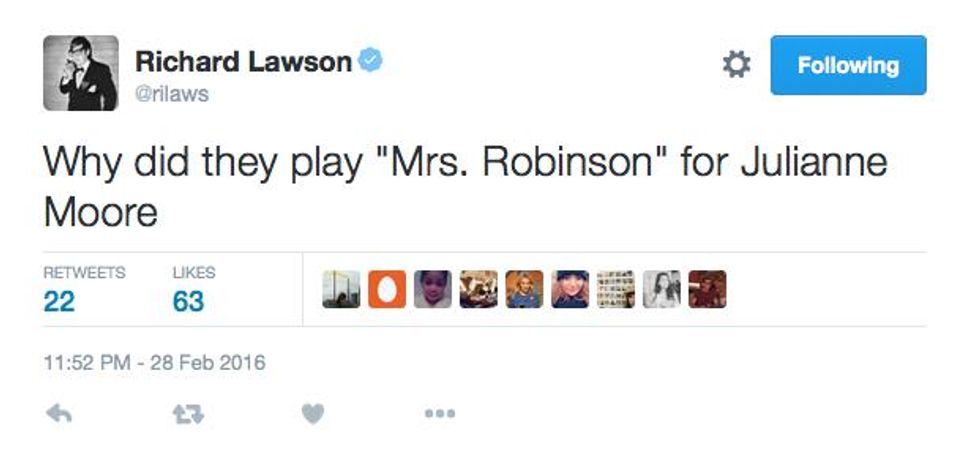 Just no.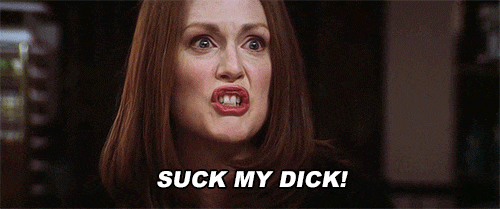 Those fucking Kohls commercials
The department store chain was attempting some sort of statement on diversity, that got muddled in translation...
...very muddled...

The 'Oh...'
Leonardo DiCaprio

Leo, while waiing for his clandestine Best Actor Oscar to get engraved at the Governors Ball:
. @LeoDiCaprio gets his Oscar engraved at the Governors Ball: "Do you do this every year? I wouldn't know." #Oscarshttps://t.co/3dBRsS1FQ4
— Variety (@Variety) February 29, 2016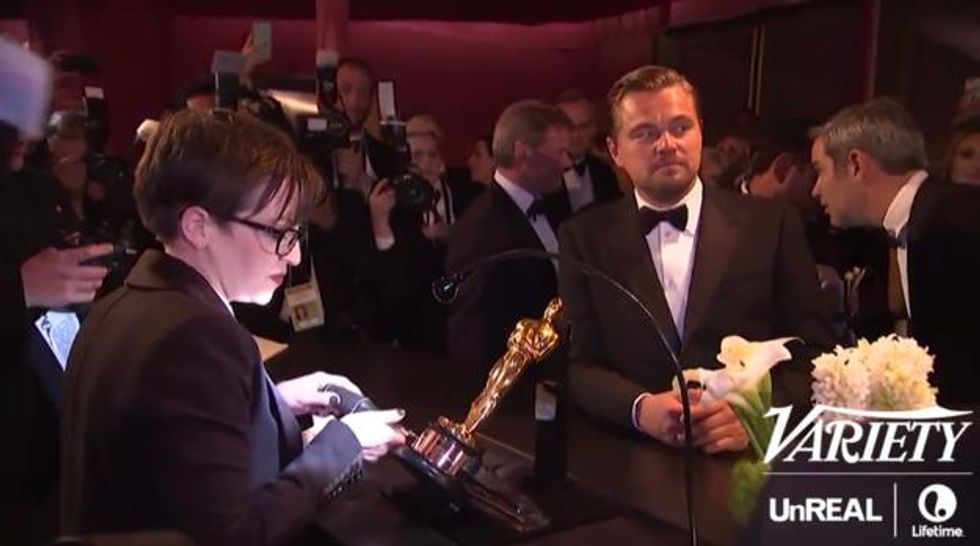 You did, L.

This also happened: Vanity Fair's The Scene supplied celebs at their after party with the opportunity to Face Swap with Leo.