I love an appalling nightlife moment more than anyone, because it's generally rich in guts, rebellion, and originality. And in the 1980s and '90s, there were lots of them because bohemia ran rampant in the clubs, back when you had to go out to be a rebel, not just post something on Facebook. Here are my 10 favorite such moments from that time, some of them discussed in my book Downtown—a fabulously appalling moment unto itself.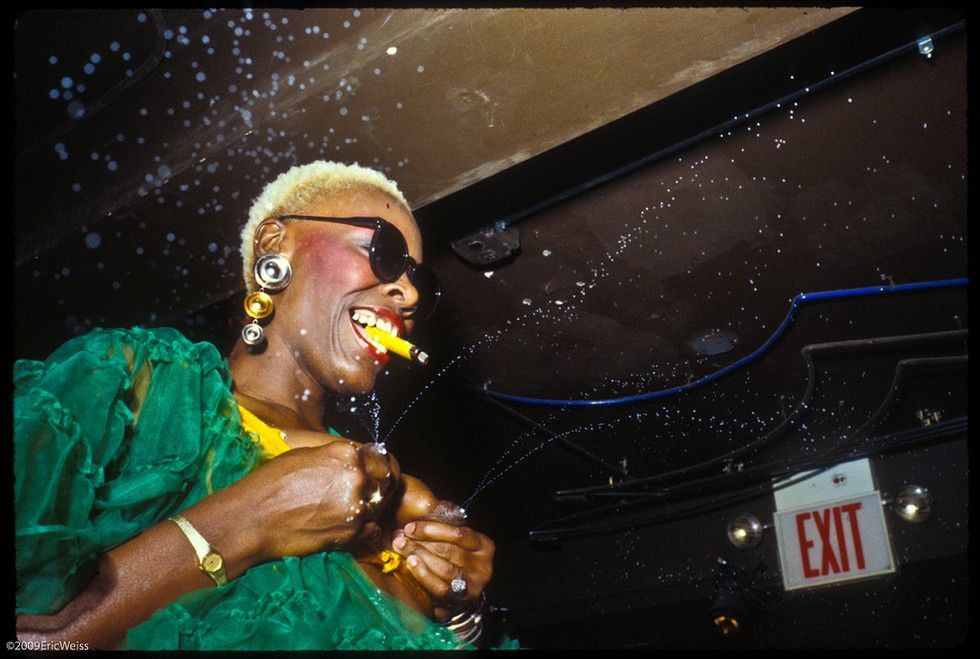 Photo by Eric Weiss.
Performer Lady Hennessy Brown would regularly take the stage at Susanne Bartsch's events (at clubs like Bentley's) and perform amazing stunts, like squirting milk out of her breasts on cue, while enacting various body contortions. Revelers would hold their glasses of kahlua out in hopes of getting a free White Russian, ba dum pum.
His purple majesty Prince was spotted dancing with himself at the church-turned-den-of-iniquity Limelight, while surrounded by a circle of stern looking bodyguards. Lord knows when I want to be alone, I go to the most crowded club in town and dance by myself, surrounded by bodyguards.
Once at Disco 2000--the Wednesday night debauch at Limelight--the Unnatural Acts revue featured a performer named Woody the Dancing Amputee, who was exactly as advertised. But this night, there was a tiny snag. As Woody pranced around and gaily danced a jig onstage, his prosthetic leg happened to come off! But not to worry. The show went on when a drunken young lady in the audience ran to the stage to have sex with the stumpand the prosthetic!


British wild card/performer Leigh Bowery simulated giving birth onstage at the annual outdoor drag festival Wigstock as the thought-I'd-seen-it-all crowd gasped. There are no words.
At a party at Area -- the large Tribeca club which changed its arty decor every five weeks -- Boy George's drag friend Marilyn was all set to perform. But the sound system wasn't quite perfect, so the pouty star shrugged his pretty shoulders and simply walked off the stage as the crowd stood there, dumbfounded. "I loved it," said party host Way Bandy. "At least he got some prima donna press out of it."
Bernard Zette. Photo by Andy Warhol.
At the same club, the house drag queen Bernard Zette was all set to be Christ on a cross for their Crucifixion theme, but I guess the owners thought that was too fabulously appalling. Instead, Zette had to settle for being a hyperactive, mentally challenged child in a crib. But he wasn't happy about that because he'd wanted to show strong characters defying captivity, not whimpering about it. In future weeks, Zette managed to get out of the crib and do Rapunzel, Quasimondo, and most memorably of all, Anne Frank. His Anne truly rocked that attic.
The "No Entiendes Cabaret" was a freewheeling revue hosted at Danceteria by nightlife legends Haoui Montaug and Anita Sarko. On one particularly special night, the evening's attractions included rivetingly outrageous performance artist Karen Finley doing her thing ("…And I shoved my fist up her…and she had her period") and a movie-parody sketch called The Beer Hunter, in which the characters played Russian Roulette with beer cans. The hosts were dressed as murder victim Eigil Vesti and lesbian Singing Nun. Amazing.
Christina was the languid German trans clubbie who repelled yet fascinated many on the scene with her every nonsensical emission. At the peak of her birthday bash at the Tunnel nightclub, Christina famously grabbed the cake knife and went lunging at the crowd -- strictly for laughs, of course. It redefined that Mommie Dearest line, "Tina, bring me the axe!" Actually, this moment was extremely appalling without being terribly fabulous -- but I'll never forget it
In 1990, porn star/escort Joey Stefano took the stage at a gay party at Mars and genteelly placed a beer bottle way up his butt, as the throng went wild. This was the real Beer Hunter—and I promptly dubbed it a Heinie-kin.
Another endlessly game porn star, Leo Ford, once gleefully masturbated onstage at Danceteria. Like Prince, the guy could easily entertain himself alone.