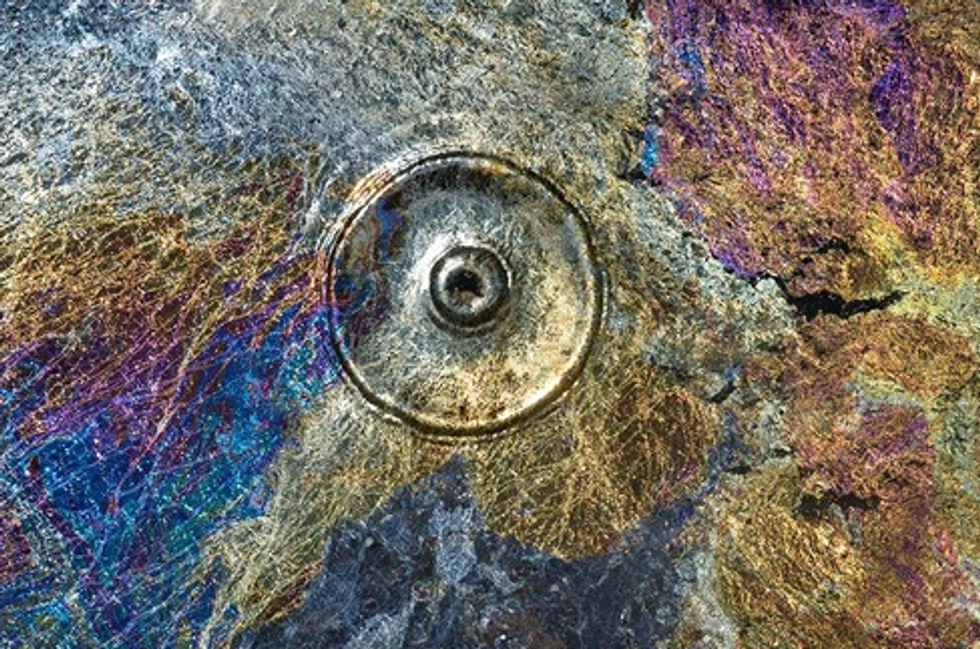 "Aphrodite," 2014
If you think the Gowanus Canal might be ready for swimming, a new exhibition of photos by Steven Hirsch opening on November 12th, 7 to 9 p.m., will make you think twice. "
Gowanus: Off the Water's Surface
" includes a unique view of the"polluted industrial wasteland" or as Hirsch explains: "I would sit there on the side of the canal, and what looked like a giant painting by Monet would be there in front of me hovering on the surface of the water."  The exhibition is on view until December 1st at Lilac Gallery (144 5th Avenue, Manhattan).
Also opening Wednesday evening, 6 to 8 p.m., and running until December 20th, is a group show of contemporary ceramics called "KILN" at
Leila Heller Gallery
(43 West 57th Street, 4th floor). The show was curated by Tiffany Zabludowicz and includes works by Aaron Angell, Rachel Kneebone, William J. O'Brien, Arlene Shechet, Josh Smith and Jesse Wine.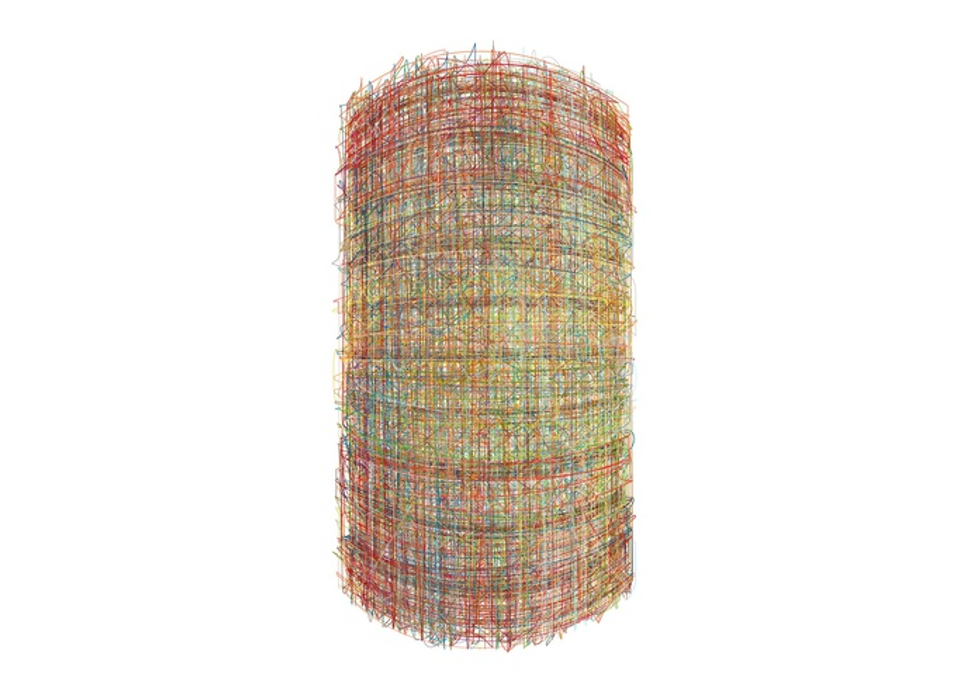 Judith Charles Gallery
(196 Bowery at Spring Street) opens their first exhibition with New York artist Henry Mandell on Thursday, November 13, 6 to 9 p.m. Titled
weightless
, the show features works that are "digitally painted by hand and are composed of thousands of words and data from scientific and literary texts." The works are printed directly on canvas or paper and several were created with an HP 3000 latex inkjet printer that has a ten-foot-wide media feed. On view until January 10, 2015.
Over 50 galleries and dealers are participating in this year's edition of The Salon: Art + Design at the Park Avenue Armory (643 Park Avenue). Featuring pieces from 1890 to the present, the fair's vernissage is on Thursday, November 13, 7 to 9:30 p.m. and then it's open daily through Monday. Artsy previews everything
HERE
.
French artist
Nicolas Roggy
has his first solo US show called "Thick Pink, Stuffed Light" opening on Thursday, November 12, 6 to 8 p.m., at
Martos Gallery
(540 West 29th Street).  The new series of paintings will be up until December 20th.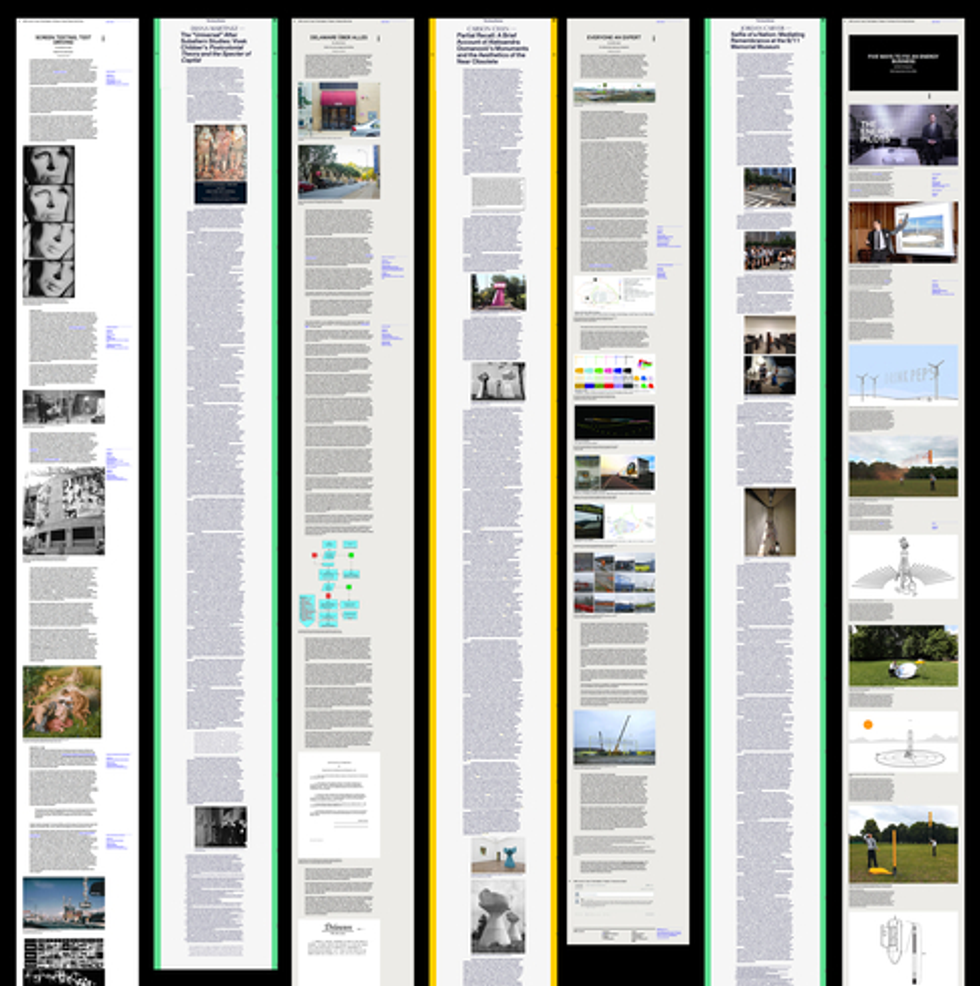 Also on November 13th, 7 to 9 p.m., The Storefront for Art & Architecture (97 Kenmare Street) hosts another event in their "Cabaret Series" called "
Ventriloquism
" in which critics from ARPA Journal and the Avery Review trade places with their subjects and "read from and respond to each other's arguments and tactics." Participants include Amale Andraos, Jordan Carver, Carson Chan, Andres Jacque, Jennifer Leung, Leah Meisterlin, Elliot Montgomery, Garrett Ricciardi and Julian Rose.
Since it looks like Detroit has finally found a way out of bankruptcy, it's time for a new exhibition by three artists with roots in that city.
Jack Hanley Gallery
(327 Broome Street) opens their "Detroit" group show on Friday, November 14th, 6 to 8 p.m., with works by Mary Ann Aitken, John Maggie and Jonathan Rajewski. It's up until December 21st.
ONGOING:
White Columns
(320 West 13th Street) has several shows that opened earlier in the week including: a exhibit of drawings by the musician Yusef Lateef, drawings by Derrick Alexis Coard, recent portraits and paintings by Aliza Nisenbaum, works by Brooklyn designers FAUX/real and "LSD," a series of prints on sheets of designer blotter paper organized by Rob Tufnell. All on view until December 20th.
George Condo's "
Double Heads/Black Paintings/Abstractions
" is on view at Skarstedt Chelsea (550 West 21st Street) until December 20th.
"
Double Trouble
," the first comprehensive survey of the 50-year career of the American artist known as Sturtevant, is open now at MoMA (11 West 53rd Street) and up until February 22, 2015.
Thomas Houseago's immersive environment, "
MOUN ROOM
," is up now through January 17, 2015, at Hauser & Wirth (511 West 18th Street).