A revamped dumpling shop. An old walk-up tenement building. Next door to a fish market. These are spaces that make Chinatown a uniquely New York neighborhood--and have recently become home to a handful of independent art galleries, adding a whole new neighborhood to art lovers' itineraries. Unlike the mega-galleries taking over the once gritty streets of Chelsea, the new spaces of Chinatown are bringing in programing that they hope will embrace the culture, grunge and diversity of a neighborhood that has stayed relatively untouched (with,bizarrely, not an artisan juice bar in sight). Whether it's a giant painting of an intimate kiss between men, a gallery dedicated to outsider artists, or a group show in an accordion-shop-turned-art-space, these six new galleries are as unique as their neighborhood.
yours, mine & ours Gallery
54 Eldridge St.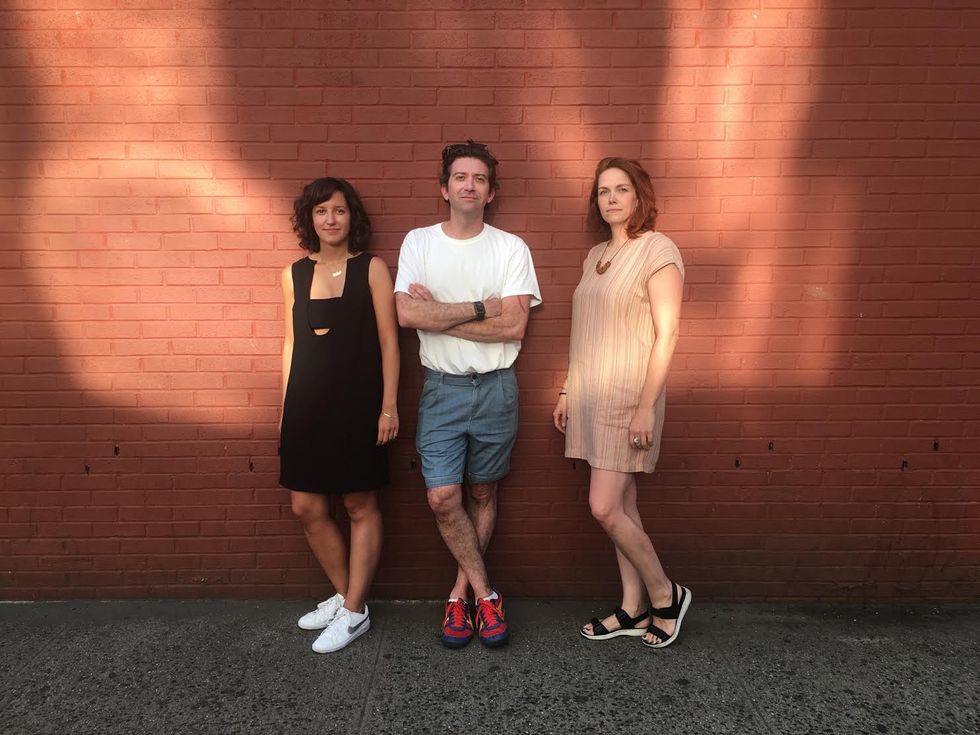 Patton Hindle, RJ Supa, and Courtney Childress
Who: Patton Hindle, former Director of DODGEgallery in LES and currently Director of Gallery and Institutional Partnerships at Artspace; Courtney Childress, from On Stellar Rays before going out to Bushwick to run Life on Mars Gallery; RJ Supa, who was the director and co-owner of Louis B. James gallery.

Why Chinatown:

Childress: Chinatown was an obvious choice to keep our overhead low. Besides the food is excellent, and the vibe of the neighborhood is akin to the Lower East Side 5-10 years ago, the energy of the place is palpable.
Hindle: The smells. Well, those and there's a vibrancy/sense of "New York" that still exists in Chinatown. When you combine the grit and realness with the emerging arts community that's been around for almost a decade in the LES, there was no choice to make.
How the Chinatown scene is different:
Hindle: There's still a feeling that you can find a small space, build it yourself, and put on interesting/challenging exhibitions and find success. No one is trying to dust themselves off and be a Chelsea gallery.
Supa: I think some LES/Ctown galleries could seamlessly appear in Chelsea and vice versa, and then there are terrible galleries everywhere too! It's really based on what you show, the presentation, etc.
The current show: Nicole Wittenberg, The Yellow Kiss, September 11 - October 16
Hindle: For our inaugural project, we chose to have a single painting, albeit a large one (6ft x 10ft!), on the ground floor and supporting studies for the piece in our lower gallery. I think it's rare that a viewer is allowed into the artist's process so closely. Nicole is a classically trained painter, she practices, edits, and repeats her imagery in order to make the final piece a quick performance.
Supa: I wanted to open strong and confident. One painting, one single great painting was the best way to do that. There's an economy involved which I think is incredibly brave. Plus this single painting constitutes an amazing show. If anything well be known as the gallery with one painting in it!

Coming up this season:
We will be presenting a solo booth of Todd Bienvenu's record paintings at EXPO Chicago later this month. Record player & sweet jams included. Our space is intended to champion the artists we show and give them a platform that they might not have had otherwise. It's definitely risky to show just one piece on our main floor but I think it's also indicative of how we look to the gallery's programming. We want people to spend time with an artist and their process, spark dialogue, and allow for repeat viewings.
New Release Gallery
60 Mulberry St.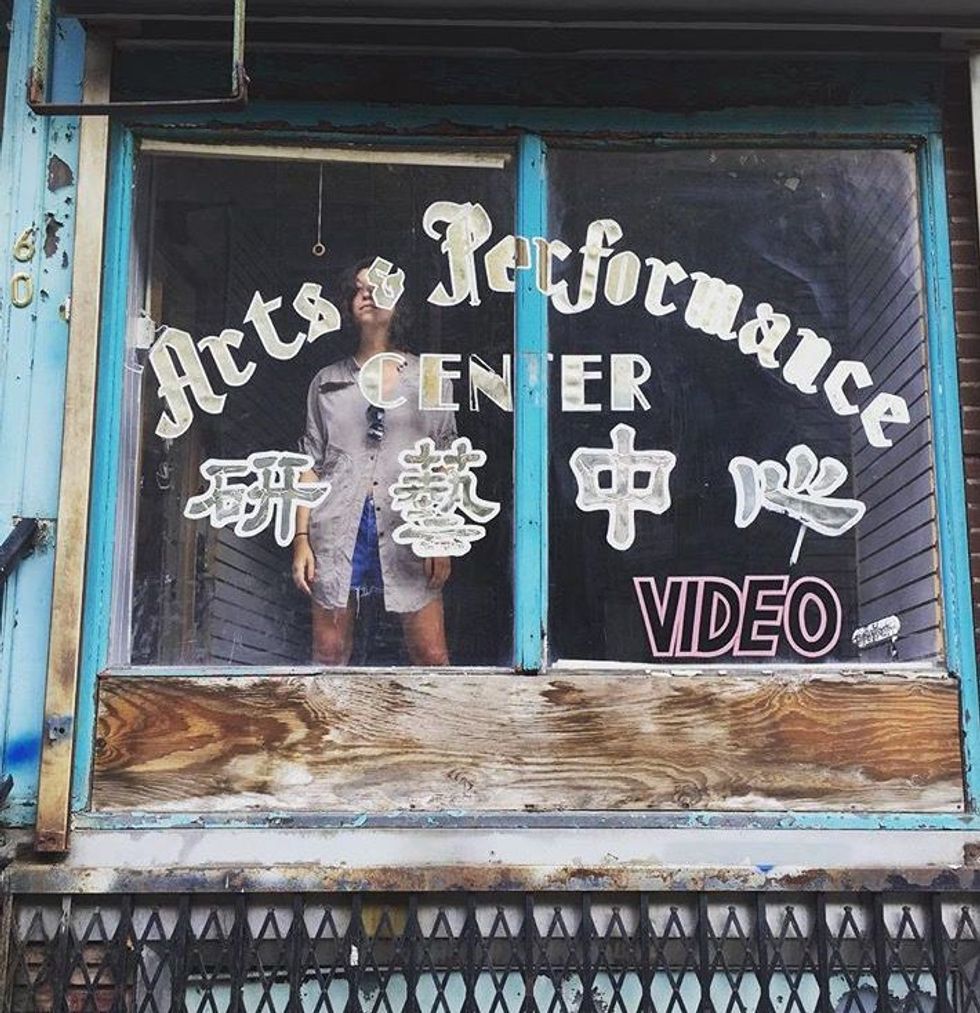 Erin Goldberger inside New Release Gallery
Who: Erin Goldberger, currently the director of Half Gallery and owner of New Release
Why Chinatown: Two artists I have worked with found the space and it just felt like home to me. My grandfather was born in Little Italy, and so that area has always felt close to home.

How the Chinatown scene is different: I think a lot of Chinatown galleries include curators who have or have had other jobs in the art world in New York or elsewhere. It feels more like our new, updated experiments.
Current show: Labor, Work, Action on view September 9 - October 9
The current show is a group show organized by Silke Lindner Sutti, formerly the director of Clifton Benevento, which closed last spring. It includes Amber Renaye, Anne Libby, Gregory Kalliche and Jordan Kasey.
Silke is a friend, but I also have always looked up to her unique vision. She has taught me about artists and ideas I wasn't familiar with--as I think I have with her. So it's a nice growing, working relationship.
Coming up this season: I am very pumped for our October show which is an older female artist named Arden Scott. She has a long history of working in New York and it's time people had a refresh on her and her work.
Favorite thing about Chinatown: Both our Chinese and Italian neighbors want to get nostalgic and talk about the area. I just learned that New Release was an accordion store back in the day, before it was a video story.
Coustof Waxman
10 Montgomery St.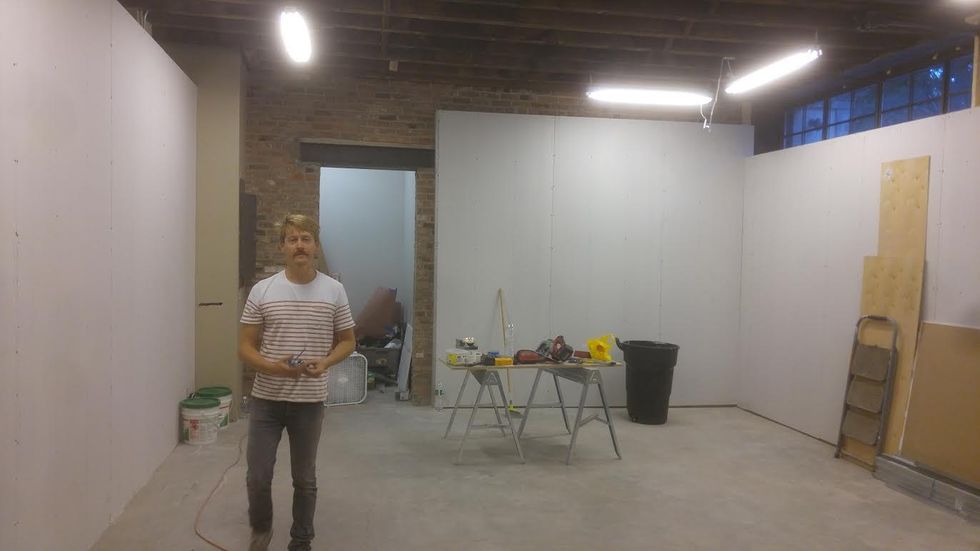 Who: Thomas Simon. I have 7 years of experience in the lampshade industry that I am eager to translate.
Why Chinatown: Generally? A belief that no matter how much is out there, there's always room for good art. Geographically? An indefinite and extremely favorable lease determined the location.
How the Chinatown scene is different: I think it's mostly the rent.
Current show: ABISSELFA with Gelsy Verna, Mike Yaniro, Sarah Rapson and Kevin Stahl, Organized by Zach Bruder on view September 17th-October 15th. We also have a permanent installation by Anne Deleporte in our storefront windows.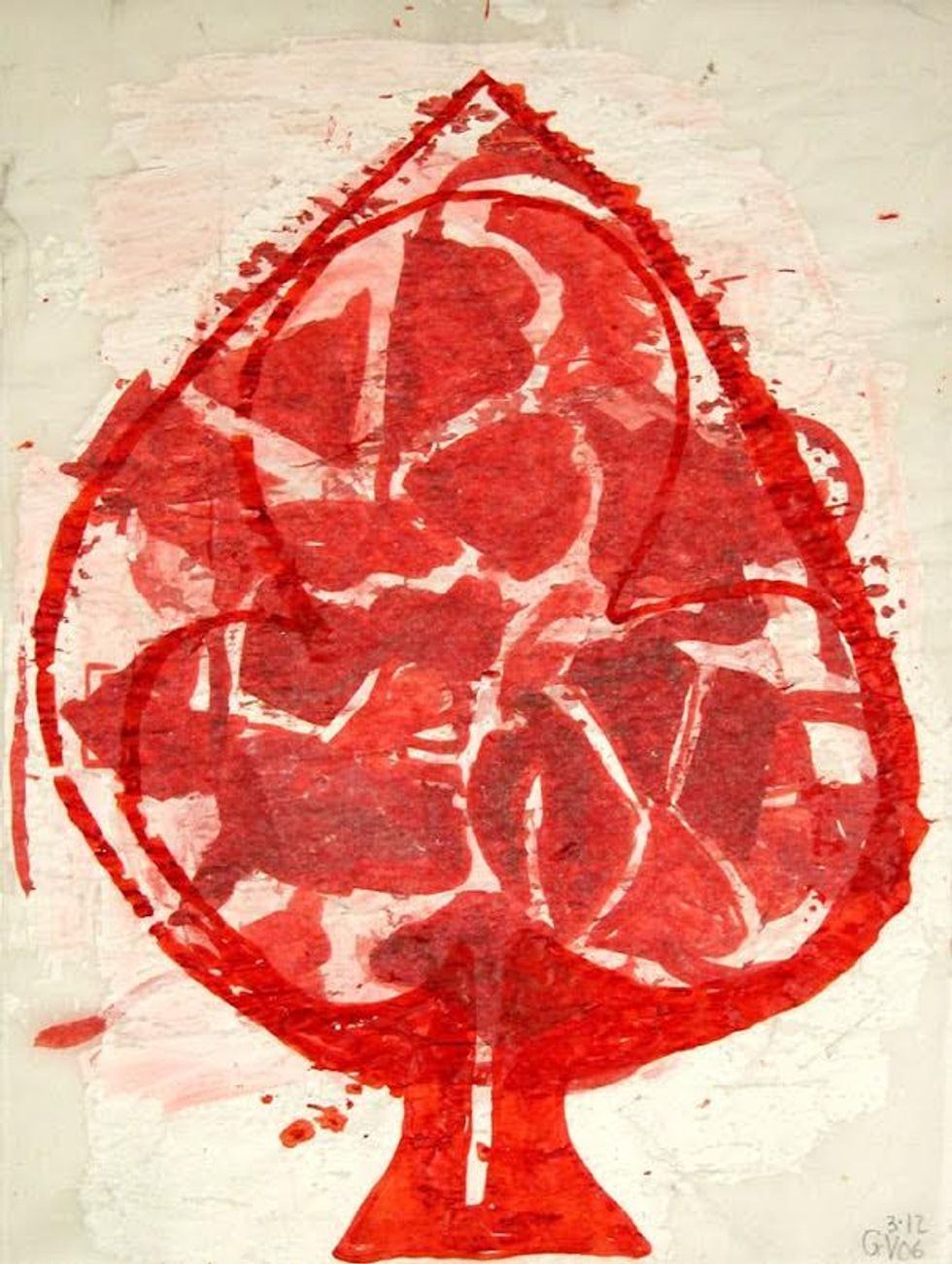 Gelsy Verna
It's a meditation on the solitary object. The title that Zach chose is a cowboy contraction of "A by itself, A". I think both the range of the works and materials, as well as their uncanny similarities says volumes about the similar ways people pursue singular experience. Every group show has something of this contradiction, of course.
We are particularly happy to include the work of a former professor of ours, Gelsy Verna, who passed unexpectedly a number of years ago. She left behind an incredible body of drawings, collages, and paintings that speak to her experience as a Haitian-Canadian-American.
Coming up this season: Our following show, "Slow, dimwitted carnage," will feature both a collection of promotional guitars and the work of 20 artists, all of whose contributions serve as a decanter--the opening will be a tasting.
His favorite thing about Chinatown: There is an energy that feels more like a village--a village that doesn't much care about contemporary art--that reminds me of other smaller places I've lived. I enjoy the experience of understanding very little about what is happening in certain storefronts in the neighborhood, and I'm pleased to offer our neighbors the same experience.
Cuervas Tilleard
142 Henry St.
Who: Caroline Tilleard and Anna Maria Cuevas, who met working at Skarstedt Gallery on the Upper East Side, where Anna is still employed.
Why Chinatown: We found that we were often coming further south when running around Lower East Side galleries. In particular we were always in the neighborhood to see shows at Regina Rex, Rawson Projects, and Reena Spaulings--all right by Cuevas Tilleard now. We lucked out when finding our space, walking past it on one of our gallery-hopping afternoons. It is a former furniture store, with a corner location and huge windows. It feels pretty unique.
How the Chinatown scene is different: Chinatown is one of the last true New York neighborhoods. It feels very much alive with its chaos, colors, and odors - it is thriving. We love our neighbors and are so excited about the opening of new spaces like Yours, Mine, & Ours Gallery. There is a great camaraderie here for those of us that are trying to promote underrepresented artists.
Current Show: Sebastian Vallejo, In Search of Asphodels, on view September 7 – October 9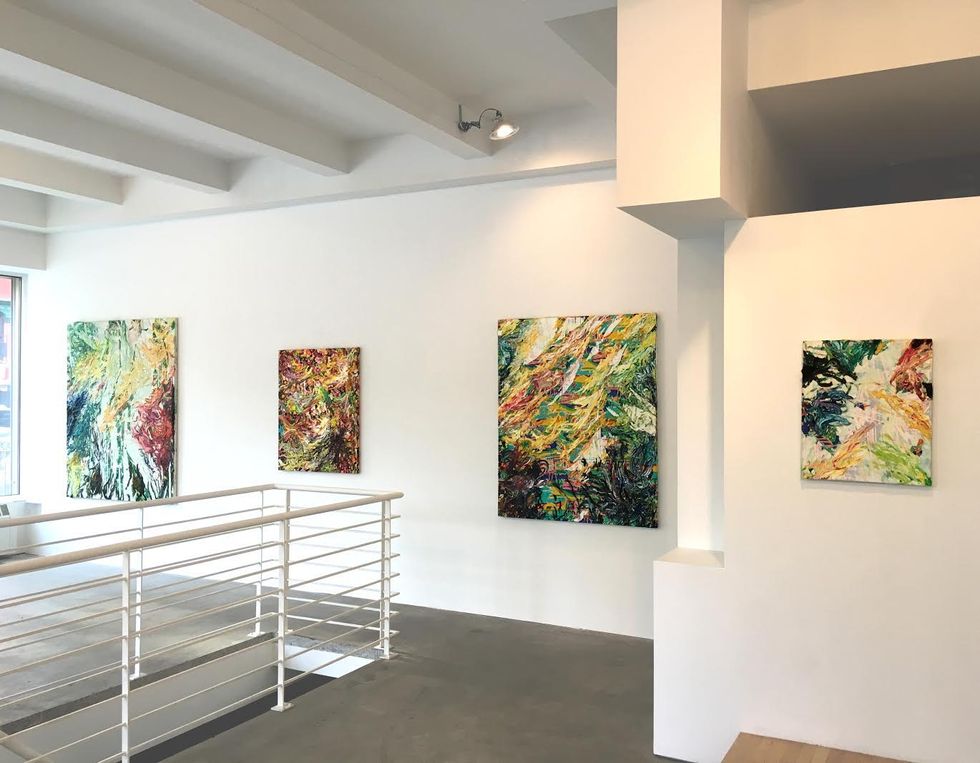 Sebastian Vallejo at Cuervas Tilleard
We just opened a solo exhibition of work by Sebastian Vallejo. Seba is an amazing young painter, originally from Puerto Rico. He moved to the USA a while ago to obtain his Post-Baccalaureate and MFA from the School of the Art Institute, Chicago.
Seba's work is vibrant and it also has a massive sense of urgency and immediacy that we really connect and respond to. We are real suckers for his sensibility to light and color. The show in itself is a celebration of painting – a huge focus of our program.
Coming up this season: We're excited to be working with Town Hall Meeting (Dina Shaulov-Wright and Chris Stiegler) on our October/November show. They are curating a painting show that centers around the notion of 'scaling.'
56 Henry
56 Henry St.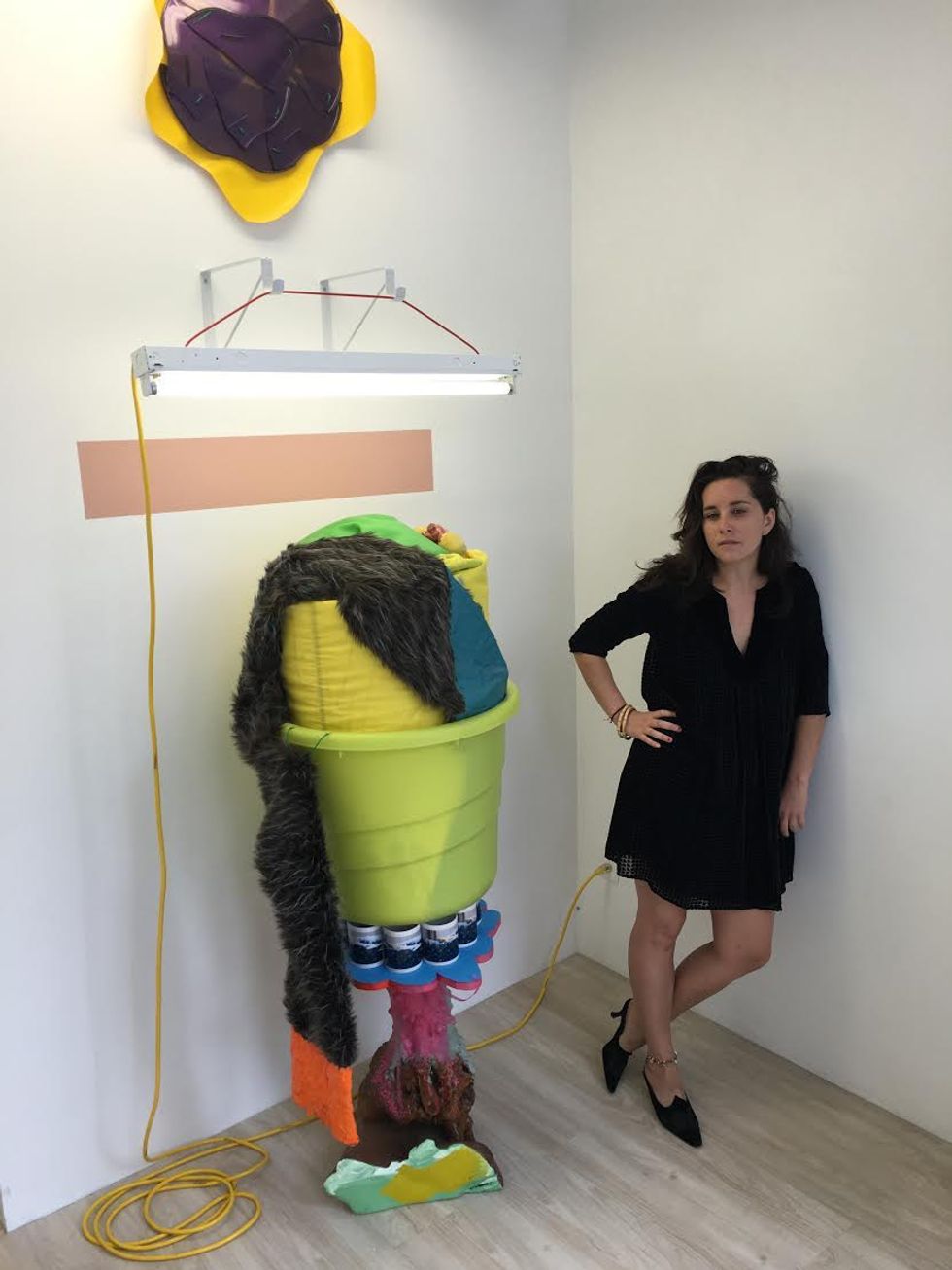 Who: Ellie Rines, who has worked at Christie's, Sotheby's, Craig F. Starr Gallery, Knoedler and Halsey McKay Gallery.
Why Chinatown: Chinatown is the only place in Manhattan still affordable for a modest gallerina like me. I speak Chinese and lived in Shanghai for a brief stint, which makes the neighborhood particularly appealing. I love the communal feeling of Chinatown and the locals who are supportive of the gallery.
How the Chinatown scene is different: The rents are lower which gives gallerists opportunities to be more creative in their programming. Shrine exhibits outsider art, New Release Gallery presents works of a vast variety of mediums -- from video, sound and everything in between. Jeffrey Stark is also tres cool -- in the basement of the East Broadway Mall.
Current show: Michelle Segre, Satellite, September 13 - October 30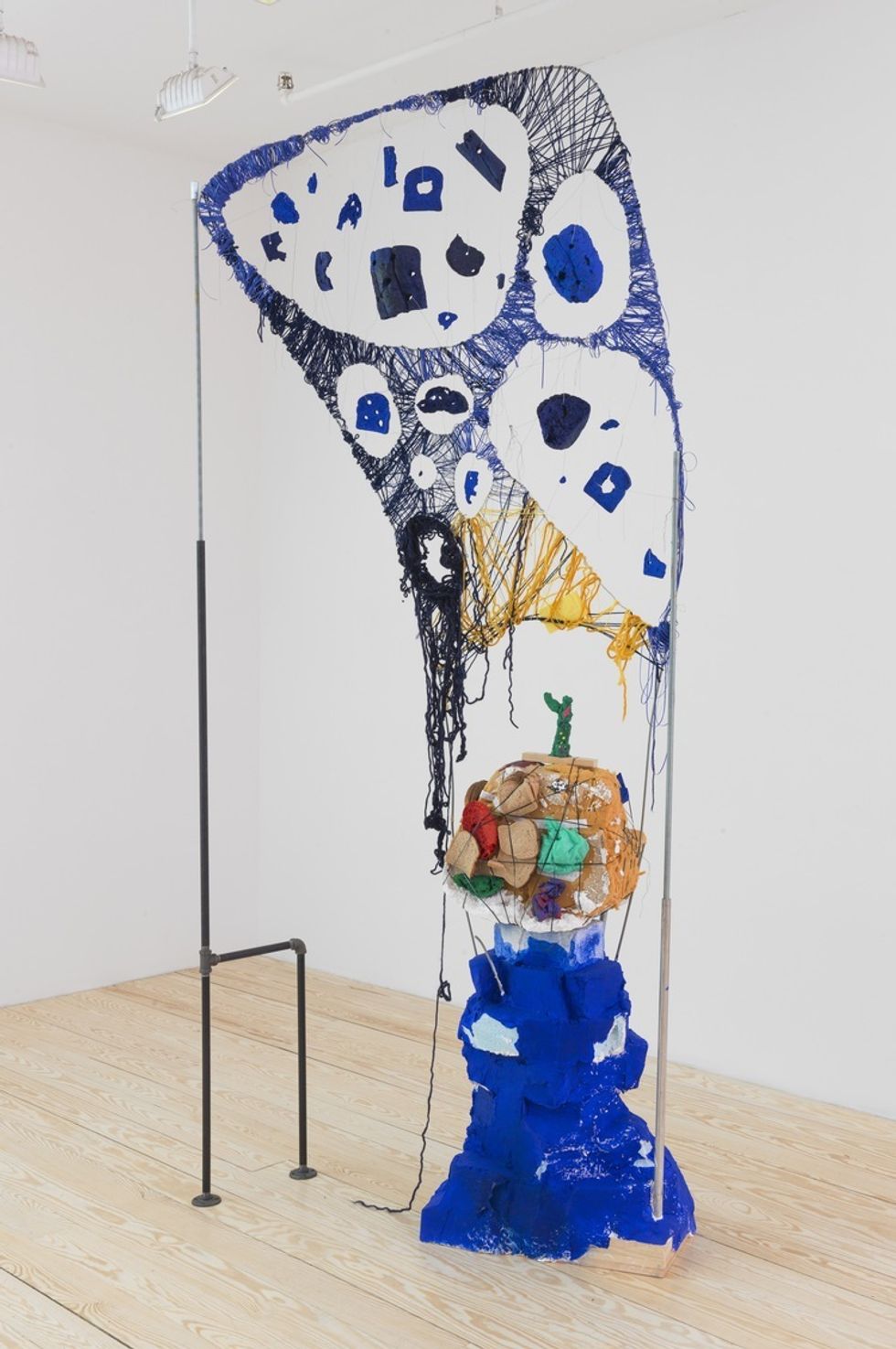 Michelle Segre's installation, Porus, Porus, at Ellie's former space, 55 Gansevoort.
Michelle Segre has woven an elaborate, giant blue yarn egg with bursts of color and an intersecting grid blanket. Michelle is one of my favorite artists working today and this is our second show together in the past two years.
Coming up this season: This fall/winter is going to be very psychological. Dan Herschlein is up next, then Cynthia Talmadge. They aren't afraid to dig into the darker spheres of our imaginations. Each show will be like a stage set of sorts. But in a creepy way.
Favorite thing about Chinatown: I love the hardware store on Madison between Catherine and Market. They teach me all sorts of tricks, make diagrams and have lots of patience.
Shrine
191 Henry St.
Who: Scott Ogden, an artist and filmmaker with a background in high-end art installations and private sales.
Why Chinatown: I actually didn't have plans to start a new gallery. I had been privately selling art and occasionally doing small art fairs, but that was the extent of it. Last fall, I saw an ad for what is now my space on The Listing Project, which was somehow within my budget and the perfect fit. It took about three months of back and forth to actually get the space and a month of DIY renovations with a friend before I opened in January of 2016 having no idea what it meant to run a gallery.
How the Chinatown scene is different: What I love most about the art scene in Chinatown is that it feels incredibly supportive and fresh. It lacks that aloof and somewhat cut throat vibe I sometimes feel in Chelsea. Everyone who has a gallery in the neighborhood seems to make it a point to go to other galleries' openings, or at least stop by to see the show, and I've had dealers like Ellie Rines at 56 Henry bring their collectors by to see my shows... It's all very friendly and fun.
Current show: Alessandra Michelangelo (1961-2009) on view September 7 - October 9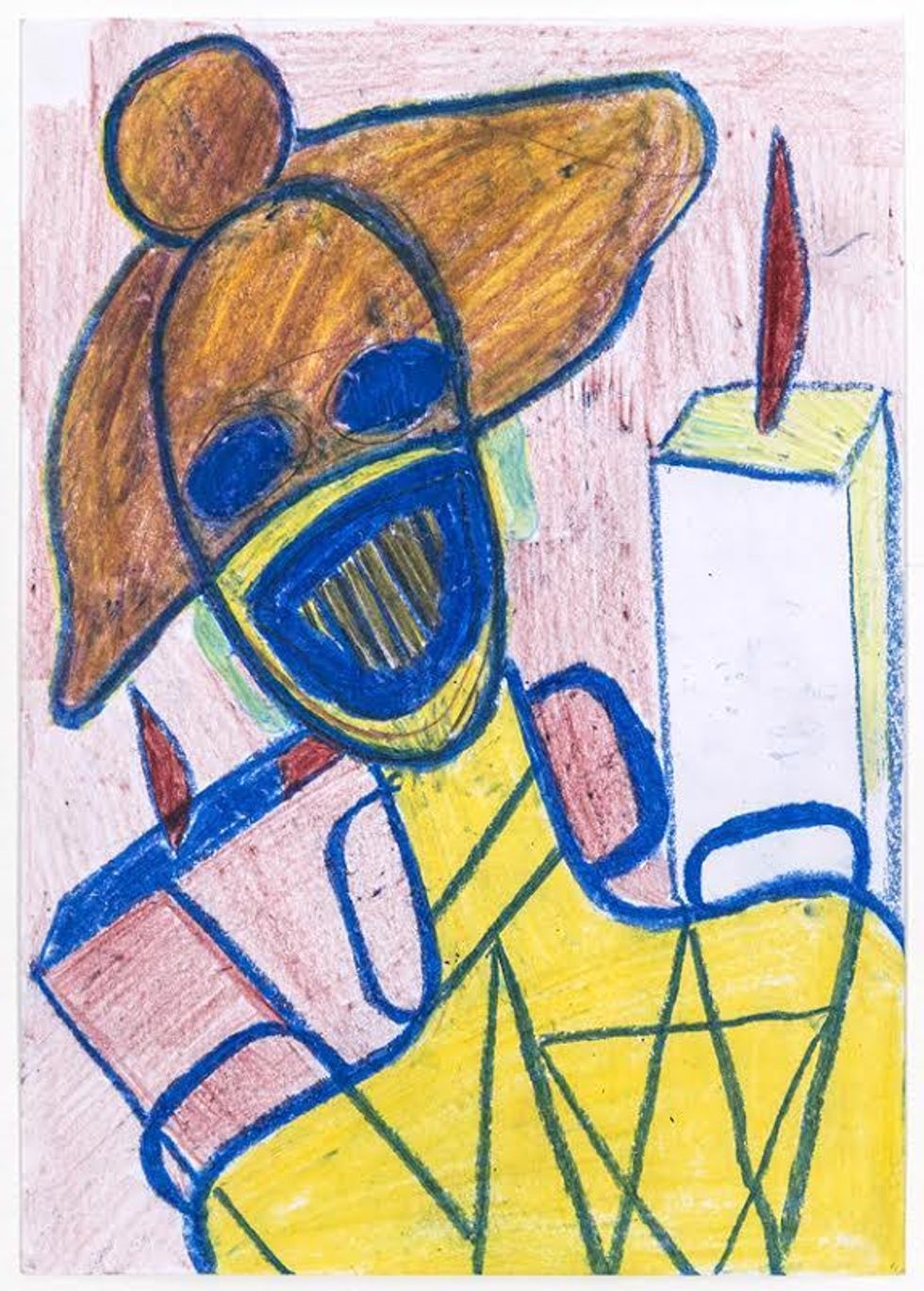 Alessandra Michaelangelo
Alessandra Michelangelo was a self-taught artist who lived in Livorno, Italy. Her drawings immediately struck me as unique and in line with European art brut. They're playful, quietly strange and a bit dark, all of which I find very compelling. Also, it's a bit rare to find important "new" self-taught/outsider artists these days, much less a strong female artist. With Shrine, it's exciting to highlight self-taught artists along with emerging contemporary artists.

Coming up this season: October will be a solo show with Kyle Breitenbach, an amazing young artist working with pastels and hand-ground oil pigment. November will be a series of performance art parties called dialperformanceart.net, which started as a fun homemade game that was played with friends after a late night BBQ, along with two short-run exhibitions, and I am currently working on something big for December. I've also started a series called Split where I pair an emerging contemporary artist with an outsider.
Favorite thing about Chinatown: This part of Chinatown and Two Bridges is a part of New York that I had never really explored. I've been in NYC for almost 20 years, so it's been incredible to find a new and totally inspiring part of the city. There's also a lot of sky here, and so much to see when walking around.