A Ghost Story
A mournful tale of a restless spirit told with great visual poetry by director David Lowery. Casey Affleck and Rooney Mara play a couple living in a home who are sometimes awoken in the dead of night by inexplicable spooky noises. Casey Affleck's character dies in a car crash and his spirit returns to the home (in a sheet with holes cut out for the eyes) to silently, and helplessly, watch as his girlfriend goes through her stages of grief and moves on. He is anchored there and watches as families and others come and go in the house. His frustration at times causes him to scare the tenants with flickering lights, books flying off the shelf, and dishes smashing against the wall. The interminable length of the early scenes at first annoyed me. But eventually I got into the rhythm of the movie, helped immeasurably by the dreamy score by Daniel Hart, and was surprised at how moved I was by the end.
Lady Macbeth
Set in 19th century England, young innocent Katherine (Florence Pugh) is sold into marriage to a drunken lout (Paul Hilton) who rejects her sexually. Her vile, unpleasant father-in law (Christopher Fairbank) chastises her constantly about her wifely duties and glares at her across the dinner table. She isn't even allowed to step outside the house. But eventually Katherine begins to rebel against the constraints, including daily walks across the moor, and even entering a tempestuous affair with a stable hand (Cosmo Jarvis) that sets into motion a murderous plan against those that stand in the way of her love life. Her actions are so evil her maid (Naomi Ackie) is struck mute. There is a chilly, austere mood to William Oldroyd's diabolical film that serves it well. And while the audience is in Katherine's corner in the beginning of this masterful, dark tale she is frighteningly unsympathetic at the end.
The Midwife
Intensely moving new film by Martin Provost (who directed the sublime Violette) with two astonishing lead performances by Catherine Frot and Catherine Deneuve. Catherine Frot plays Claire, working in a maternity clinic in Paris, who is warm and loving to her patients at work, but at home is uptight, inflexible and rather lonely. She's a single mother but her son is in medical school and is living with his girlfriend. Out of the blue she hears from a woman from her past- Beatrice (Catherine Deneuve), her father's former girlfriend who deserted them years ago. She's come to town with brain cancer wanting to make amends. Beatrice is the complete polar opposite of Claire -- a boozy, chain-smoking, gambler, mess of a human being with her heart on her sleeve. Claire, still hurt by her, does soften and takes Beatrice in after her operation and Beatrice's impulsive, non-conformist ways start to rub off on her. Claire even surprisingly (for her) opens her heart to a kindly truck driver (Olivier Gourmet). There's real humor and great tenderness in the film, and the joy of watching these extraordinary actresses inhabit their characters with fiery complexity.
Kill, Baby…Kill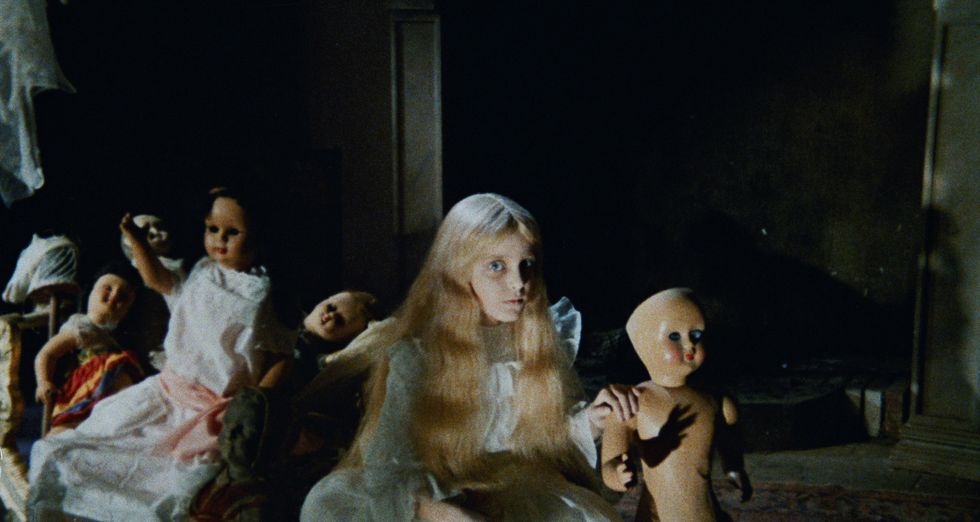 Courtesy Kino Lorber
This is a stunning restoration of Mario Bava's 1966 macabre masterpiece about an Italian village haunted by a giggling, malevolent, ghost girl all in white with long blonde hair and her ever-present bouncing white ball (an image appropriated by Federico Fellini in his wonderfully perverse Toby Dammit starring Terence Stamp). This is part of a terrific 21-film Bava retrospective at New York City's Quad Cinema in July. Mario Bava (1914 - 1980) was the son of a special effects photographer, who worked his own way from cinematographer to director. Flourishing in genre films, his major strengths were in gothic horror like Black Sunday (1960), his eerie masterpiece about a reincarnated witch (starring saucer-eyed queen of horror Barbara Steele), Black Sabbath (1963), Hatchet For The Honeymoon (1970), A Bay Of Blood (1971), Lisa And The Devil (1973), and Baron Blood (1972). And then there's the unforgettable Blood And Black Lace (1964), his glorious technicolor "giallo" thriller which showed his mastery of creating a menacing mood. Bava was a true horror visionary who influenced countless directors and nobody could do better with smoke, cobwebs and lighting to create a shadowy nightmare world than he. Seeing these films in a cinema is a mind-altering experience.
Amnesia
In Barbet Schroeder's evocative new film, a radiant Marthe Keller portrays a woman in her 50s named Martha, living in Ibiza in the 1990s, who has turned her back on her German roots. A former cellist, she lives spartanly without electricity in her seaside home. Her anger and disgust over World War II has made her turn her back on anything German. She refuses to speak the language, drink German wine, even get into a Volkswagen. A young German DJ and electronic music composer named Jo (Max Riemelt) moves nearby and stirs her emotions. There is a revelatory scene when Jo's mother and grandfather (Bruno Ganz) arrive, and during a dinner conversation about the past, secrets and lies are exposed. Director Barbet Schroeder's film is a return to form and the gorgeous Mediterranean locale and appealing quality of both Keller and Riemelt propel this movie into surprising, emotionally resonant, territory.
Killing Ground
A ruthlessly suspenseful Aussie thriller about a loving couple, Ian (Ian Meadows) and Sam (Harriet Dyer), who set off to a campground near Gungilee Falls -- a remote wooded area -- on New Year's Eve. What could possibly go wrong in the country that brought us the film Wolf Creek? There's actually a fractured time narrative at work with a family camping near the Falls a few days earlier and the brutal acts of two neanderthal friends (Aaron Pedersen and Aaron Glenane) and a pitbull who have "gone hunting." Actually, the flashbacks make this even more unbearably tense. Directed with brutal economy by Damien Power, and marvelously acted, one wonders why anyone ever vacations after seeing movies.
Splash photo courtesy Kino Lorber

Sign Up for the Morning PAPER