While Paris Fashion Week provides a stage for some of the world's most recognized labels, like Dior, Saint Laurent and Chanel, it also serves as a platform for emerging designers. Here are some of the lesser known rising labels that showed during Paris Fashion Week that you should pay attention to.
Ottolinger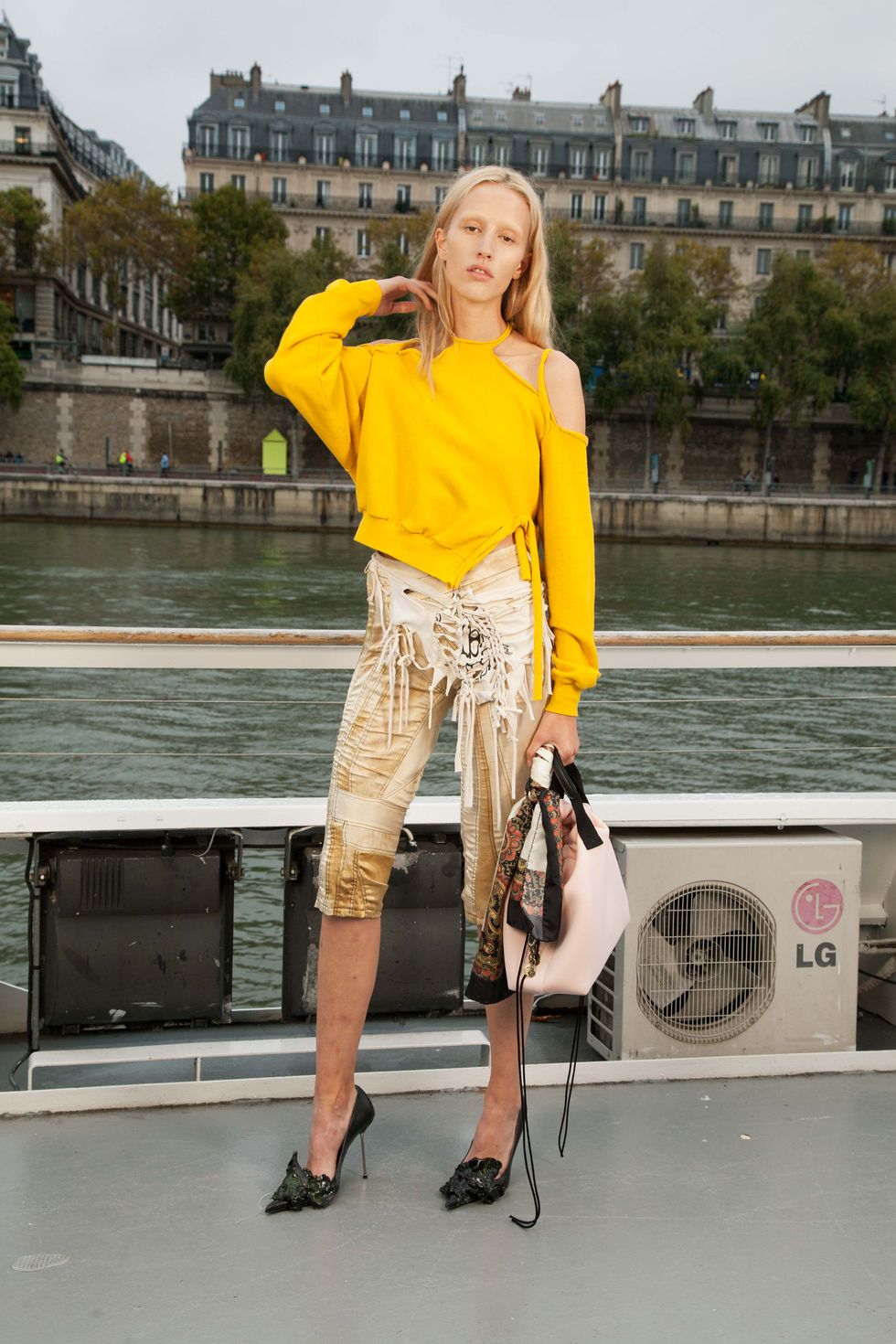 Photo via Ottolinger
What happens when two Swiss designers set up shop in Berlin? The Alpine-punk-couture aesthetic for which Cosima Gadient and Christa Bösch, the duo behind the Berlin-based label Ottolinger, have become known. Now in its fifth season, Ottolinger continues to combine alpine tradition with punk edge, this time on the Henri IV Canauxrama boat parked along the Seine at Port Pont Neuf. Bösch and Gadient play with deconstruction and reconstruction, taking classic elements like Goldvreneli coins, a traditional good luck trinket, using them as accents on chain bra tops and deconstructed slip dresses. A dirndl corsage becomes a cool vest, while the brand name stands out on belts that hang diagonally at the hip.
Jourden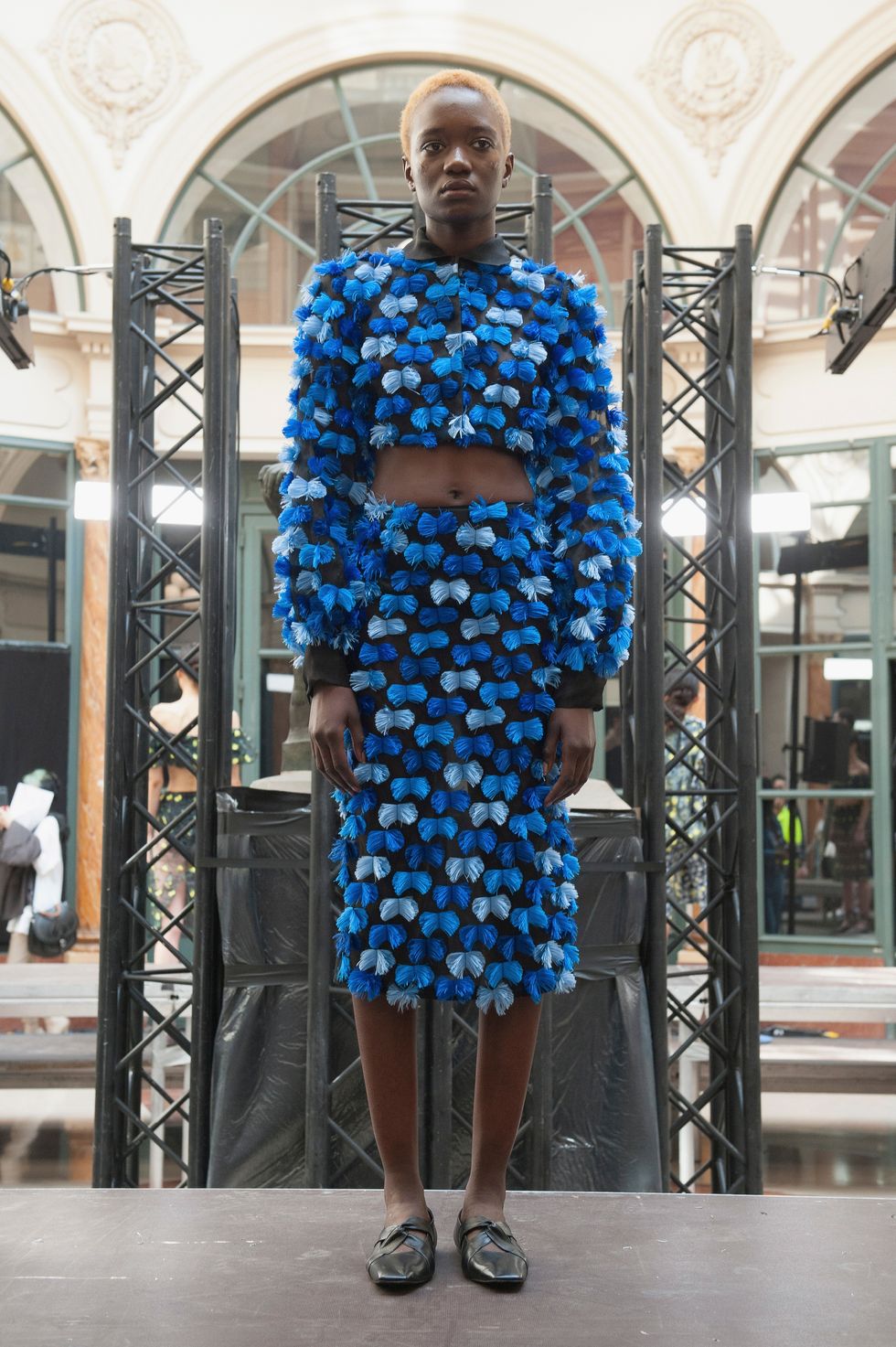 Image via Getty
On the heels of exclusive capsule collections with Barneys and Colette, and a September window display at the latter, Jourden's Anais Mak has proved that she's well on her way to becoming a bold name in fashion. Her spring 2018 collection touched on the British colonial influence over Hong Kong. Dainty pastel flourishes decorated frilly tops and skirts, and delicate yellow floral embroidery covered crinkly sheer black fabric on an ensemble that consisted of an off-the-shoulder top and transparent skirt. The result was feminine with a playful, sexy vibe. It's no wonder that fans of the label include Lorde, Beyoncé, Tracee Ellis Ross and Gigi Hadid.
Each X Other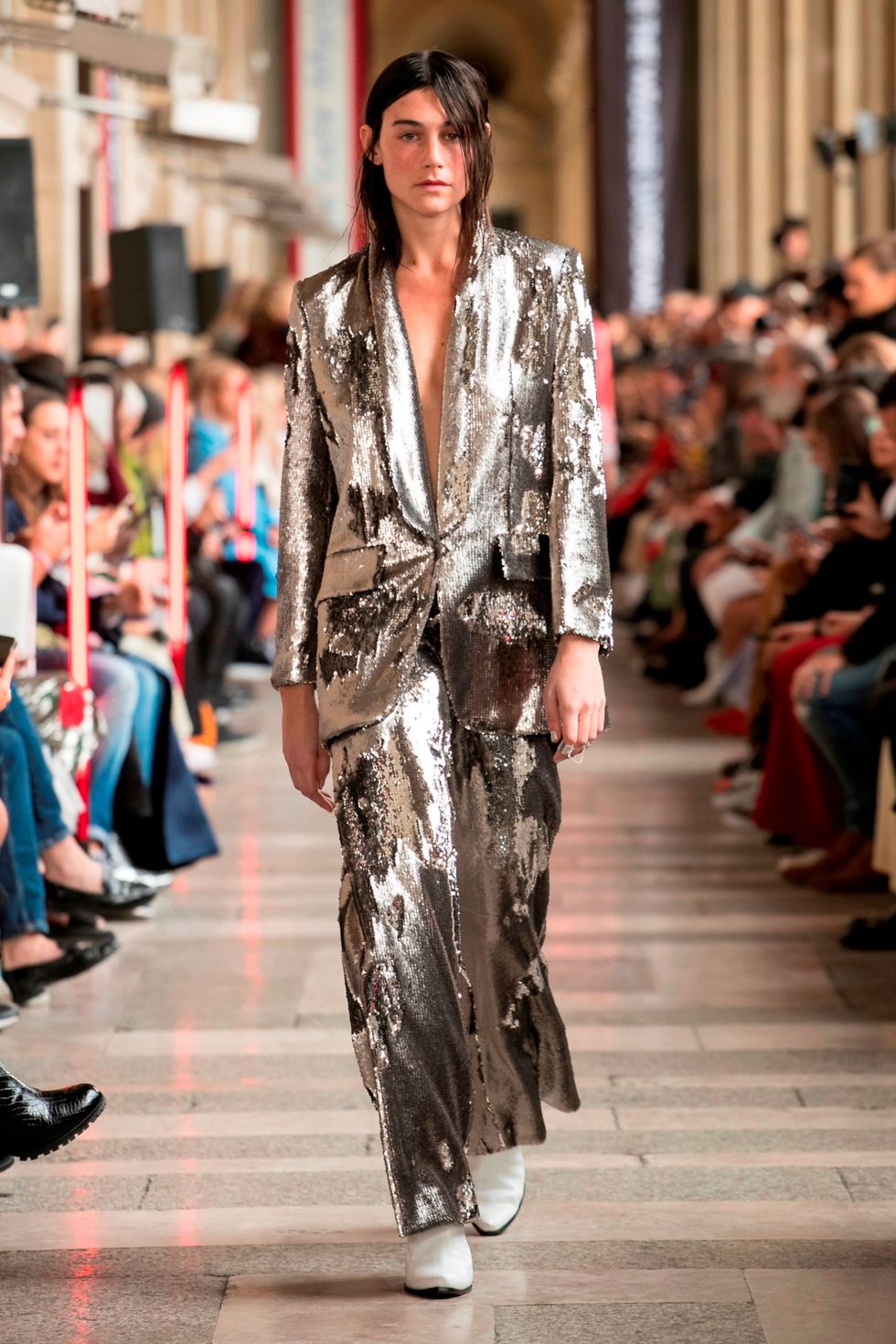 Image via Each x Other
If there were such thing as modern-day salon where artists, writers, designers and musicians gathered, its fruits would be the clothes created by Each x Other, the label founded by Jenny Mannerheim and Ilan Delouis that fuses fashion with music, art and poetry. For spring 2018, the duo tapped artist and poet Robert Montgomery, his wife, poet and filmmaker Greta Bellamacina, and poet Dilara Findikoglu to collaborate on a series of rock-and-roll imbued pieces. London-based band Khartoum provided the soundtrack as models walked out in hip oversized suits and sexy slip dresses. A new version of one of Each x Other's signature pieces, the striped red moto jacket came out, before a gothic finale that featured Bellamacina's wedding dress. With influencers like Eva Chen and Cara Delevingne recently spotted in their clothes and a new retail space down the street from Colette, this brand is one to watch.
Dumitrascu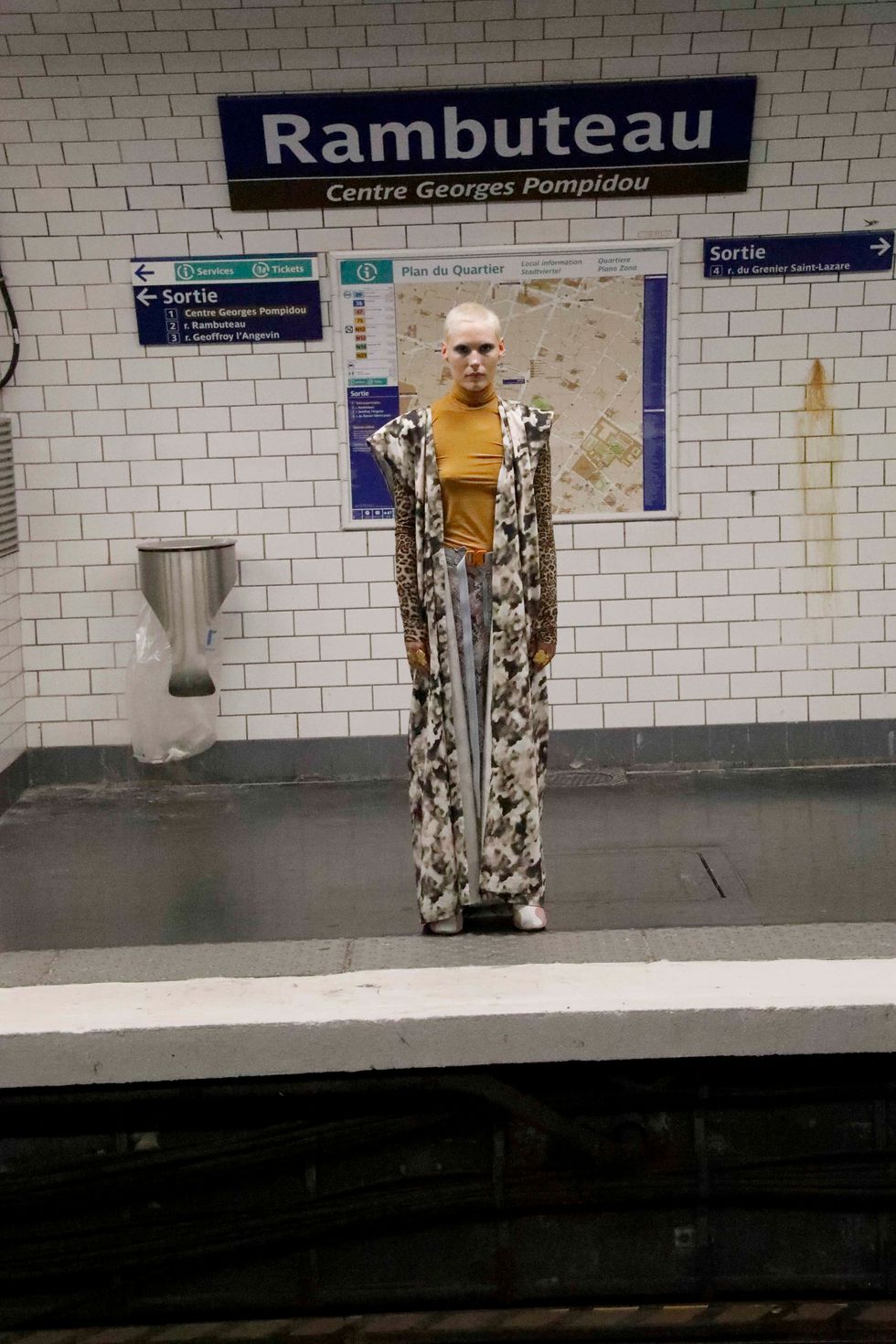 Photo via Dumitrascu
After a last-minute venue cancellation, Andra Dumitrascu — who studied under Raf Simons, Bernhard Willhelm and Veronique Branquinho at the University of Applied Arts in Vienna — proved that guerilla fashion shows are not a thing of the past. Upon check-in in front of Centre Pompidou, guests were told to go down the stairs at the Rambuteau metro station and wait. At 15 minutes past 5, models dressed in futuristic clothing emerged, using the platform as the catwalk. The collection, titled Kebaby and inspired by a Antep Urfa, a kebab shop in Pigalle, contained color-blocked caftan-like pieces and black latex, combining that whole Berlin club-kid look with subtle Middle Eastern references.
Masha Ma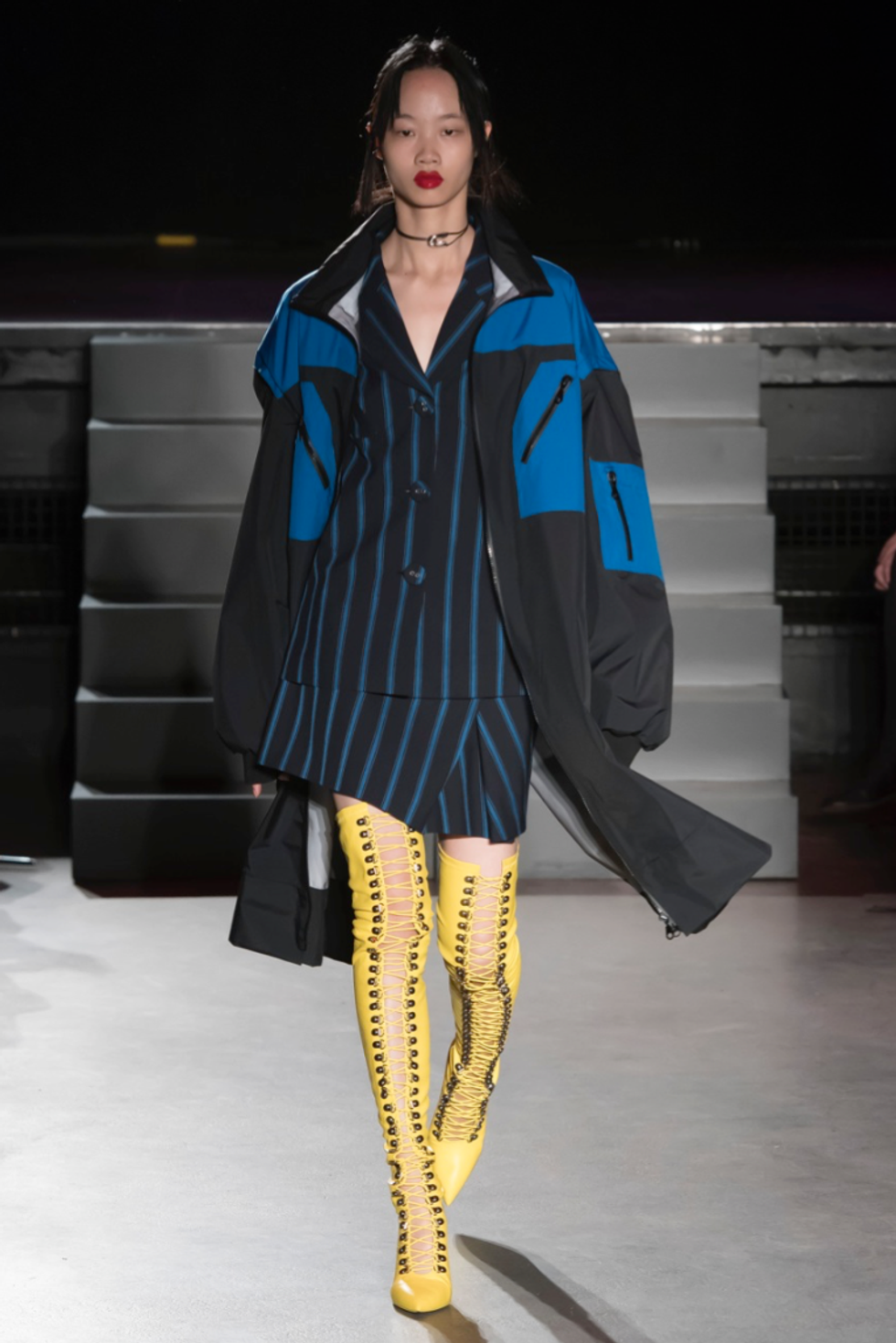 Photo via Masha Ma
It's been nearly a decade since Chinese designer Masha Ma — who honed her skills interning with Alexander McQueen and Veronique Branquinho while studying at Central Saint Martins — launched her namesake label in 2008, and the Paris-based Chinese designer is only getting better. Ma turned to Wong Kar-wai's futuristic 2004 film 2046 for the inspiration behind her spring 2018 collection, selecting an all-Asian cast of models in tribute. Classic tailoring meets high tech as a funky pinstripe suits some layered over a fishnet tops, came out accessorized with safety pin accented accessories like a choker and belt. Thigh-high, lace-up boots made for a sexy, yet edgy finish, while Technicolor-inflected florals provided a futuristic and feminine touch.
Sign Up For The Morning PAPER