Historically, non-Native designers haven't been the most appropriate when it comes to their Coachella "medicine pouches" or "Navajo Hipster" underwear. Though the concept of cultural appropriation has been thoughtfully touched upon time and time again, many companies continue to steal from marginalized cultures without any consent or compensation. It seems that in the fashion industry, for every step forward there is a step back: when a festival that bans headdresses, a distasteful misrepresentation of Native American culture pops up in a Mac store. This isn't an abstract complaint – real communities are hurting economically, emotionally, and even spiritually from these offenses.
Thankfully, there's a growing group of badass indigenous designers paving the way for sartorial justice. With the improvement of Native American resources and the growth of the Internet, beautiful things like Dr. Jessica Metcalfe's indigenous e-commerce site Beyond Buckskin have come together to give an opportunity to Native artisans across the nation. Traditional interpretations, unparalleled craftsmanship, and innovative, indigenous aesthetics have been finding their way into the fashion world, and here are some of the best emerging Native American talents.
Bethany Yellowtail
Bethany Yellowtail is one of the loudest voices at the forefront of Native American design and entrepreneurship. Unafraid to call a company out for their blatant violations of consent and cultural appropriation, Yellowtail has made herself and her Northern Cheyenne and Crow culture visible in the merciless fashion industry. A perfect example of her style would be the sheer, elk teeth lined silhouette dress that pays homage to her community's traditional regalia. Since the launch of her clothing line in 2014, Yellowtail has been serving elegant, playful, and feminine twists on her traditional wear that gives Channel a run for its money.
This past June, she launched an e-commerce retail expansion called The Collective to exclusively partnership with Native American artists. The Collective features beadwork, textiles, handbags and other handmade accessories by artists from the Northern Plains region and beyond. Each individual artist, much like each individual nation in Native America, contributes a rare and intimate touch to his or her accessories. I dare you to browse through The Collective's catalog and not drool over the colors and technical work.
Yellowtail is not only empowering Native American artists economically, but she's bridging the controversial gap between sharing one's culture and cultural appropriation — these designs are for everyone at the benefit of their indigenous creators.
Jared Yazzie
As an illustrator, graphic designer, photographer, screen printer, and the founder of OxDx Clothing, Jared Yazzie is a bonafide polymath. After dropping out of the University of Arizona on a full-ride engineering scholarship, Yazzie began working at a screen printing shop and sold shirts out of his car trunk. Today, the Navajo (Diné) creative powerhouse takes every bit of cultural misrepresentation experienced by indigenous peoples, saturates it with irony and wordplay, and then spits it back out onto a tee shirt.
Yazzie's bold, graphic aesthetic draws inspiration from street art evocative of the anti-establishment imagery found in the world of Shepard Fairey. Just imagine the Obey Giant as the Cleveland Indians logo combined with the Misfit's skull with the words "MIS-REP" in scrawling red font.
Like punk rock, OxDx (which stands for "overdose") is about resistance, anti-conformity, and a departure from the toxic traps of society. Forget what you learned in high school history class: Native Americans Discovered Columbus. The visually arresting quality of his statements is what makes his designs so successful. They support critical issues like the missing and murdered indigenous women of Canada, and provide a little Native humor.


Jamie Okuma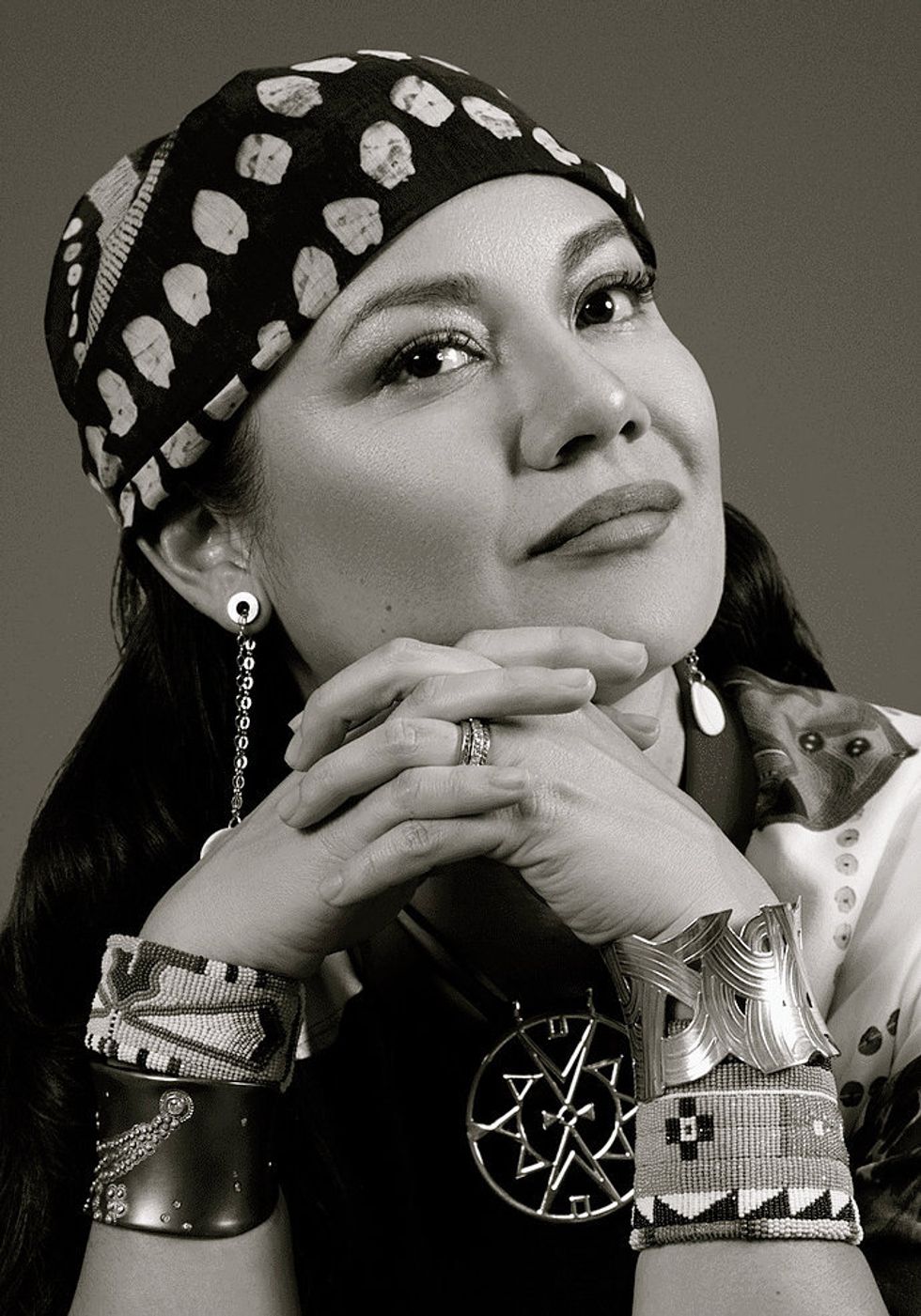 photo via Jamie Okuma's website
Jamie Okuma began her trajectory as a designer the way many young Native children spend time with their elders — she learned how to bead traditional regalia as a young girl on the La Jolla Luiseño Reservation in Southern California. After graduating high school, Okuma followed her passion straight into the Institute of American Indian Arts in Santa Fe. She would go on to become an award-winning designer, bead worker, and artist shown across the globe.
You should head to Native Fashion Now... right now! Only two weeks left to see these Jamie Okuma shoes in person 😍 pic.twitter.com/kc5xBUg3Qb
— Portland Art Museum (@PDXArtMuseum) August 23, 2016
What sets Okuma apart is her excruciating attention to detail – she uses traditional Luiseño beading techniques, she curates quality, antique materials, and she goes all in without a bare patch to spare. But in stride with her natural eye for composition, her pieces never feel over the top or too busy. If you're a shoe lover, make sure to check out her notorious, one-of-a-kind beaded shoes. Okuma pulls a one-eighty on the tired, inaccurate moccasin spiel designers have been running for a while now.


Orlando Dugi
For Navajo (Diné) designer Orlando Dugi, fashion is an outlet to experiment with fine materials, indigenous tradition, and haute couture. DUGI, his growing clothing brand, began in 2013 with hand-beaded bags, jewelry, and now focuses on special occasion and evening wear. Dugi's love for fashion began to show as early as 4-years-old when he would marvel at women's traditional Navajo ceremony regalia — the velvet textiles, deep colors, and silver adornments caught his attention.
Unlike many of his contemporaries, Dugi is self-taught and makes every garment and accessory by hand, no matter how extravagant. And unlike other indigenous designers, he represents his culture with a more subdued, nuanced nod. Instead of feathers and turquoise, Dugi beads Swarovski crystals into a handbag with a traditional Navajo bead stitch.
Sho Sho Esquiro
The eco-friendly and urban influence in Sho Sho Esquiro's designs reflects her unique life experiences and interests. As a Kaska Dene and Cree woman, her upbringing in the Yukon, Canada provided a deep connection and respect for nature. Esquiro uses traditional Cree and Dene shellwork, beadwork, organic and recycled textiles, sealskin, and furs. As for the Native-urban feel of her clothes, Esquiro is an avid hip-hop lover who expresses the form best in her garments.
The best way to describe Esquiro's apparel is versatile. She incorporates vivid, unapologetic colors that are thoughtfully contrasted with earth tones provided by her more sustainable and traditional materials. In her 2013 collection, indigenous Mexican imagery like Frida Kahlo and Dias De Los Muertos was effortlessly weaved into her more retro-inspired ensembles. It's a fun, sexy, and completely Esquiro tangent that somehow makes sense to her body of work.
You May Also Like