This article originally appeared in the second issue of MedMen's new quarterly magazine, Ember, created in collaboration with PAPER. MedMen is a California-based cannabis company and investment firm with properties spanning coast to coast.

Though 3C Farms has decades of experience among its team (their main grower is marijuana industry pioneer Bryan Schwartz) with strains dating back to 1996, the company hasn't let success affect their craft cannabis approach. "You'll never catch us with a massive, 100-light grow room," explains 3C Farms' Director of Operations and VP of Sales Waylon Broussard. "We do small-batch rooms and harvest every week, which allows us to continually keep fresh product." The Los Angeles–born and based cultivator debuted the indica-dominant hybrid strain Banana Split in 2017. As a prime result of the company's microcultivation technique, it quickly earned a spot in the top five of 3C Farms' 33-strain portfolio.
While many of 3C Farms' strain names are cleverly inspired by conspiracy theories — Illuminati, Project Blue Book, and Majestic 12 — Banana Split OG's moniker comes from its powerful genetic lineage and dessert-like taste. The cultivator's popular Kraken line was created by crossing the strains Majestic 12 and Harlequin. The intent behind this was to produce a well-rounded terpene profile, something that rightfully encompassed the magic of the entourage effect. After it proved to be successful, 3C's next step was to join its forces with another sophisticated terpene composition, Banana OG.
The result is the intoxicating Banana Split OG. It's a strain that stands out in a crowd, with its tightly condensed, forest-green bud sites, swollen amber pistils, and glistening, diamond-like trichs. But it's the attractive aromatic profile, an earthy, banana-bread-meets-hops type of scent, that puts Banana Split in a league of its own. A fruity, cherry-like flavor that emerges during the exhale is a nice surprise, and quite literally the cherry on top of this unique strain.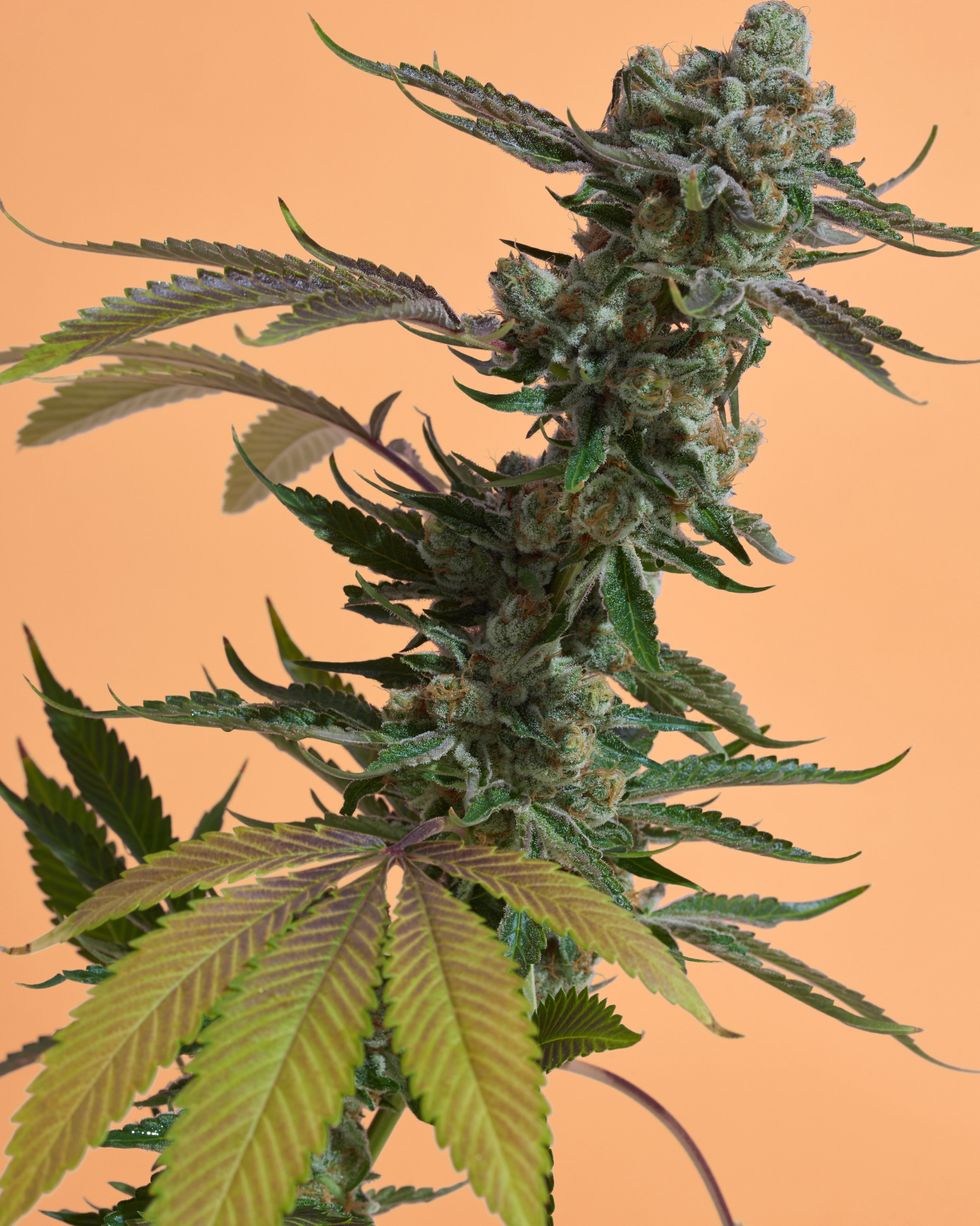 Born in 3C Farms' small-batch harvests, Banana Split OG appreciates an indoor-only, full hydroponic cultivation. It prefers a climate like the south of France in the springtime — dreamy weather at a perfect 68 to 72 degrees, which allows its flowering cycle to complete in roughly 54 days.
Testing at 24.5% THC content, Banana Split OG is not for the faint of heart. Those who enjoy a proper smoke session on a relaxing evening may choose Banana Split OG as their go-to strain. For insomnia troubles, sleep apnea, loss of appetite, or assistance with pain management, it is also a good choice. As mentioned, the terpene profile is an impressive mix. These fragrant components are not only what is responsible for flavors and scent, but they also reveal the medicinal benefits of the strain. Banana Split OG has a dazzling combo consisting of alpha and beta pinene, limonene, and myrcene.
While all terpenes are mighty, pinene is a standout hero with its antibacterial, anti-inflammatory, antioxidant, and antiproliferative properties. It is known to be a bronchodilator, which helps increase airflow to the lungs and may help asthma sufferers. And not only can pinene help with chronic pain associated with diseases such as arthritis and Crohn's, but it also has the ability to inhibit the growth of cancerous cells.
Limonene also claims this anticancer benefit while promoting weight loss and reducing heartburn and acid reflux. This energizing, mood-boosting terpene can fight depression and anxiety, as well as increase libido. Myrcene, another cancer-fighting terpene due to its antimutagenic trait, also helps with pain and inflammation and induces the sedative "couch-lock" effects commonly associated with indica strains. Topping off the profile is eucalyptol, known to help reduce blood pressure and improve mental clarity.
With all of these benefits, Banana Split OG is a luminary in the cannabis world. And for the indica-loving smoker, Banana Split is a real treat.
Sign Up for the Morning PAPER