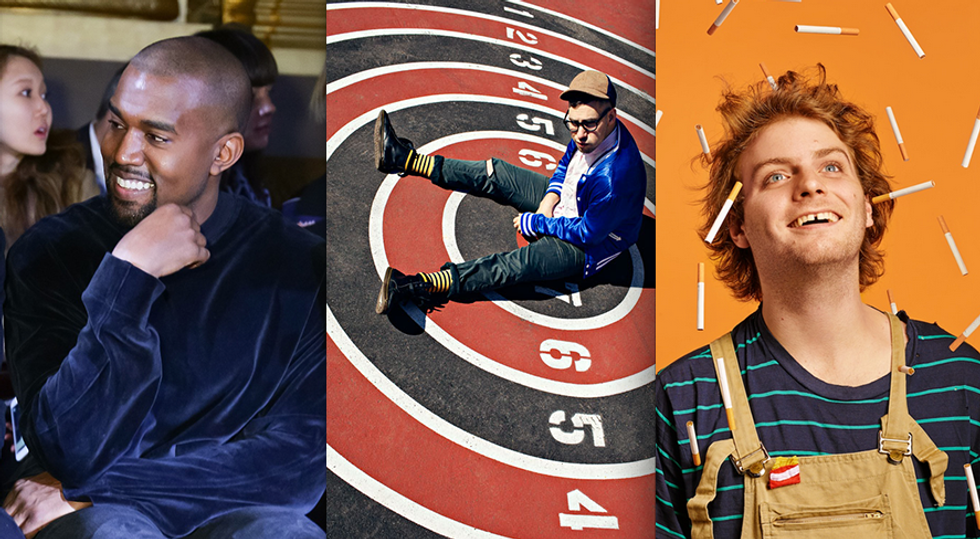 Kanye West, Jack Antonoff and Mac DeMarco. [Photo of Kanye West by Matteo Prandoni/
BFAnyc.com
; Photo of Jack Antonoff by JUCO for
Out Magazine
]
Not surprisingly, there were several interesting nuggets from Kanye West's
new cover story for T Magazine
. In it, the rapper compared his ego to a colossal, "
nouveau riche marble table
," spoke about
going into debt
over self-financing his two women's ready-to-wear collections, and
shared his childhood dream
of "having my own store where I could curate every shoe, sweatshirt and color."
But there was
one throaway Kanye-ism
-- in parentheses, no less -- that took our breath away: "I want to dress like a child as much as possible." Hold up: Kanye wants to wear
babycore
? Or, more accurately, kidcore?
For those unfamiliar, the term, coined by new media artist
Matt Starr
, is, quite simply, "apparel inspired by baby clothes." Back in December, we spoke to Starr about how he'd enlisted designer Bryn Taubensee to make adult versions of his '90s-era Gymboree gear.
He described
the rationale for the look as having to do with the fact that clothing for tots has "a playful, laid back and comfortable aesthetic...that most adult clothing brands don't offer."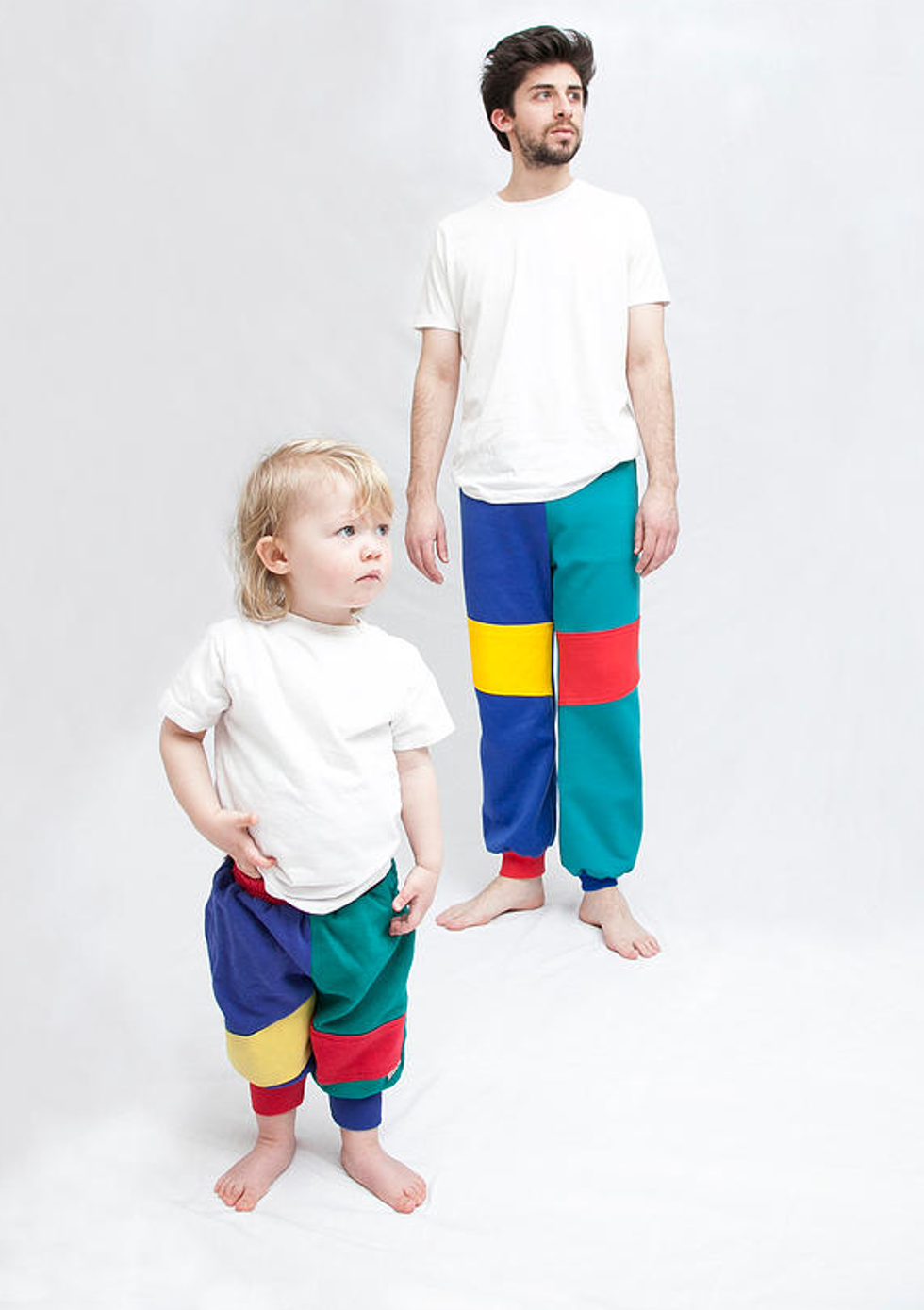 Matt Starr's "babycore." [Photo used with the permission of Starr]
At the time, we overlooked this "movement" as an art project, Starr's attempt to spoof the media's obsession with finding the next micro-trend and dubbing everything "____-core" (or "____ -wave"). But maybe we were wrong. Whatever you think of Yeezy's clothing lines,
his influence on fashion tastes
(especially fashion in hip-hop) is absolutely undeniable. So perhaps it's only a matter of time before we all look like we've gotten our wardrobes from some not-so-distant future Hanna Andersson or Gymboree adult-size diffusion lines.
And, the more we began to think about it, a lot of people (and not just Kanye or Matt Starr) already do look like that. We remembered that back in June, Bleachers frontman Jack Antonoff
told New York Magazine
that he likes "to look like a big kid." The article
described his style
as including "a baseball cap perched high and askew, a sweater striped with every neon color...and his favorite black-and-yellow-striped socks, pulled halfway up his calves."
While Antonoff's aesthetic might be a more extreme version, we realized we've been seeing variations on this "jaunty schoolboy" look for years in Bushwick and other creative hubs. Usually it incorporates some or all of the following: light or normal rinse high-waisted flood pant jeans; Keds; a schoolboy-style cap devoid of any sports team, brand, or university logos; a colorful windbreaker; and a backpack (often in primary colors).
Mac DeMarco
is a poster boy for this style. Yes, there are obvious similarities between this look and trends like '90s nostalgia and normcore but, as they say, the (sartorial) devil is in the details: the first grade classroom colors and kiddie accessories create an effect that's more impish than neo-grunge and there's a distinct vibe rather than an intentional lack of one.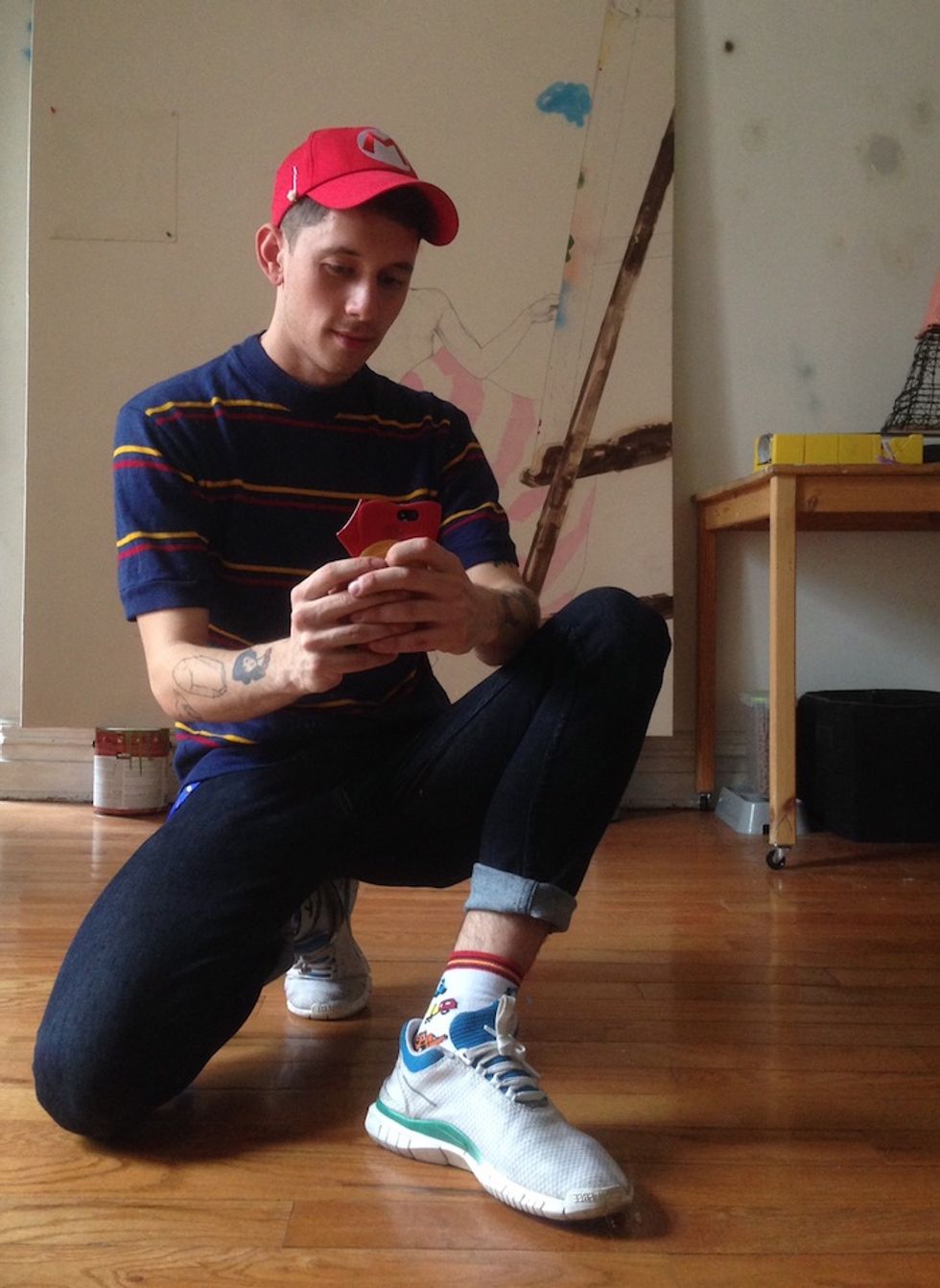 Eric Zindorf
"I've used 'toddler-chic' to describe my dressing aesthetic," Brooklyn-based artist Eric Zindorf, 25, tells us. "I'm always pretty much wearing primary colors. I wear a red [Super] Mario baseball cap all the time. I have a lot of tiny backpacks." Of his style evolution, he says that "it came from a time of watching
Clueless
-- and I know
Clueless
isn't about kids -- but those skater boys were all wearing primary colors. I was drawn to it. But I started to realize that my taste was evolving and I was drawn more and more to the types of things I wore when I was three."
"I've kind of always worn [kid clothes]," 22-year-old New York City-based soap artist and designer, Liberty Leben, says. "I wear colorful things and kids' ruffle socks. Headbands and scrunchies and overalls. I'll wear shirts with big pockets on them. I also wear a necklace every day that I've had since I was 5-years-old that has gold letter beads with my name on it."  
Though the style originated in the streets, you can see echos of it in high fashion, from
Thom Browne's short suits
to Jeremy Scott's Fall 2015 collection featuring a parade of models dressed like
psychedelic baby dolls
. While Scott's collection has echos of Twiggy-era
trapeze dresses
and it's the '90s that have become synonymous with the
babydoll dress
, what makes the nascent "kidcore" thing different is that it seems to be devoid of any Lolita vibes or sexuality altogether. In this sense, it runs parallel to the recent surge in androgynous and "
agender" fashion
.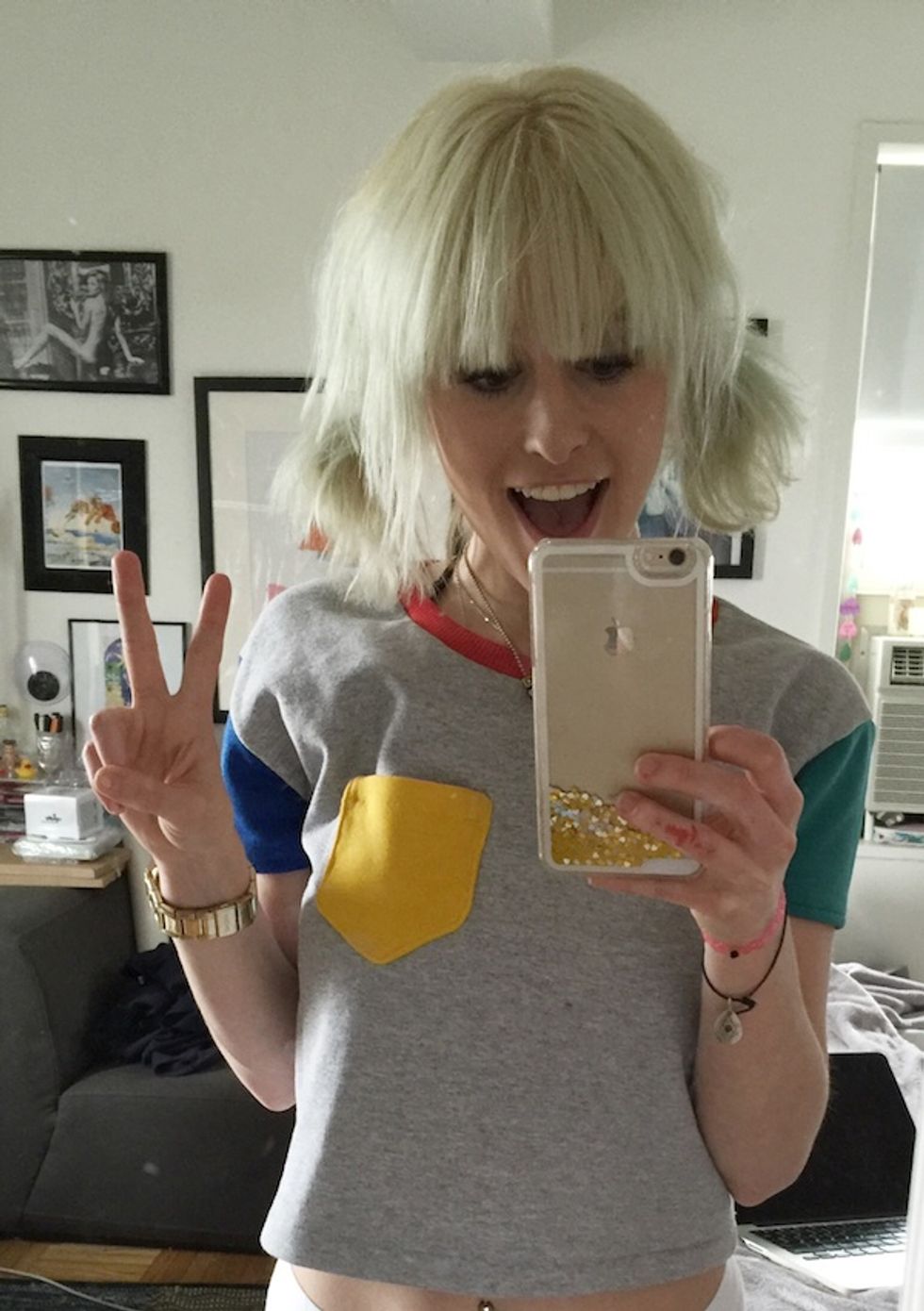 Liberty Leben
Whether people are adopting this trend as a reaction against hyper-sexuality in fashion and pop culture or as twentysomething nostalgia not for the '90s you missed (Marc Jacobs for Perry Ellis grunge) but the
'90s you witnessed (OshKosh)
, it's a safe bet that one of the contributing factors is the trend's emphasis on ease, both literal and psychological. Yes, the clothes are comfortable and the antithesis of the peacocking fashion you see on street style blogs but, as Starr tells us, it's all about "the mindset." He explains that when he launched the "babycore movement," it was more about a "carefree sense of style and a carefree sense of life" than about
sweatshirts with button pouches
.
The artist, who revealed exclusively that he's in the process of curating an exhibit featuring "babycore-inspired art from artists around the world," points to celebrities like Jimmy Fallon and Ellen DeGeneres as exemplifying the "babycore" psychology -- exuberance, positivity and
earnestness
-- if not the fashion. But for many people, the fashion is what helps create the mindset in the first place. "I just feel better when I wear [those clothes]," Zindorf says. "When I think back to my childhood, it feels good to relive it." Leben has similar sentiments. "It's a carefree act. I don't know if it's just because it's my aesthetic or how I feel I want to be young forever. It's almost like I've never grown up but I feel that's okay."
When you think about it, in a culture that has AARP members dressing like they're a long-lost Kardashian sister, it oddly makes sense that the apotheosis of our youth obsession might be reached when the young want to look -- and
be
-- even younger. In other words, 25 is the new...8?