By the time you read this, Matt Goldman will be... well, let's see. He woke up sick this morning and is about to board a flight to host a party at the Standard Hotel in New York while remotely throwing an FYF after-party in L.A. with Simian Mobile Disco and Dave P DJing: "Going out all the time and not sleeping -- you know how it is," he says apologetically. He thought he was going to have a mellow morning, but then he received calls from several gigantic corporate clients as well as several gigantic festival promoters. (As an in-demand designer and an in-demand promoter, he's at double the risk for meetings exploding out of nowhere.) Luckily, someone had found and returned his phone after he lost it at a soccer match the week before.

Then there was the deadline looming on a design job when he returned to his downtown L.A. office. Also waiting for him in L.A. was another installment of Dance Right -- his first and arguably most popular dance night, which is still roaring along as a weekly, five years after it started as just an excuse for Goldman and friends to party and stay up late -- and a meeting at Perry Farrell's house. See, Goldman is finalizing his designs for the new Jane's Addiction album, which is a gig he got after wowing them with the posters he made for their secret reunion shows in 2008 -- which they played at his Dance Right parties. From Perry's house in L.A. he went right to the airport to catch a flight back to New York City for Fashion Week, where his clothing line Chambers Clothing had a party. After that, he went off the radar -- for now. If he really disappeared, Los Angeles as we know it would probably fall apart.

The parties Goldman throws under the moniker MFG connect with scruffy indie rockers, plugged-in remix junkies and young people who just wanna roll out and dance all night -- in fact, as his party's name suggests, if you want to dance, you're at the right place. He admires local promoters like FYF's Sean Carlson and Franki Chan, whose Check Yo Ponytail series carved out the first great place in L.A. for electrified hipsters to dance, as well as the promoters of A Club Called Rhonda, the home of what they call "polysexual hard partying." And it says something that he can get people who visit all those different nights to come sweat it out at his own MFG events, too.




"There was a point where I was running two weekly club nights and a bi-monthly summer pool series while still holding down a full-time job at [Shepard Fairey's] Studio Number One, where I was senior art director," Goldman says in a rare moment of non-activity. " I've always had the balance of daytime work and nighttime antics. Yeah, I'm in meetings a lot but I'm happy about that. I definitely have to spend a lot of my time planning, writing, making budgets -- but it's all about music, art and having fun."

Goldman knew he wanted to be a designer -- not a promoter -- since he was a teenager, but his "fucking idiot loser baseball coach" college counselor wasn't any help. He fell into a design program at UCLA, and then got hired at Fairey's Studio Number One by pretending to be a cool kid that "totally skateboarded instead of rollerbladed," he laughs. More adorable high school awkwardness: he loved Dashboard Confessional and was a self-described theater crew "reject."

Back then, he never went out, he says: "My inability to get in places didn't work with my pride and sense of entitlement." But he saw an opportunity when a buddy started bartending at a then-empty downtown bar called La Cita and another friend made him a birthday mix of '90s dance music that Goldman truly and literally danced to all night. Inspired, he decided to combine the two and ask Fairey to help out.

"I didn't know promoting existed but I knew I could design a cool flyer, invite a handful of friends and get Shepard," he says, "And I knew what a fun dance party sounded like. I was just so happy to have something that was my own and I worked so so hard to keep it. I'd deny that I was a promoter -- I hated the word and the connotations. I just wanted a party that I wanted to go to and for the first few years, I was the first on the dance floor."

Now five years later -- "Flash forward!" he says -- and Goldman's MFG Productions is an L.A. nightlife titan, responsible for Thursday's Dance Right at La Cita and Monday's School Night at Bardot, as well as the bi-coastal Swimming With Sharks summer pool parties at the New York and L.A. Standard Hotels. And then there's the match-made-in-heaven team-ups with Mad Decent and Scion, the one-off after-parties for poised-to-be-huge bands like Foster the People, the secret shows with M.I.A. and Spoon ... should we keep going? Because Goldman is -- post-show-sickness or not.

Now that he's accidentally created his empire, he's found out that-- despite his modest denials -- he's kind of pretty good at it. When he says he's got nothing to do but sit around at La Cita, you know that can't possibly be true. But that would be something to look forward to, he laughs.

"It's fucking hard having employees, having overhead and being ultimately responsible for a lot of people, projects, clients and all the other moving parts of running a company," he says. "I was not born with the gift and I cannot wait for the day I take a step back and realize I'm no longer having to run my own stupid company -- just own it and do the creative work!"

MATT'S TYPICAL NIGHT OUT (WHEN HE HAS THE NIGHT OFF)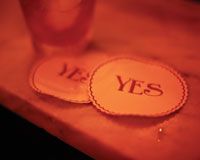 WHERE:
The Roger Room, 370 N. La Cienega Blvd.
WHY:
The Roger Room makes me feel like I'm in Paul Smith's drink parlor, if he were a wealthy statesman at the turn of the last century -- and if his inspiration came from growing up in a family of circus folk. This was one of the first bars where I remember the bartenders looked like barbers. Dan [Monick] and I were happy to make this our first stop because the YES coasters really set the tone for the night. Do you want to know your fortune? YES! Do you need another drink? YES! Wanna come with us to the Roosevelt? YES!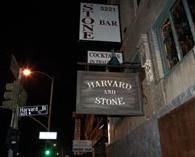 WHERE:
Harvard and Stone, 5221 Hollywood Blvd.
WHY:
I'm here three nights a week. It's a mixology bar staffed by men and women with nice shoes. I want to get my fill before people from New Jersey fly to Los Angeles. Our night ended here and we ran into DJs from all over; Alex from Holy Ghost and Tyler from Classixx were talking in one corner as Dan and I tried to find surfaces to fall off of while taking pictures.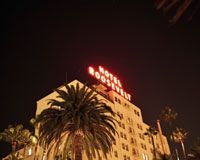 WHERE:
Tropicana Bar at The Roosevelt Hotel, 7000 Hollywood Blvd.
WHY:
On a Tuesday night there are few places I would rather be than the Roosevelt Hotel. They know how to make all the pretty people get loose, jump in the water and pretend it's the weekend. We stopped by for only 15 or 20 minutes,
but in that time pretended we knew a recent transplant from North Carolina, asked Gino Perez if he rips his own jeans and hugged lots of bros. It was a real good stop.