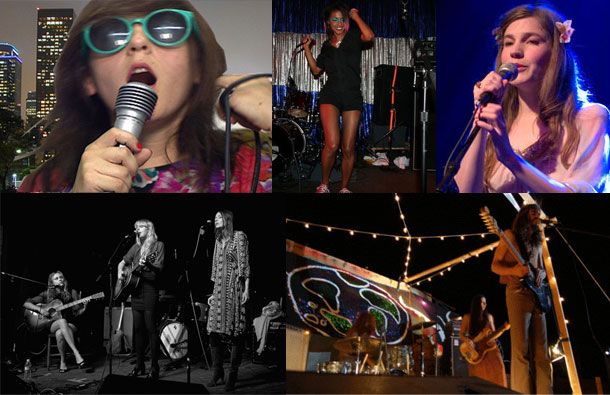 So at this point, you are no doubt familiar with the concept of the PAPER 24-Hour Department Store. What you may not know, is that to coincide with the madness, this year Converse is sponsoring an all-night concert extravaganza, with 24 bands playing in the span of 24 hours. From a 55-piece marching band to Becky Stark of Lavender Diamond to Lady Tigra to The Chapin Sisters, it's going to be a truly insane lineup to compliment a truly insane evening. Here's the run-down:
NOVEMBER 7
6 p.m. Los Angeles High School Band and Color Guard
7 p.m. Nite Jewel
8 p.m. Lady Tigra
9 p.m. Blank Blue
10 p.m. Entrance
11 p.m. Sir Heffington
11 p.m. Django James and the Midnight Squires
12 a.m. The Shoe
1 a.m. Corridor
1:30 a.m. Annakim Violette
2 a.m. Robedoor
2:30 a.m. Daedelus
NOVEMBER 8
9:30 a.m. Young Sassan
10 a.m. So-Cal Alpha All Star Steppers
11 a.m. Imaad Wasif
12 p.m. The Chapin Sisters
1 p.m. Becky Stark
1:30 p.m. Kevin O' Meara
2 p.m. Black Black
3 p.m. Nudge
4 p.m. K-the-I???
4:30 p.m. Thavius Beck
5:30 p.m. Harper Simon
6 p.m. Special 25th closing band: Night Horse
24 Bands in 24 Hours
at PAPER's pop-up storefront space at
8873 Sunset Boulevard at San Vicente
Friday, Nov. 7 at 6 p.m. to Saturday, Nov. 8 at 6 p.m.