The slush puddles may still be bottomless and our seasonal depression may still be raging, but March is here and with it, a bursting of spring art events. From massive international art fairs to tiny art haunted houses, emerging gallery exhibitions to major museum openings, and new work from Bjork to Basquiat (and all that's in between), we've got 20 spring art shows and fairs to see this season.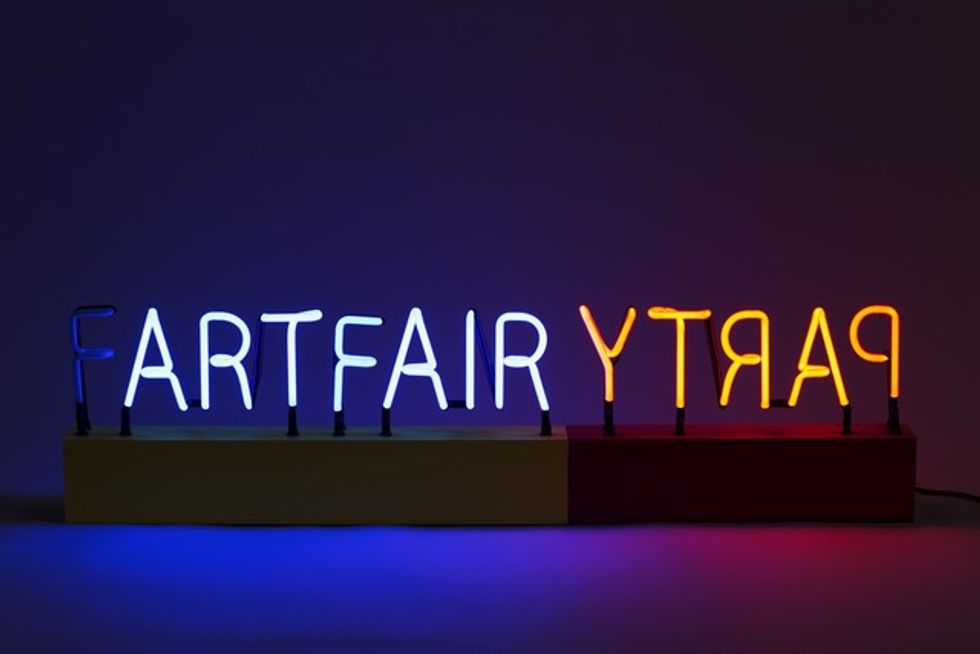 Richard Jackson,
Art Fair Party
at Georges-Philippe & Nathalie Vallois, Paris, Armory
1.The Armory Show
The only way to enter the whirlpool of spring art events is to dive face first into a giant warehouse filled with crowds of extremely rich people, sardine booths of unattainable artwork and enough fluorescent lighting to give your pale winter skin a sunburn. It may not be the most calming art experience to start off the season, but the Armory Show, exhibiting nearly 200 modern and contemporary art galleries from around the world, is the perfect way to whet your appetite for art. This year, the Armory Focus will highlight work from the Middle East, North Africa, and the Mediterranean (MENAM) with artists like Socratis Socratous of Cyprus, whose fair-wide installation of haybales made with carnation flowers, titled
Incarnation
, will be transformed and destroyed throughout the week.
Piers 92 & 94, 12th Ave. at 55th St., Manhattan; March 5 - 8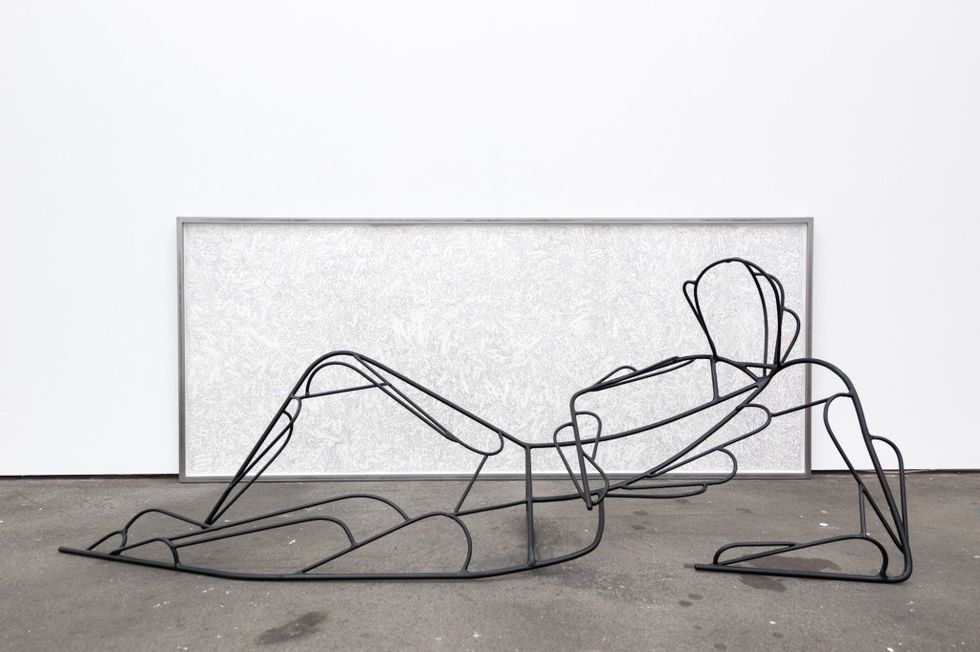 John Giorno at Elizabeth Dee Gallery, Independent
2.
Independent Art Fair
In its 5th year, Independent brings over 50 contemporary galleries from around the world including works from our favorite neighborhood galleries like JTT and Gavin Brown's Enterprise, plus a taste of cool, international spaces like Mexico City's kurimanzutto or Berlin's Plan B.
548 West 22nd St., Manhattan; March 5-8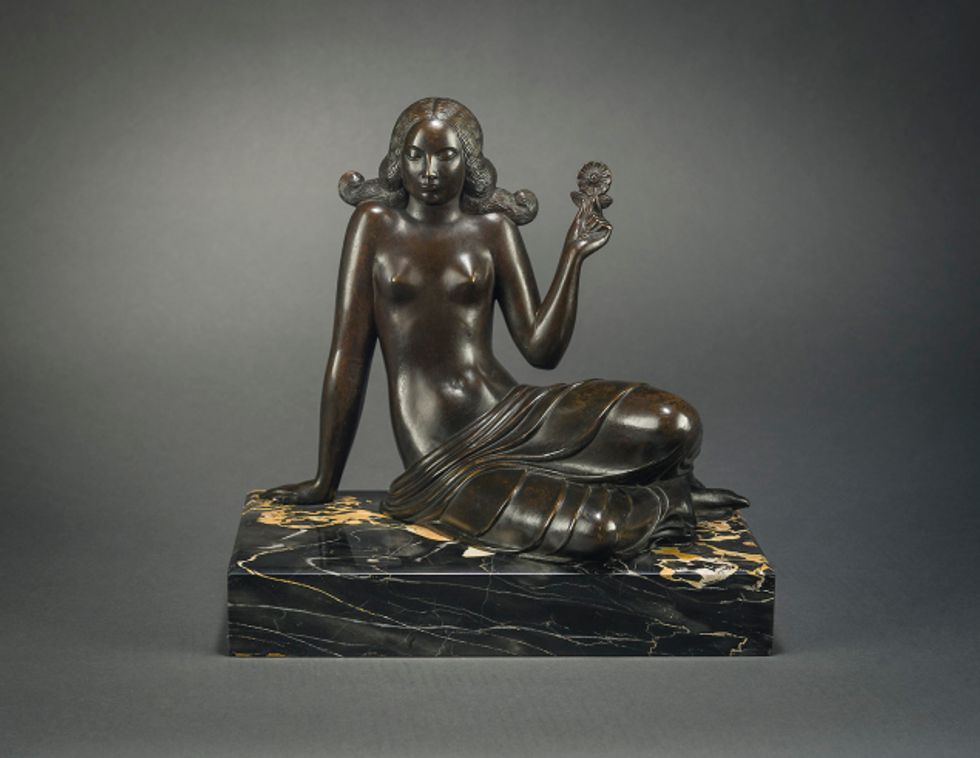 Paul Manship,
Central Figure of Day
(1916) at Hirschl & Adler
3. ADAA's The Art Show
If you're more of a modern art snob, the small-yet-well-curated show put on by the American Art Dealers Association is more like a museum than an art fair. And if you love art heists, check out a newly returned bronze sculpture that was stolen from Hirschl & Adler Gallery in 1983, on view at the show for the first time since its disappearance.
Park Ave Armory, 643 Park Ave., Manhattan; March 4-8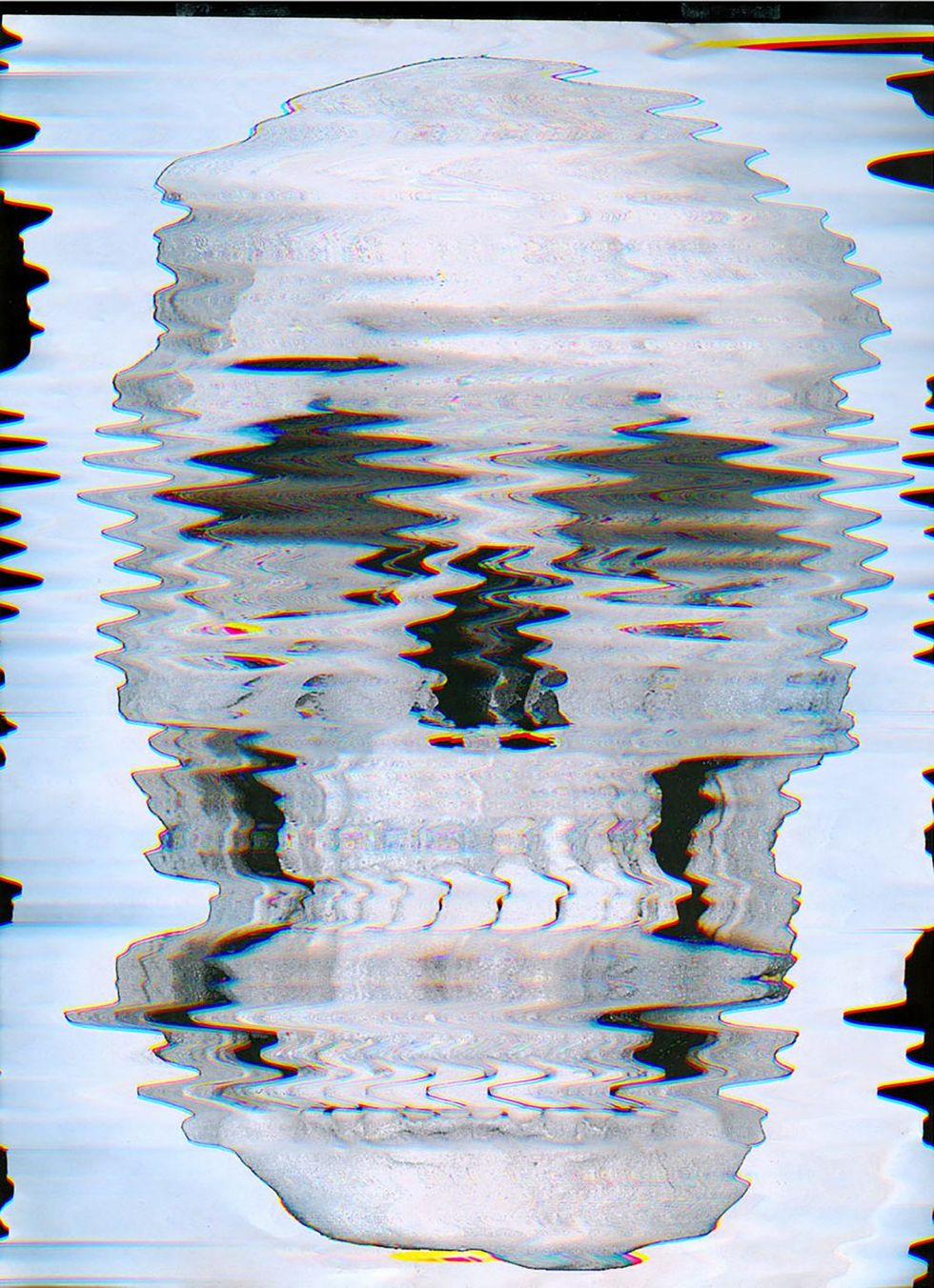 Ciler Violator at SOZE Gallery, SCOPE
4.
SCOPE Art Fair
One of the larger satellite fairs now in its 15th year, and in a new location across from the Armory Fair, SCOPE brings us the highbrow taste of the Armory in a slightly less sterile, more palatable environment. Like the main fair, the special programs are worth the admission fee, with the Breeder program highlighting emerging galleries and a special section curated by
Juxtapose
Magazine featuring, among other works, artist-made surfboards to raise money for charity.
639 W 46th St, Manhattan; March 6-8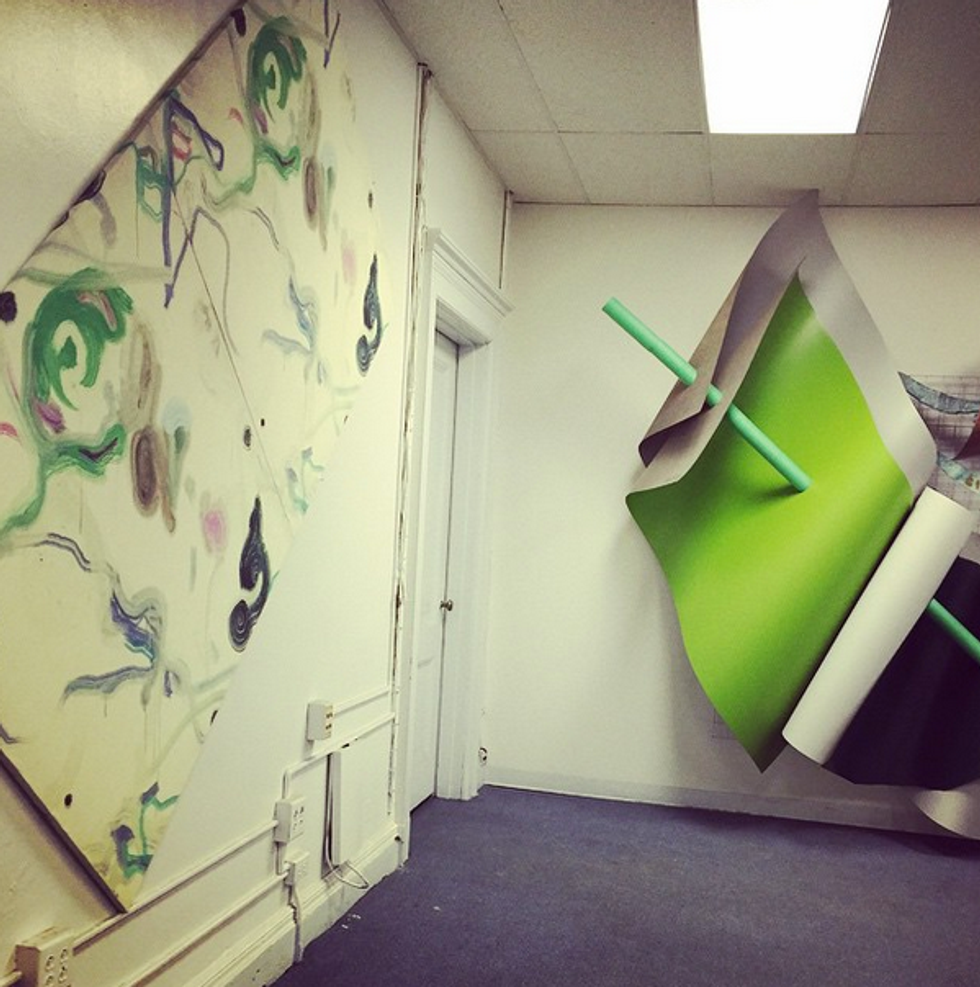 Adam Parker Smith and Siebren Versteeg,
GREEN in room 4008
, Spring/Break Art show. Image via
Instagram
5. Spring/Break Art Show
If the coffin-sized booths and unfathomable prices of art fairs give you anxiety, but your FOMO is too strong to opt out of the whole art week game, visit the innovative, and exhilarating, curator-driven SPRING/BREAK Art Show. Now stationed in the old post office at Moynihan Station in Chelsea, curators have the freedom to show emerging artists outside the stuffy fair atmosphere, and sell work at a more reasonable price point. This year's theme, TRANSACTION, is bringing a number of can't-miss installations including Bruce High Quality University Foundation's recreation of their school office and a group show called GREEN, curated by half gallery's Erin Goldberger and Louis B. James' RJ Supa, featuring work by Robert Davis, Siebren Versteeg, Nora Griffin and more. Be sure to see the paintings by
Bizarre Teens
, which are reportedly made from $10,000 worth of shredded U.S. currency, donated anonymously.
Skylight at Moynihan Station at 23rd and 8th Ave., Manhattan; March 3-8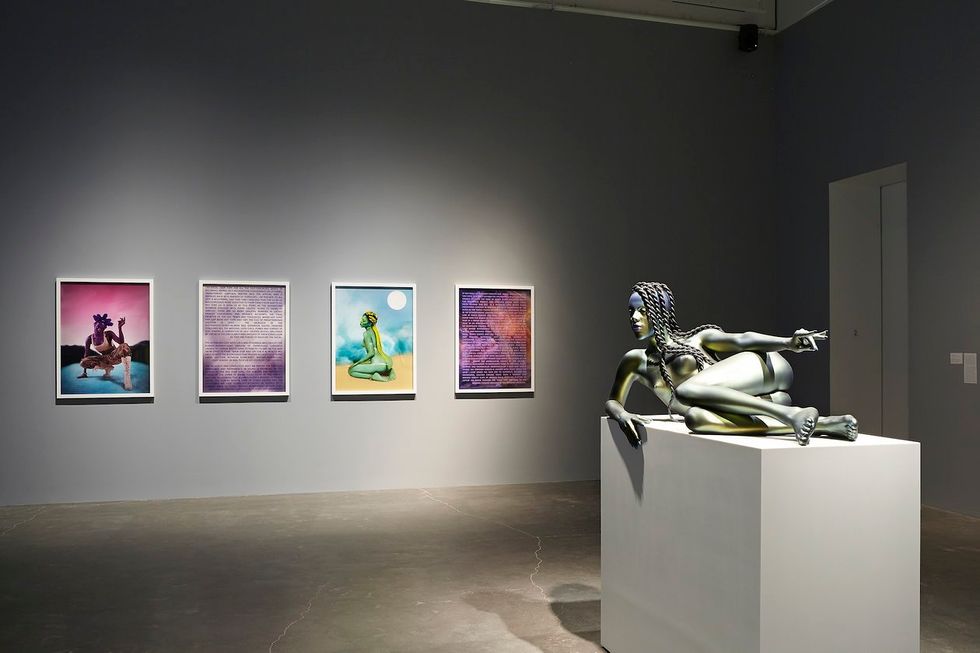 Photos by Juliana Huxtable, sculpture by Frank Benson. Image by Benoit Pailley, courtesy of The New Museum
6.
New Museum Triennial: Surround Audience
The New Museum's third Triennial brings together 51 artists on the theme 'Surround Audience.' Presenting sculpture, video, performance, sound art and everything in between, the works comment on the present state of technology, relationships, politics and creativity, all with the necessary dose of Millennial irony. Many of the artists were born in the '80s and are not yet exhibiting in well known contemporary galleries, giving a rare chance to see young talent like Juliana Huxtable, Frank Benson, Geumhyung Jeong and more in their gestation period.
235 Bowery, Manhattan; February 27 - May 24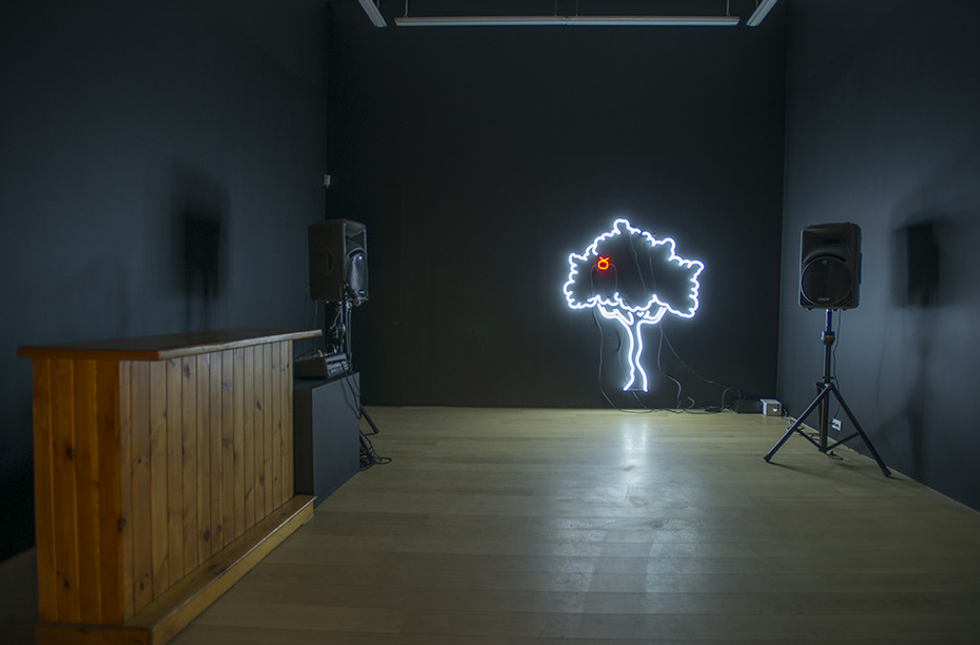 View of installation in
It Gets Beta
7.
Andrew Kuo and Scott Reeder: It Gets Beta
Kuo (also known as Instagram's @earlboykins) shows off his chart paints, which feature supremely unhelpful infographics meant to solve many of life's problems while Reeder's text-based neons and paintings approach bitterness with rudimentary one liners and lists. The two visualize language from opposite angles but converge with a delightful, self deprecating sense of humor.
Marlborough Chelsea, 545 W. 25th St., Manhattan; February 21 - March 28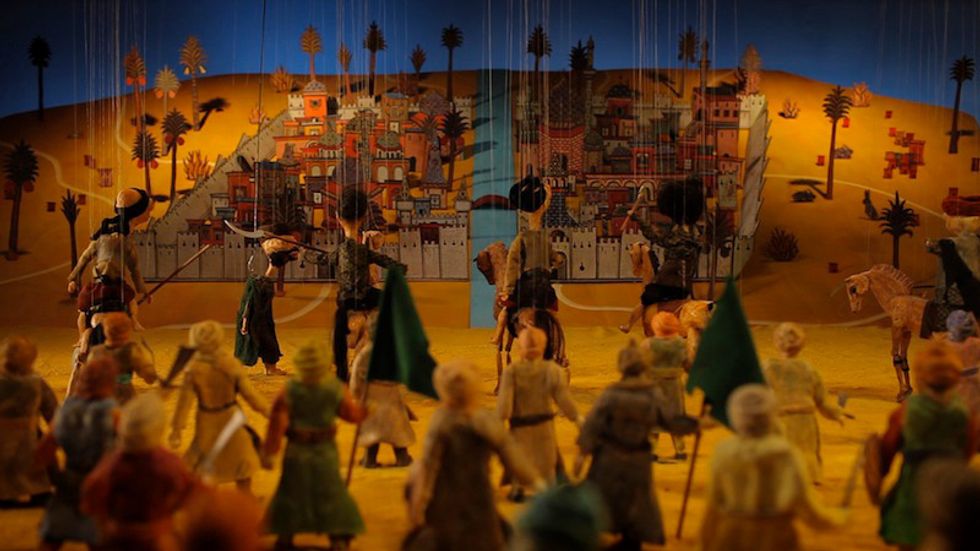 Wael Shawky. Film still of
Cabaret Crusades: The Horror Show File
, 2010.
8.
Wael Shawky: Cabaret Crusades
Get your dose of history in the most consumable way: Puppets! Shawky, using vintage marionettes and custom-made figurines, recounts the history of The Crusades told from the perspective of the Arabs, on film and with strings.
MoMA PS1, 22-25 Jackson Ave., Long Island City; January 31 - August 31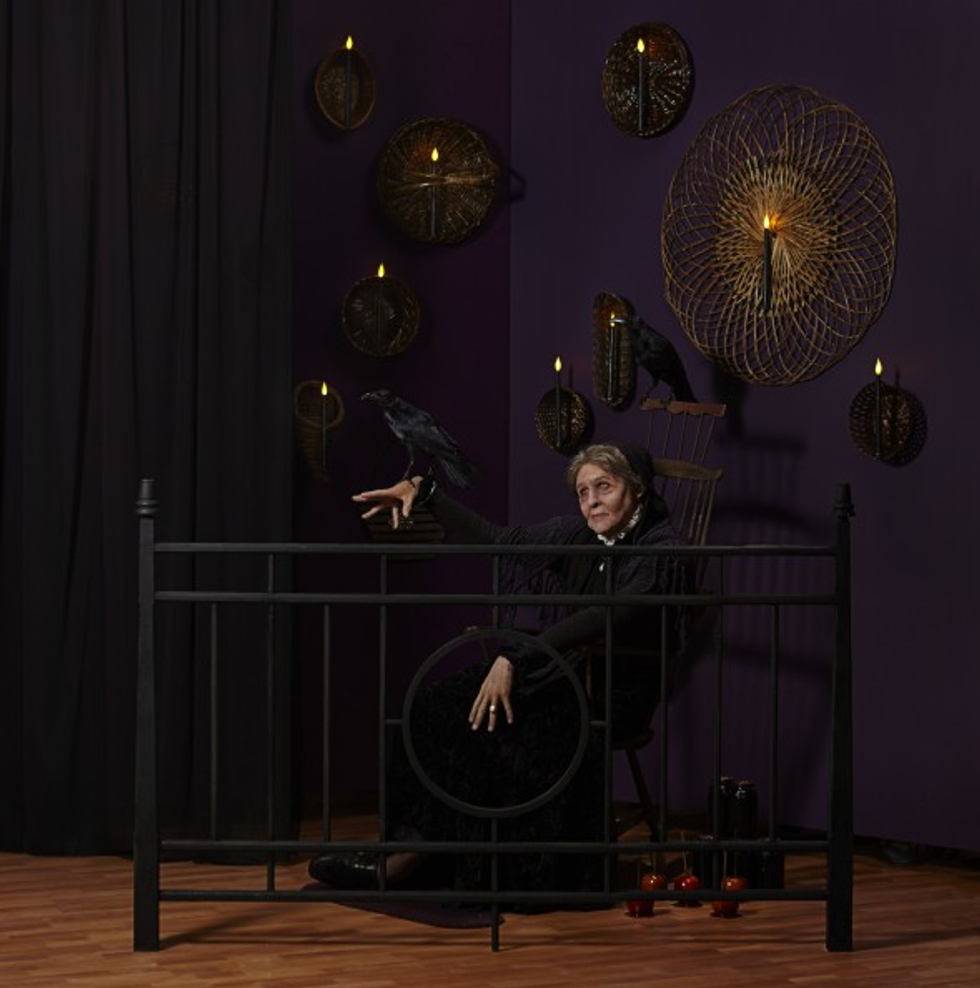 Die Hexe
poster
9.
Alex Da Corte: Die Hexe
With a consciously pop aesthetic, Da Corte is known for extravagantly transforming spaces into immersive installations and in his most recent show,
Die Hexe
, an Upper East Side gallery is completely overtaken with kitschy wallpaper, faux fur carpeting and "spooky" animatronic props to create an art haunted house. It's only the small details -- like a swiffer mop handle on the mirrored morgue drawer or a Razor cell phone stuck to a neon lit stripper pole -- that suggest the overly produced installation might actually be a self referencing jab at consumer art trends, not just a great place to see art when you're high.
Luxembourg & Dayan, 64 E. 77th St., Manhattan; Feb 26 - April 11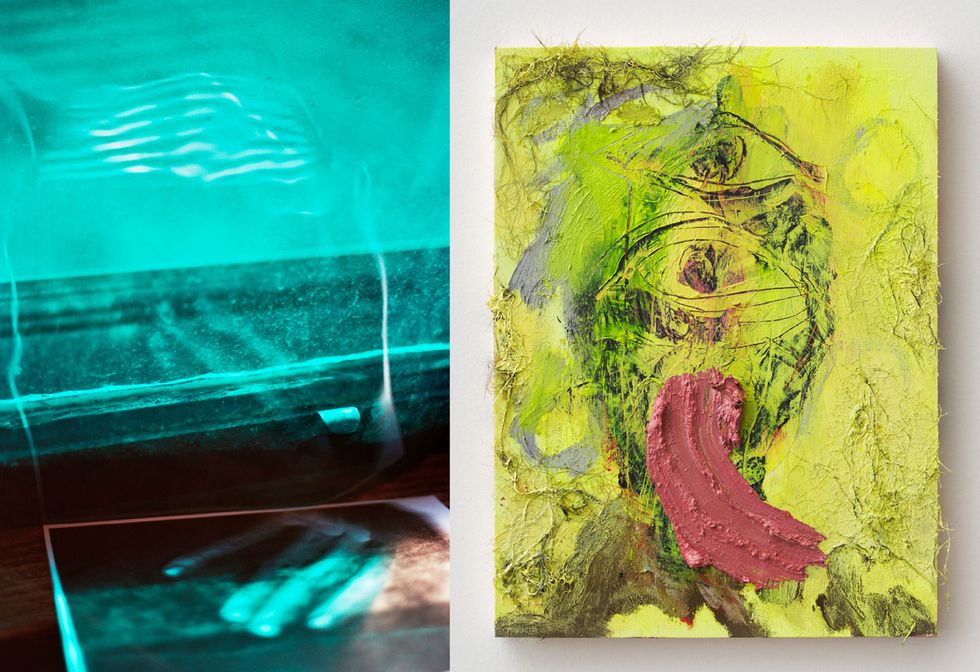 Josh Brand,
Hand
(left) and a piece by Bianca Beck (right)
10.
Bianca Beck and Josh Brand
Apparently inspired by their private life together, Beck and Brand reveal a strong intimacy in this joint show, though the styles and content of the work rarely intersect. Beck, whose paintings are almost sculptural with wooden canvases, thick textures, and even human hair, look rough next to Brand's calm collages and photographs. But the juxtaposition suggest a strangely balanced relationship between the artists that makes us nosey for personal details.
Rachel Uffner Gallery, 170 Suffolk St., Manhattan March 1 - April 12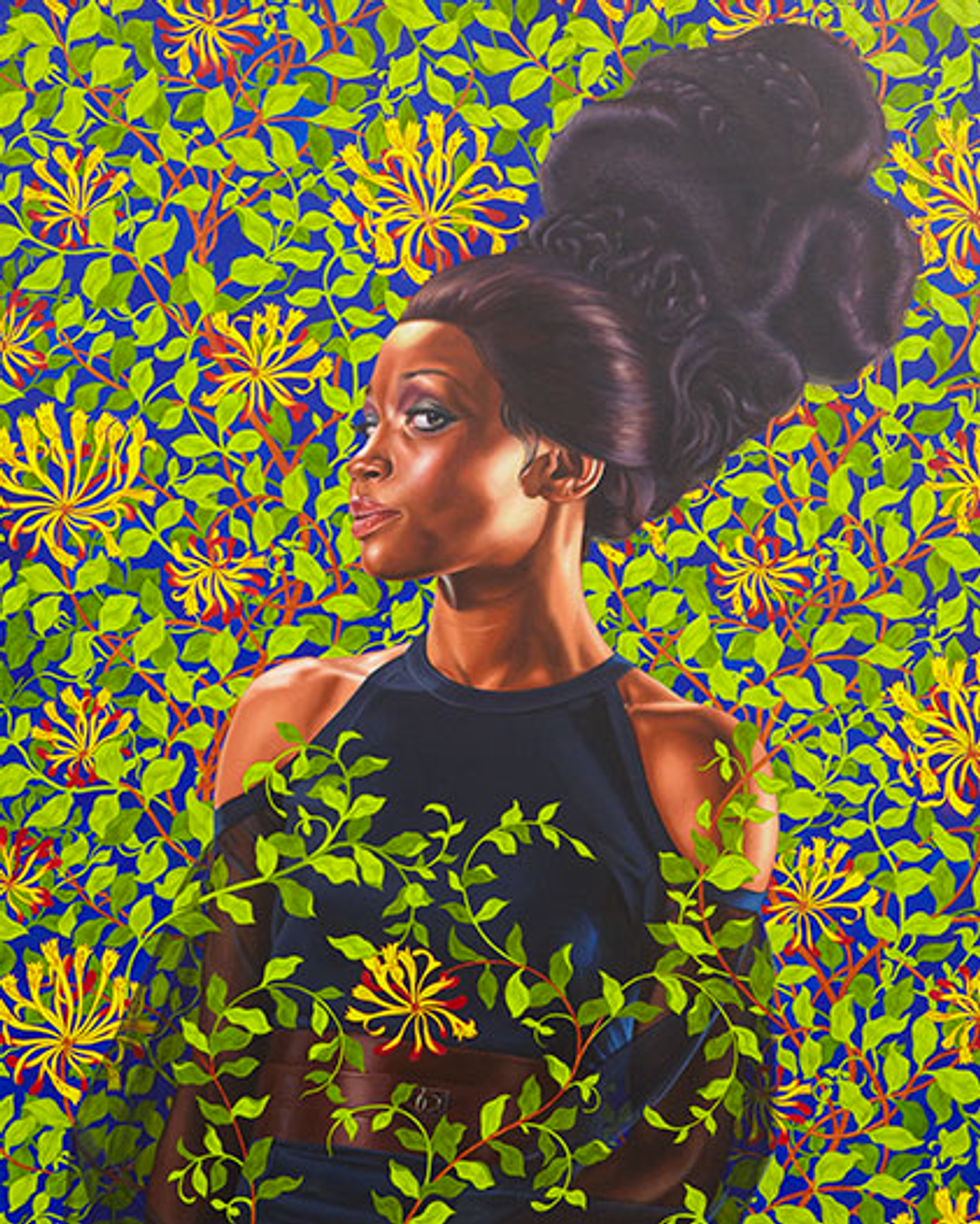 Kehinde Wiley, Shantavia Beale II, 2012

11.
Kehinde Wiley: A New Republic
No better place to experience the grandeur of Kehinde Wiley's bold portraiture than the regal walls of the Brooklyn Museum. The retrospective gathers work from Wiley's 14-year career painting portraits of real people in a style fit for royalty, while exploring race, gender and class in its relationship to art. The large-scale works are powerful in content and style, with hyper real subjects overtaken by surrealist backgrounds that make you feel as if you're in the presence of greatness.
Brooklyn Museum, 200 Eastern Parkway, Brooklyn; February 20 - May 24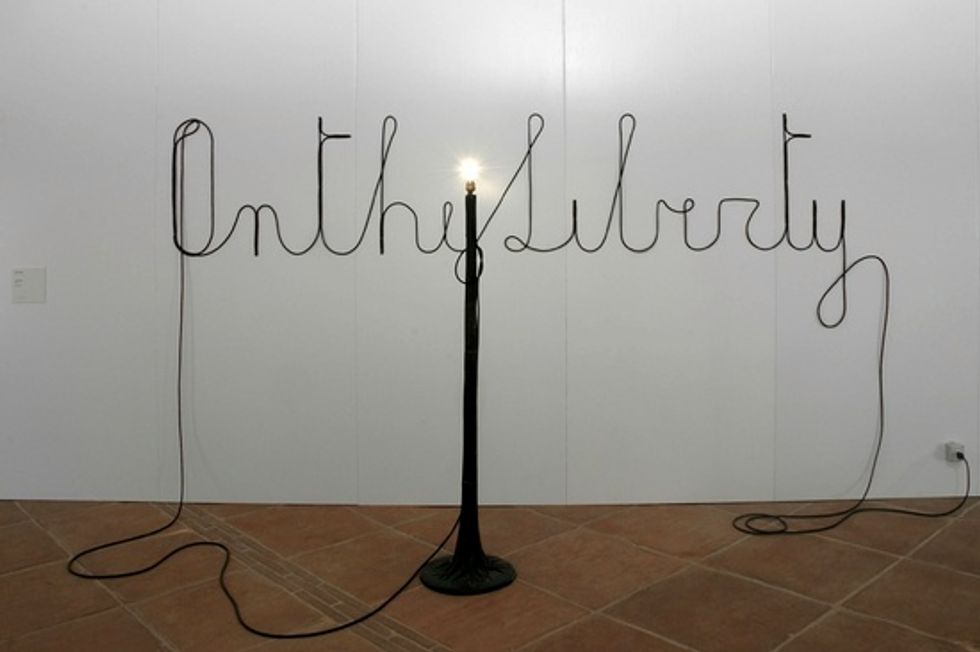 Fabio Mari,
On the Liberty
, 1990
12.
Fabio Mari: "I was not new"
It's hard to believe that this is the first New York solo show for Italian avant artist Fabio Mari, who, over five decades, used almost every medium imaginable to comment on the ideology, language and history of World War II and its lasting effects. The imagery he uses still holds strong, visualizing memories of history in a powerful and surprising way.
Hauser & Wirth, 32 E. 69th St., Manhattan; March 5 - May 2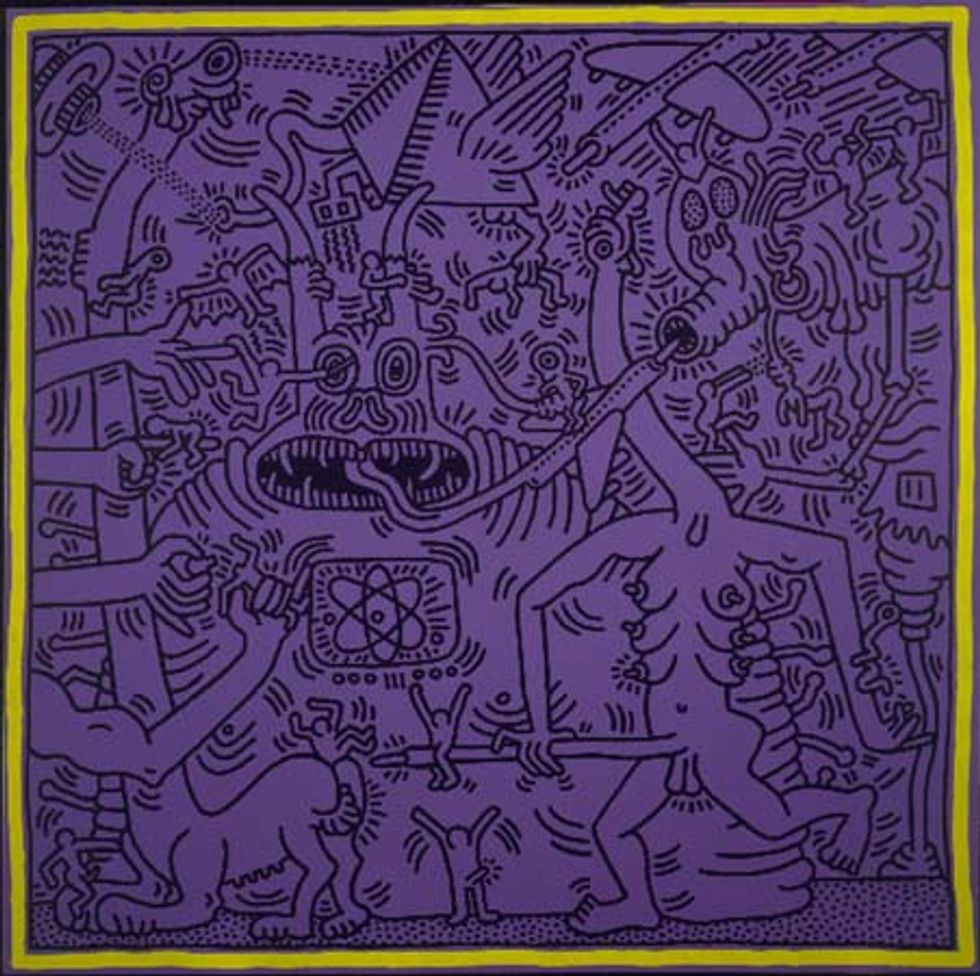 Keith Haring,
Untitled
, May 29, 1984
13.
Keith Haring: Heaven and Hell
We can always use more Keith Haring, especially when it's big, raunchy and dealing with the pull between heaven and hell.
Skarstedt, 550 W. 21st St., Manhattan; March 5 - April 18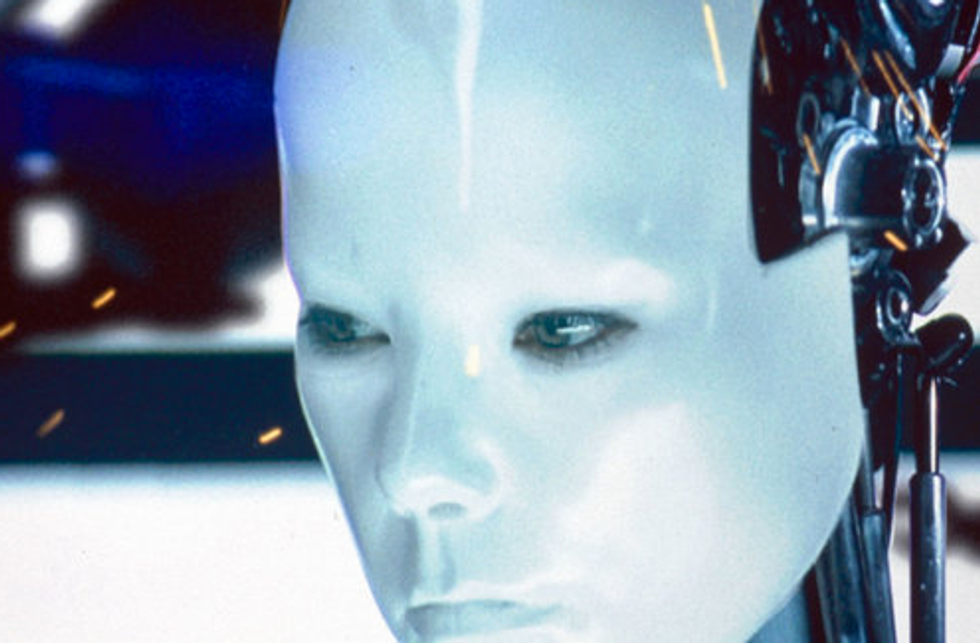 Still from "All Is Full of Love" music video, 1999
14.
Björk
On the heels of her most recent album, Vulnicura, said to be inspired by her split from artist Matthew Barney, the Icelandic singer/artist gets a buzzed-about retropsective at MoMA that "
chronicle[s] her career through sound, film, visuals, instruments, objects, and costumes
."
MoMA, 11 W. 53rd St., Manhattan; March 8th - June 7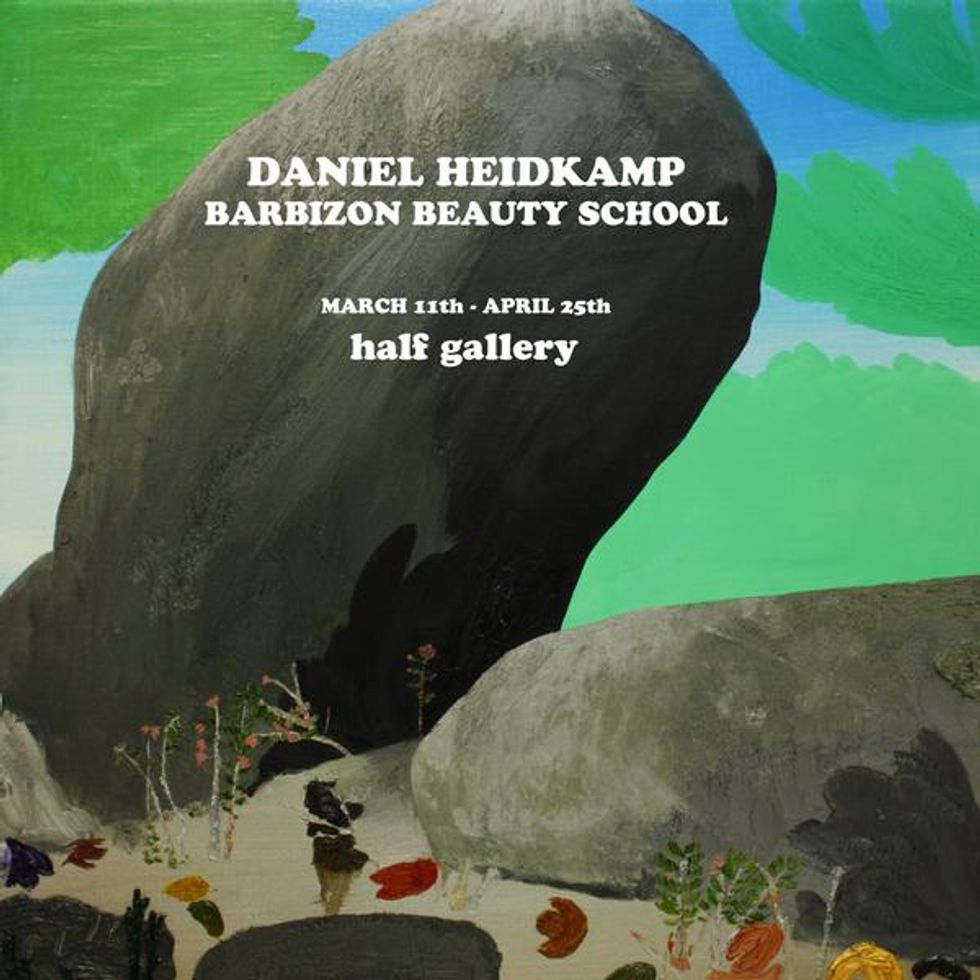 Show flyer
15.
Daniel Heidkamp: Barbizon Beauty School
We can't all see France in the springtime, but Heidkamp's paintings have that subtle lust and soothing nature of a country where love is perpetually in bloom. The work, as well as the show's title, plays off the nineteenth century French style of painting established by the Barbizon School and the Barbizon Modeling School in New York. The bright and calming scenes of nature painted while in France, paired with intimate studio portraits, are a balance of beauty in all its forms.
Half Gallery, 43 E. 78th St., Manhattan; March 11 - April 25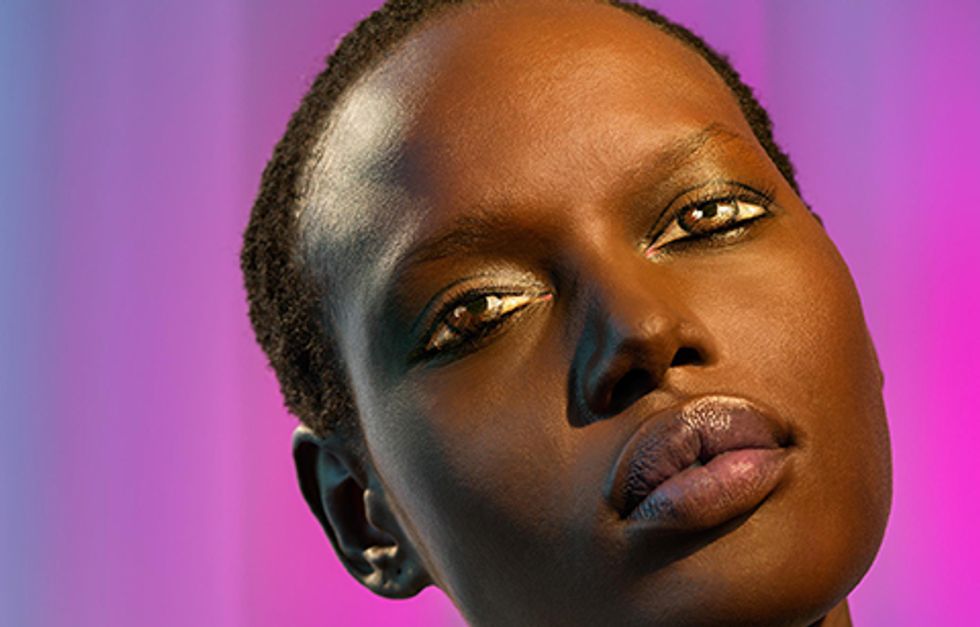 Laurie Simmons,
How We See / Ajak (Violet)
16.
Laurie Simmons: How We See
Photographing models in the class portrait style but with a surrealist and eerie slant, Simmons comments on the relationship between women, their beauty maintenance, and the cultural desire to become "doll girls."
The Jewish Museum, 1109 Fifth Ave., Manhattan; March 13 - April 11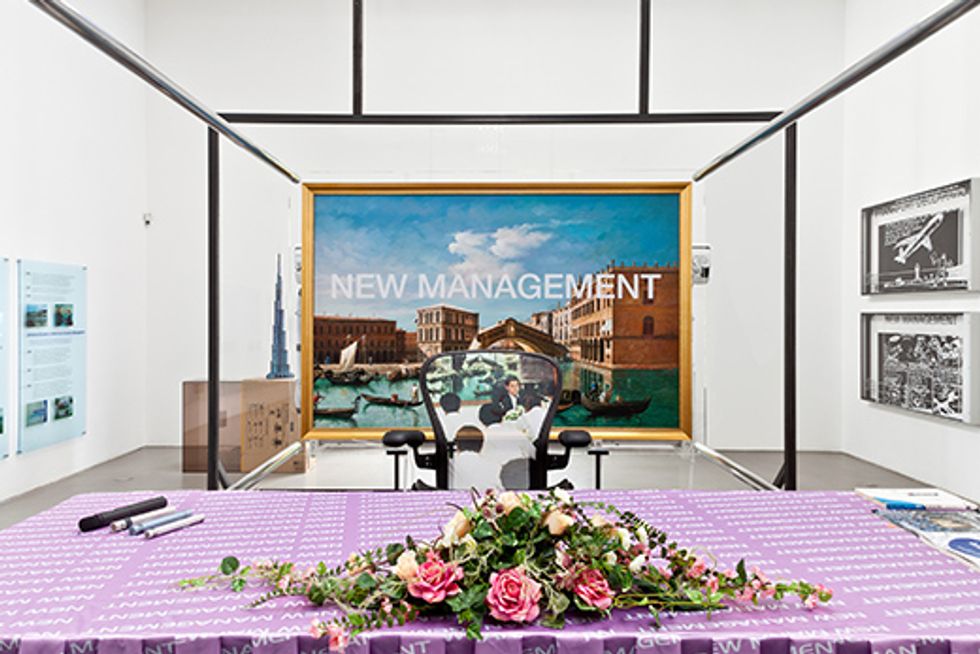 Simon Denny, Installation view of New Management at Portikus, Frankfurt. 2014
17.
Simon Denny: The Innovator's Dilemma
Berlin-based artist Simon Denny is taking on new media in a comprehensive, analytical and, thankfully, humorous way with his first major museum show in the U.S. Denny toys with the recognizable logos, techie imagery and all too abstract language of the "start-up generation," questioning the psychology of the ever-updating media realm.
MoMA PS1, 22-25 Jackson Ave., Long Island City; April 3 - September 12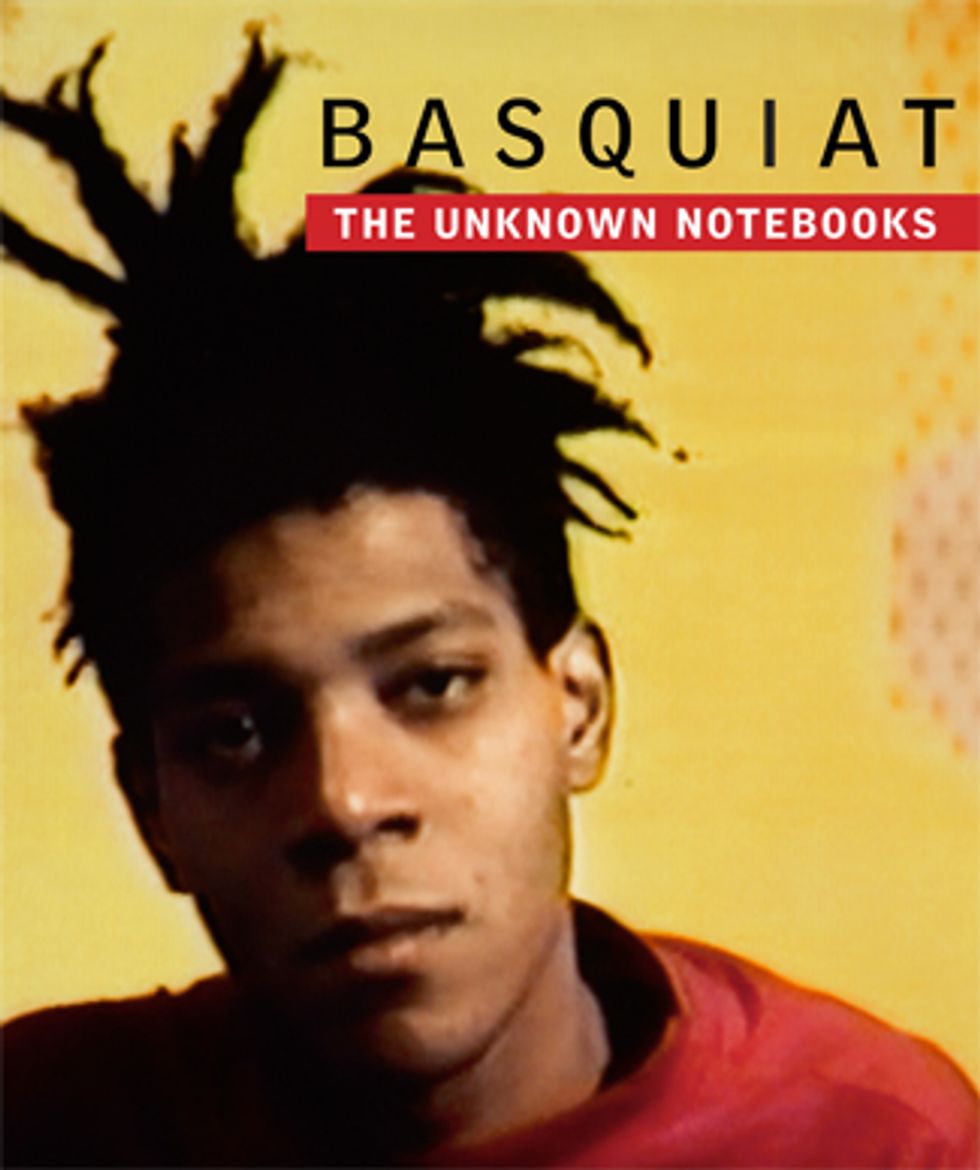 Tamra Davis, Still from
A Conversation with Basquiat
, 2006.
18.
Basquiat: The Unknown Notebooks
Was it his elusive character? His unfulfilled potential? Or solely the quality, and importance of his work? Whatever it is, no one can get enough of Basquiat, and a view into his unseen notebooks is like finding a corner piece to an unfinishable puzzle.
Brooklyn Museum, 200 Eastern Parkway, Brooklyn; April 3 - August 23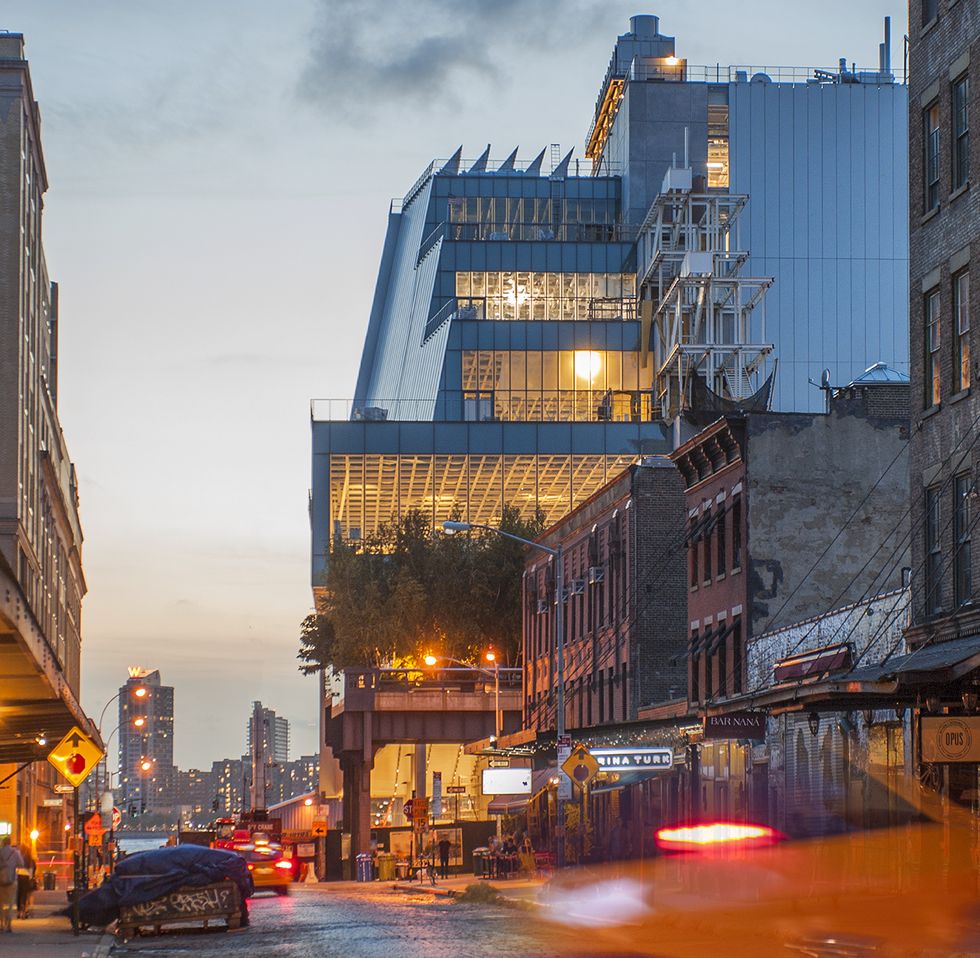 The new Whitney Museum building
19.
Whitney Reopening Inaugural Exhibition
Move over Upper East Side old ladies in fur, it's a new era with the Whitney's reopening in the Meatpacking District. Who really knows what they will be showing when it opens (the only information currently is a vague description of "650 works by some 400 artists, spanning the period from about 1900 to the present") but we can assume that the ladies in fur will now all be models.
99 Gansevoort Street, Manhattan; May 1st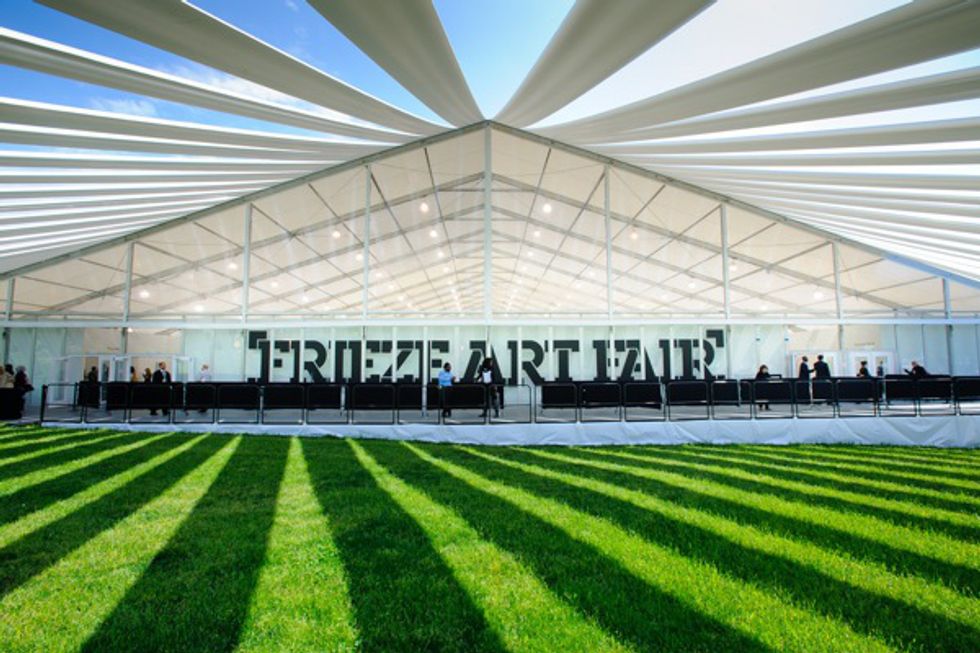 A image from a previous Frieze Art Fair
20. Frieze Art Fair
If this art week doesn't make you want to crawl back in your groundhog hole until proper Spring, mark your calendar for the next international contemporary fair held on Randall's Island in May. Some of the special projects this year will include  site-specific work by Korakrit Arunanondchai, Pia Camil, Samara Golden, Aki Sasamoto and Allyson Vieira. With a beautiful location in the middle of the East River, a ton of great food vendors and a somewhat open floor plan (as far as art fairs go), Frieze is like a less overwhelming Armory that you can't leave without a boat.
Randall's Island; May 14 - 17
You May Also Like