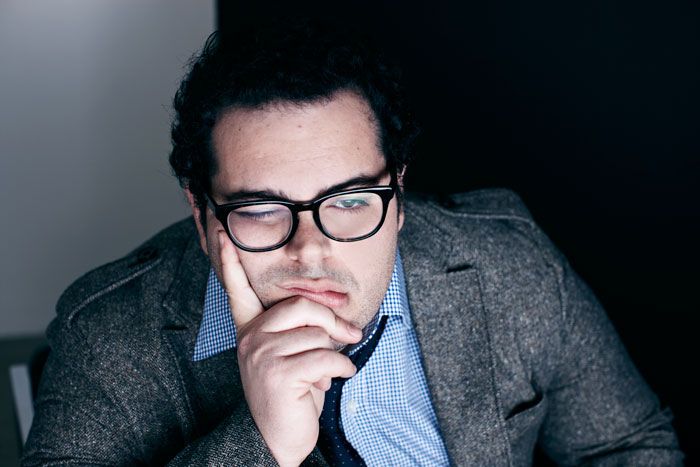 Josh Gad was starring in Broadway's
The Book of Mormon
eight times a week when he formulated what would become
1600 Penn
. "I wanted to do a family comedy about an ordinary family in the most extraordinary circumstances," he recalls, "and what would be more extraordinary than a family living in the ultimate bubble of the White House?" Teaming up with a family comedy expert (
Modern Family
creator Jason Winer) and a White House expert (former Obama speechwriter Jon Lovett), he set out to produce his first show.
When he isn't worrying about "the pacing of an edit or music selections or casting decisions," Gad stars as the sitcom's First Son, Skip Gilchrist, a seventh-year college student sent home in the show's pilot when a frat prank backfires. Animated by Gad's fearless physical clowning, Skip easily steals the show from Bill Pullman's President and Jenna Elfman's First Lady. "A lot of Skip's mannerisms I actually pulled from my own two-year-old daughter, who doesn't have the wherewithal to really know that her actions will have an adverse reaction if she pushes something a certain way."
After
1600 Penn
's season ends, Gad will be on the big screen in the highly-anticipated Steve Jobs biopic
jOBS
and
Thanks for Sharing
, a sex addiction comedy starring Mark Ruffalo and Gwyneth Paltrow out this March. (As for the potential
Book of Mormon
movie, "I don't know if I'll be in it or not," he says.) He's also writing the sequel to one of his favorite comedies of all time, 1988's
Twins
.
Though Gad spends most days in the editing room, he was able to visit the real 1600 Penn for a special presidential screening of the sitcom. "Showing pictures of my visit to my family was almost completely unrewarding," Gad recalls. "They couldn't tell the difference between the set and the actual space."
***

Josh Gad answers our TV survey:
What's the best thing about going to set everyday? The worst?
The best is getting to play with one of the most talented casts on TV. The early call times are the worst.
What's been the hardest secret from your show to keep from friends and fans?
If I shared it, it wouldn't be a secret. 
What's your "guilty pleasure" TV show?
Dance Moms
What's the show that no matter what time it is, or what you're doing, you'll watch if it's on TV? 
Mad Men