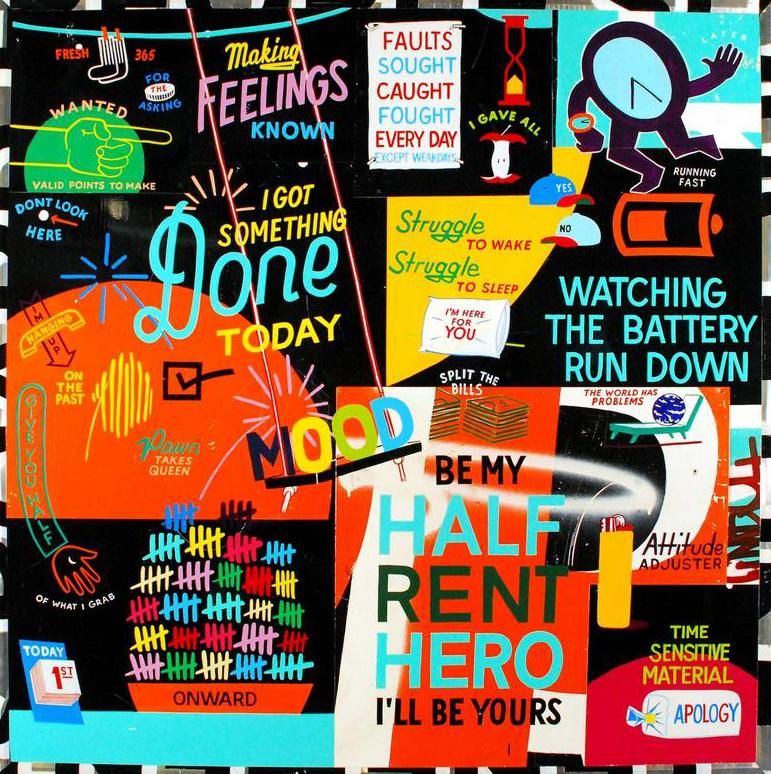 Stephen Powers, "Watching the Battery Run Down," 2013
If you've been planning to do a little fall gallery-hopping, now's the perfect time. There are tons of big openings this week, as well as lots of great shows that are still up including the fantastic
KAWS
shows at the Mary Boone Gallery (541 West 24th Street) and uptown at the new
Galerie Perrotin
New York (909 Madison Avenue); plus there's the great
"Icy Signs"
group show at Joshua Liner Gallery (540 West 28th Street).
The big news this week is the ongoing, global re-branding of Restoration Hardware as RH, along with the launch of their contemporary arts division
RH Contemporary Art
, which includes an online gallery, a free quarterly art journal and the grand opening of a six-story, 28,000 square-foot art gallery at 437 West 16th Street on Friday. The American retail chain has been in transition recently under the guidance of company Chairman, Creator, Curator and Co-Chief Executive Officer Gary Friedman and now, with his VP and art advisor Holly Baxter, they are going even further into the international contemporary art market. Though many people weren't aware of it, RH was responsible for last summer's big hit at MoMA, "Rain Room," after a rendering of the work by UK art studio/collective
Random International
came to Baxter's attention in 2012. The inaugural show at the new gallery will feature solo exhibitions by Nathan Baker, Toby Christian, Peter Demos, Samantha Thomas and Natasha Wheat.
Also opening this week: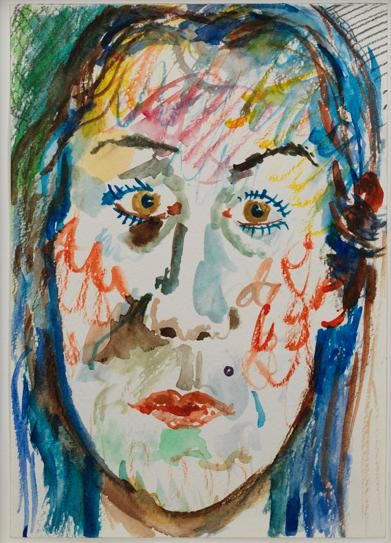 Martin Creed, Work No. 1674 Anouchka, 2013
Hauser & Wirth
(32 East 69th Street) and
Gavin Brown's enterprise
(620 Greenwich Street) are opening a joint show of works by the acclaimed UK artist Martin Creed on Friday, November 8, 6 to 8 p.m. Up until December 21, the exhibitions include new works and others from thirty year's of the artist's career. There will be sculpture, portraits, film, installations on view plus, outside of Gavin Brown, look for a parked car that will periodically "come to life."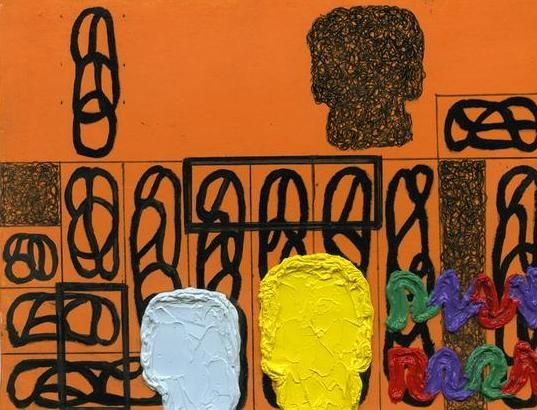 Jonathan Lasker,
S-130 The Plan for Morality
A new gallery called
Sargent's Daughters
(179 East Broadway) opens this week with a group show called "Painting 101" featuring Francesca DiMattio, Dennis Hollingsworth, Jonathan Lasker, Daniel Rios Rodriguez and Sandi Slone. The show "addresses the relevance of paint as a language and form of communication" and will up until December 7.
Fiona Banner,
The Vanity Press
, 2013
Marianne Boesky Gallery (118 East 64th Street) has a group exhibition called
"Invitation To a Beheading"
curated by Rachel Howard opening on Thursday, November 7, 6 to 8 p.m. The show includes works by Fiona Banner, Eloise Fornieles, Sarah Lucas, Joyce Pensato and Racel Howard and it's up until January 18, 2014.
Cécile Trentini,
Synthesis
The Swiss "art-quilter" Cécile Trentini has a show of, you guessed it, quilts, at the
ArtQuilt Gallery
(133 West 25th Street) opening Monday November 11 and up until December 28.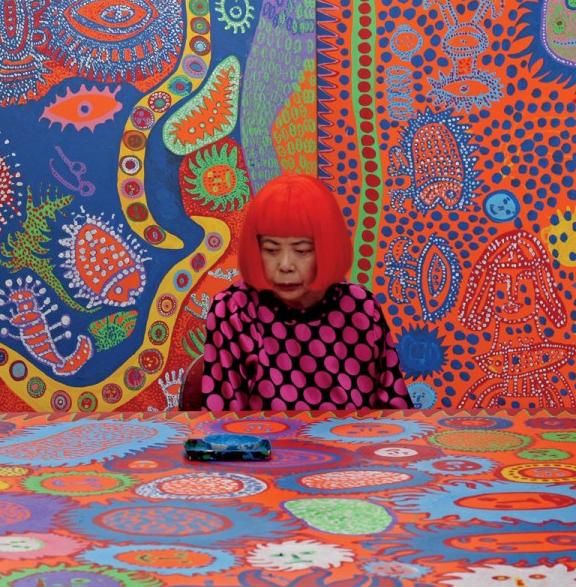 David Zwirner (519, 525 & 533 West 19th Street) has a big show called
"I Who Have Arrived In Heaven"
by Yayoi Kusama -- she's the Japanese artist that did a line of Louis Vuitton products for Marc Jacobs in 2011 -- opening on November 8, 6 to 8 p.m. There will be over thirty new large-scale paintings on view until December 21.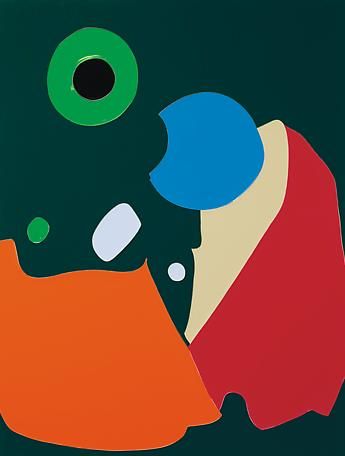 Gary Hume,
The Wonky Wheel
Mathew Marks Gallery (522 West 22nd Street) opens
"The Wonky Wheel"
featuring works by Gary Hume on November 9, 6 to 8 p.m. The exhibition includes new sculptures and nineteen paintings made in the artist's London studio over the last year. Over at Marks' 523 West 24th gallery there's also a show of drawings by Brice Marden opening the same night.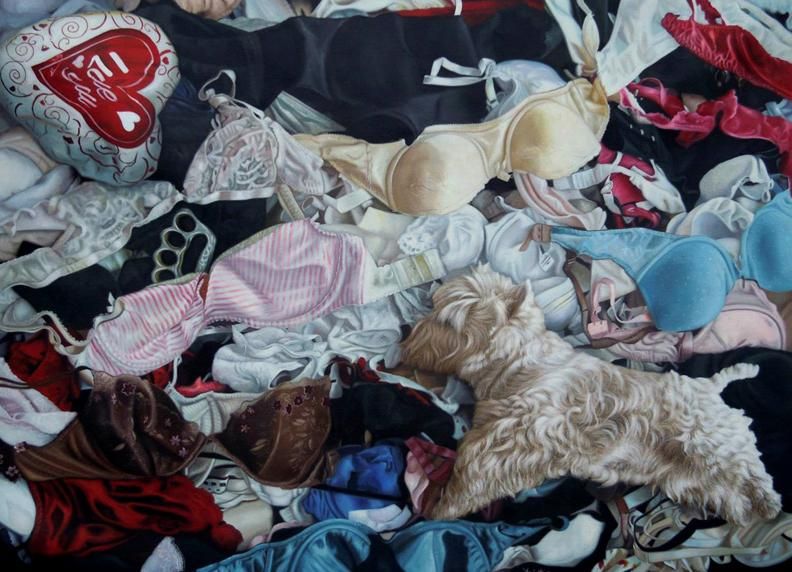 Marc Dennis,
Love You Too
, 2011
Hasted Kraeutler (537 West 24th Street) opens
"An Artist, a Curator and a Rabbi Walk Into a Bar..."
with works by the American artist Marc Dennis on November 8.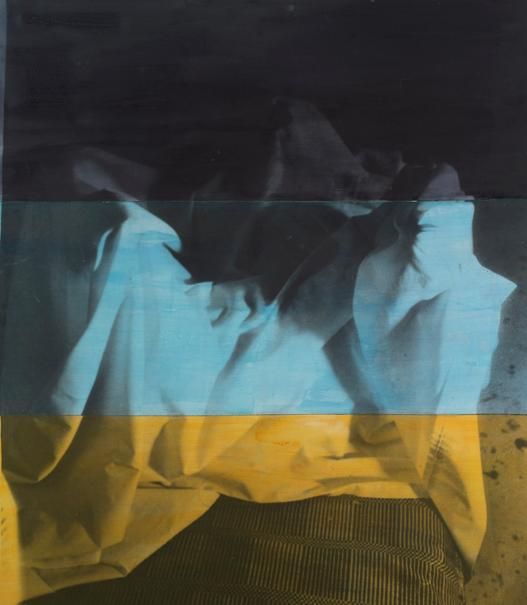 David Salle,
Ghost 10
, 1992
Brooklyn-based artist David Salle is showing 13 works from his "Ghost Paintings" series that were made in 1992, but never exhibited in New York. They'll be on view at
Skarstedt
gallery (20 East 79th Street) starting November 8, 6 to 8 p.m. and up until December 21.
Cover of
American Photography 29
The launch of the juried, annual publications
American Photography 29
and
American Illustration 32
is happening this week to coincide with New York City "Illustration Week." There's a party on Thursday night, November 7, at Angel Orensanz Foundation (172 Norforlk Street) and all the details are
HERE
.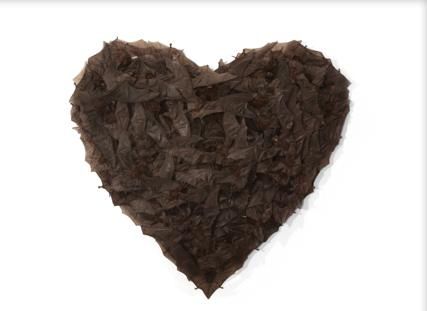 Art Now NY
(548 West 28th Street) opens a show of new works by the Brooklyn-based artist Joseph Grazi called "Happy Place" on Thursday, November 7, 6 to 9 p.m. Expect to see "skulls, bats and bones."