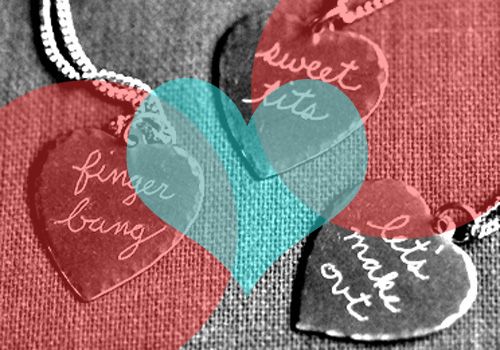 Coming up empty-headed with Valentine's Day gift inspiration? Objecting to gift-giving on anti-commercial grounds not going to impress your budding romance? Before you shell out for a tired bouquet of flowers or a daunting box of gourmet chocolates, see if one of these alternative gifts can't seal the deal for love in the new year.
1. Sweet Nothings Necklace by In God We Trust ($40 at Bona Drag): Little brass hearts that come with the inscriptions "Sweet Tits," "Let's Make Out" and "Finger bang." Enough said.
2. 500 Colored Pencils ($33/month for 20 months at Social Designer): For the ambitious artist-type who can't get enough. Subscribe to this colored pencil series and receive 25 new colors a month.
3. Reclining Lady Pillow by Jonathan Adler ($98 at Jonathan Adler): Set the mood with this cheeky, x-rated bed pillow.
4. 5+ lb. Bags of Candy ($3.50-$108 at Candy Warehouse): For your candy girl or boy. In bulk.
5. Plum Island, New York ($1,550,000 at Private Islands Online): How can you possibly top handing your significant other the deed to their own private island?

6. 69 Love Songs Deluxe Vinyl Box Set ($89.98 at Merge Records): Say it with vinyl. This maximalist's love tome traverses all the facets of love. You can snuggle up with your honey and listen to this for days.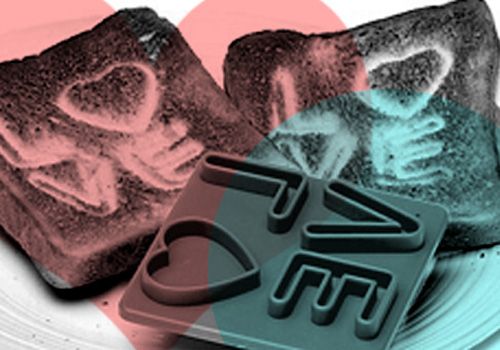 7. Underwear Dryer by Seletti ($24 at Conran USA): For the couple that's passed the domestic threshold, this gift is both naughty and useful. Hang those stray unmentionables in the bedroom and grab for easy access.
8. Love on Toast Stamp ($6.50 at Fred Flare): Go the extra mile with breakfast in bed.
9. Geek Pocket Watch ($85 at Uncommon Goods):You can read all sorts of heavy symbolism into a watch: The steadiness of seconds, the fleeting of minutes, the NEVER BE LATE TO A DATE AGAIN EVER OR ELSE.
10. Chocolate T-shirt by Final Home ($45 at Opening Ceremony): Unwrap this inedible wearable, designed by Issey Miyake. Instead of your thighs, this chocolate bar will go straight to your...torso.
11. Geeky Dreamboats: A Celebration ($12.95 at Fred Flare): Single and looking for some eye candy? Fuel your daydreams with this book of bumbling celebrity nerds.
12. Magnifying Glass by Singgih Kartono ($24 at Design Public): Lovingly enjoy your partner's freckles close-up. Or else use this to read the fine print in your pre-nup.