Every fashion week, there is a growing concern that someone's going to be left out. (I can't tell you how many times I've felt left out) Bottom line? We all want (and need) to be seen. Fashion, the place that defines the trends and reflects culture, has not historically been the most accurate mirror.
As one positive side-effect of call-out culture, especially on the strength of movements like Black Lives Matter and #MeToo, the old garde continues to be challenged. Below, 11 casting decisions that helped correct the traditionally muddled lens of fashion, so that we may all see ourselves a bit more clearly.
Fenty Beauty, 2017
What else is there to say about this incredibly diverse Fenty Beauty launch campaign of women of color, varying sizes, and even religious identities other than Rihanna, global icon, Bajan beauty queen, and one-woman hit factory effortlessly solved the Rubik's Cube that the mostly-white beauty industry had been scratching its itchy bald head for millennia over, but failed to come up with: all people need to feel beautiful. Oh, and transgender people aren't a tokenization marketing tool. She also created a perfect red lip that literally looks good on every skin tone. Boom.
United Colors of Benetton, 1991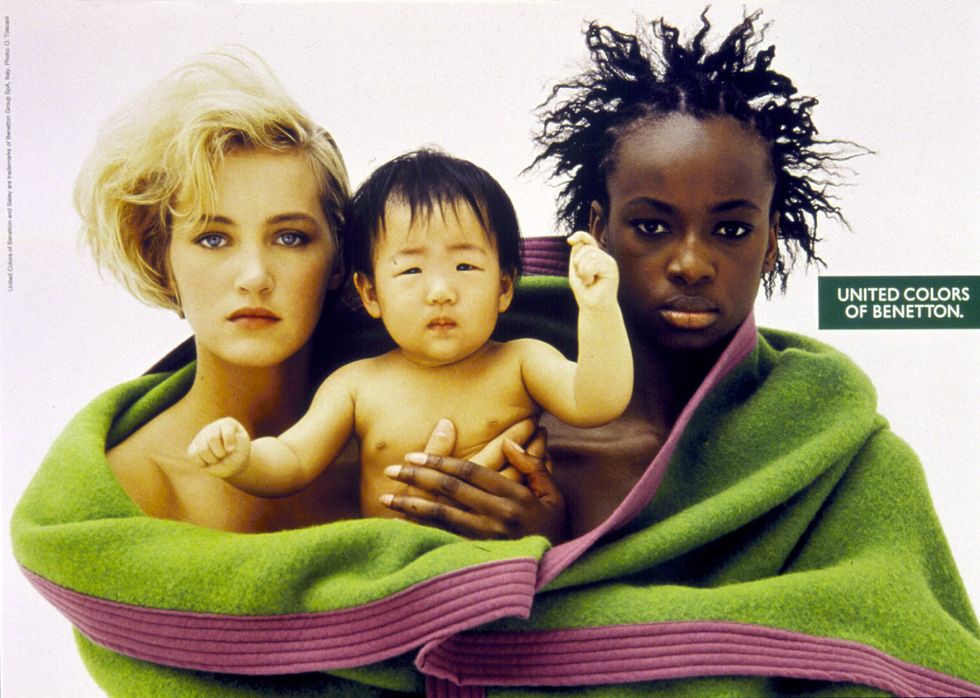 When the United Colors of Benetton enlisted art director Oliviero Toscani to spearhead its fashion campaigns in the '90s, they got a range of images that were provocative and controversial. Toscani's work, while undeniably influential was inherently political, from daring to put people of varying ethnic and racial makeups next to one another and showing a priest and nun kissing to a newborn baby attached to its umbilical cord and color-correcting a photograph of a man's last moments dying of AIDS. These counted as fashion advertisements, mind you, but beyond selling the storied brand's clothes, under the blurred lines of unfettered creative freedom, Toscani's images sold ideas — truths occurring in the real world, that, unless you are or were willfully not paying attention, made tremendous impact.
Diesel Spring/Summer 2015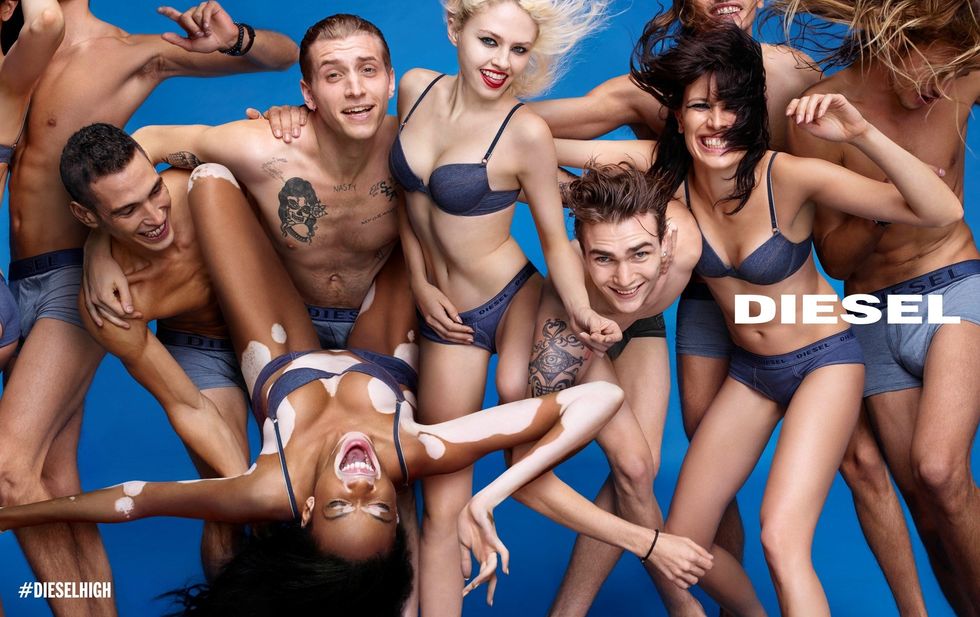 Jillian Mercado, a model with muscular dystrophy, responded to an open call for Diesel, right as the iconic Italian brand was plotting a savvy, more inclusive-than-ever reboot. You can see her in this image and high-energy shots by Nick Knight, which also features Winnie Harlow, a model with vitiligo. Of the lighthearted campaign, called #DieselHigh, the brand's artistic director Nicola Formichetti once said that the goal of it was to take the self-seriousness out of fashion to "make smiles go viral."
Givenchy, Fall/Winter 2010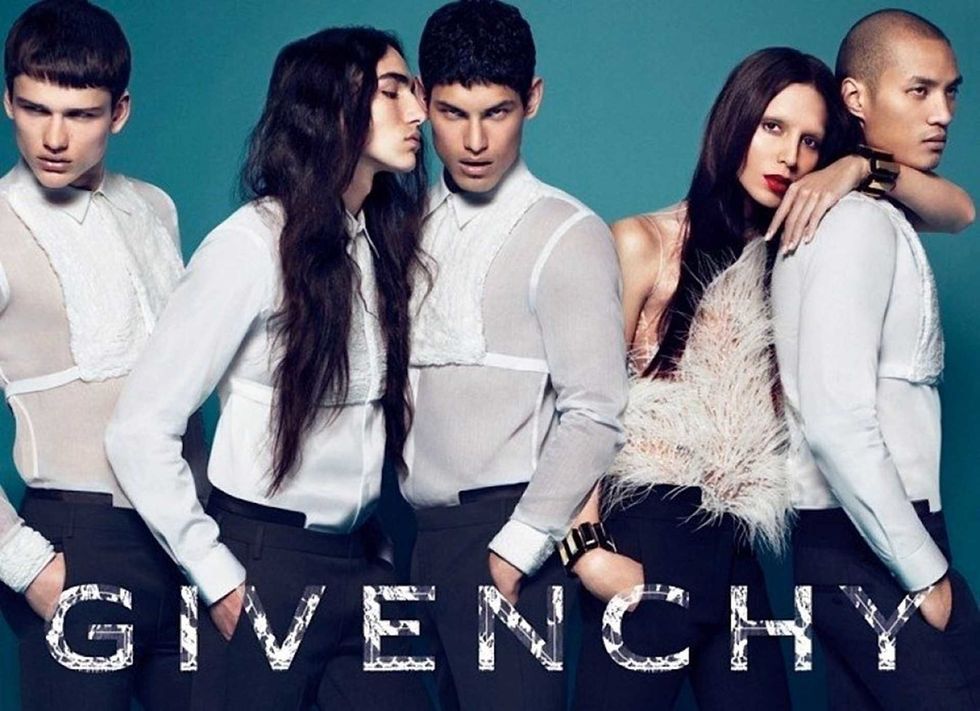 Riccardo Tisci, as the then-creative director of Givenchy, cast trans model Lea T not knowing that it would likely cause a much-needed stir in fashion circles and at large. In a Details interview, Tisci revealed that he cast T (standing out and looking incredible in a bold red lip), a close friend of his, after she revealed that she was shunned from her family after disclosing her desire to undergo gender confirmation surgery and feared she might need to turn to sex work to fund the operation. "The fact that she told me that she wanted to be a prostitute, it killed me," Tisci explained. "I decided to do the campaign for two reasons. To help Lea financially, and because who says so that a transsexual cannot be a top model? Even when I called the photographers, they were like, 'A transsexual?' And I was like, 'Yeah, a transsexual. She's a beautiful girl, you guys are going to meet her, she's amazing.'" And the rest is history: Lea T went on to receive her surgery in 2012, and began booking numerous magazine spreads, including a LOVE cover alongside Kate Moss, and was the first trans model to book a Redken beauty contract in 2014.
Pirelli Calendar, 2013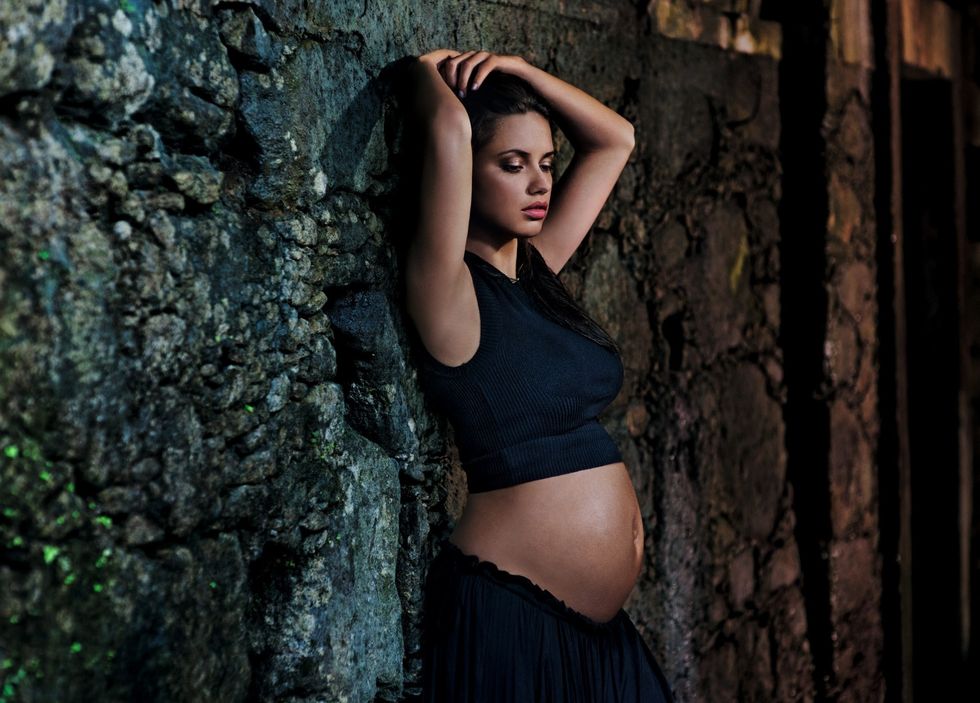 Adriana Lima made history as the first model to appear pregnant in famed photographer fashion's sexy, illustrious Pirelli Calendar. In 2012, the images were shot by Steve McCurry, and they proved something that we all know deep down, but need to be reminded of: motherhood is sexy.
Calvin Klein, 2017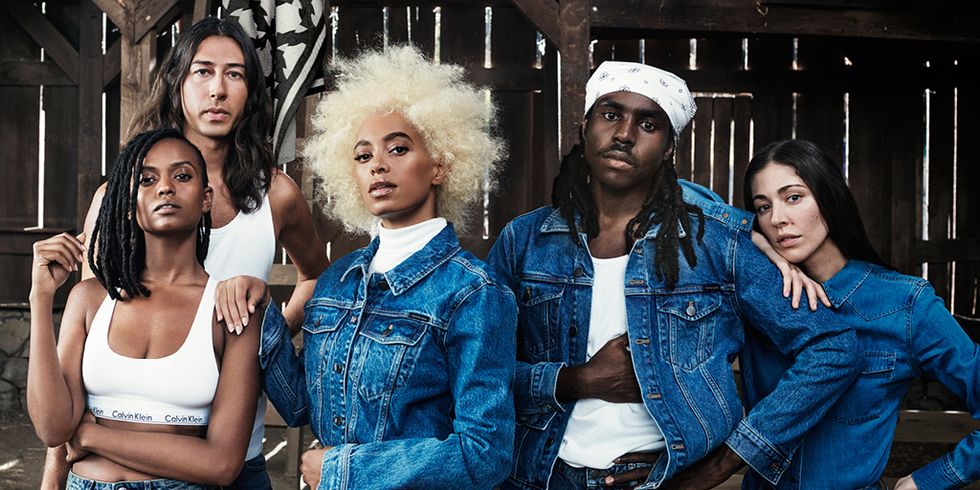 What was remarkable about this casting arrangement was how it seemed free of traditional fashion casting strictures. Calvin Klein's creative director Raf Simons hired Solange to handpick the subjects she wanted to pose with. The resulting ad campaign, called "OUR FAMILY #MYCALVINS," featured a range of top indie-crossover musicians, including Kelela, Dev Hynes, Caroline Polachek, and Kindness' Adam Bainbridge, resulting in images capturing the essence of zeitgeist-y effortless cool. It appears that this supergroup might have even been recording music together.
Saint Laurent, 2013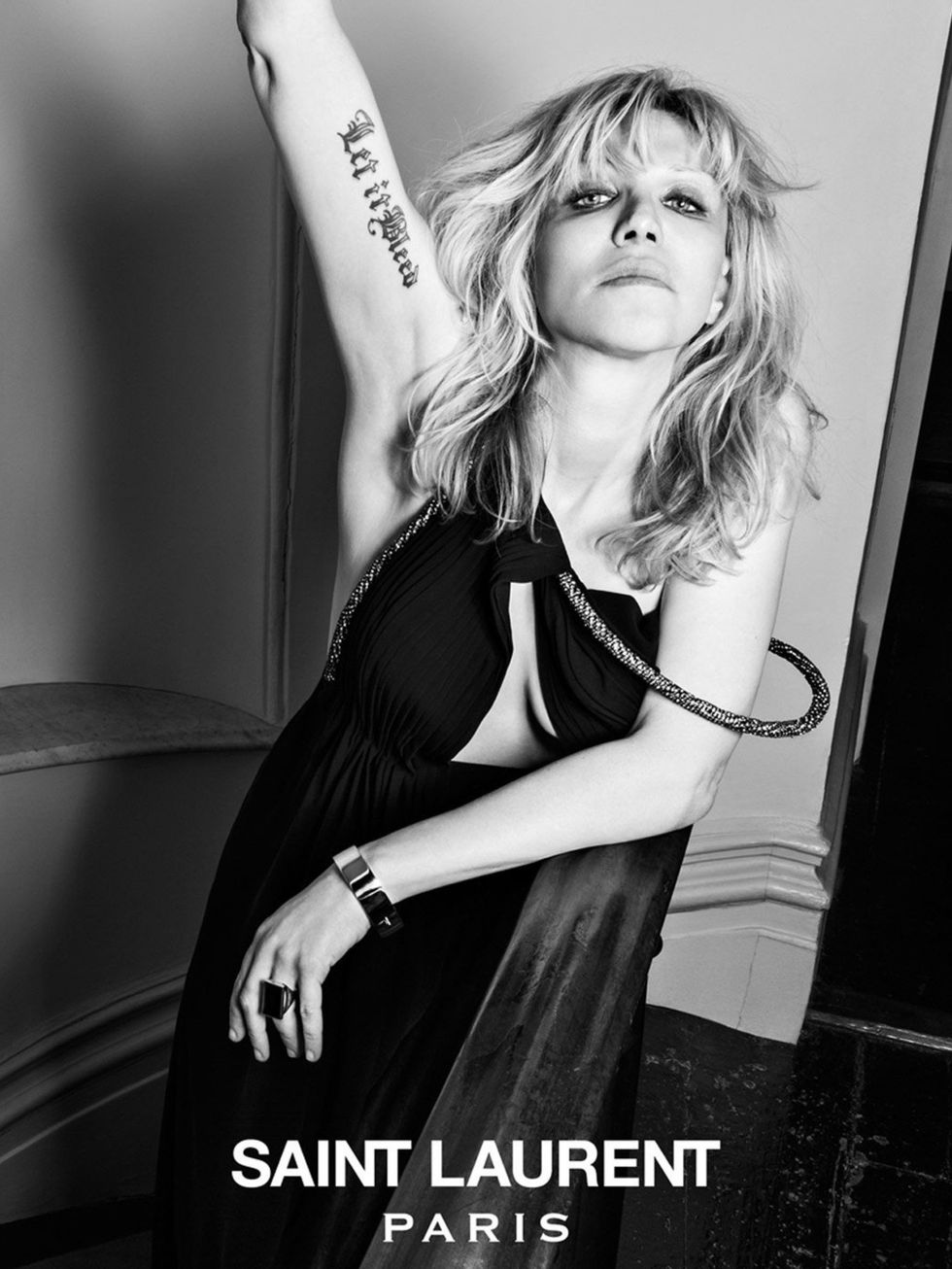 The Hedi Slimane era of Saint Laurent (2012-2016) will forever be memorialized in our minds as a singular moment a sense of true rebel spirit was brought back to fashion. One of the many things Slimane did so well in the rocker-chic rebrand of the French luxury house was open the floor to revisiting what the face of a brand could be, rather than who. As such, Slimane photographed his heroes as his muses, including Courtney Love, Marilyn Manson, Joni Mitchell, and Liza Thorn, to name a few creative choices, each of them offering their own creative iconoclastic je nais se quoi. No would would argue with that. And since there was so much music in his clothes, these groundbreaking choices at once made perfect sense, and reformed in the public's mind on what a "face" can or should be, look, sound, or perhaps most of all, feel like.
Chromat, Fall/Winter 2018 (And Always)
Becca McCharen-Tran's architectural take on women's swim and athletic wear is always a marvel — yes because its designs flatter and elevate all bodies, but also because, fittingly, her shows unapologetically and intentionally promote size, racial, and ethnic diversity in model casting. In this particular video of Chromat's Fall 2018 show (and all previous shows), McCharen-Tran also exhibits her uncanny penchant for subverting patriarchal messages of female beauty: the models, adorned with Pussy Power bags, ate Flamin' Hot Cheetos while they stormed down the runway. In other words, it's called fashion, look it up.
Aerie
Everything Aerie has done over the past few years, particularly as we are in a time of heightened awareness around what is missing in fashion, is pretty major. Knowing that there is a lack of representation of real women, the lingerie subsidiary of American Eagle launched its #AerieREAL campaign, which promotes "girl power, body positivity, and no retouching." The brand, which recently cast 57 non-models of various shapes, sizes, colors, and ability, also made waves earlier this summer with an inclusive series featuring disabled women.
Céline, 2015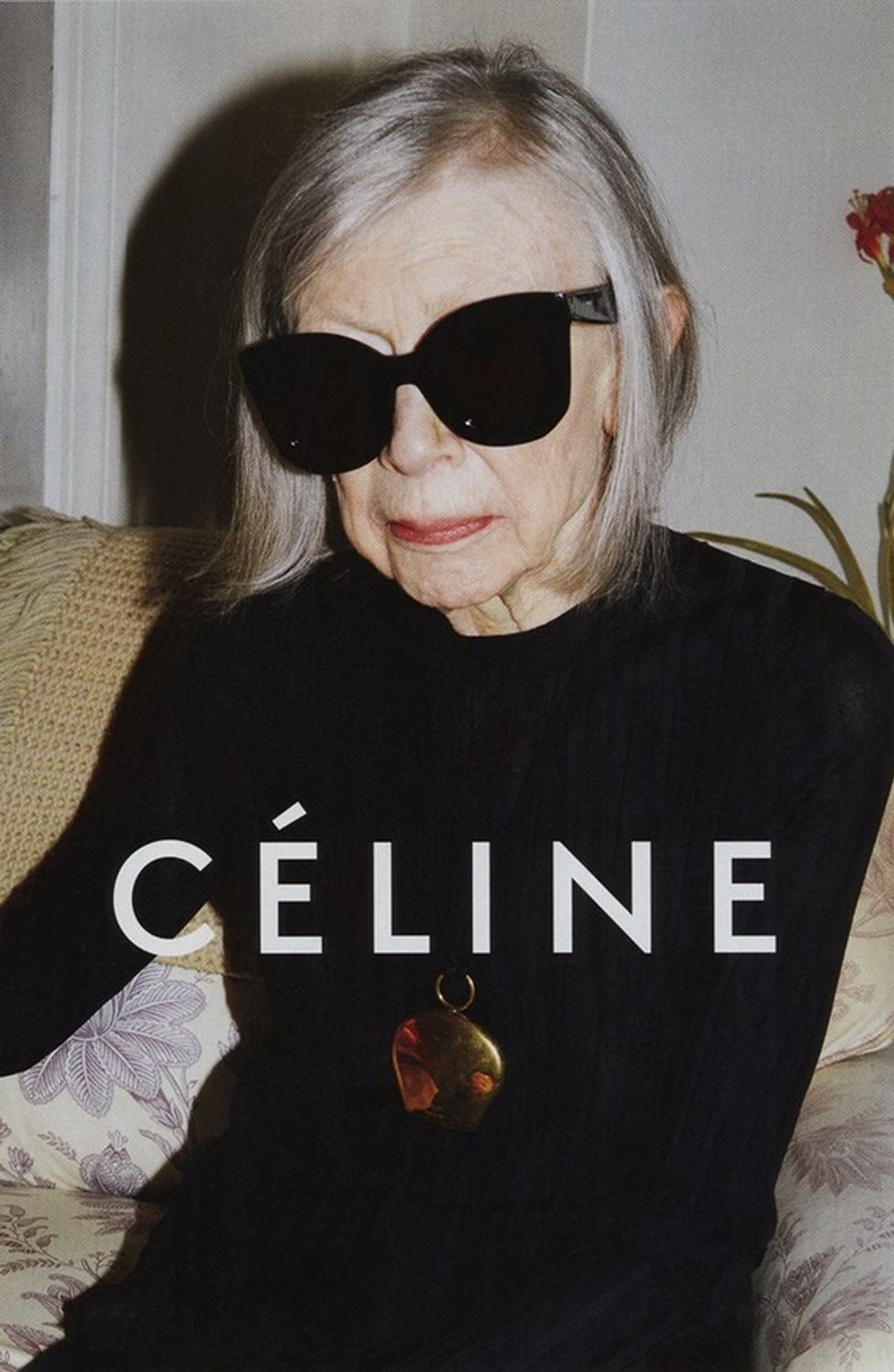 Courtesy of Céline
Not to be left out of the conversation: older women, as former Céline creative director Phoebe Philo proved with a 2015 ad for the French luxury brand starring literary titan Joan Didion. But this was part of a great wave of older women models. Not to be outdone, Kate Spade and jewelry designer Alexis Bittar rolled out campaigns featuring style legend Iris Apfel. Soon after, L'Oréal announced that it had signed '60s icon Twiggy as its latest brand ambassador, joining Helen Mirren. Jessica Lange appeared in an ad for Marc Jacobs Beauty, and Carmen Dell'Orefice, the industry's oldest working model, was shot in 2016 for black-and-white national ads for H&M. All to say that some cliches do have truth: age really is nothing but a number.
L'Oréal Paris, 2018
What's not to j'adore? Though beauty is slower than fashion to include transgender models in ad campaigns, there have been moments of huge steps forward in recent years: Make Up For Ever worked with transgender model Andreja Pejic in 2015 for their "Be You" campaign, and L'Oréal featured a transgender model in a Brazilian campaign last year. But it's Hari Nef who made history as the first-ever transgender model ever to be a spokesperson for a L'Oréal Paris campaign in the States. (And let's not forget Tracey "Africa" Norman, the black trans model who was on a Clairol box in the 1970s, only to be outed as trans, blacklisted, and in 2016, again the face).
All of this proves that while there are still some ways to go into the fight for more inclusion, sensitivity, and cultural awareness in fashion, yes, the needle is moving, which can only mean that more change is coming.
Photo courtesy of Diesel

Sign Up For The Morning PAPER