In our October 'Nowstalgia' issue we're taking a look at 100 Years of New York Nightlife, tracing after-hours trends to their beginnings and analyzing the ways our nocturnal habits of the past continue to influence our habits of the present. We've already kicked things off with the Roaring '20s, the exclusive Post-War era, and the glittery, disco-tinged 1970s. Today we focus on how the 1980s amplified mega-clubs, mixed crowds and the rise of the "celebutante." Check back for future decades each day.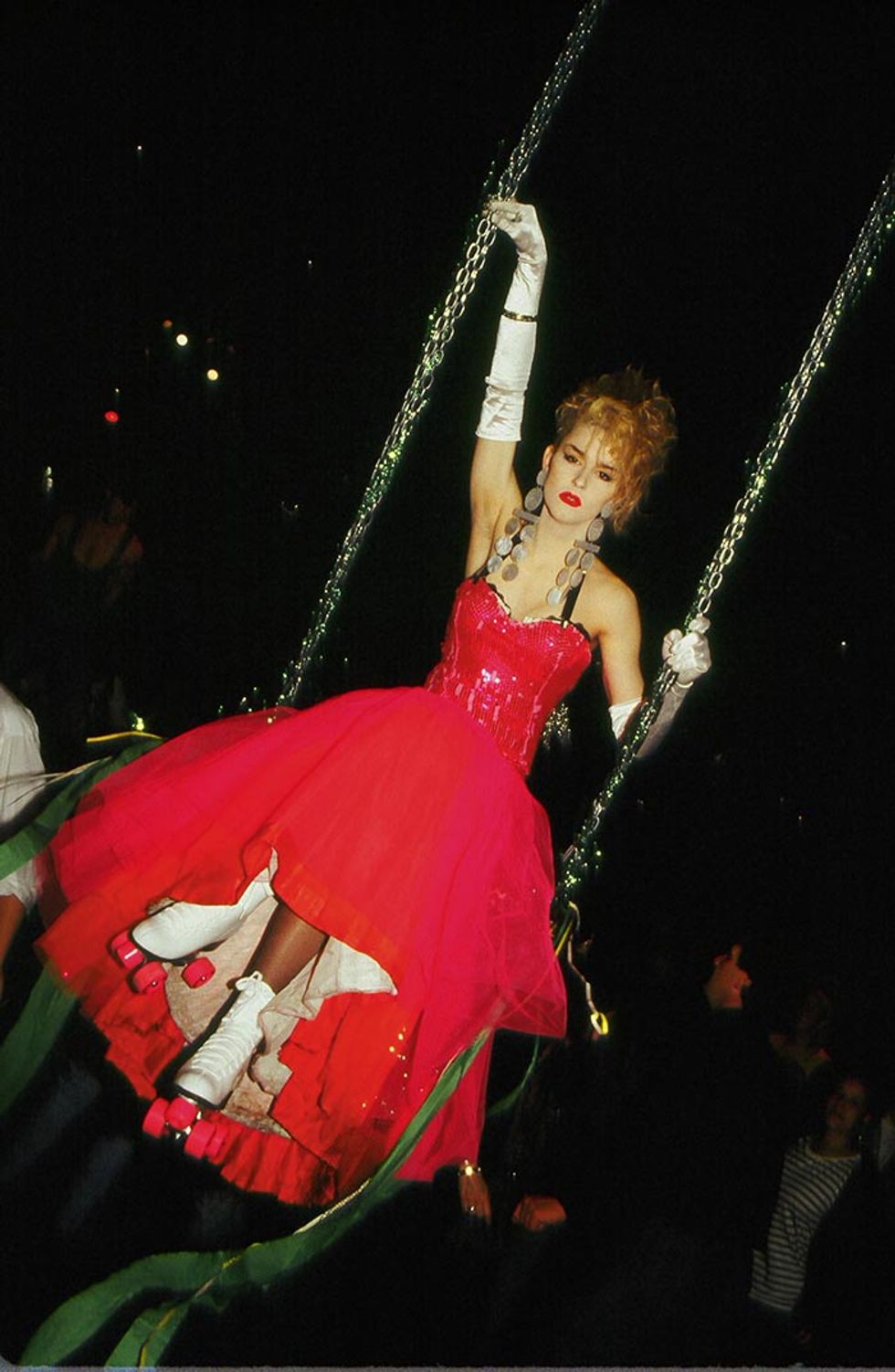 A girl at The Roxy. Photo by Steve Eichner
The 1980s were a time of wealth, greed, activism and great nightlife. In lieu of celebrity-driven clubs like Studio 54, downtown developed its own hot spots filled with its very own celebutantes like Dianne Brill and Elizabeth Saltzman, all willing to help create a good time, not just look for one. Danceteria was a multi-floor haven for big hair and music acts like Romeo Void, the Beastie Boys and an up-and-comer named Madonna, as the witty German co-owner Rudolf Piper schmoozed the VIPs and handed out drink tickets. Area was an ambitious club owned by cucumber-cool Eric Goode and company, who redid the place every five weeks with elaborate themes. (For "Confinement," the invite was a Chinese finger trap, and for "Childhood," a friend and I cavorted in adult diapers, posing by the gigantic plushie teddy bear, while sensing that the club's energy had finally diffused. Sure enough, that was their last theme.) And at the sprawling Palladium, 54's Steve Rubell had his last incarnation, catering to trend-seeking downtowners through the hot art of the day (Jean-Michel Basquiat in the Mike Todd Room, where DJ Anita Sarko ruled, and eye-popping murals in the aptly named Kenny Scharf Room downstairs).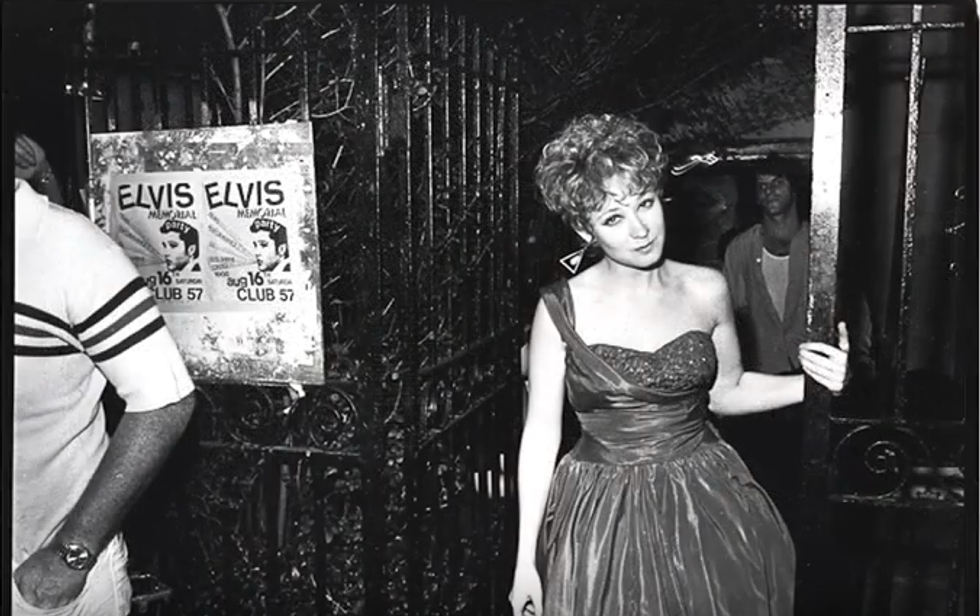 Ann Magnuson outside Club 57, 1980. Photo by Harvey Wang
Bridge-and-tunnel people ran rampant at places like Limelight, and yuppies had their own playpens (like the Surf Club) at which to act all rich, drunk and proud. Picture guys in suits with their top shirt button open and gals in little black dresses, all cavorting under the great God vodka, an antecedent to the Meatpacking crowd. But the primary strain of nightlife consisted of gigantic dance clubs like the aforementioned Area and Palladium, filled with downtown socialites looking to get photographed while flouncing around in glitzily eclectic get-ups. Fortunately, there was a counter-strain -- the East Village scene, which fostered performance artists, drag queens and anyone else willing to go out on a ledge and creatively dangle there. Club 57 hosted art shows, performances, parties and theme nights where you were apt to bump shoulders with Keith Haring, Kenny Scharf, Jean-Michel Basquiat or the space's vivacious manager and ringleader, Ann Magnuson. At comfortably ragtag clubs like the Pyramid, you could try out material, offend people, titillate them and do just about anything except bore them to death.
 
But AIDS started rearing its hideous head in the early '80s, and in '87 the activist group ACT UP formed to stage protests, roll around in the streets and generally call attention to the ways in which the epidemic was totally ignored by the Reagan administration. Sex became terrifying, so clubs were more valuable for networking and self-advancement than for hooking up, with some people dressing up to get media attention while scaring potential suitors away. And a certain militancy infiltrated nightlife, especially when Dean Johnson -- a 6'6" bald guy in a dress -- yelped angry but funny raps at wildly lived-in places like the World, where he threw the weekly Rock 'n' Roll Fag Bar.  Meanwhile, gays of color found their own place of worship at the Paradise Garage, the long-running dance club where DJ Larry Levan hypnotized them with "Heartbeat" and other songs that made them never want to leave.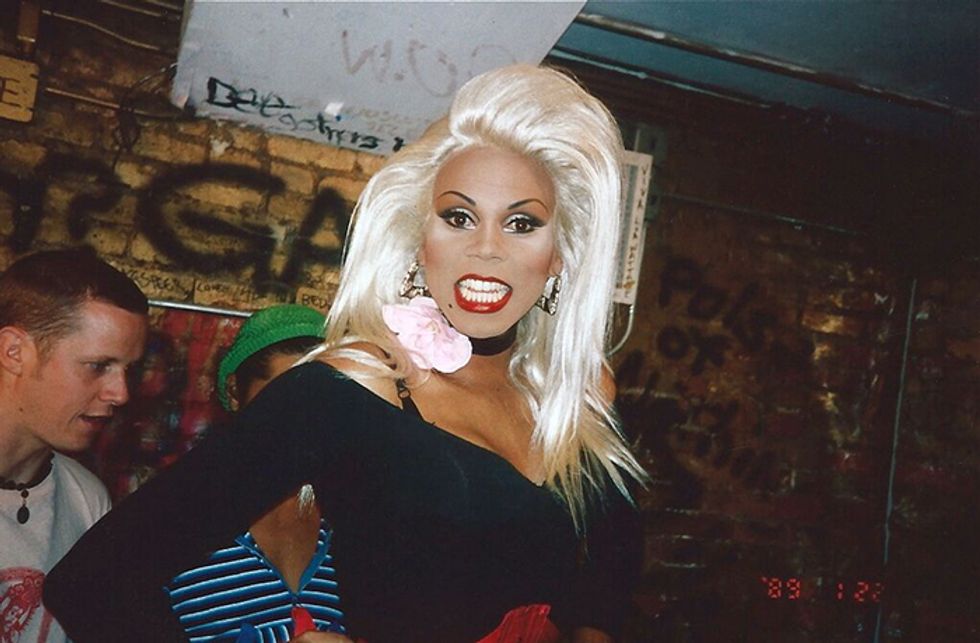 RuPaul at Pyramid Club, 1989. Photo by Linda Simpson
The same year that ACT UP was created, everyone's favorite spiritual granddad, Andy Warhol, died, leaving a creative  abyss that led to everyone taking time off before the nightlife regrouped to make way for an onslaught of club kids, who picked up where the celebutantes had left off.  And then the decade was over, having left us with a head-spinning batch of press clippings.

But the '80s nightlife ethic lives on in today's use of clubs for multimedia (visual art, projections, performances), as well as in the renewed appreciation for the mixed crowd, an '80s idea that brought unlikely bedfellows together and created nocturnal magic. Nightlife is always cyclical, so I'm sure someday Manhattan will even be home to lots of big dance clubs again, and though I doubt they'll be as brilliantly carried out as the '80s ones, they'll definitely try.