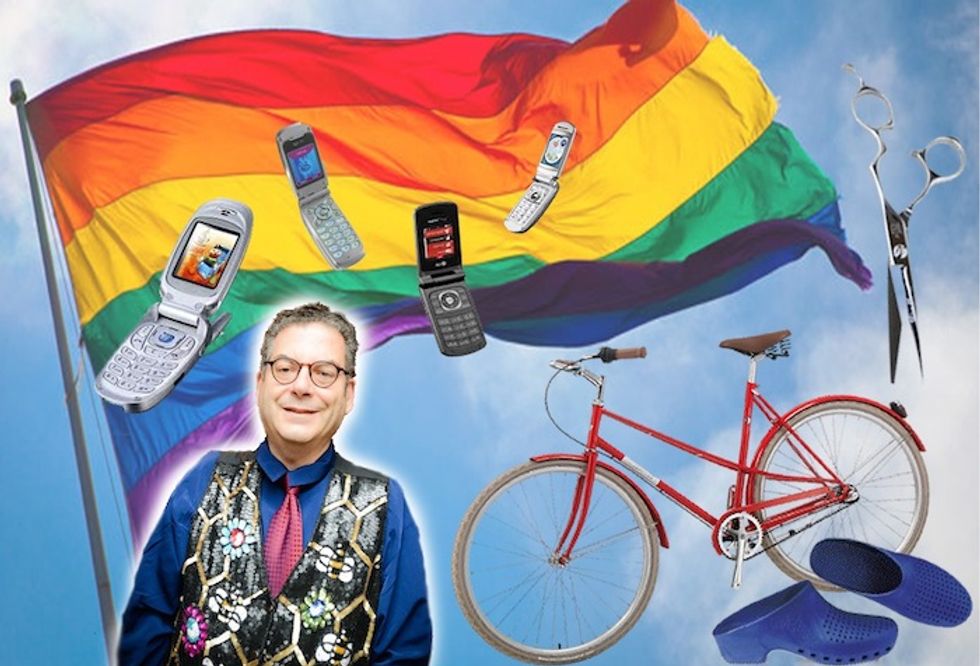 [Photo of Michael Musto by Carly Erickson/
BFA.com
]
It's not easy being a trendsetting icon who's launched phenomena around the globe with my visionary actions, but I'll manage. Here are 10 trends that I was way ahead on. See if you can measure up.

LIVING IN BROOKLYN
Way before this borough became impossible trendy, I grew up there, went to its schools, enjoyed its restaurants, and saw its movies. It formed me. And then I left -- and again, I was ahead of the curve, seeing how people are fleeing the place now because it's become too expensive!
STAYING IN NYC AFTER 9/11
After that horror happened, some wusses escaped our great city, abandoning us in time of need while catering to their own nervous nelly paranoia. (As if bad things couldn't happen somewhere else.) But I stayed, more dedicated to this town than ever. And that became the cool thing to do.

OWNING REAL ESTATE
It's the smart way to go, as I had long been told by insiders. Your property grows in value and your maintenance doesn't always go up that much every year. I was actually a bit late in doing this, but let's keep that amongst ourselves.
BEING OPENLY GAY
Some people come out in their seventies, but I came out in the '70s. I simply stated the truth about myself -- over and over -- and dealt with whatever good and bad came along with that. It was mostly good, but still, kindly keep the awards coming.

RIDING A BIKE
Way before it was trendy thanks to Citi Bikes, I rode my little contraption around, loving the convenience, exercise, and fun of it all. Everyone thought I was nuts, but now I can barely get a spot in the bike lane.

CUTTING MY OWN HAIR
Friends used to think my habit of trimming my locks (to save money and also to get the cut I want, when I want) was certifiably cuckoo. But when the economy crashed, more of them started doing it, and they decided it was a pretty viable habit to keep up. That's probably why you see a lot of asymmetrical 'dos on the street. They may have been unintentional, but they look perfectly fine -- though all that hair in the sink has to go.
BEING SINGLE
They used to throw rocks at you in the town square if you didn't have a loved one, but I stuck to my guns, loving no one but yours truly. And eventually people came around to not only accepting that, but finding it rather desirable. Especially in the age of gay marriage, being single requires guts and character, don't you think?
USING A FLIP PHONE
People laugh at my old flip and scoff at all the things it can't do. But then word got out that certain celebs thought flips were fab, and lots of politicians depend on it instead of an iPhone. And suddenly I had the hot technology in my hands!
WATCHING OLD MOVIES
There are no fewer than five channels on my dial devoted to the glories of old cinema gems, but I was way ahead of that craze with my long-running movie club, whereby my friends and me gather to giggle over kitsch classics. Nostalgia is what it used to be -- at my place.
WEARING SURGICAL SHOES
Open-toed medical footwear is cheap and comfortable, and it works for me, for various reasons. This trend is so ahead of the curve that it hasn't even caught on yet, actually. But mark my words, it will, it will. I know it all, people! How much more proof do you need?