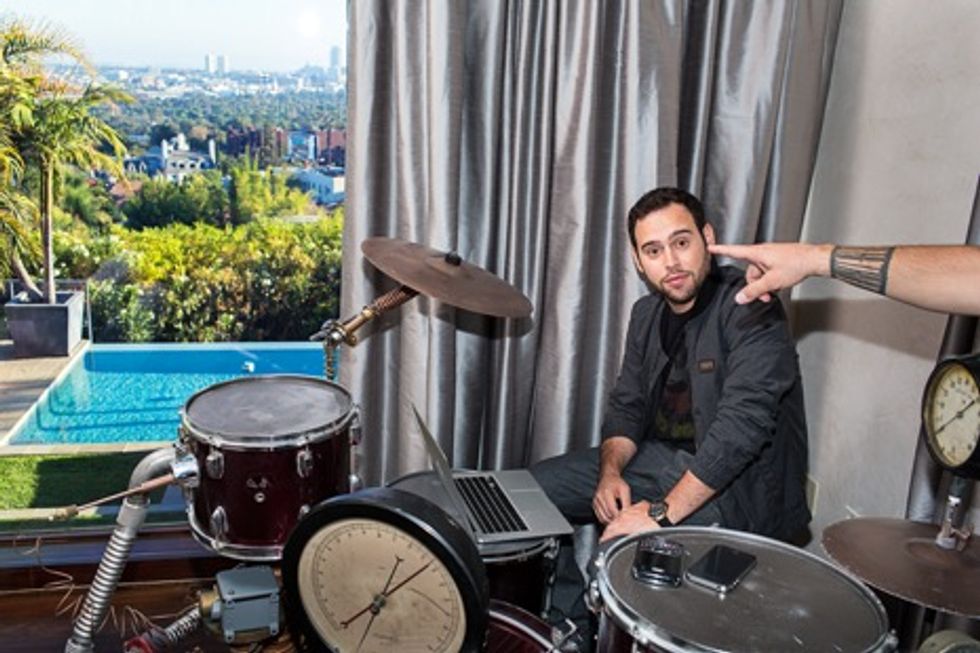 Yesterday, the
New Yorker
dropped
a behemoth profile on Scooter Braun
, the manager of
Justin Bieber
and a budding media mogul in his own right. The 31-year-old Braun's been called a lot of things over his short but wildly successful career -- wunderkid, pupper-master, "douche" -- but Lizzie Widdicombe's long read on the man who refers to himself as a "camp counsellor for pop stars," revealed a good deal more. We were taking notes the whole time, and so in the interest of brevity, we're running down the ten most interesting things we learned from profile (sack-tapping included, of course).
1.
Braun's managerial style looks awfully familiar.
Despite claiming to be a student of all things David Geffen, his paternal interest in Bieber, tough-love tactics and vague sort of sleaziness feel directly ripped from the Colonel Tom Parker's playbook. Fortunately, the only thing he has in common with pop music's other most notorious manager, Suge Knight, is (what I assume to be) a shared love of koi ponds.
2.
"Close uncle" and "good-aggressive" are probably two descriptors that shouldn't be used too closely in proximity of one another when talking about your manager.
As Bieber does
here
. On second thought, those are two descriptors shouldn't be used too closely in proximity of one another when talking about anyone.
3.
Justin Bieber is kind of a brat.
I'm fairly sure I was an asshole when I was eighteen, too, but I can't recall smacking dudes in their junk and then claiming "no backsies."
4.
It's hard to blame him.
You try being worth over $50 million and still have to be reprimanded for smacking dudes in their junk by a guy who is both twice your age, and has a strange affinity for Mickey Mouse.
5. Speaking of which,
Scooter Braun seems to be something of an arrested development case, too.
Braun was still a college kid when he got his first break in the business, becoming executive director of marketing for Jermaine Dupri's So So Def label when he was only 20. It's less than surprising to watch him drop serious coinage on pop art and eco-friendly sports cars while throwing out superhero analogies about himself left and right.
6.
Bieber had sold over $120 million worth of his fragrance, "Someday."
I can only imagine that it smells like Twizzlers that have been aged in nickel-plated barrels of Cool Water. And swag.
7.
One of Braun's first successful signings was Asher Roth.
"Ash! Heyyyyyy. Long time, no talk, playboy. What's that? Yeah, sorry, I've been crazy busy lately. Hey speaking of which, how'd you get this number?"
8.
Braun seems fairly uninterested in music in general.
Instead, he spends most of Widdicombe's time talking about tech-industry investments, some of which he splits with Bieber in exchange for the pop star's public stamp of approval. Also, Ellen DeGeneres appears to be
pretty savvy
when it comes to hot Silicon Valley upstarts.
9.
Braun should probably pay more attention to music.
Because thanks to Bieber's "Boyfriend," The Wanted's "Chasing the Sun" and Carly Rae Jepsen's inescapable "Call Me Maybe," Braun's clients seem to have a real knack for churning out disposable -- but utterly charming and ear-worm-y -- summer jams. Yet Universal CEO Lucian Grainge sees Braun as little more than a hit-maker, adding that his record company is "not in the business of art." Here's hoping none of us broke radio listeners tell him he can actually have it both ways.
10.
Still, he's got "five or six new acts in development."
Including a 13-year-old would-be pop star named, no joke, Madison Beer. Knowing Braun's keen eye for cross-promotional opportunities, the possibilities seem dubiously endless. Too bad they already make
pink beer
.
Photograph of Scooter Braun by Jeff Minton via
the New Yorker.