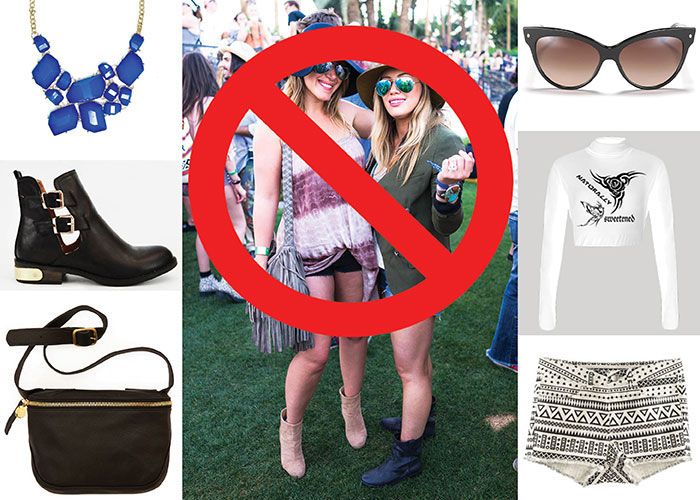 Your Coachella passes have been purchased, your flight's been booked, your tent has been packed and now the only thing left is to figure out your festival outfit. You've spent weeks scoping the goods on ASOS and have popped into Topshop so many times that you practically know their entire inventory, but each time you gravitate towards another floral romper or fringe-y suede vest, it dawns on you: you're going to look like every. single. basic. bitch. there. (You can find further reading on the Basic Bitch over on the Cut today as well.) To help you avoid looking like one of the thousands of clones turning up with daisy crowns and ripped jorts, we've asked ten of our favorite stylists to weigh in with their festival fashion do's and don'ts.


Step away from the feather headdresses. Just step away.


Logan Horne
"Pick a theme for the weekend and run like hell with it. Match everything. No makeup but put on a bright lip and a great sunny that's in theme. Keep it classy. No neon, no high heels, no problem."


Joy Adaeze
"You have to start with your personal style. If you like to wear bold colors or neutrals or wear accent pieces, don't lose that just because you're going to Coachella. Don't think, 'Oooh, I'm going to a music festival, let me look like a music festival attendee.' Do what you're already doing and revamp it for an outdoor environment. I love to pick one really cool, old accessory and work the outfit around that. For instance, if you have an awesome cobalt blue necklace, mix it up with a fun, yellow top. Don't do the typical cut-off shorts look, instead do a cool, printed short. You'll stand out but still be comfortable and can get in the pit, run around and have fun. Also steer away from the maxi dress and do an envelope skirt. And finally I love turbans. They're a great way to protect your hair while still making a statement."


Eli Wasserman
"There's nothing worse than being caught out there wearing the same grungy tee from Urban Outfitters as someone else or looking like a dirty Lower East Side hipster in desperate need of a hepatitis shot. Instead, focus on chic statement pieces to make you stand out from the civilians i.e. a wide brim floppy hat paired with a stunning pair of sunnies (avoid Ray-Bans at all costs! I prefer a fun and quirky cat eye sunglasses over aviators). Cut-off shorts are a Coachella staple but opting for a maxi skirt is a great alternative to staying cool and chic without baring too much skin and accidentally revealing those unkempt bikini areas. Never, never, never, I repeat, NEVER, under any circumstances wear feathers. And this year I think we've seen enough of the Guns N' Roses, ACDC, Led Zeppelin vintages tees. Leave them at home or better yet, bring them to your nearest Buffalo Exchange to pay for some body cooling wipes because the dry hot desert, lack of running water, and cheap fabrication is a lethal combination for a nasty yeast infection."


Heidi Bivens
"Music festivals -- especially Coachella -- are a
time when people go wild with their wardrobe and do trends they
wouldn't wear anywhere else (like feather headdresses, flowers in their
hair, tie-dye). But if you don't normally dress like a 'hippie-bohemian'
in your every day and look like that at the festival, it can come off
as contrived. I think it's more interesting to focus on your personal
style and just elevate it in some way. Less is more. There are classic
pieces that will always look good like a pair of well-worn jean shorts or summer dresses. And functional footwear -- wear sneakers or ankle boots."


Ilaria Urbinati
"Don't look like a hipster douche bag. What
makes me crazy is anyone in Hunter wellies cuz it's like, this isn't
Glastonbury. In general, anything that's trying too hard to look like Kate Moss circa
2003 is pretty obnoxious -- fringe boots, denim 'shorts' that are
actually denim underwear (especially if worn with a vest). The list goes
on. And [don't wear] anything that's WAY too '70s. Just because it's a
music festival doesn't mean it's Woodstock."


Niki Takesh
"The last festival I went to, I wore a big white t-shirt that said "YOLO"
on it -- I think it's more rebellious to not even try [to dress up]
because everyone else puts so much effort into their style. But the number one look I like is a cute, printed bathing suit with a little mini skirt or sheer dress or big shirt over it. I always like wearing a bathing suit because that way when you're really hot, you can pour water on yourself and not worry about it."


George Alvin
"Dont's: If you are NOT at a pool party, don't walk around in your bathing suit. Actually, don't even pack a bathing suit (I mean, who actually goes to a pool party to swim anyways?). Don't pack anything glittery, sequined, or neon. This isn't the junior prom. Most of all, I can't stress enough about how basic you will be if you are seen walking around in a pair of heels, or wedges. No one cares if they are the latest Manolo Blahnik's, you'll just look like an idiot. Do's: This is one of the best times of the year to ACCESSORIZE. Funky oversized sunglasses are one of my favorite festival trends that have proven to be timeless. But avoid any geometric shapes such as stars, hearts, penises, etc. etc. Circle framed shades are my favorites. I also think Coachella is the best time of the year to pull out all of your vintage pieces -- a pair of your favorite vintage cut-offs can go a long way."


Ms. Fitz
"If you haven't heard, the slutty hippie/Pocahontas look is OUT -- so take that floral headband and denim booty shorts back to the Urban Outfitters mega mall on Bedford Avenue! For style direction, take note from the line-up this year, which is much less "Indie Rockerrrr" (yewwww!) and more European electronic. Get comfy and sexy in monochrome sneakers, basketball shorts and bold, tongue-in-cheek logo tees. Think, like, "Sporty East London chav" but kinda gothy, yeah? The great thing about this look is that its totally functional -- enclosed shoes keep your feet protected in the pit, and you can layer with hoodies and leather for when the nights get cold. If you're a color nut (like myself) then put a lime, blue or pink pastel color rinse through your hair; and you're good to go. The best bets are by brands like WHATEVER21, NVRMND, Hood By Air, KTZ & Chromat."


Saskia Vaye
"If I ever see girls walking around the festival in short-shorts and a bikini top, I'm gonna scream. I'm over it...And it's also probably best to leave your Jeffrey Campbells at home. It was crazy last year -- I saw a girl [in heels] break her ankle. Flats are a great idea. Or opt for a boot."


Solange Franklin
"I definitely recommend wearing a bum bag -- a.k.a. a fanny pack. And in my pristine fantasy world where everything is immaculate and you don't sweat and get nasty, I'd say wear a crisp white dress and fringe moccasins. Definitely no feathers in the hair -- nothing remotely resembling any kind of headdress. Try to avoid rampant cultural appropriation while you're getting your groove on to some new band."