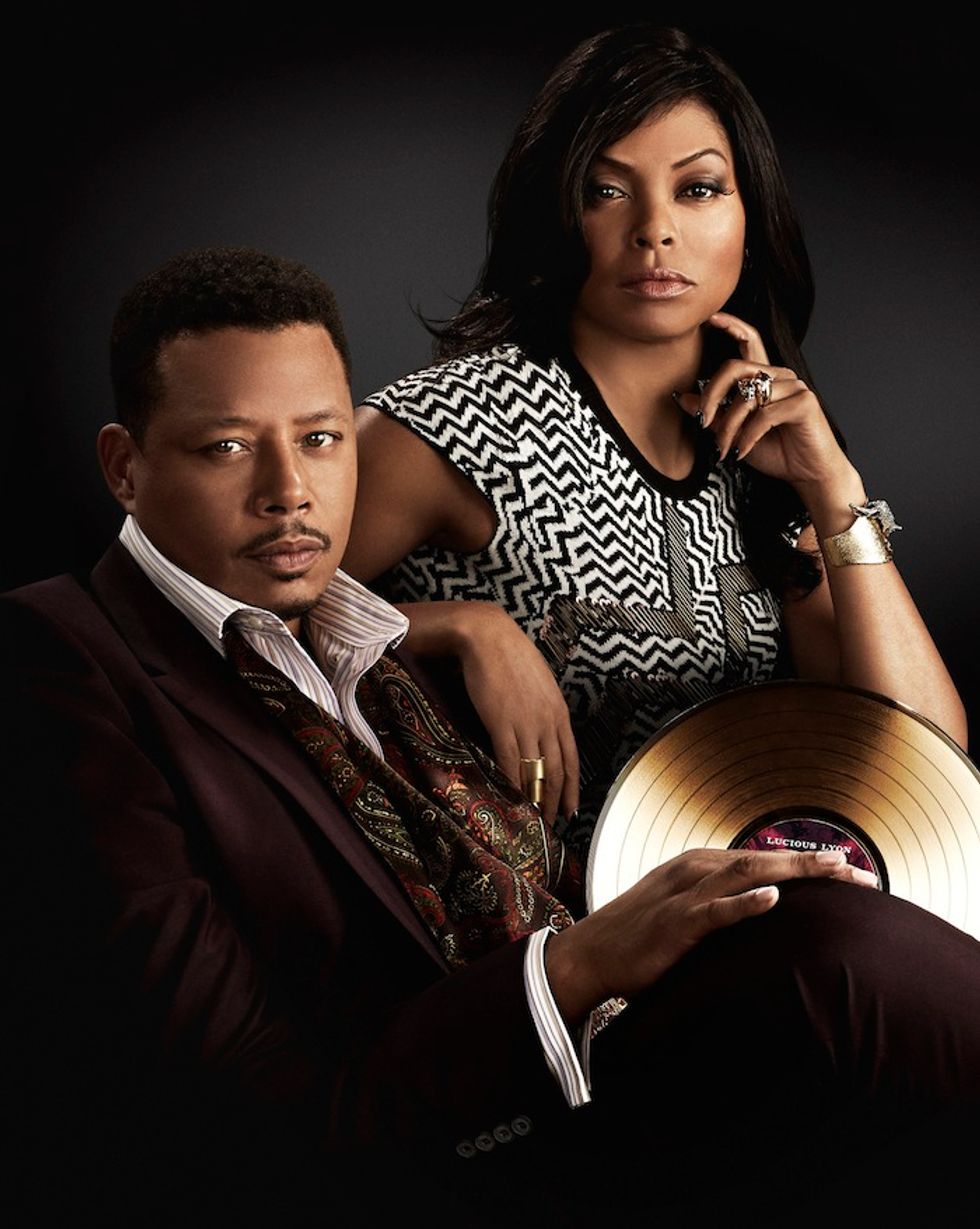 (Photo credit: Michael Lavine/FOX)
FOX's new monster hit,
Empire
-- brainchild of Lee Daniels and Danny Strong, the team behind
The Butler
-- has already been rewarded with
outsized ratings
and critical acclaim for its gleeful, hip-hop-inflected, semi-absurdist take on the soap opera. The show follows music mogul and former drug dealer Lucious Lyon (Terrence Howard) as he prepares to take his label, Empire Records, public. In the process, he incites a succession rivalry among his three sons -- straight-laced Andre (Trai Byers), crooner Jamal (Jussie Smollett), and Tyga-esque bad boy rapper Hakeem (Bryshere Gray) -- and is forced to contend with the return of his ex-wife Cookie (Taraji P. Henson), who gets released from prison and returns with a big axe to grind. If you're not already sold on the synopsis, here are 10 more reasons you need to be watching this show.
1. There hasn't been a soap opera this good since the '80s
With its near-neon color palette,
characters' shocking
-- yet believable -- antics, and underlying references to
King Lear, Dynasty
and
The Lion in Winter
,
Empire
feels like a new, exhilarating peak for a recent soap opera trend that includes the likes of
Nashville
and all those Tyler Perry shows on OWN. It's a welcome vacation from the heavy seriousness of TV's dense, literary,
anti-hero
ridden "
Golden Age
."
2. Taraji P. Henson is an absolute badass
Taraji P. Henson's acting abilities shouldn't surprise anyone who's gone to the movies over the last decade but if there were still any doubts,
Empire
should put them to rest. As soon as her character Cookie is released from prison, she crashes like a natural disaster through the lives of her sons and ex-husband as she tries to claim her share of a record label started with $400,000 --
her
  $400,000 -- in drug money. Always high-heeled and clad in animal print, she's like a Machiavellian princess who buys her diamonds from
Jacob the Jeweler
.
3. It tests the limits of savvy political incorrectness
From
Chris Rock
on down, one consistent complaint throughout 2014 was a newly invigorated (and, via Twitter, fiercely enforced) political correctness.
Empire
says goodbye to all that, especially through Lucious and Cookie, who sometimes sound like a two-headed Archie Bunker. Their treatment of Jamal's sexuality is particularly striking: slurs like "sissy," "queen," and even the f-word fly, all while the show's unspoken moral sense stands firmly behind their middle son. If 21st century audiences ever learn to differentiate the worldviews of fictional characters from those of their creators, it may well be
Empire
that teaches them.
4. Terrence Howard has an impeccably protected neck
We're only two episodes in, and Lucious Lyon (played to trembly-voiced, high-pitched perfection by Terrence Howard) has already modeled more colorful ascots and turtleneck-scarf combos than we can count. This sartorial quirk is just one of a million in a show whose costume designer, Rita McGhee, boasts credits from classics like
Mo' Betta Blues, Martin
, and
In Living Color
.
5. The show has a quiet respect for Black art
Fans of contemporary art will enjoy spotting the Lyon family's seemingly endless -- if so far unmentioned -- store of beauties from the likes of Jean-Michel Basquiat and Kehinde Wiley. What they lack in decorum, decency, loyalty, etc., they more than make up for in curatorial sense.
6. Its supporting cast includes Academy Award nominees
From a surprisingly salt-and-peppered Malik Yoba, of
New York Undercover fame
, to Gabourey Sidibe, whose last Lee Daniels' project --
Precious
-- netted her an Academy Award nomination,
Empire
's overqualified supporting cast promises endless B- and C-plotlines to keep all of the recappers -- and Twitter users -- occupied for weeks to come.
7. There's original music from Timbaland
Speaking of underrepresented genres,
Empire
occasionally departs from its soapiness and turns into a surprisingly competent musical, helmed by mega-producer Timbaland, who performs double-duty as songwriter and producer. The music -- comprised mostly of selections sung by Jamal and Hakeem -- bears the guru's fingerprints all over: several tracks from the early episodes sound like Justin Timberlake B-sides.
8. There was that bib
While there's been no shortage of gags peppered throughout
Empire
's first two episodes, there was perhaps none quite so ridiculous as the "
blowjob bib
." We got our first glimpse of the accessory last week in a scene between Andre and his wife Rhonda (Kaitlin Doubleday) that ends with the latter fastening a cloth around her neck and chest in advance of performing fellatio. It's also a pretty good indication that the writing staff doesn't take its plotlines
too
seriously and has an ease with blue humor.
9. President Obama's 'invisible cameos' have been awesome
POTUS has figured into each of
Empire
's two episodes, first mentioned brusquely by Lucious, then as the subject of a drunken, YouTubed rant from Hakeem, who calls the 44th President a "sellout," among other choice words. In an effort to apologize for his son's egregious behavior, Lucious then calls Obama (apparently the two are buds) who, it's implied, curses out the mogul on the other end of the phone. Good recurring guest, if you can get him.
10. It's becoming a platform for meta-cultural criticism
By having the show revolve around a huge hip-hop label,
Empire
's writers seem to have wide latitude to address other relevant socio-cultural-economic issues of the day. Lucious has already taken a page from Taylor Swift's playbook and raged against our unstoppable streaming/downloading culture, and the label's already-rocky IPO feels like a reflection of hip-hop's growing (and sometimes still uncomfortable) role in the global economy. Here's hoping there's more sly commentary like this to come.
You May Also Like