The glory days of New York were extra special thanks to an array of outrageous, shocking, and always amusing television viewing courtesy of public access and leased access TV. That kind of thing still exists -- in fact, a couple of the shows I'm including on this list are still on -- but it was really in the 1980s and '90s that the genre flourished, raised eyebrows, and were the highlights of peoples' TV viewing schedules. Here are the 10 most memorable:

Men & Film
A leather daddy in a harness, Lou Maletta (who died in 2011) was a broadcasting pioneer who started the Gay Cable Network and aggressively pursued coverage of sexual and political issues in the community. On Channel 35, Lou's Men & Film show mixed edited gay porn scenes with half-naked talk about important topics. That might seem like a bizarre combination, but it was actually everything gays cared about.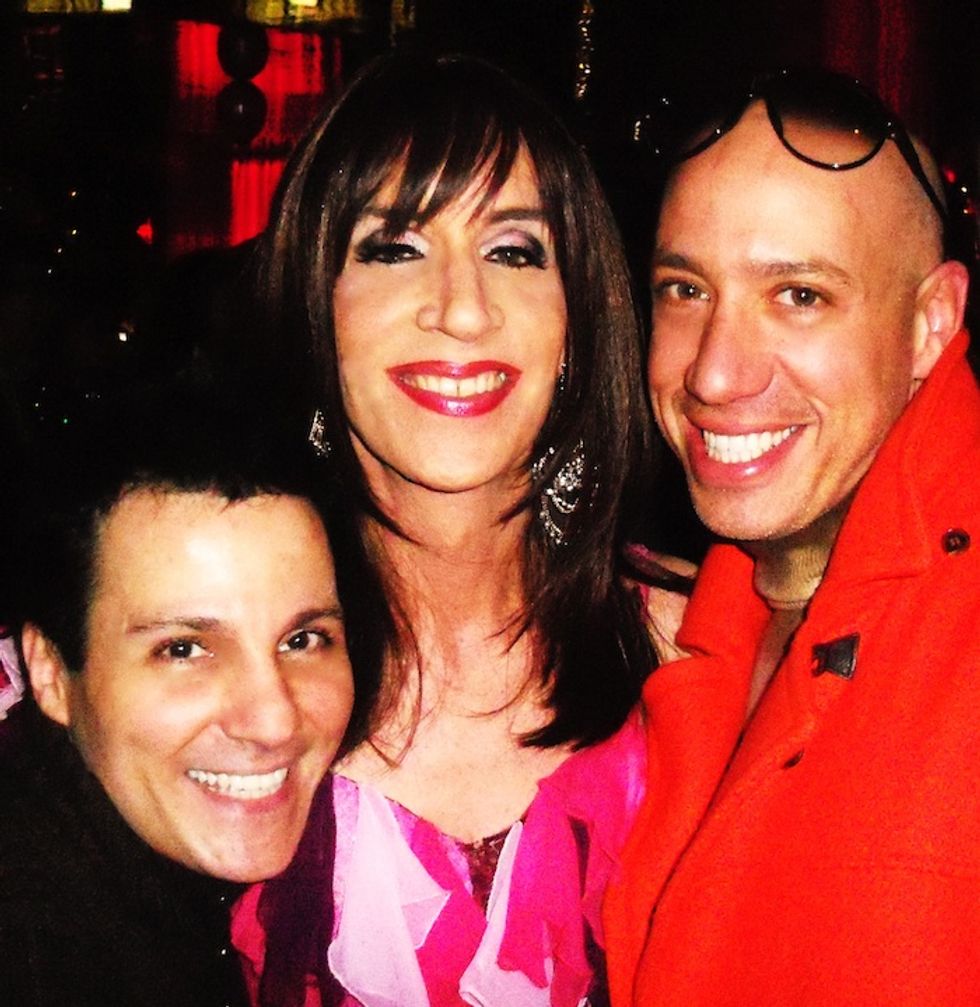 Frankie C., Linda Simpson and Robert Verdi on
Party Talk
Party Talk
The creation of Marvin Schwam, this was an entertaining magazine-format show that starred notables like Linda Simpson, Frankie C, Cathay Che, John Marc, Marc Holzman, Brad Lamm, Robert Verdi, and Philomena. It appeared in five cities with its blithe banter, gossip, and cavalcade of LGBT personalities. And the title was apt -- it was a whole lot of talk turned into a weekly party.
Go There TV
Glam awards founder Cherry Jubilee hosted this fun show in which she interviewed gogo boys in the most provocative way imaginable. When this was on, I would definitely, uh, Go There.
Gay USA
This one-hour LGBT news program -- and
The Soup punching bag
-- started ages ago on Lou Maletta's Gay Cable Network and continues buzzing along to this day. In fact, I was a guest on it just last week! Andy Humm and Ann Northrop are informative hosts on a comprehensive variety of newsy topics, serving up all the important points of view, and they occasionally pause for a healthy argument, too.
The Robin Byrd Show
The Byrd show is not really public access (it's leased cable), but I had to include it here for the legend it's created. In fact, it's the
Downton Abbey
of local cable. The Channel 35 hit has always had the giddy yet focused Byrd urging us to relax and get comfortable, then introducing a bevy of porn stars who'd come to town to do shows -- glorified strippers who she'd interview as if it were Barbara Walters grilling Kissinger. It would all end with a group gang-dance to Byrd's "Baby Let Me Bang Your Box," with Robin mock poking her eye with the penises. It was magical -- and the old shows are still running and continue to seem topical, since the porn stars never seemed to bring up anything going on in international politics at that moment anyway.
Our Soul: Journey to Know Thyself
Stripper-turned-New-Age-healer Linda Pendergraft would engage in winding monologues about a panoply of life issues, and the result was hypnotic and often kind of brilliant. At the end of each episode, I felt healed, if in need of a pot of coffee.
On Patrol
A screechy drag queen and her passive-aggressive partner would do segments interviewing various freaks about town. The highlight was the segment "Peeling It Off With Miss Peel," in which a fetching lass took things off while encouraging others to do so as well. It was a grown-up 'Show and Tell' game that was like the original
Girls Gone Wild
, minus the sleazy subtext.
Mrs. Mouth
Tony winner Jeff Whitty, a fan of this offbeat show, describes it best: "A man's face was shot upside-down, with facial features drawn on his chin and a wig around his neck." Got that? And the man spoke in a squeaky voice, giving haughty opinions on various topics, in between being fed by someone off-screen with a spoon. Surreal shit.
Midnight Blue
Screw publisher Al Goldstein (who died in 2013) was a mouthy, outrageous New York type who loved making waves while vehemently fighting for free speech. His raunchy show debuted in 1974 and ran for almost three decades with its porn star interviews, extreme commentary, and "Fuck you!" segment in which Goldstein told off whatever notable was bugging him at the moment. I was a guest once, and I must say he treated my views with respect and without any yelling.
Ugly George
In the '80s, a man (who actually wasn't that ugly) prowled around the streets of New York with a camera on his shoulder and urged women to flash their breasts. And they did so. "I believe I'm teaching the public," said George at the height of his notoriety. "I'm not a star, I'm a professor." Perhaps -- but, like Miss Peel, he should have removed clothing along with his subjects!
You May Also Like