Nowadays, gays have sex in their apartments—sometimes even in beds—but back in the old days, lots of gays went to all kinds of raunchy locales to carry on, from clubs to parks to trucks to bath houses. Let me bring it all back to you in a pre-Grindr whiff of Poppers and protein.
THE TRUCKS
Yes, trucks. In the West Village in the '60s and '70s, gays congregated in various large vehicles that had been unloaded, as it were, and were left open in the back, poetically enough. In the 1950s, it was all about "necking" in the back seat but in the '70s, the spotlight was on fisting in the back of a large vehicle. What a ride!
THE GLORY HOLE
(11th Avenue between 21st and 22nd Street)
Talk about truth in advertising. This nightspot was exactly what it sounded like. Gays went into a booth, stuck their business in a slot as if mailing a COD package, and then waited for someone to nibble on it. Or, they simply sat there and waited for someone else to stick their business in the slot. It was sort of like a dirty version of the Horn and Hardart automat.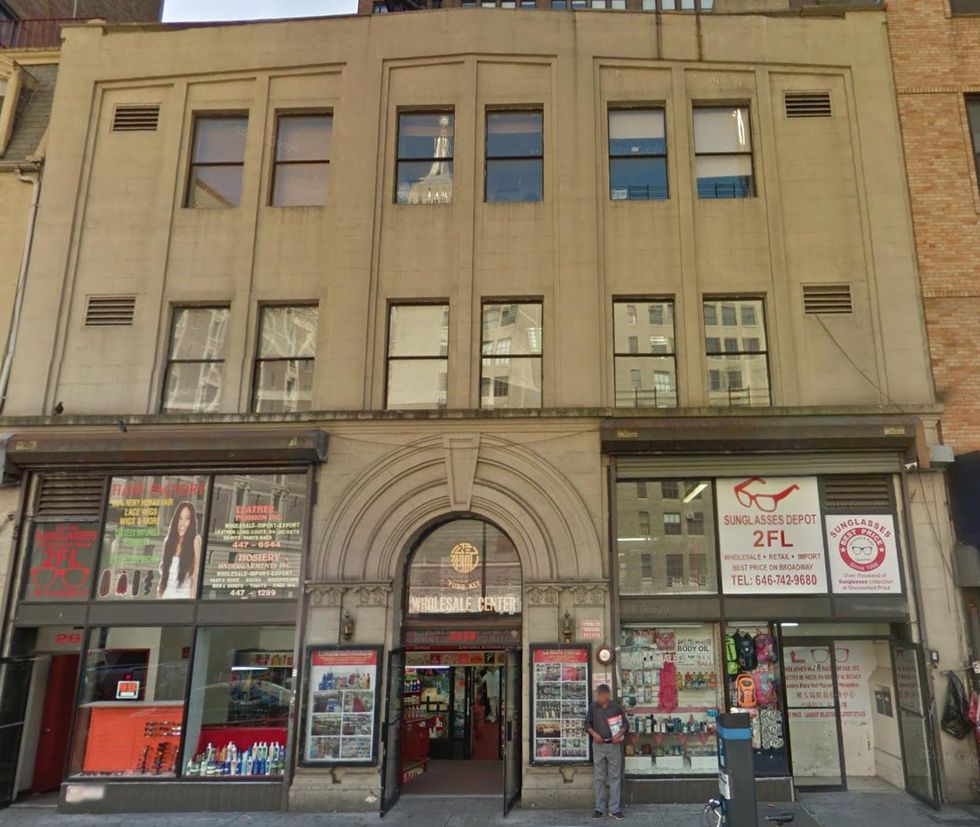 The former Everard Baths, now a wholesaler.Via Google Streetview
THE BATHS
The Club and the Everard were hopping with gays in towels, but maybe the most famous of all was the Continental Baths (2109 Broadway), where the gays went to see Bette Midler perform—though more often, they were performing their own acts (sex acts, that is) in the rooms they rented. In this legendary shtupp palace in the basement of the Ansonia Hotel, males would check their clothes, don a towel, and lay down on a bed in a way that would suggest what their preference was. Or they'd just go to the communal room and prepare to be mass-groped.
THE INTERNATIONAL STUD
(117 Perry Street)
I've mentioned places like this, as well as the Anvil and the Mine Shaft, where sex was king in the uninhibited, post-Stonewall 1970s. At the Stud, the back room was a gigantic cluster fuck, with everyone grabbing, sucking, and sucking some more. It was the wurst of times.
J'S
(675 Hudson Street)
As huzbears.com remembers, this cavernous club started in 1977 and had a lively backroom as an X-rated attraction. In 1987, the place became J's Hangout, and later on, it evolved into a jackoff haven with events hosted by the New York Jacks. J's Hangout was closed by the health department in 2002.
THE MEAT RACK
This sandy area between two Fire Island communities—the Pines and the Grove—traditionally was more than just a convenient walking route between the two places. It was a wanton sex site, where gays stood around getting naked and sandy—and blown (by the sand and by other guys). The Meat Rack even provided the setting for parts of the legendary gay porn film Boys in the Sand. But those days are as gone as some of the sand dunes. Today, you might occasionally see some light frottage, but basically the Meat Rack has resorted to just being a walking route again.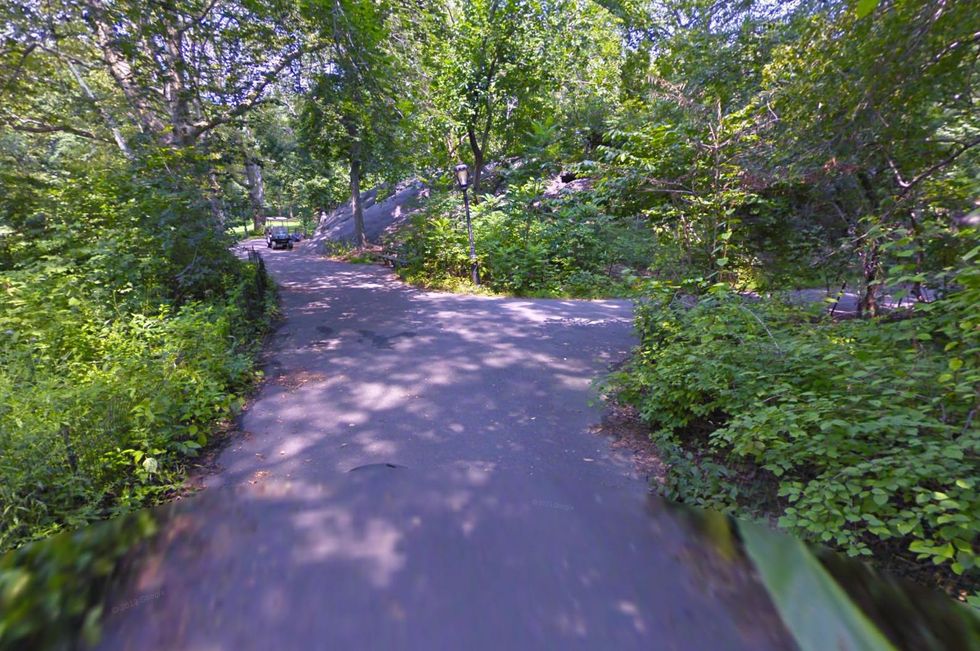 The Ramble todayVia Google Streetview
THE CENTRAL PARK RAMBLE
A lushly wooded area between 73 rd and 78th Streets, the Ramble was sort of Manhattan's answer to the Fire Island Meat Rack--a rustic retreat which became a real-life porn movie as guys grabbed each other and went for it. But eventually, that all died down and the Ramble reverted to being a lovely spot for tourists to birdwatch in. But then, amazingly enough, the birds turned to cocks again. I hear there's steamy action going on there once more. I'm guessing there are a lot of guys with boyfriends who simply can't fuck strangers at home.
THE STUDIO 54 BALCONY
(254 W. 54 th Street)
The ultimate 1970s disco, 54 had three spectacular environs, as insiders intimately learned. The basement was where celebs and other VIPs went to do enough coke to earn them a brochure from Betty Ford. The street level was the dance floor, where sets moved, people bumped, and eternity never came. And the balcony was where revelers would sit down and feel loved. Can any Wal-Mart really top all that?
THE CHRISTOPHER STREET BOOKSTORE
(Christopher and Hudson)
Barnes & Noble this wasn't. Though it was fraudulently billed as "the largest bookstore in America," the 24-hour establishment sold videos, toys, magazines, and lube, but we're still not even warm when it comes to what their main attraction was. It was sex! There were a few booths upstairs and a whole bunch more downstairs. Gays went into these booths to carry on with strangers, and when they left, all moist and sticky, they weren't the least bit more literary than when they came in. No, really.
THE PIERS
LGBTs still get together and hang on the West Village pier, but they used to do way more than that. Back when the pier was a big, old rotting piece of wood, gays would hang out there looking for hot hookups, and totally getting them. The river -- like the woods -- seems to turn gays on, in addition to the fact that these relatively remote urban areas always provided a sort of taboo but convenient space for doing it. In today's New York, they're just a memory—but that's OK because trust mama, sex will never go away.
Splash photo screenshot from Youtube.

Sign Up For The Morning PAPER