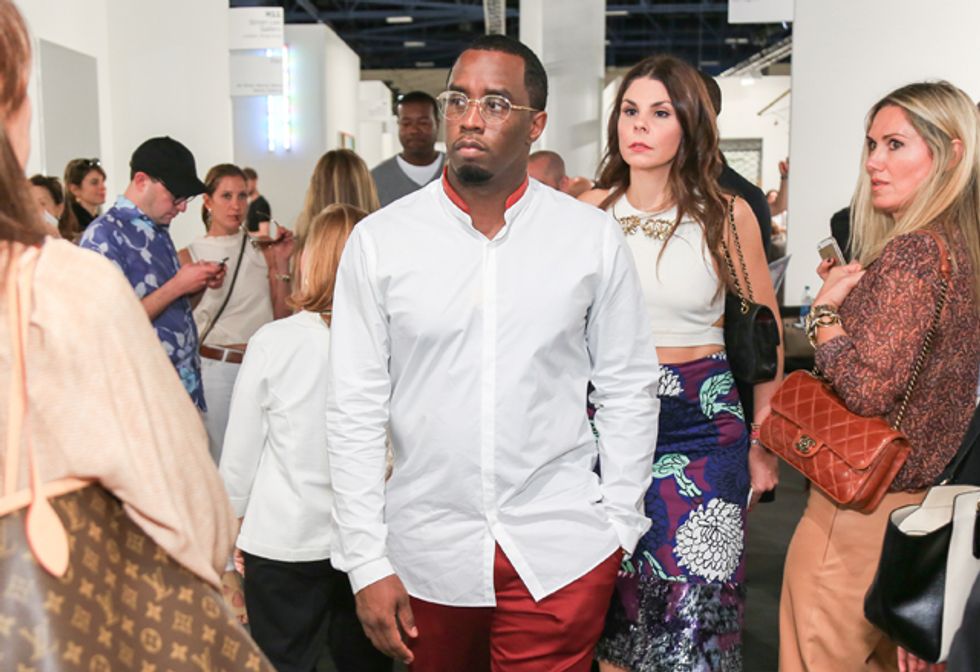 Diddy, on the hunt for Drake at Art Basel. Photo by
Benjamin Lozovsky/BFAnyc.com
The heroic Americans over at
TMZ
finally got to the bottom of Diddy's alleged assault on Drake during Art Basel. Apparently, the rapper-on-rapper feud was all because of a beat that producer Boi-1da gave to both Diddy and Drake. While Diddy decided to sit on the track, Drake turned it into his hit, "0-100" and, as they say in the biz, this was "a huge no-no." So when the two ran into each other in Miami Diddy took the opportunity to exact revenge; he punched Drake in the shoulder, aggravating an old injury and sending the sensitive rapper to the hospital. However, the best detail from the not-so-badass scuffle was that Diddy yelled out, "You'll never disrespect me again!" with the cadence and phasing of a cheated-on husband in a soap opera.
Scored on a scale of emotion and drama, Diddy's final words were A+, but even Diddy can admit that Drake is the reigning king of both of those realms. With that in mind, we thought that we'd humbly offer up some insult-to-injury suggestions culled straight from Drake's own lyrics. Here's 10 other things that Diddy could have said after punching Drake, below.
1. "
Take care!
"
2. "
Wish you would learn to love people and use things, and not the other way around
."
3. "
They always say the hottest love has the coldest end!
"
4. "
Why do you hurt me?
"
5. "
It ain't about who did it first. It's about who did it right.
"
6. "
...I drove in the snow for you
"
7. "
I was a cold dude, I'm getting back to my ways.
"
8. "
I got my eyes on you.
"
9. "
No new friends!
"
10. "
Wu-tang forever!
"