A party ain't nothing without a party thrower. After we rounded up ten of our favorite legendary club owners and promoters, we realized there were even more impresarios we left off the list and who should be recognized for their inimitable ability to fling proverbial confetti.


DON HILL
The easygoing entrepreneur (full name Donald Mulvihill) managed Kenny's Castaways and the Bitter End, went on to run the Cat Club, and then scored his biggest coup with Don Hill's, which he opened in 1993 as an atmospheric dive on Greenwich and Spring Streets. The place played host to all sorts of people on the edge, especially at its regular rock-the-house events like Squeezebox and BeavHer. Sitting at his own club, watching the live bands, Don (who, sadly enough, passed in 2011) was the picture of serenity.
HAYNE SUTHON
The New Orleans-born Hayne was a zany lady who became sort of an Auntie Mame for the disenfranchised. She turned the former Club Baths into Cave Canem, where we re-lived ancient Rome; she transformed an adjacent space into La Nouvelle Justine, the S&M restaurant where the food was surprisingly not punishing; and in 1993, she birthed Lucky Cheng's, where straight people thrilled to dinners with drag queens. Cheng's eventually moved to Times Square, and then Hayne moved to the afterlife, where she's no doubt throwing more parties.
[Johnny Dynell, Chi Chi Valenti and Richard Move]
CHI CHI VALENTI, JOHNNY DYNELL, RICHARD MOVE, KITTY BOOTS, HATTIE HATHAWAY, PAUL ALEXANDER
The techno-erotic downtown arts center known as Jackie 60 started in 1990 and eventually grew to its own club, Mother, which gave a roof to the creatively homeless. The above crew -- a rich batch of eccentrics and intellectuals -- were the ones who made it rip, filling the scene with larky lingo, ripe references, and daring dress codes. They even allowed in the occasional Gwen. By the way, Jackie still lives on with events like the
Night of 1000 Stevies
.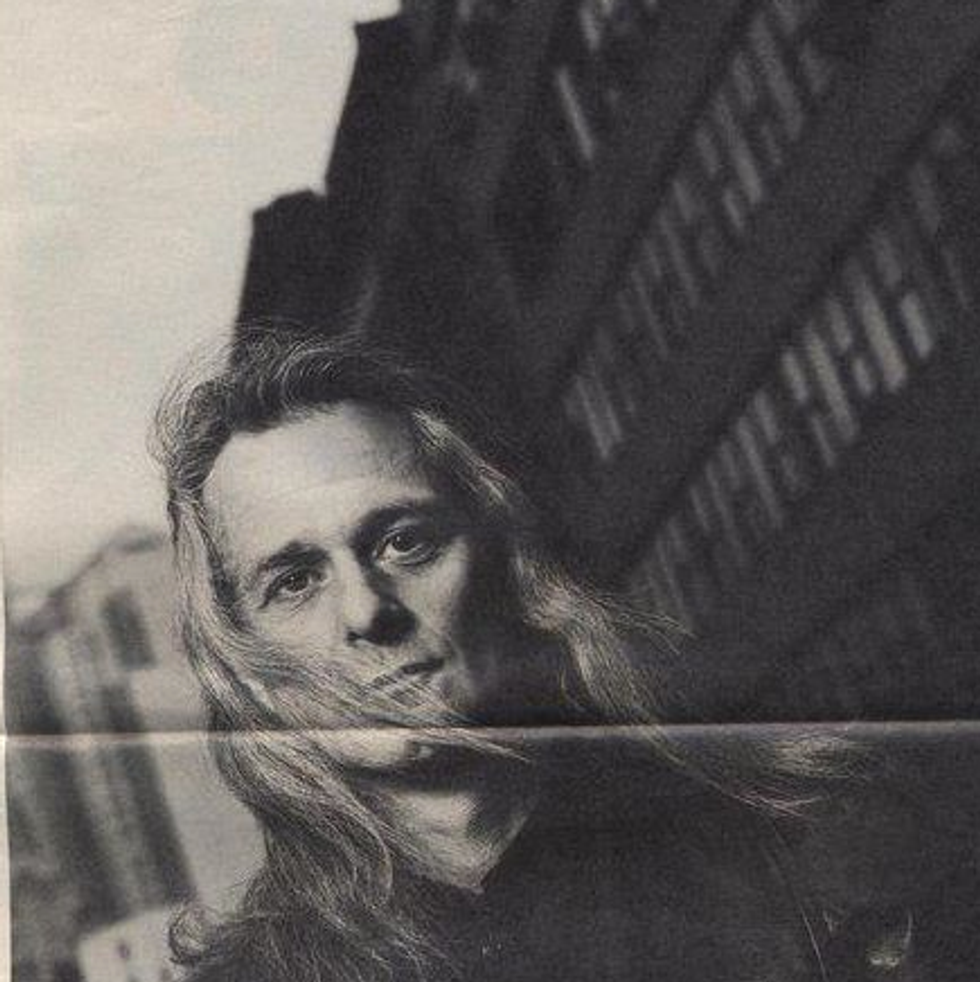 FRANK ROCCIO
An earthy good-time guy, Frank was a co-owner of the Peppermint Lounge and then Irving Plaza before opening the World, the East Village playpen filled with sexuality, music, and an air of possibility. Home of Dean Johnson's Rock and Roll Fag Bar and many other memorable events, the World feels in retrospect like some miraculous mirage.
ARTHUR WEINSTEIN
The likable Arthur owned Hurrah, an innovative dance club which catered to New Wave music and its prancey-posey practitioners, from 1976 to 1980. In the '80s, he was even more major, with involvement in the World and after-hours haunts like the Jefferson and the Continental. Back when clubbies were out all night, indulging in a lifestyle of pure fun and expression, Arthur was their merry ringleader.
CARMEN D'ALESSIO
The Peruvian promoter would wear a red gown and a black sparkly top hat and jewels and hold court at the ultimate '70s disco, Studio 54. She says she created it. Well, she definitely helped.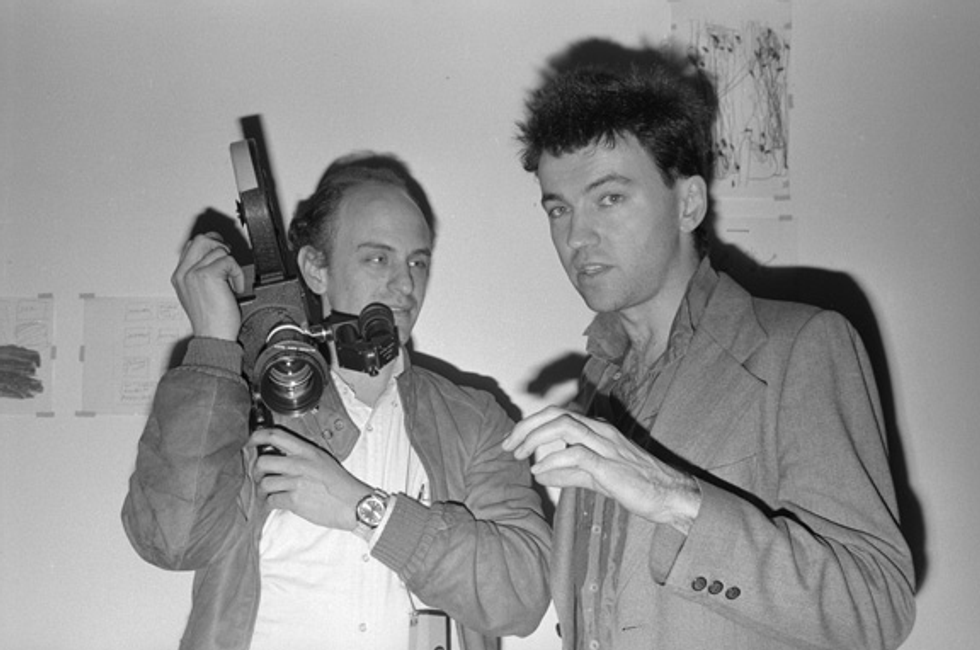 [Steve Mass, left, and Diego Cortez; Photo by and courtesy of Bobby Grossman from
BLANK CITY
, a film by Celine Danhier]
STEVE MASS
A defiant answer to the glitz of Studio 54, the Mudd Club was a wonderfully atmospheric hovel on White Street, full of rockers, artists, indie filmmakers, celebrities, and wannabes, with a sprinkling of bridge and tunnel folk who read about it in
People
. Steve -- who started the club on a budget of $15,000 -- was the dry, quietly outspoken guy who lurked in the shadows and made it all happen.
BROOKE WEBSTER
Brooke owned Meow Mix, the long running East Village lesbian bar (which closed in 2005) and she threw Fragglerock, a frisky monthly party at Acme Underground. She went on to open another lady place called Cattyshack in Park Slope. She's a lesbo-legend.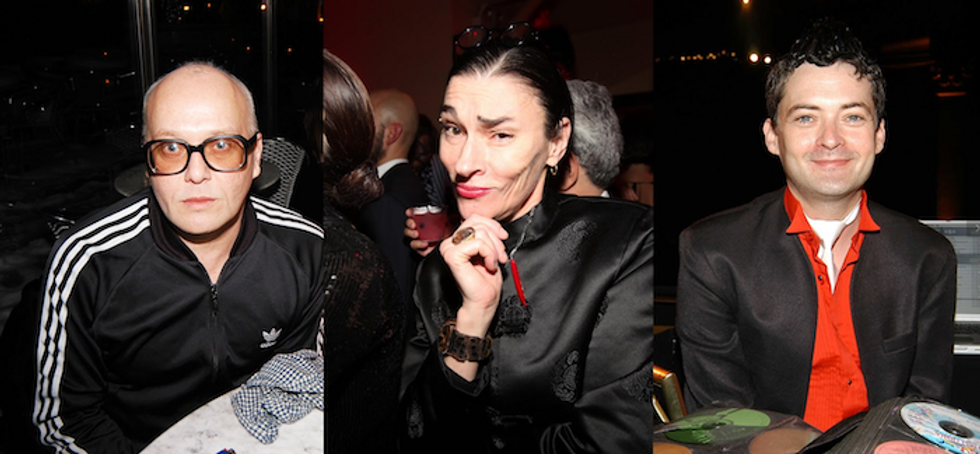 [Erich Conrad, Edwige and Billy Beyond; Photo courtesy of Patrick McMullan/
PatrickMcMullan.com
]
ERICH CONRAD, EDWIGE, BILLY BEYOND
Beige -- the gay Tuesday night indoor/outdoor get together at B Bar -- ran from 1994 to 2011, filling the place with cruising, debauchery, and chit chat almost as long as an Andrew Lloyd Webber musical. In the early days, the above three were the impresarios, comprising a sort of downtown Mod Quad. Erich is the elevated presence who told me his main goal growing up in Cleveland was "to get out"; Edwige is a sultry chanteuse with le gift of gab; and DJ Billy also opened a Beige in L.A., where they didn't necessarily get it. Conrad -- who currently co-promotes prettyugly with PAPER's Drew Elliott and Zigzag -- told me, "The actual inspiration for Beige was when I was in Africa for a month being chased by baboons on a mountain and all I had was a Claudine Longet tape." I knew that!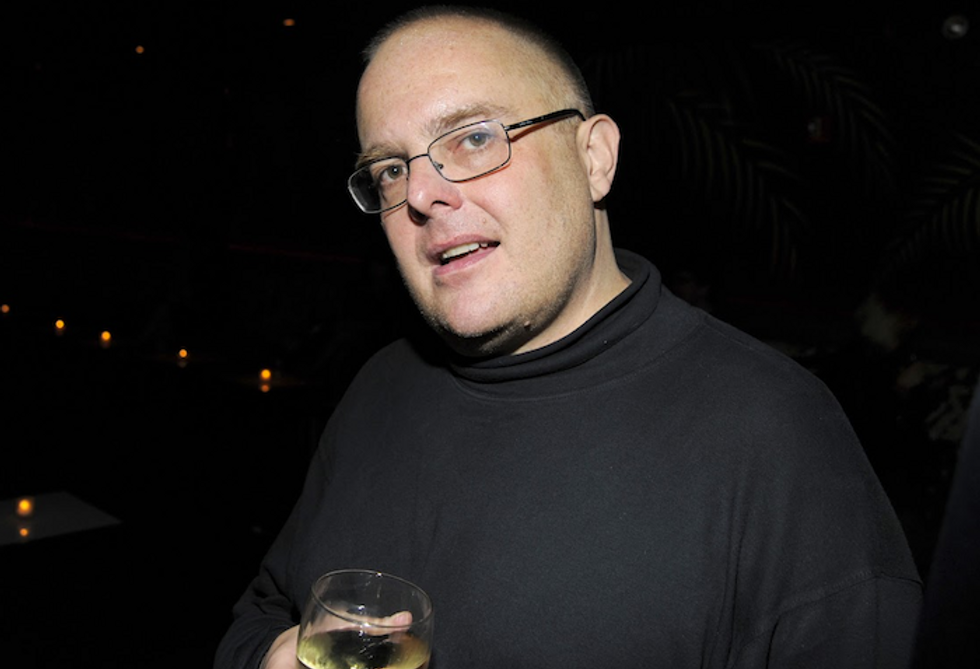 [Photo courtesy of Patrick McMullan/
PatrickMcMullan.com
]
CHIP DUCKETT
In the late '80s and '90s, Chip amused us at clubs like Mars (where he did the gay-licious Mars Needs Men) and Quick! He masterminded my zebra-striped birthday party at El Morocco, featuring scandal star of the moment Sukhreet Gabel; handled the long running 1984 at the Pyramid; did my Joan Rivers/Michael Urie-hosted bash at 230-Fifth; and continues with Spin Cycle PR, which boasts the Laurie Beechman Theatre among its clients. As others come and go, Chip keeps on rocking.
You May Also Like