The fresh and new is the life and breath of the fashion industry and the latest crop of New York-trained designers to present their graduating work -- at FIT, Parsons and Pratt -- has us excited for what's to come.  Out of this year's talented bunch, we picked the top 10 fashion graduates to watch.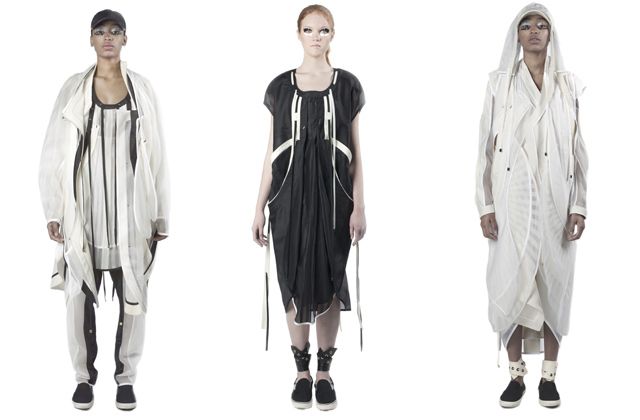 1. KAYE APPLEWAITE -- Parsons
Growing up in Barbados, Kaye Applewaite, Parsons' Womenswear Designer of the Year and a finalist for the Parsons and Kering Empowering Imagination Competition, didn't have much opportunity to explore her creativity. After realizing medical school wasn't for her, Applewaite took a fashion design course at a local college and worked with a small clientele in Barbados before applying to Parsons. For her thesis, entitled "The Arc of Self", Applewaite transformed a deconstructed hoodie into an airy collection of relaxed, sophisticated sportswear.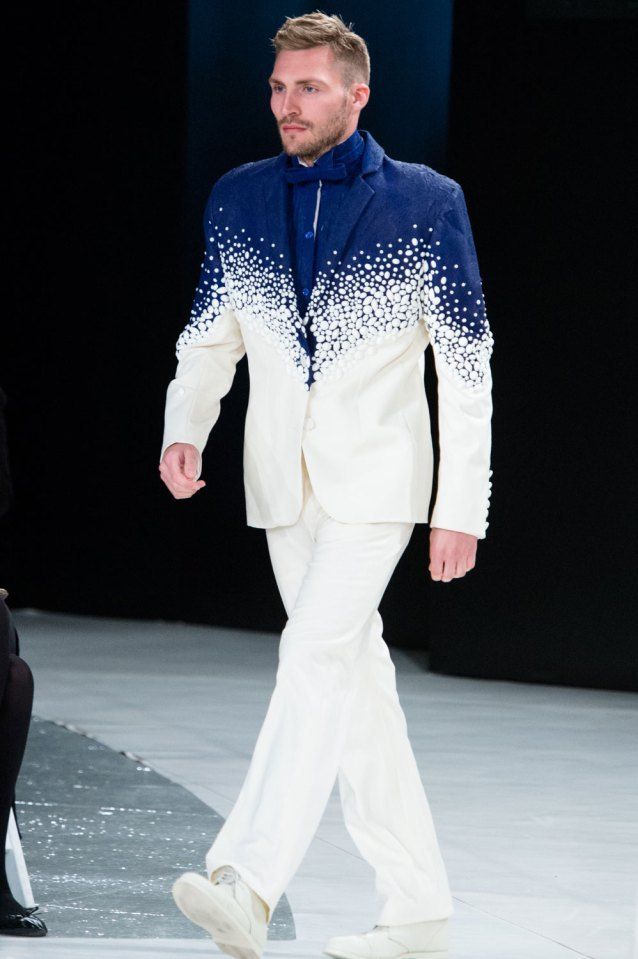 2. MADELINE GRUEN -- Pratt
Any man looking for something beyond the typical tuxedo -- dip-dyed toile or decorative texture maybe? -- look no further then Madeline Gruen. As the winner of Pratt's Fashion Entrepreneurship Award and the Liz Claiborne Award, the Bethesda, Maryland-native heads into the real world with $25,000, one year of rent-free studio space and guidance from industry leaders, which she hopes to put towards a boutique business for grooms. Her winning blue and white collection -- inspired by the memory of a creative grandmother -- was a fun, fresh take on evening elegance.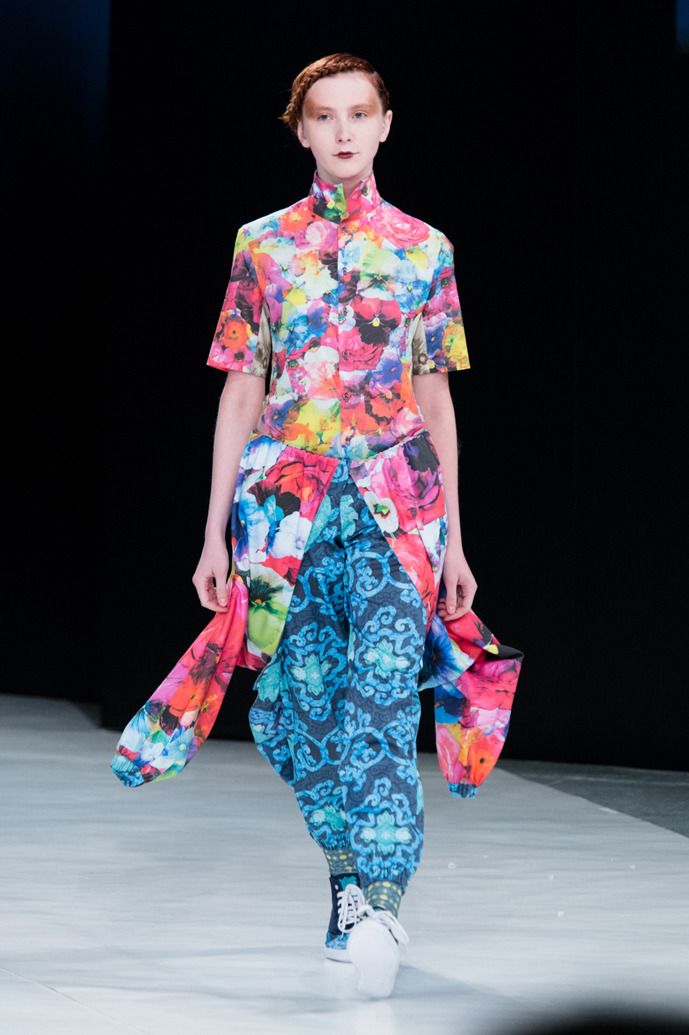 Photo by Jessie Lirola
3. EMMA HASTIL -- Pratt
Set to the beat of Macklamore & Ryan Lewis' "Thrift Shop," Emma Hastil presented an athletic-inspired collection of floral and chinoiserie-printed separates that highlight a street sense and knack for color.  Originally from Brooklyn, Wisconsin, Hastil now resides in Brooklyn, New York. Her two Brooklyns -- the green, agricultural community where she was raised vs. her new life in the bustling, graffiti covered borough --  was the inspiration for her collection. With day jobs at Thom Browne and with Rihanna's stylist Adam Selman, her vision for streetwise tailoring will only get stronger.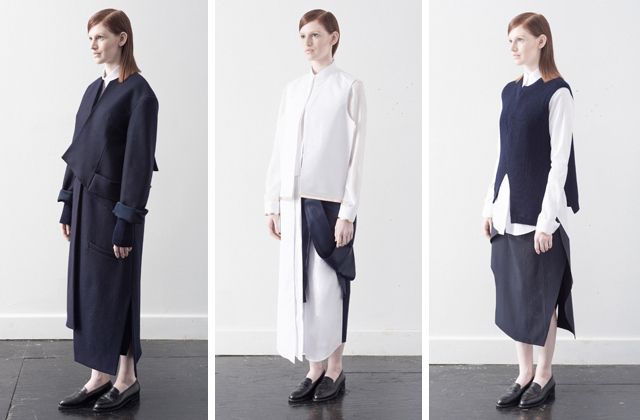 4. HARIM JUNG -- Parsons
Looking to recreate the memories associated with her high school uniform from growing up in Seoul, South Korea, Harim Jung played with patternmaking to produce her graduate collection, "Identity + Ethos," a tailored collection of chic staples that are as interesting as they are wearable. Alongside Kaye Applewaite, she was awarded Parsons' Womenswear Designer of the Year, and was a winner in the Parsons and Kering Empowering Imagination Competition.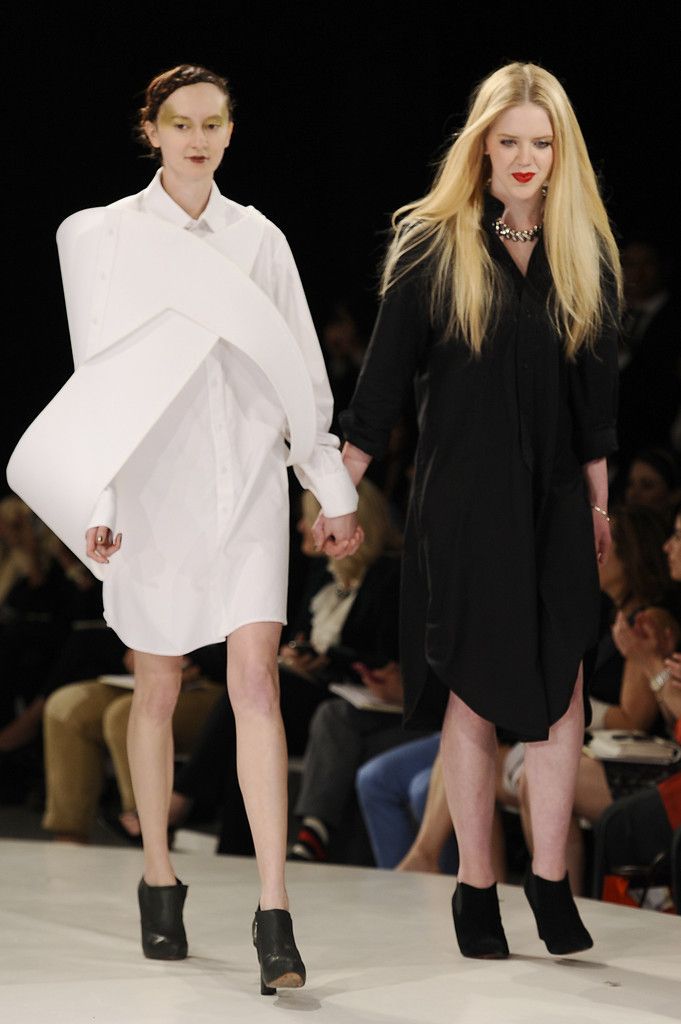 5. SIMONE KURLAND -- Pratt
Simone Kurland's thesis collection started with abstract small-scale wire forms. Wanting to test how far she could push traditional garments, Kurland, who is from Berkeley, California, integrated the forms into classic pieces like a tailored white shirt or black blazer. Adding depth and movement, the forms took each look into a sculptural dimension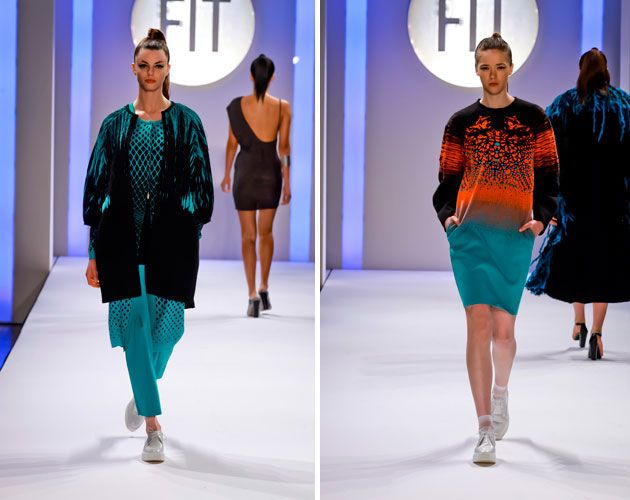 6. TAE KYUNG KIM -- FIT
Playing with teal, red and black in silhouettes that were oversized through the torso and slimmed into a pencil skirt or skinny trouser, the looks in Tae Kyung Kim knitwear collection were almost '80s, but modern and cool. Kim, who is from Seoul, South Korea, won the Siempre Mujer Award for Best Use of Color along with first prize in Cotton Incorporated's 'Best Use of Cotton' Award. Kim was also one of the only FIT students to produce two looks for the graduation show.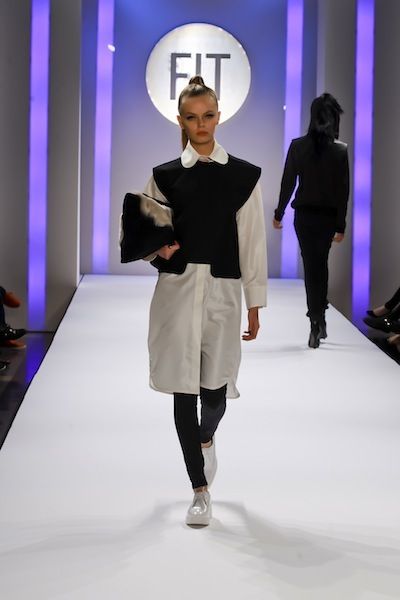 7. EMILY LEVINE -- FIT
The sportswear look Levine designed, which won third prize in Cotton Incorporated's 'Best Use of Cotton' Award, was a simple idea superbly styled. The juxtaposed nuances -- a round, almost baby-doll, collar paired with a high, slicked-back ponytail and white oxfords with leggings and an oversized clutch -- gave the look a futuristic feeling.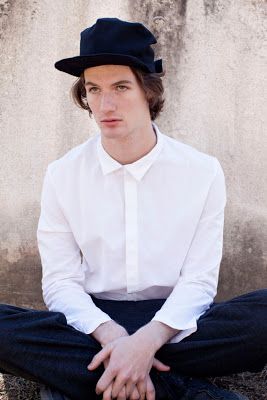 8. GAMU MOYO -- Parsons
Born in Zimbabwe but raised in Johannesburg, South Africa, menswear designer Gamu Moyo cites an awareness of other cultures, especially unfamiliar ones, as influential in her work. The Parsons and Kering Empowering Imagination Competition finalist comes from a family of seamstresses and knitters and says she takes inspiration from popular culture, history and academia. Her graduating collection entitled 'Rumspringa,' after the Amish rite of passage, is an assortment of cool, understated pieces for a man of style.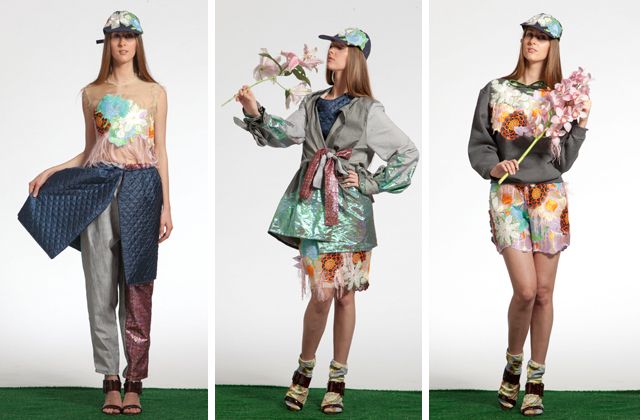 9. MAISIE SCHLOSS -- Parsons
While studying at Parsons, Chicago-native Maisie Schloss interned with Amarcord Vintage Fashion, Vena Cava and Opening Ceremony. The hip sensibility implied by her work experience was evident in her graduating collection -- a playful, layered mix of textiles and color. Inspired by artists Louis Wain and Yayoi Kusama, Schloss' collection explored the boundaries of obsession. We think she found her answer -- obsession breeds great work.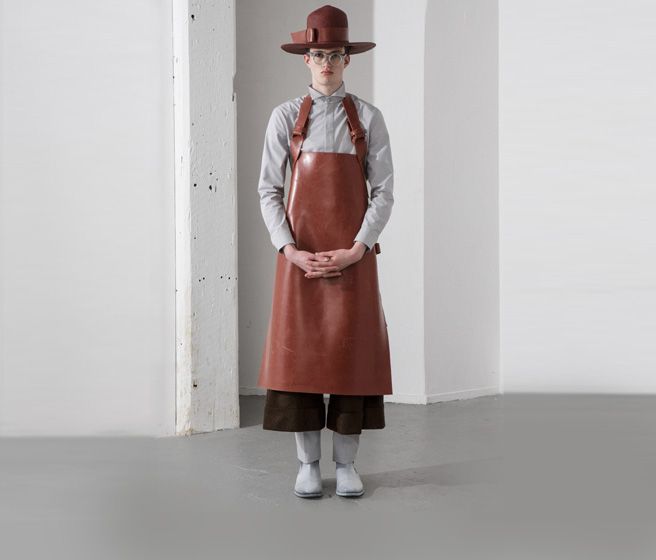 10. YUNXIANG ZHOU -- Parsons
As a young girl, Yunxiang Zhou, who was born in Tai'An, China, but moved to Isreal at age five, dreamt of being a graphic novelist. She turned to fashion after enrolling at Parsons, but her aesthetic still demonstrates a passion for expressive storytelling. For her thesis collection Zhou explored the utility and design of vintage menswear. The collection was awarded Parsons' Menswear Designer of the Year for and, alongside Harim Jung; Zhou won the Parsons and Kering Empowering Imagination Competition.