When Roger Corman's biker movie The Wild Angels was unleashed in theaters 1966 it made a killing at the box office, made a star out of Peter Fonda and spawned scores of similar exploitation movies. But I remember at the time being more fascinated by the bikers "old ladies" like Nancy Sinatra as "Mike" and the best of all was Joan Shawlee as Momma Monahan, the blowsy, tough, boozy, maternal mother of the gang. Fortunately directors saw the potential in beefing up the girl power angle and some pretty unforgettable grindhouse magic was made. Here are 10 badass bests: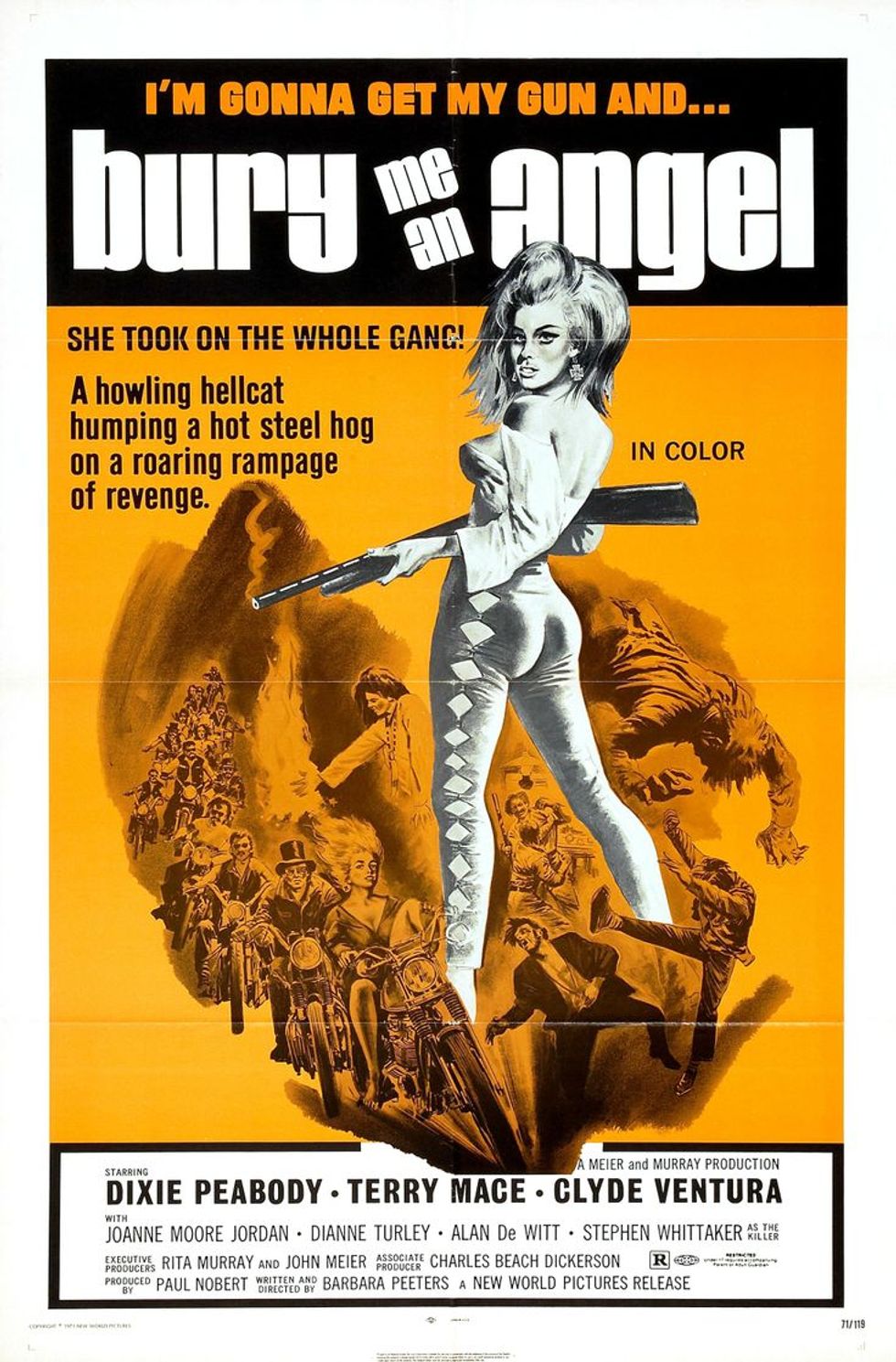 Bury Me An Angel (1972)
 "A Howling Hellcat Humping A Hot Steel Hog On A Roaring Rampage Of Revenge!" was the notorious ad for the first biker film directed by a woman, Barbara Peeters ("Humanoids From The Deep"). 6-foot blonde amazon Dixie Peabody plays Dag who grabs a shotgun and gets on her motorcycle to track down the guy who killed her brother.Two friends Bernie (Clyde Ventura) and Jonsie (Terry Mace) tag along. Handsome Clyde Ventura went on to become a celebrated theater director but sadly Dixie Peabody only made one more film, "Night Call Nurses," before leaving acting behind.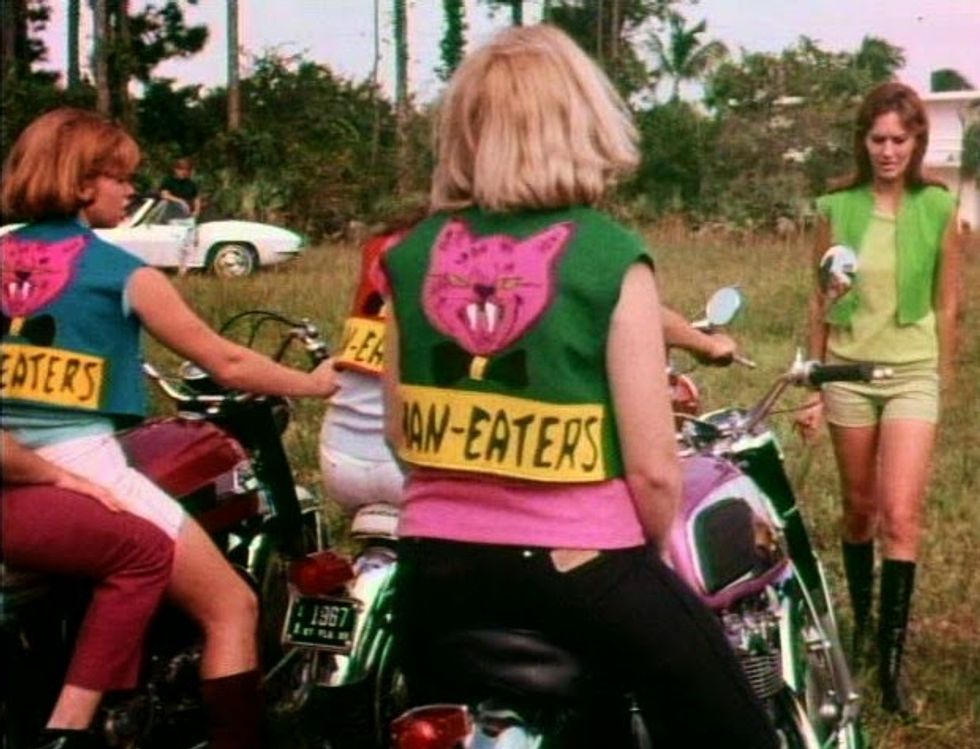 She-Devils On Wheels (1968)
The godfather of the gore film Herschell Gordon Lewis ("Blood Feast", "2,000 Maniacs") gives the cycle film a run for its money with this bonkers biker epic, beginning with the theme song: "Get off the road before we have crossed...Or you might get your rear-end tossed." Queen (Betty Connell) is the cackling, tough-as-nails, leader of the "Man-Eaters," a ferocious girl gang who enjoy racing. (The winner gets first pick on the stud line.) When one becomes too fond of a guy they make her drag her boyfriend behind her motorcycle (tied by a rope) until his face looks like chopped meat. When Joe Boy (John Weymer), the head of a rival gang, kidnaps their new sister "Honeypot" and brutalizes her, the gals string wire across a road and decapitate him.Best line in the movie: "Go fumigate yourself, craphead!"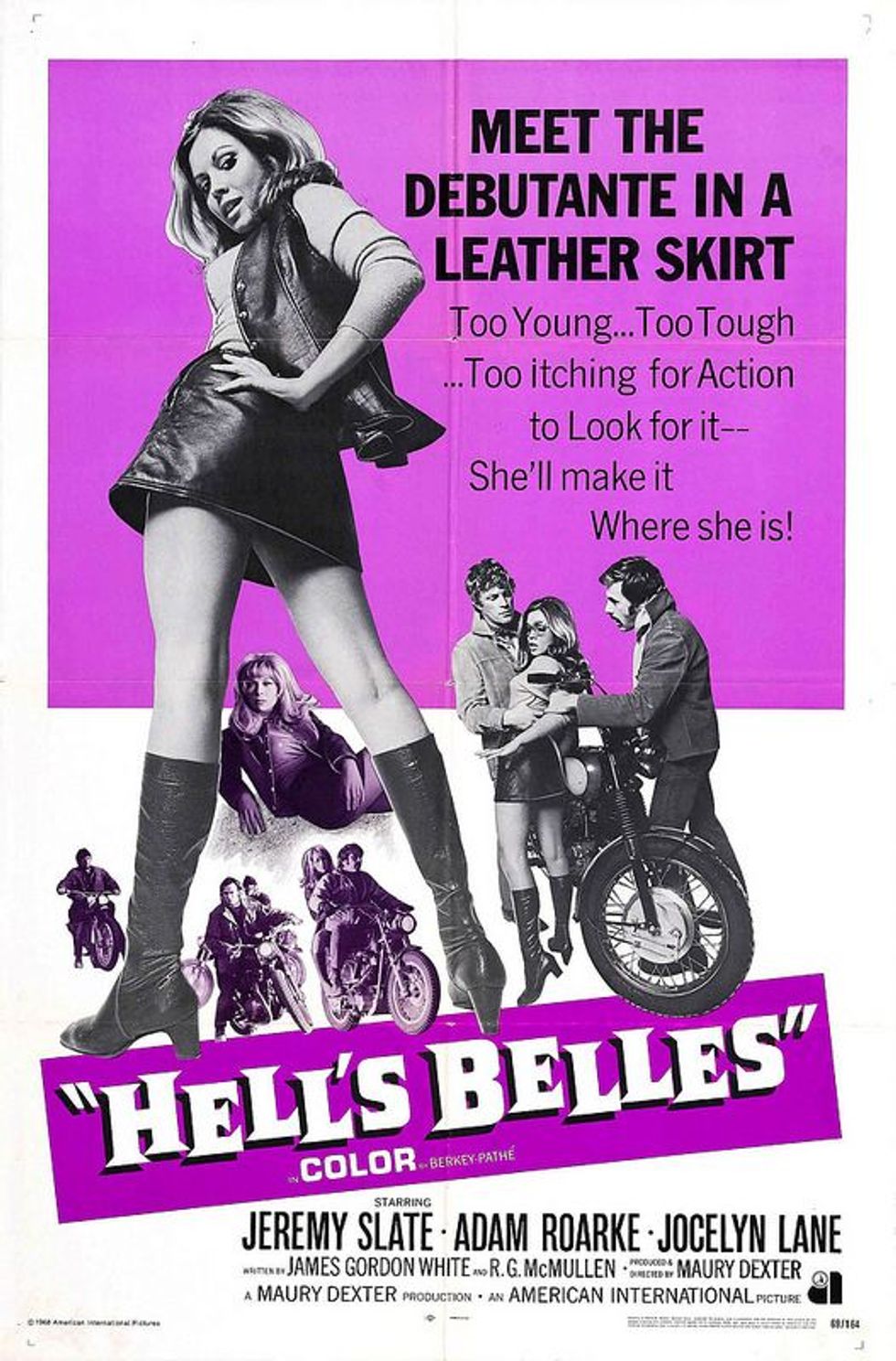 Hell's Belles (1969)
Basically a western disguised as a biker movie. Jeremy Slate plays Dan, who wins a motorcycle after competing in a race. His dream is to sell the bike and buy a ranch but it gets stolen and ends up in the hands of gang leader Tampa (Adam Roarke) so he rides through the desert with Tampa's grumpy ex girlfriend Cathy (Jocelyn Lane) tracking down each member using his fists, ropes and even rattlesnakes to get his bike back. The real reason to watch is Jocelyn Lane as the motorcycle mama who snarls throughout.  Lane, a former UK model, was sadly underused in movies but she's a spitfire here. "You recognize that bike?" Dan asks. "They're like men --  they're all the same" she snaps back.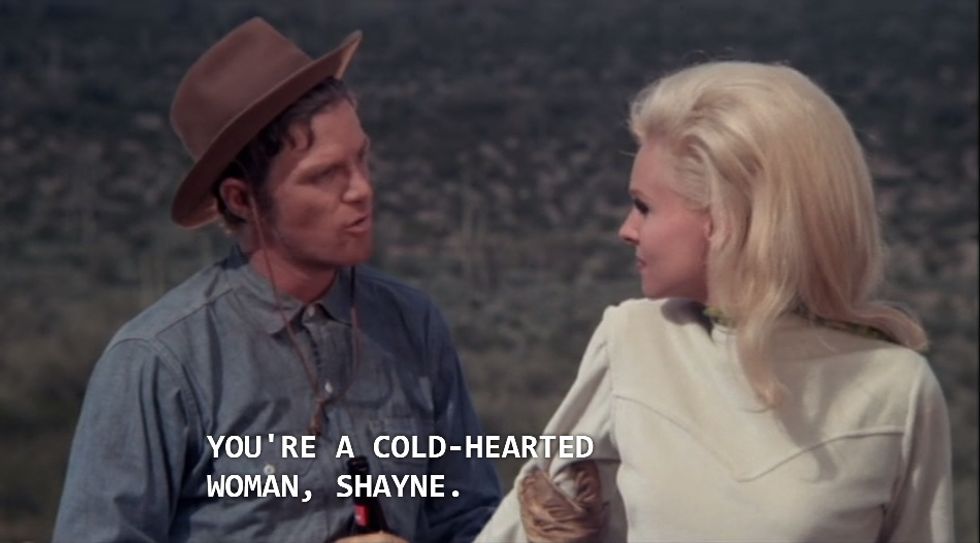 The Mini-Skirt Mob (1968)
I absolutely love Diane McBain. The big blonde with the throaty voice from such films as "Claudelle Inglish" and "Parrish" was best at playing vixens and in this film she is fabulously deranged as Shayne, the vengeful leader of the Mini-Skirt Mob. They are all way too clean-cut to look truly fearsome and they ride scooters rather than real hogs but the patches on their backs are cool. Her ex, a rodeo star named Jeff Logan (Ross Hagen), is on his honeymoon with his new bride (Sherry Jackson) so Shayne riles up the rest of the gang which include actors Harry Dean Stanton, Jeremy Slate and "The Bad Seed's" Patty McCormick (who sings the theme song). They beat them up, tie up the bride, try to run them off the road, shoot at them, and even corner them into a gully throwing Molotov cocktails at their trailer. Hell hath no fury like Diane McBain.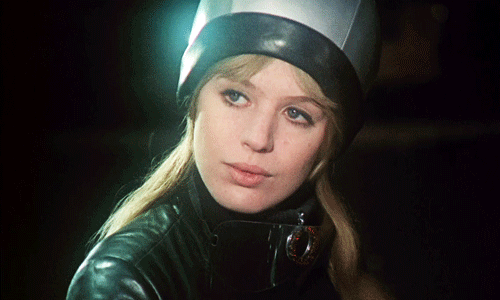 The Girl On A Motorcycle (1968)
Marianne Faithfull looks spectacularly gorgeous decked out in a skin-tight leather jumpsuit as Rebecca, a woman who leaves her newly married schoolteacher husband, jumps on a chopper and heads down the highway to her lover (Alain Delon). Along the way there are lots of erotic reverie and psychedelic imagery in this arty, weirdly memorable, movie directed by Jack Cardiff based on a novel by Andre Pieyre d Mandiargues. This was rated X at the time and has a bummer of an ending.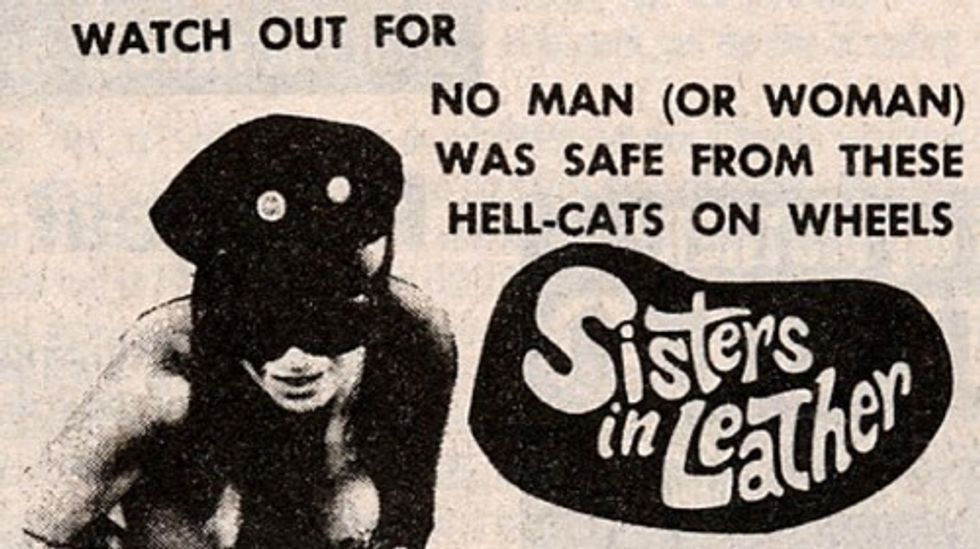 Sisters In Leather (1969)
A sleaze riot about a lesbian motorcycle gang who blackmail a guy by taking pictures of him getting it on with an underage girl. "Butch" the leader of the "Sisters In Leather" then strikes up a weird friendship with the guy's wife, Mary, and even takes her on a picnic (!) which includes some nude sunbathing, while her other gang members ride around on their motorcycles stark naked.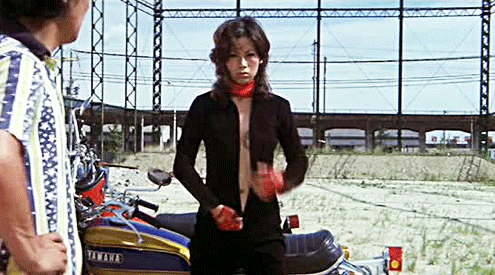 Girl Boss Guerilla (1972)
Miki Sugimoto plays Sachiko, the leader of the Shinjuka Red Helmet Gang. When these motorcycle babes get hassled by male bikers, Sachicko bares her tattooed breast and the girls start kicking ass. When the gang arrives in Kyoto, they find themselves involved with turf wars, a handsome boxer and a ruthless yakuza boss. "We follow the rules of our gang, but break all the rules of society," one girl says in this outrageous example of the "Pinky Violence" Japanese exploitation films.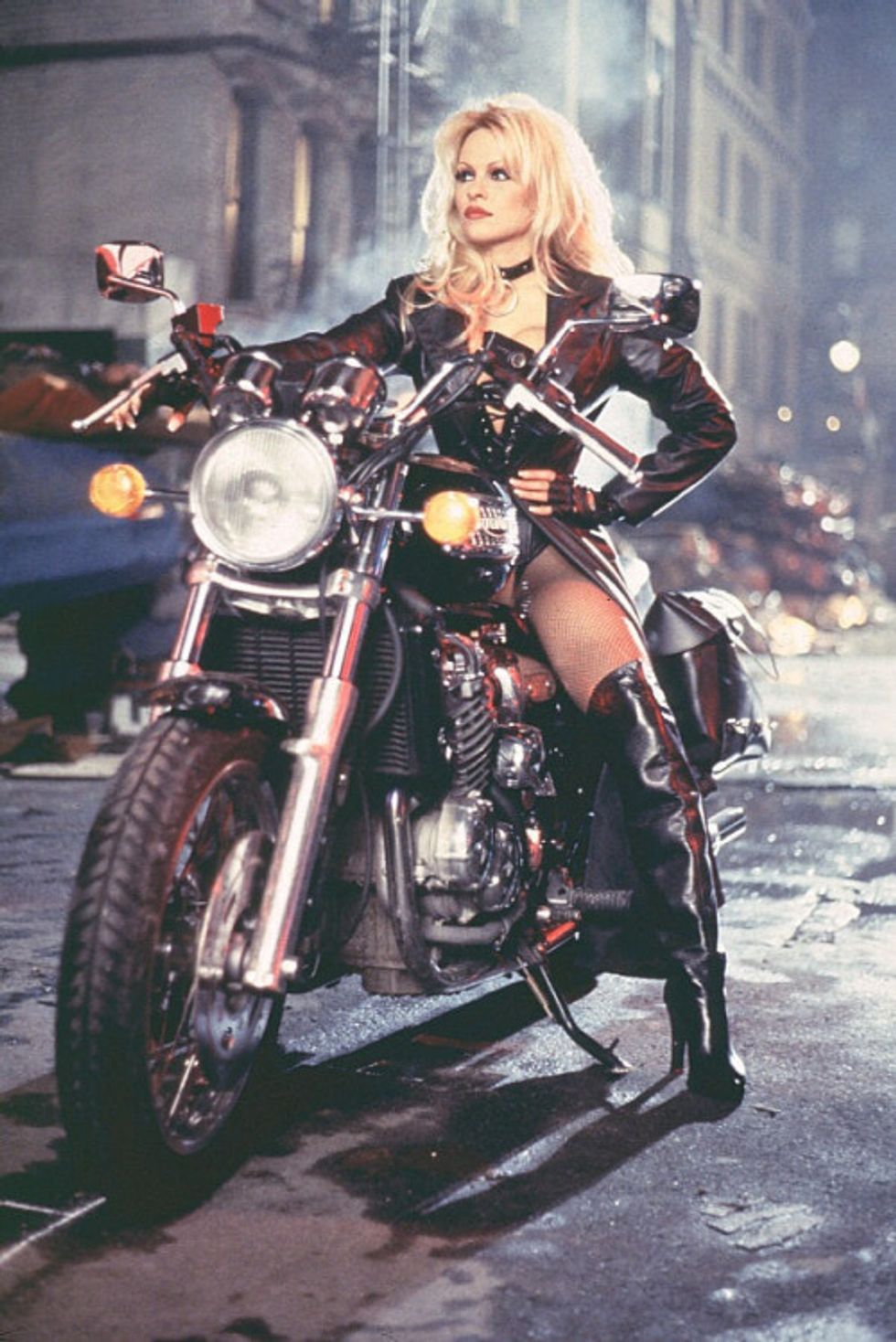 Barb Wire (1996)
This futuristic action rip off of "Casablanca" stars a bodacious Pamela Anderson as the owner of a raucous club called Hammerhead who's also a bounty hunter on the side. When her freedom fighter ex shows up she has to make a, "of all the gin joints, he had to walk into my hellhole"-moral decision. Anderson, with her sexy form fitting outfits, is almost a cartoonish Jessica Rabbit on a motorcycle in this ludicrous but stupidly enjoyable movie.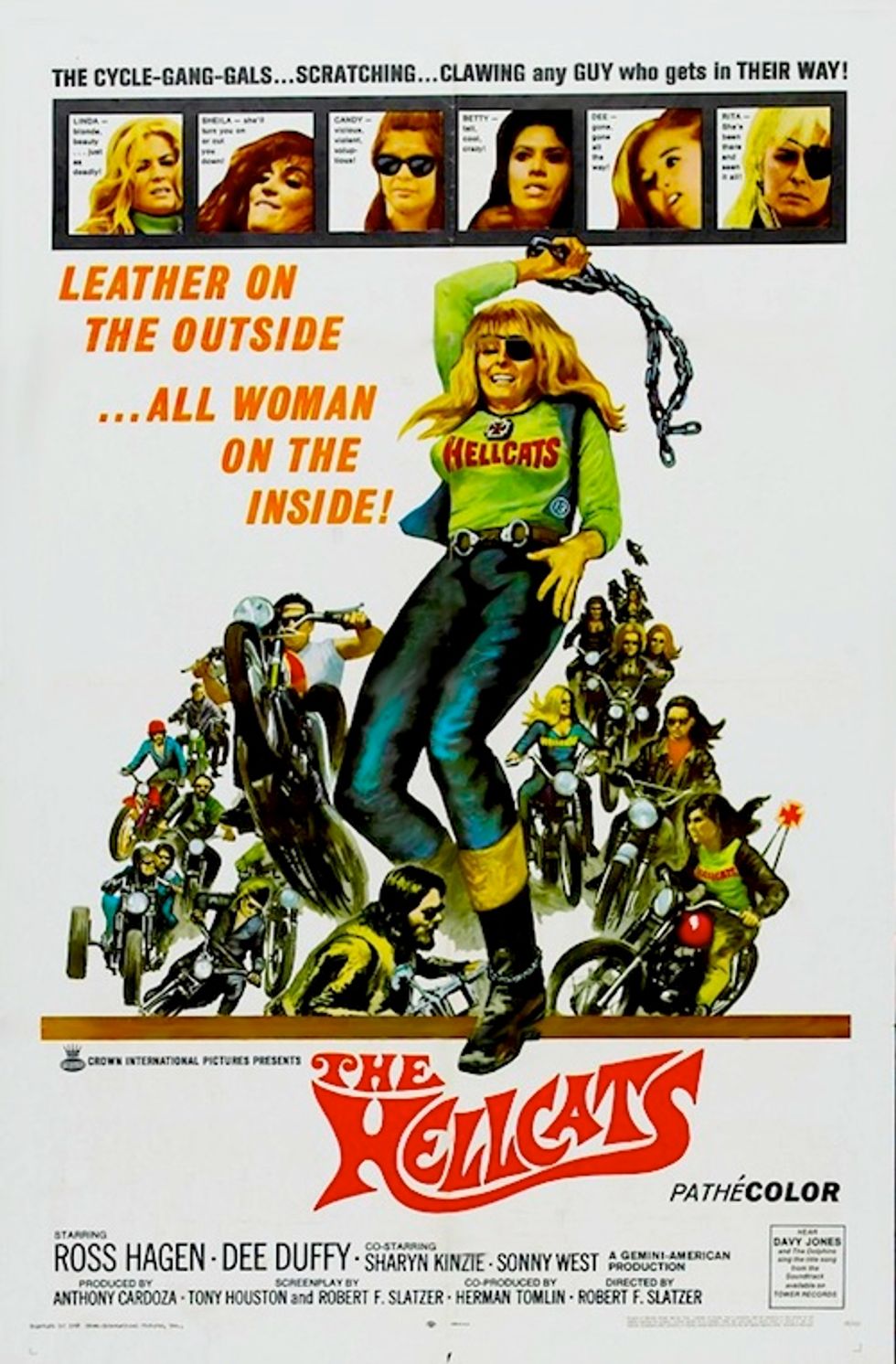 The Hellcats (1968)
When a detective is murdered, his army sergeant brother (Ross Hagen) and fiancé (Dee Duffy) decide to infiltrate the motorcycle gang he was investigating to find out why he was killed. There, they uncover a drug-smuggling operation trafficked by some tough motorcycle mamas for a criminal syndicate. One of the gals sports an eye patch and another makes love to the soldier on a box spring out in the woods. How romantic.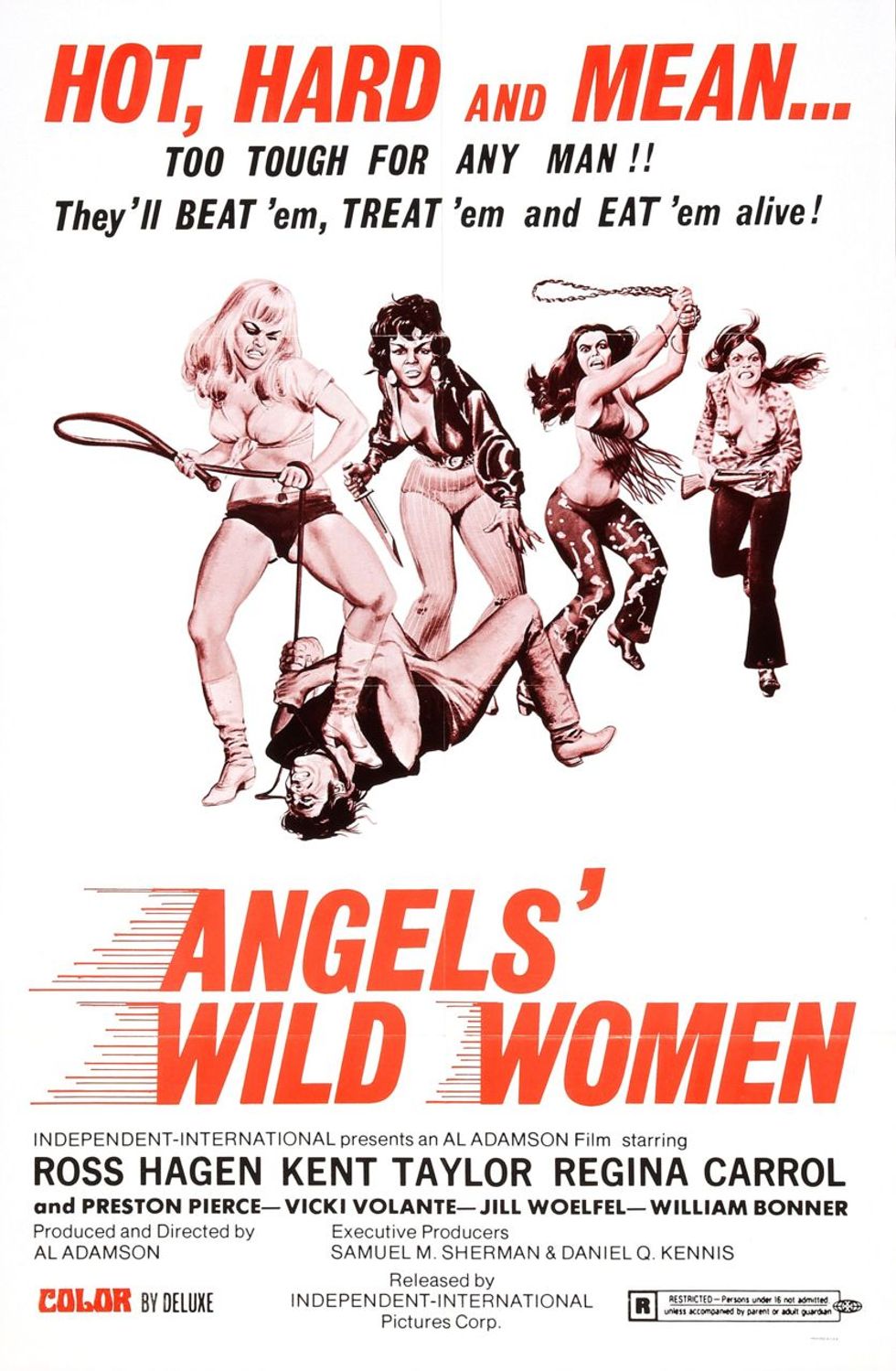 Angel's Wild Women (1972)
Another fabulously cracked celluloid atrocity from director Al Adamson. A biker gang goes on a run, so their girlfriends decide to get on their motorcycles and have some fun. They ravish a farm hand who cries "This just aint natural!' They have a scuffle with cops who deliver one-liners like, "look at those eyes. She didn't get that from reading a bible!" They end up at Spahn Ranch (the actual Manson family hangout), which has been taken over by a creepy cult led by a longhaired caftan-wearing leader named "King" who is secretly dealing drugs. It all ends with a ritual sacrifice and a huge rumble. The best is the whip-wielding, buxom blonde, gang member Margo (played by Adamson's wife, the late, great, Regina Carrol). The ad screamed: "They'll beat 'em, treat 'em, and eat 'em alive!" Amen.

You May Also Like
Fashion
Story by Mario Abad / Photography by Oscar Ouk / Styling by Jimi Urquiaga
Paper People 2020
Creative direction by Agusta Yr / Styling by Erika Golcher