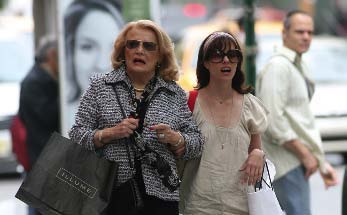 I'm no longer sure of who constitutes the indie movie elite, and even less clear on what it takes to join the circle. At Monday night's premiere of Zoe Cassavetes' second film, Broken English, the "famous types" who showed all seemed to have one foot in the Hollywood pool and the other on a banana skin: Jim Jarmusch, Sofia Coppola, Liev Schreiber (with protégé Eugene Hutz, Gogol Bordello's ringleader and the star of Schrieber's directorial debut, Everything is Illuminated), Drea de Matteo, and, um, Rachel Dratch and Andre Balazs.
A buoyant Cassavetes introduced her movie by explaining how hard it was to keep the damn project afloat, let alone finish it. (Her father had similar problems: It took several years to make Shadows; he self-distributed A Woman Under the Influence by cold-calling movie theaters across the country.) Cassavetes thanked the star of the film, Parker Posey, and the cinematographer, John Pirozzi, then scampered away from the audience, saying, "Enjoy the movie and don't tell me if you didn't afterwards!"
The film opens with a dejected Nora (Posey) getting dressed for a night out. We learn she's single and depressed about it. We assume she is in her mid thirties. Her best friend, Audrey, (de Matteo) is married and unsatisfied. Nora goes on crappy dates with crappy men; her mother (Gena Rowlands) wonders why she's not married. Before you clock this as an extended episode of Sex and the City, remember that Posey is a compelling actress. At no point do you find Nora pathetic -- she is overwhelmingly disappointed in herself, more so than any viewer could be. (As Nora and Audrey do yoga stretches in front of the TV, Audrey says, "I haven't slept without a drink or a sleeping pill for years." Nora deadpans, "Join the club.") She finally meets someone, of course: An insistent Parisian, played by Melvil Poupaud, who immediately likes the caustic New York chick and seduces her with an open heart. The film swerves into some awfully corny moments, but mostly retains a dark humor. If anything else, the number of cameos give it another reason for enjoyment: Justin Theroux as the Hollywood actor; Peter Bogdanovich as the mother's boyfriend; Josh Hamilton as the ex; Bernadette Lafont as a crazy bohemian woman in Paris.
The film earned a nomination for the Sundance Grand Jury Prize this year, but there was only a mild buzz. At the after-party at the Bowery Hotel roof garden, the mood was low key. Courtney Andrialis, a Creative Executive at HDNet Films who produced the movie (alongside Japan's Phantom Film and France's Back Up Films; Magnolia Pictures distributes everything HDNet produces), revealed that the reason for a release six months after Sundance was simply because they decided that Broken was a summer movie. (Definitely.) HDNet are the pioneers of multi-distribution: All their films are released simultaneously in theaters, on the high definition channel HDNet and on DVD. (Some you may have heard of: Soderbergh's Bubble, Hal Hartley's Fay Grim and the Academy Award-nominated documentary Enron: The Smartest Guys in the Room).
Andrialis says this new mode is still on trial, but major projects such as a documentary on Hunter S. Thompson and an adaptation of David Foster Wallace's doorstop of a novel, Infinite Jest, are in pre-production.
I asked my date, Oliver Kramer, a Hollywood refugee who is currently producing art shows for New York Public Radio, what he considered indie. "You mean truly indie or just brandishing the moniker?" he replied. Truly indie. "Jarmusch. And Coppola. Her first two films were truly independent, and her third was really weird." When I countered as to her royalty status, he said that it didn't matter. (He's dating Mamie Gumer, so I believe him). Later, still searching for clues, I found a John Cassavetes quote in Marshall Fine's biography of the director: "It's hard to explain what independence means -- but to those who have it, film is still a mystery, not a way out. To still do what you want after ten years, twenty years, is something. Somehow if you fight the system, it only means you want to join it. So it is very important that you do something you like that you're involved in enough to hold your interest no matter how long it takes."
Broken English opens on June 22. See the trailer at www.brokenenglishfilm.com