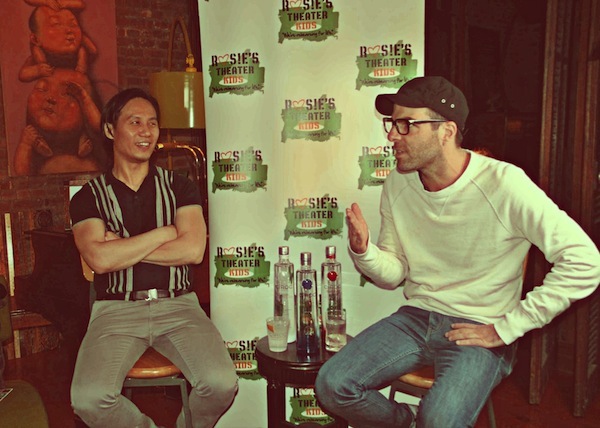 Last week actor Zachary Quinto sat down with Broadway and
Law & Order SVU
actor BD Wong at Wong's NoHo apartment to chat about theater and their careers at a party to benefit Rosie O'Donnell's Theater Kids organization. Quinto is making his Broadway debut this fall as Tom Wingfield in a revival of Tennessee Williams' most autobiographical play
The Glass Menagerie
with Cherry Jones playing his Southern belle mother and original orchestrations by former
Paper
magazine
Beautiful Person Nico Muhly
. (The production premiered this past winter at the American Repertory Theater in Cambridge, MA.) We chatted with the
Star Trek
star about his connection to Williams, his Broadway debut and what he's up to this summer.  
What made you decide to be a part of tonight?
I grew up with the privilege of being able to go to theater school. I'm here because of those experiences I had when I was 10 or 11 years old and the kids that benefit from this organization are kids who might not have that opportunity otherwise, but might now have a career that's more magical than they could ever imagine. And that to me is really exciting, so the fact that I could come and have a conversation about my experience and my journey to benefit them is great.  

And now you're about to be on Broadway! You've been attending Broadway opening nights for several years and appeared in Angels in America off-Broadway... have you been planning this move to Broadway? 
I have! I didn't really want it to be perceived as someone whisking in from Hollywood to do something on a hiatus. My entire career traces back to my roots in the theater, so I have a tremendous respect for the process. I go to the theater every time I'm in New York. I feel like it was important to me to have my first New York production be an off-Broadway ensemble piece, which
Angels in America
was, and then we started this production [of
The Glass Menagerie
] out of town, so it was really initially about the process and the creative experience not just about trying to get to Broadway. We had no idea when we did this play at the American Repertory Theater that we'd transfer in, so for me it's just been about building towards something by doing hopefully good work. I'm thrilled that it's with this production and this play and I cannot wait to do it. I wish we were starting this week, but we're not starting for another month and a half... 
Did you get offers for Broadway shows before this? 
I knew I wanted to come back to the theater but I also knew I had more work to do to establish myself in the film and television realm to support that, so once I started looking--I told my agents that I wanted to do a play at the beginning of 2013--
the Glass Menagerie
was one of three opportunities that they brought to me but it made the most sense. The other two were here in New York: One was an off-Broadway play and the other was a direct-to-Broadway commercial production of a new adaptation of a book. But I just felt like with Cherry Jones, John Tiffany, Bob Coley and  Nico Muhly ... that's the kind of work I want to do. Coming to New York was really secondary.  
What are you most looking forward to about being on Broadway? 
I think the sense of community. Being at the Tony Awards the other night -- it was my first time at the Tonys -- and realizing how many people I know in the New York theater community and how many people I love here. I never really dreamt of being a movie star, I dreamt of being on Broadway. That was my dream as a kid growing up, even when I was in L.A. struggling to make it as an actor ... the sustaining thought, the thing that I could always see myself doing was a play.  
Do you feel more comfortable around Hollywood or Broadway?
[Broadway,] absolutely. It's such a more open, supportive community. I mean it's no less political, and of course there's the bottom line which is really the thing that matters to everyone eventually, but the process of it and the people that populate New York theater have always made it feel more like home.  
Do you feel a strong connection to your character Tom Wingfield in The Glass Menagerie?
The connection to him is really about my connection to Tennessee Williams and that is something that I totally underestimated until I got into preparing to go and work on it. Learning about Tennessee and learning about how many ways his life resonates in me and his experience resonates in me makes me feel really connected to something bigger than myself. I think this play serves that purpose to audiences.  
What are you going to do this summer before you buckle down on Broadway?
Well I'm going on a trip. I'm going home to visit my family next week and then I'm going to Paris with my brother. I lived in Galway, Ireland for a while so after I go to Fashion Week in Paris I'm going to go to a film festival in Galway because they've invited me back. I thought that was really sweet.
Photo credit: Hallie Newman