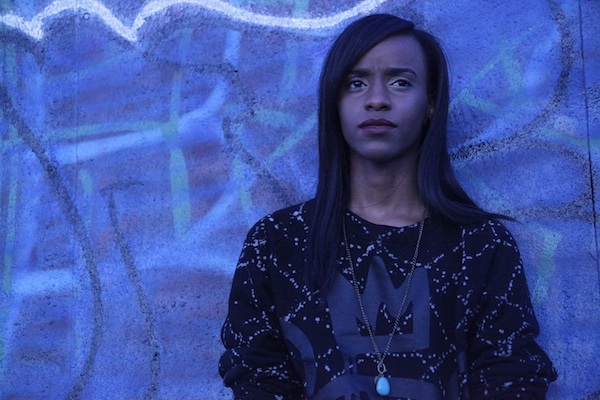 Angel Haze is a rapper because she needs to be. Listen to her
Voice
EP, or any of her mixtapes for that matter, and it's obvious that the art form is essential to her soul. Her voice is a poet's -- quizzical, strong-willed, self-assured and unfiltered, taking on soft-spoken diary entries and swagged-out diatribes with equal weight.

No style is off limits. Whether the 20-year-old New York-based beauty is rapping over Drake's "Look What You've Done," Beyonce's "Video Phone" or the Haze original, "New York" (off her
Reservation
EP, set for a July 17th release) is ultimately irrelevant -- the girl can spit.

We chatted with the young, "Internet famous" rapper about her early days, her favorite poets, working with Das Racist and plans for the future.
Where did you grow up? I know you had strict parents who wouldn't let you listen to certain music. What was that like?
I didn't really grow up in any place in particular. I was moved around a lot as a kid, so I was always resettling. It made me really reclusive -- that, and being home-schooled. Not being able to listen to music was frustrating, but the thrill I got from sneaking and attempting to listen was amazing. I think it's helped in certain ways especially because I cannot say a specific artist helped mold and inspire me, or that I've spent my whole life trying to be like them. But in other ways, it's made me less versed and incredibly uninformed. It's a win-lose situation.
When did you first decide you wanted to rap?
Rapping wasn't really a personal decision for me -- it was sort of imposed upon me by an old friend of mine. I grew up wanting to be a poet, silly as it may seem. But once he brought it to me and started to teach me things like metaphors and storytelling, I loved it. I decided at either 18 or 19 that I wanted to fully pursue rap, then I created a persona and went with it. The first thing I recorded was an "I Get Money" freestyle, over the 50 Cent "I Run NY" instrumental. The irony of it all still baffles me. I was always nervous. I started rapping right around the time Nicki Minaj emerged from the underground rap scene -- it'd be funny because I'd play my songs over the loud speakers in class and everyone would just assume it was her, so they loved it, and they went with it. Then I'd surprise them by saying it was me, and they'd go nuts. It was the greatest thing ever.
Are there any poets in particular that you're inspired by?
I love Andrea Gibson and Joshua Bennett. Most of my inspiration does come from poetry. Poetry and alternative rock.
How would you describe your style? I always see pics of you in fitted jeans and a tank-top.
My style is always changing. I'm versatile. I like to play it up... and down. I want to be a rock star, and my new style fits the job I'm going out for.
So, is the Reservation EP the official Angel Haze debut?
I would consider this to be my first real and official project, mainly because it's me in a way that's a lot more my own, a lot more organized and open than anything else I've put out over the past two years. I would sit on my roof and write songs all day, then go to the studio and knock them out. My processes were crazy, they were late night, energy drink-driven or anger-fueled, or just a bunch of tears. I went back and forth between a major studio and an indie one searching for differences in vibes and stuff. It took me about two to three months, honestly.
You like to rant. Is that intentional, or something that just sort of became a common thread in your music unbeknownst to you?
It's always intentional. I'm a ranter -- I could go on for hours about things and simultaneously connect the dots to various other things. it's just how I've always been: I hear a beat, and it's like something inside crawls from within me and spews itself upon it. And I just let it.
I found your music through the Internet, and your YouTube videos, as I think a lot of people have. What are the pros and cons of making music in the digital world?
I don't ever know how to answer this question, because my music truly exists in the real world, not just on the Internet. People take my music outside into their respective areas and put others on to it. I guess the pros are simple: The ability to be everywhere all at once, rather than releasing a "mixtape out of the trunk of a car" or being a "showcase artist." It's easier to become known via the net. The cons, I haven't quite figured out yet. I guess it'd be the heavy criticism you're subjecting yourself to, but then again, that's every outlet, so I don't know.
You seem to be pretty reserved in real life. Does "blowing up" matter to you? What happens when/if you get Big? 
Nope, not even in the least bit. I make music because it's the only thing in my life I've not been able to stop loving. [When I get successful, I'll do] the only thing that can happen if I want to be successful: embrace it.
You collaborated with Das Racist on "King" and worked with Le'Roy and KOOL A.D. What was that like, and what turned you on to working with them?
I love Das Racist because they're so tangible -- they're so down to earth and hilarious and awesome. Kool A.D is my favorite guy ever -- he's really insightful and has actually taught me a lot. We worked on something called "Covert Condos" that I've never even returned to, and "Jungle Fever." "Jungle Fever" was funny because I didn't write a verse until after I heard A.D's, and I'm like "Fuck, this dude is weird, but really good... so I've gotta mesh with him to make it worth something."
After Reservation hits, what's your next move?
I'm looking to go as hard as I possibly can, to make more music, to gain more fans, to touch more, see more, be more overall. I'd love to sign to a major, if we are able to see eye to eye in regards to what I'm looking to do as an artist. I've gotten pretty good responses, especially from people I actually respect. It's awesome, man.