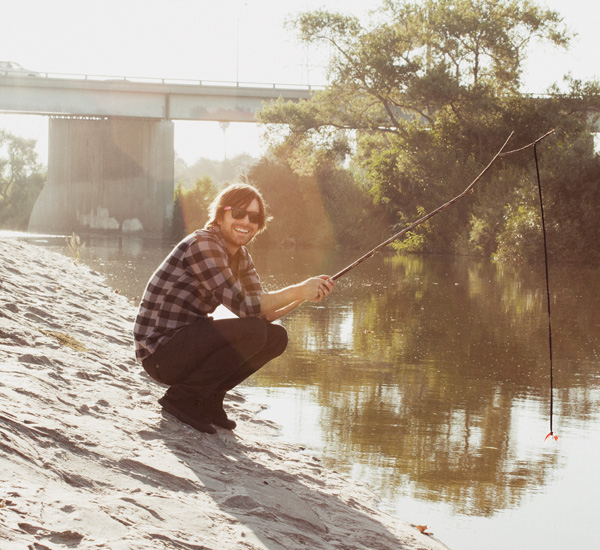 So there's the cult of
The League
, the FX show, now in its fourth season, featuring a group of friends and their fantasy football league foibles. And then there's the cult of Taco: stoner, lover, clueless naïf, itinerant musician, naginata student, Algerian soap star and the only member of the crew who could care less about his fantasy team.
Taco MacArthur is played by Jonathan Lajoie, 32, and he is Taco. When Jeff Schaffer and Jackie Marcus Schaffer, the creators of the show, were looking to cast
The League
, they were sent a link to a video of a deadpan French-Canadian YouTube comedian/musician with a huge following. Growing up in Montreal, Lajoie counts fellow Canadians, the sketch-comedy crew
The Kids in the Hall
, as a major early influence. "They taught me everything I know about comedy," he says, "how things can be dark and not make sense." To that end, his online hits include such profane, hilarious videos as "Show Me Your Genitals," "Rapist Glasses," and "Hands Commercial";
his YouTube channel
has received over 350 million views. On viewing this online oeuvre, the Schaffers realized, "Oh, this guy is already Taco," says Lajoie.
"Taco is sort of the magical dum dum.  He is what I fear I am and what I want to be."
-- Jon B., Fan
This kismet pairing has resulted in a remarkably hilarious synergy of character and actor. Because much of
The League
is improvised, a lot of Lajoie ends up in Taco. This includes Taco's complete lack of football knowledge, which Lajoie admits to sharing. "I had to Google what fantasy football was... I will ask questions sometimes and everyone on set will look at me with that disappointed look. 'Four years into a show about football and you still don't know who Tebow is?'"
The League
has rabid fans and Lajoie attributes this to the fact that the show is about "a bunch of guys who talk like men do... They kind of hit the archetypes from groups of friends." They're guys that you know -- just funnier. There's the responsible one (Kevin), the malevolent one (Ruxin), the one everyone picks on (Andre), the slacker good guy (Pete), and then there's Taco who is... just Taco. He's since joined the pantheon of TV's loveably clueless idiots, including Andy Dwyer on
Parks and Recreation
, Joey Tribbiani on
Friends,
Jenna Maroney on
30 Rock
and all the siblings (except for Michael) on
Arrested Development
. Lajoie says of his character that he "can randomly say anything, anytime. I can put my two cents in without affecting the real arc of the scene. And everyone turns to me and looks at me like an idiot and then goes on with their lives."