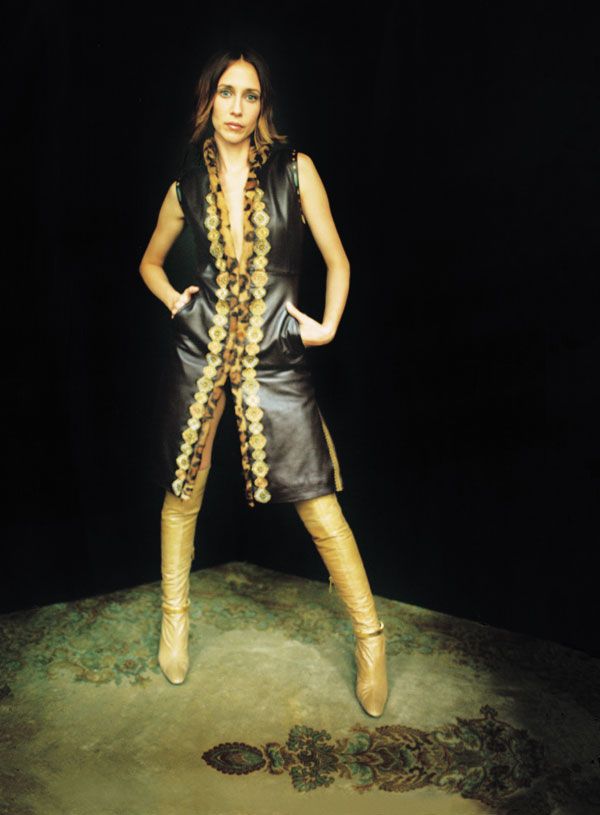 Welcome to our new feature, Ye Olde Papere, wherein we eat some bagel chips in David's office and pore over old issues of Paper magazine, looking for some juicy nuggets from yesteryear to share with you. Here, our first find, is an interview with the actress Vera Farmiga from back in September 2000 timed to her first major role, opposite Robert De Niro, in 
Fifteen Minutes
. We thought this was timely because Ms. Farmiga is making waves with the recently-released 
Higher Ground
, which she directed and stars in.


EASTERN BLOCKBUSTER
She stars in the forthcoming film
Fifteen Minutes
with Robert De Niro and Ed Burns, but we think Vera Farmiga's fame is going to last quite a bit longer than that. With supporting roles in
Autumn in New York
and
The Opportunists
as well, Farmiga, 27, will be hard to avoid at the cineplex this fall. We sat down with this lovely to find out how she became a marquee maiden.
WHAT DID YOU WANT TO BE AS A CHILD?
I wanted to be a cashier. That was my aspiration. We shopped at Sears, and there'd be these beautiful black women with these extraordinary nails. When we'd go to the bank, I would get all these forms and fill them out.
WHAT WAS YOUR CHILDHOOD LIKE?
I didn't speak English until I was 6. I spoke Ukrainian. My parents are first-generation. I went to Ukrainian Catholic school and had Ukrain­ian friends and Ukrainian hobbies.

HOW DID YOU GET INTO ACTING?
In high school I had my heart broken severely. It was the same time I was auditioning for the school play. It must have been a cathartic experience. I could rage and cry onstage. That's when the interest developed. I studied theater at Syracuse and then did a lot of off-Broad­way in New York.

WHAT WOULD YOU DO IF YOU WEREN'T ACTING?
Become a contractor. I'm building a house with my husband in upstate New York. This career is so cerebral and emotional that I need to work with my hands. I need to feel the dirt beneath my fingernails. Instead of dwelling on what I have--or don't--I have to mow the lawn.★
BY ERIK MEERS • PHOTOGRAPH BY MATTHIAS CLAMER
STYLING BY CHRISTINE BAKER • hair and makeup by kumi • vera wears a dress by catherine malandrino, boots by fendi.