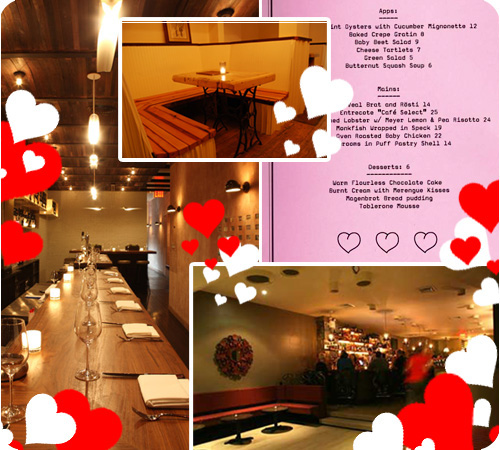 Yay/Ugh, it's Valentine's Day tomorrow! Fun/Who cares, right? Whether you're charmed, disgusted -- or neither -- by this day for loverly lovers, there are plenty of spots to celebrate your doily-lined ambivalence around town. Below, a Bar of the Week round-up for romantics, unromantics, and people who like drink specials.

MANHATTAN IS FOR LOVERS (AND HATERS)
Sorella, a new L.E.S. Italian wine and small plates bar still has early evening reservations and themed, "love" and "hate" prixe fixe menus. The "love" option includes braised short ribs, brown butter scallops, and salted caramel cheesecake with chocolate dipped pretzels for $50. "Hate," $40, features "Wonton soup," with apple and veal dumplings, and "single" desserts including chocolate cake, a doughnut, or salted caramel gelato.
Unfortunately, Tailor is all booked up for their five-course dinner (where patrons will receive tea rose tequila in blood vials as take-home gifts. Aw.) but there should be space in the downstairs bar room, where they'll be serving up Eben Freeman's Royal Blush cocktails made with champagne, vodka, and cherry puree for $13.
Swiss-German bistro Café Select is offering a prixe fixe for $60/person that offers butter poached lobster, herbed spätzli, and Bluepoint oysters (and includes a half bottle of champagne), and an à  la carte menu with monkfish wrapped in speck, veal brat, and dessert options like Toberlone mousse. Afterwards, you can canoodle under the Christmas lights in their new little back room bar.
Classic cocktail/bespoke suit purveyors Elsa (our pick for a lovely, low-key evening in the city), is candle-lit, cozy, and still has lots of room left for last-second reservations.
Vinophiles can make their own wine at City Winery, a $95 per person prixe fixe gets you a four course dinner in the winery with… wine, champagne, and a 10 minute winemaking seminar. An $80 option will also be available in the space's restaurant.
BROOKLYN IS FULL OF MUCH CHEAPER OPTIONS AND ALSO FOR LOVERS (AND HATERS)
Kensington's Southwestern tapas spot, Ellis, has an "Anti-VD Party" tonight with $2 tequila shots, $4 vodka drinks, and a free desert sopapilla with any entrée. Tomorrow is for couples, though, with $8 champagne splits, and two free desert sopapillas with two entrees. Because rattlesnake kabobs say it all, guys.
Huckleberry Bar, located in Williamsburg, is hosting a free Valentine's Day dance party, complete with '60s soul and cups of lover's punch (they're still working on the recipe, but owner Stephanie Schneider promises that it will be "really delicious and fruity and make everyone happy."). Dress to impress. 10 p.m.
DJ Full Time Fun will make good on his name and spin tons of ultimate dance jams at Royal Oak's "Oh Snap! Valentine's Day Party." It's free all night, ladies are promised giftbags from a "secret SoHo boutique." (Please let it be Girl PROPS!) Get there at 10 p.m. for the hour-long open bar that promises complimentary "Raspberry Beret" vodka cocktails.

Get it all out with some angry dancing at the Fuck Off: A Valentine's Day Riot at Refuge in Bushwick, or head nearby to Northeast Kingdom for a calm, collected time in their downstairs bar. Chairlift and guests are DJing, and house drinks like a thyme-lemon-vodka combo called a Root Garden, and Parisian Margaritas (St. Germain elderflower liqueur and Patron) are $9.
TV on the Radio's Kyp Malone hosts an early party at Glasslands -- his set as Rain Machine gets the party started at 8 p.m. You'll want to stay, though, for performance by The Wild Yaks, Miles Benjamin Anthony Robinson, the 100, the Hands, and free food from chef Christine Buckley. $8.