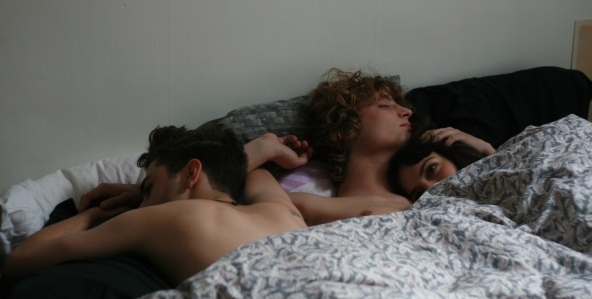 Opening this week in IFC Center is
Heartbeats
,
Xavier Dolan
's (
I Killed My Mother
) sexy, slyly funny and eye-pleasing film about a doomed love triangle. Francis (the criminally cute Dolan) and Marie (
Monia Chokri
) are friends who become smitten with curly-haired beauty Nicolas (
Niels Schneider
). Nicolas spends all his time with the two of them, and the three even sleep together (non sexually) in the same bed. Indeed Nicolas is flirty to both of them but his intentions never seem clear, and soon the two friends are unpleasantly vying for his attention. (The film shows Francis and Marie in bed with other male partners who are definitely into them that they behave shabbily to. Isn't that always the case?) The film also interjects talking heads of other 20 somethings relating stories of past love affairs, break ups, and fatal obsessions. While the movie is playfully stylish and you can see traces of
Godard
,
Bertolucci
, and
Wong Kar Wai
, it's also painfully on target of how we can really drive ourselves crazy when it comes to affairs of the heart.