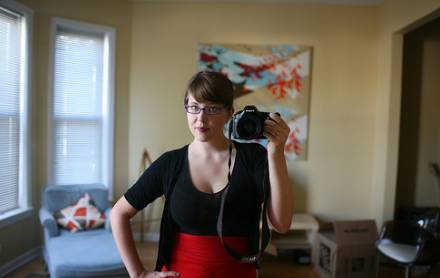 Amanda Mooney, a digital kid who spends far too much time in social networks and is addicted to finding fresh talent emerging somewhere between Flickr, Facebook, Tumblr, Lookbook and MySpace. In her weekly column, "Wwwe Could Be Next," Mooney chats with one of these young creatives, to share their work, perspective and advice.
Olivia Leigh has an impressive knack for capturing the small but exact moments in the biggest day of her clients' lives that they'll want to remember forever, without a single shot looking planned or posed. On top of that, she has an effortlessly cool style and personality that translates incredibly well in her work as a wedding photographer. As a fresh twentysomething just starting out in the industry in Chicago, she's already established a successful business and client roster. With a quick glance at her web site or Flickr sets, it's clear why her clients go on personal missions to recommend her work and respond with, "Oh.My.God.I.Am.Speechless" after viewing the final shots.
So how did you start out in photography?
I studied abroad four times when I was in college and went to a beach in northern Costa Rica with some friends while studying there in 2004. A girl I was studying with had a film SLR camera, which I had never used before, and after taking one picture with it, I knew it was something I was interested in pursuing. I came back home, bought a cheap Canon film camera, and started playing with photography and teaching myself more about it.
The Internet was a great resource for me, living in a small town, for learning more about equipment and technique. I kept shooting after moving to Chicago in 2006, and had some fine art work in little gallery shows. I shot a friend's wedding in 2007, and instantly fell in love with it.
Describe your style.
I shoot candidly, photo-journalistically… I believe that each couple has a unique energy, and I try to draw that out in the photographs so the photos "feel" like them. Wedding photography is a huge investment for my clients, and I believe in challenging the conventional notions of what "wedding photography" can be, attempting to deliver a collection of photographs that feels more like art.
I also shoot more creative, "fine art" portraits during the day, which has become the foundation of my style and what clients seem to seek me out for.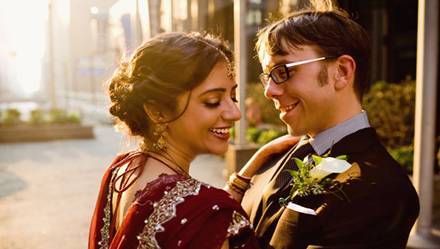 What's the best thing about being a young person in the business at the moment?
I am so happy to be doing what I'm doing, and think I am the luckiest lady in town. I am able to do what I love every day, and also really enjoy the business development side of owning my own business (although I could do without the admin and paperwork side of things!).
Being young has really allowed me to connect with my clients -- singing "American Boy" with clients at a wedding, having such a great and relaxed initial rapport that clients bring me the best falafel in town for our first consultation, sharing links to inspirational videos and design -- I have a wonderful time with all of them.
What do you love about doing this work in Chicago?
Like most things, it tends to take a little while for trends and certain aesthetics to move in from the coast. The general style of photography I do is very popular on the East and West Coasts and in Canada, but is still getting started in Chicago, with a couple people doing it very well, but not saturating the market. It's been neat to do something different and exciting here and build relationships with other talented photographers who are doing the same.
I've also been incredibly blessed to work with the most phenomenal clients -- very interesting people who have an appreciation for art and design and have their priorities in place for the wedding.
And the great neighborhoods, friendly residents and wonderful food, and particularly, the low cost of living, doesn't hurt either.
How do you use the web to share your work and promote your business?
The web has been so crucial to building my business; without it I wouldn't even have one! I spent zero dollars on traditional print marketing. One of my first clients heard about me in a little blurb on a popular social networking site, and she consequently started to refer me heavily on the popular wedding site, The Knot. Wedding blogs have also become incredibly popular in the past few years, and brides are so blessed nowadays to be able to have daily access and inspiration to beautiful designers, ideas and style for any aesthetic, whether that be DIY, punk rock or chic and sophisticated.
I am a weekly blogger on a popular site, Elizabeth Anne Designs, which has been helpful for my business, and being featured on other wedding blogs has also been integral.
I also recently started a boudoir division of my business, which allows me to shoot sexy, romantic and artistic images of women (not 80s-esque glamour shots!), and the web has been particularly integral to starting that up; from forming a helpful online relationship with a boudoir photographer in North Carolina who has been wonderful with advice and referrals, and also allowing clients to find me via the web, my blog and Facebook. I also met my graphic designer through Flickr, and my web designer, who was a wedding client, found me on Flickr, as well.
Leave us with some links. Who are some of your other favorite photographers online? Favorites in Chicago?
For weddings, my favourite photographers and inspiration always changes, but I'm really loving Sarah Rhoads' lovely photographs these days. We became friendly via Twitter. Also, Justin + Michelle Demers and Jose Villa.
Non-wedding wise, I love Ryan McGinley, particularly his Kate Moss and actor series and Ryan Robinson is wonderfully talented.
In Chicago, it's Chris Buck and Stephan Zirwes.
Oh and is it cliché to say I love what Pete Souza is doing at the White House?