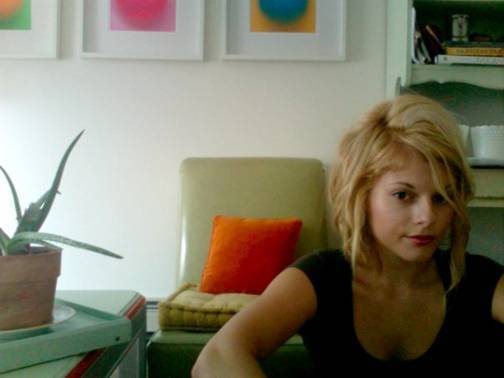 Painter Cindy Rizza has an eye and technique well beyond her 24 years. I stumbled on her work via Facebook and was impressed by her ability to capture simple scenes in an effect that feels nostalgic and modern, pleasant and slightly sinister at once. And although she realizes the challenge of being "one single voice in a very noisy art world," she is already catching the eye of critics and curators on a local and national level.
Tell us about yourself. How did you start painting and sharing your work?
I've always been a creative person, and thankfully this was encouraged at an early age. My mom used to tape paper to my high chair and along the walls and she let me go at it. My passions are art, design, fashion, food, travel and pretty much anything I can create with my hands. I have several half-finished knitting projects around the house, and culinary creations in my fridge that spawned from a spontaneous fusion of ingredients into a pan. My main passion though, which has stayed true for all my life, has specifically been painting. I still remember my first set of watercolor paints -- there was something very magical about those little tubes. I began painting in elementary school using water-based media and painting still lives of fruits and vegetables. At that time I had already made up my mind that I wanted to be a painter and I still carry that drive. I graduated in 2007 with my Bachelor of Fine Arts in painting from the New Hampshire Institute of Art. Since then I've been working on commissions, developing a new body of paintings and showing them in New England and through online venues.
Describe your style.
Basically I would be labeled as a figurative representational painter. I am equally a craftsman as I am a visual communicator. I've had very academic training as a painter in terms of working directly from life to develop technical skill with paint. There is an intimate connection between what the painter sees directly with their own eyes and how they interpret that in paint. But as I moved towards developing a body of work, I had a strong desire to communicate something to my viewer that wasn't just on surface value, similar to how a poet uses metaphor. I don't like being labeled a representational painter, though, because I think of my work in abstract terms by using symbolism and metaphor. I hope that my work can be revisited again and again and something new can be taken from it each time, very much like a poem.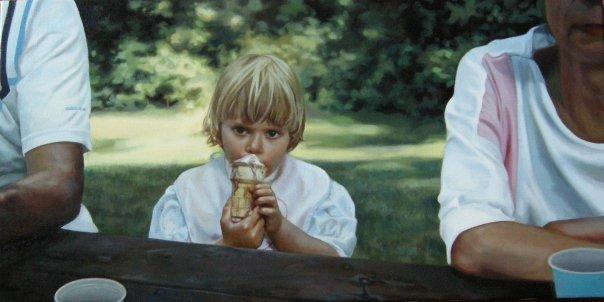 And what are you working on at the moment?
The recent series are mostly of young characters in suburban yards surrounded the comforts of an American upbringing, yet they seem vulnerable in their environments, as if they have realized what their world would be without them. Bubbles, toys, picnics and sweets lay unprotected by a darkness that emits from behind the fun. My aim in these works is to capture that still moment when my characters begin to realize the presence of the darker forces at bay looming in the shadows, that their comfortable world is threatened by what they have yet to understand. I am hoping that by presenting my figures in the still moment of discovery, I can symbolize a truth that our own environments are fragile and unstable, which is a feeling I think viewers of all ages can identify with in a world full of recession, war, poverty and disease.
It took me months to realize that my recent works were stemming from a feeling of being vulnerable in a fast-paced, careless, American lifestyle that is very isolated from the outside world. I miss when life was so black and white and when my biggest troubles were being made to go to bed at a decent hour. I think there is a real danger in getting caught up with material comforts because they can so easily be taken away. So my recent paintings react to that fear.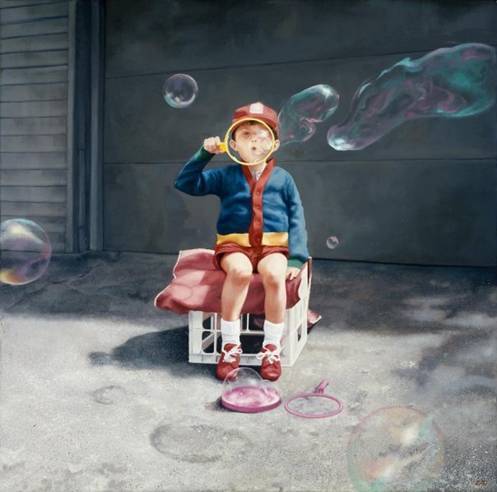 And overall, what's the best idea you've ever had or your absolute painting you've created so far?
My best ideas have been my most recent ones, which is definitely a good thing. I just finished a painting called "July 4." The painting is in a longer format measuring 20" x 40" with two cropped adults sitting on either side of a young girl that is zoning out eating a melting ice cream cone. I like the relationships between the figures and how the child is directly confronting the viewer. I also like the limited palette I am using and how that creates the feeling of haze on a hot summer day. I've also started a series of lawn/beach chair paintings that have a strange tension to them. The chairs are empty and alone, and suggest events that were or that will be. There is something very human about them.
Today, where are you sharing your work online and how has the web helped you grow the audience for your work or influence your perspective of what's possible with your work?
I am sharing my work on my own personal website cindyrizza.com, Facebook, Twitter, ArtSlant, Still Point (Online) Art Gallery, and Saatchi Online Gallery. It has been really interesting reading the comments to my paintings; they give me new insight about their meaning to my viewers. I have seen the traditional gallery setting really struggle in the current economic times, so I think in online venues it is much easier to get exposure. I also actively use the web to find call for entries, artist opps and support.
What advice do you have for other young painters?
Keep painting and don't stop. If you aren't selling enough work to support yourself, find a creative career to do alongside your painting so you can stay active in the arts. Find the support of other painters and work together side by side. That can motivate you to get into the studio. Form group shows together and submit proposals to galleries or alternative venues. Take advantage of online artist resources to help build your resume such as artshow.com. Submit your portfolio to a call for entries or gallery that seems to fit your work. Don't waste your time and money if you don't see similar trends in your work to work that is already represented. And lastly, have integrity and honesty with your own work. Don't subscribe to a trend because it is sellable or taboo if it is not who you are. Be conscious of what is selling and what is desirable and see how that could relate to what you want to communicate with your work.
Leave us with some links. Who are some of your other favorite artists and sites online? Any sites you regularly check out for inspiration for your work?
To name a few favorites: Artslant, Artshow, Saatchi, Tim Lowly (a great resource for figurative painters), Alyssa Monks, Robert Bechtle, Isca Greenfield-Sanders, Kenichi Hoshine, Bo Bartlett, Gerhard Richter, Andrew Wyeth, Ben McLaughlin, Still Point, New Hampshire Institute of Art.