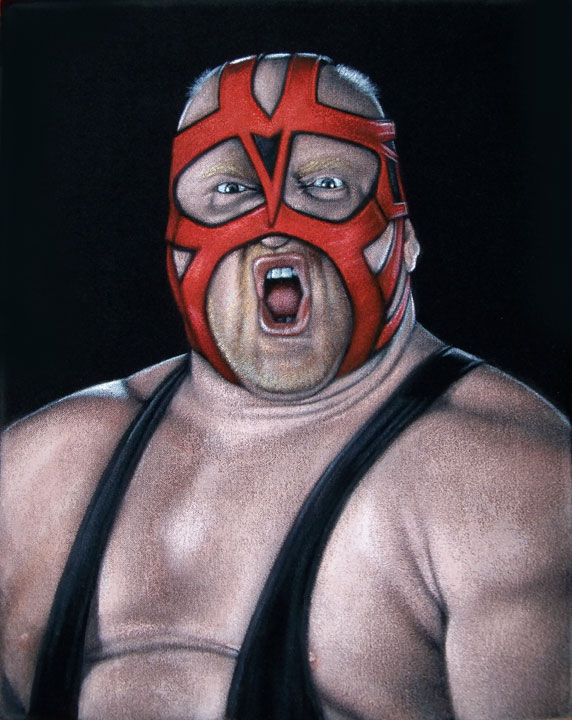 Bruce White, "Vader"
It's Friday night and a dude-heavy queue has formed outside of
Gallery 1988
West. At least one guy wears an old WrestleMania t-shirt. Inside, gallery co-owner Jensen Karp sports his own WrestleMania shirt, commemorating the 1989 battle between Hulk Hogan and Randy Savage. The crowd has come to see "VelvetMania," a new show from artist
Bruce White
featuring a series of wrestler portraits done on black velvet.
When the door is finally unlocked, it only takes a few minutes for curious folks to notice the commotion. One man jumps out of a car, runs inside and proclaims, "This is the greatest thing I've ever seen!"
In "VelvetMania," the biggest stars of late-20th century professional wrestling look like gods.  Their muscles glisten. Their faces tense up menacing, pre-match expressions. They look as though they could jump off the paintings and body slam the crowd. People are really getting into. Wrestling t-shirts pop up here and there. One guy has a large, WWF logo hanging from a chain around his neck. He found that on Etsy, he tells me.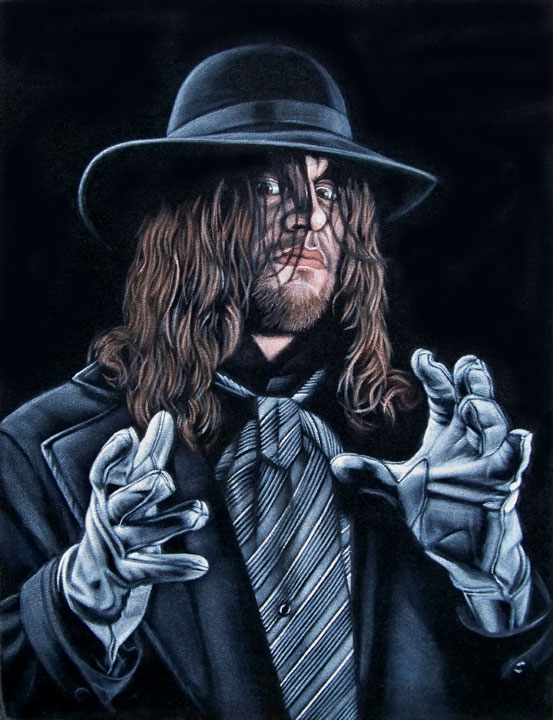 Bruce White, "Undertaker"
"I've been a wrestling fan since birth," Caleb Thomas, a sharp-dressed fan wearing a well-tailored red-orange blazer, says. Thomas clarifies his statement. Really, he can trace his fanaticism back to 1988 -- the date of the oldest issue of
WWF
Magazine in his collection. Ultimate Warrior graces the cover. At the opening, Thomas picks up one of the Ric Flair prints for himself. It's number 6 out of a limited run of 35. He looks happy.
With two locations on Melrose Avenue, Gallery 1988 is the hot spot for art with a heavy pop culture influence. In the decade since the gallery's opening, co-owners and co-curators Jensen Karp and Katie Cromwell have carved out their own corner of L.A.'s art scene, an unpretentious hub for unexpected collectors. Shows here frequently incorporate TV, film and video game themes. Fans line up early for a chance to purchase artwork and frequently the pieces are limited-edition prints.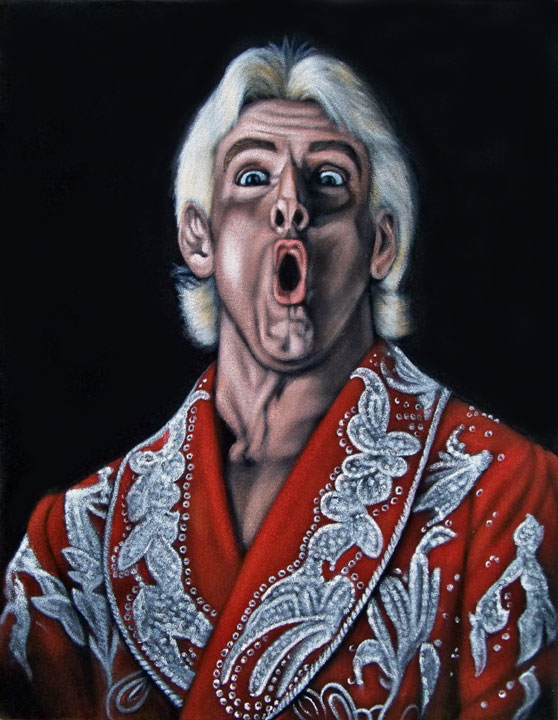 Bruce White, "Wooo!"
Over a year ago, Gallery 1988 held one of their video game art shows. Bruce White, who is acclaimed for his black velvet painting skills, was part of it. Since White's style is photorealistic, Karp suggested that the artist take on "Macho Man" Randy Savage, who also appeared in video games. The joke went that if the piece sold in ten minutes, White would paint Karp's 40 favorite wrestlers. It sold in four minutes.
Karp grew up watching the heroes and villains who emerged from the ring in the mid-to-late 1980s. Later on, he wrote for WWE Raw. He worked with Ted DiBiasi, a.k.a. Million Dollar Man and for Goldust. For "VelvetMania," he compiled a list of 50 or 60 of his favorite figures in the wrestling world. White researched the wrestlers and narrowed it down to 40 selections. The picks are heavy on the greats of the 1980s like Hulk Hogan, André the Giant, George "The Animal" Steele and King Kong Bundy. Ric Flair is the subject of two pieces. One is called "Wooo!" and it depicts the wrestling great emitting his battle cry.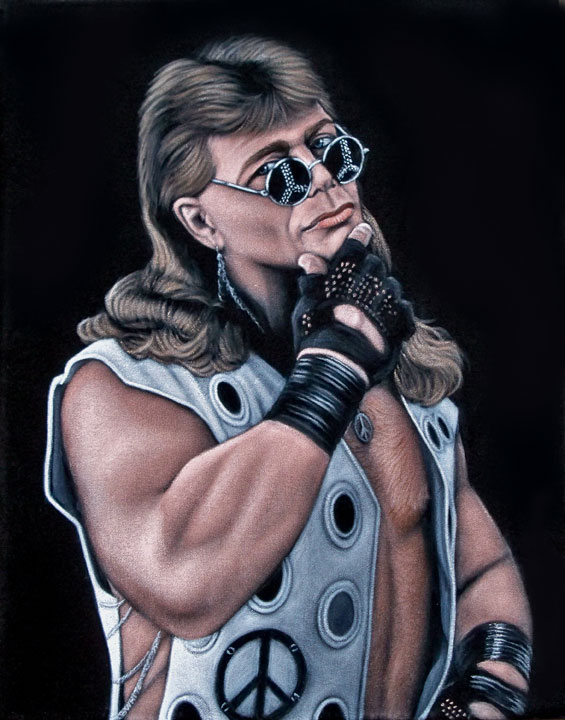 Bruce White, "Shawn Michaels"
White, who lives in North Carolina and is also a full-time tattoo artist, spent between eight and nine months working on the portraits, painting one or two a week. His own fascination with wrestling peaked in the late 1970s and early 1980s. Painting a later generation of wrestlers was a bit out of White's area of expertise, but he enjoyed the experience. "A lot of what I paint on velvet have been pop culture icons," White tells me at the opening. "That's what these guys are."
That these athletic performers have reached near-mythological status is not lost on the crowd. Someone remarks, "This is amazing," before boasting that he can name every wrestler immortalized in the show. A few people point out who is still alive and who has left for the big rumble in the sky. One man circles the room with a little girl by his side. He points out the wrestlers to her. Those old WWF stars might just get a new generation of fans.
"VelvetMania" runs at Gallery 1988 West until March 29; Gallery 1988 West is located at 7308 Melrose Ave., Los Angeles