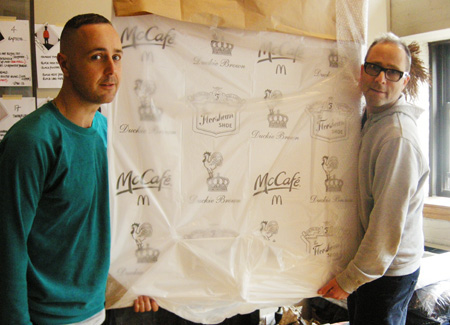 Luxe fabrics, strong silhouettes and quirky touches are exactly what we expected -- and got -- from Duckie Brown's Fall 2009 collection. But a coupon for the new McCafé, a "couture coffee" from McDonald's? Maybe not. I caught up with with Steven Cox and Daniel Silver, the Dynamic Duo behind the brand to sort out the mystery.
McDonald's?
Steven Cox: Well I used to work there for three years when I was younger. I was a five-star, which means I provided really good customer service at the cash machine.
What! When was this?
SC: When I was a teenager I worked from when I was 16 to 19 in Barnett, London. The place was so clean and organized.
I'm sure you souped up the uniforms.
SC: It was this navy polyester thing. But it wasn't nice poly and the pants were flare leg. I took them in and made them them narrower -- and the rest is history.
So do you still lust after fries and a shake?
Daniel Silver: There's a McDonald's in the Garment District and every once in a while, Steven goes there and orders a cheeseburger sits by himself and eats it secretely.
CLICK HERE FOR PAPERMAG'S COMPLETE DOWN-LOW FASHION WEEK FALL 2009 COVERAGE. >>