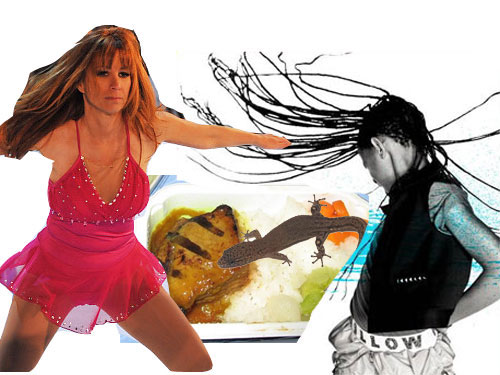 1. Royal Caribbean's newest ship the
Allure of the Seas
recently stole the title of  world's biggest cruise ship, beating out its predecessor by five centimeters. We're both intrigued and nauseated by one of the ship's bars, which "doubles as an elevator." [via
T Magazine
]
2. Power 105 presents
Willow Smith
live in concert
at Highline Ballroom on Saturday, December 11th. The concert will begin at the age-appropriate hour of 3 PM. We may or may not rush the stage in a state of hair-whipping ecstasy.
3.
Rachel Uchitel
, Tiger Woods' No. 1 mistress, explains that she's simply a misunderstood love addict: "I sort of put a bag on somebody's head and create them into this knight in shining armor that's going to save me from this hole in my heart that really, I came to learn, was created after the loss of my fiancé in the World Trade Center." We can't help but recall an old
Nip/Tuck
episode where Christian actually does the dirty dirty with a girl who wears a bag on her head. [via
Page Six
]
4. Check out this
deposition
between a lawyer for American Airlines and
Monseratte Luna
, who claims to have found a lizard in her chicken dinner aboard a 2003 flight to San Juan. No bueno.
5.
RHoNY
's
Jill Zarin
, one of our all time favorite gingers, is launching her own line of shapewear and leggings called Skweez Couture. While
Kristian Laliberte
of Refinery29
isn't too keen
on the project, we think Skweez will be the beez kneez.
6. Gift guides are so yesterday (in fact, we featured them in yesterday's
Eight Items or Less
). Today is all about
Advent calendars
, so here are two from
Eater
and
Rogues Gallery
.