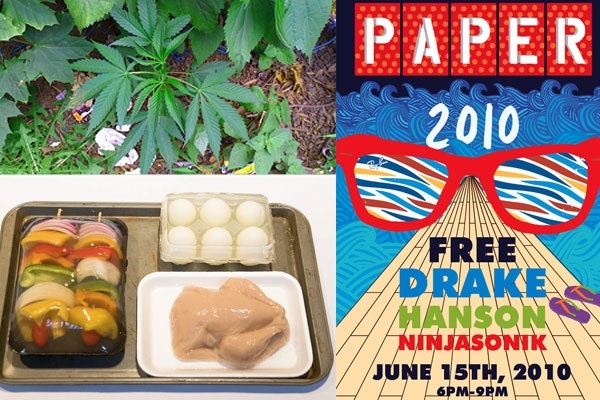 1)
NPR
is streaming every set from Bonnaroo
.
2)
A cannabis plant grows in Brooklyn
.
3) Shades of Flaming Moe's?
Apotheke owner Albert Trummer is arrested for igniting his bar
.
4)
The Gowanus Studio Space
hosts its second annual Jell-O® mold competition
. Expect Jell-O® shots and a live deejay. Saturday, June 26, 2010 at the Gowanus Studio Space, 166 7th Street (between Second and Third Avenues). 6-10 p.m. Donations welcome.
5)
The Guggenheim Foundation
is inviting submissions for
YouTube Play: A Biennial of Creative Video
.
6)
Lost City
blogger Brooks
signs off
,
leaves a list of remaining landmarks
.
7) Don't forget
to see Drake, Hanson, and Ninjasonik tomorrow!
8) And after the concert, hit the decks (and the open vodka bar) at Foundation's first weekly SPUN party, where revelers are offered 15 minute deejay sets.
Foundation, 137 Essex Street. 9:30 p.m. - 1:30 a.m.